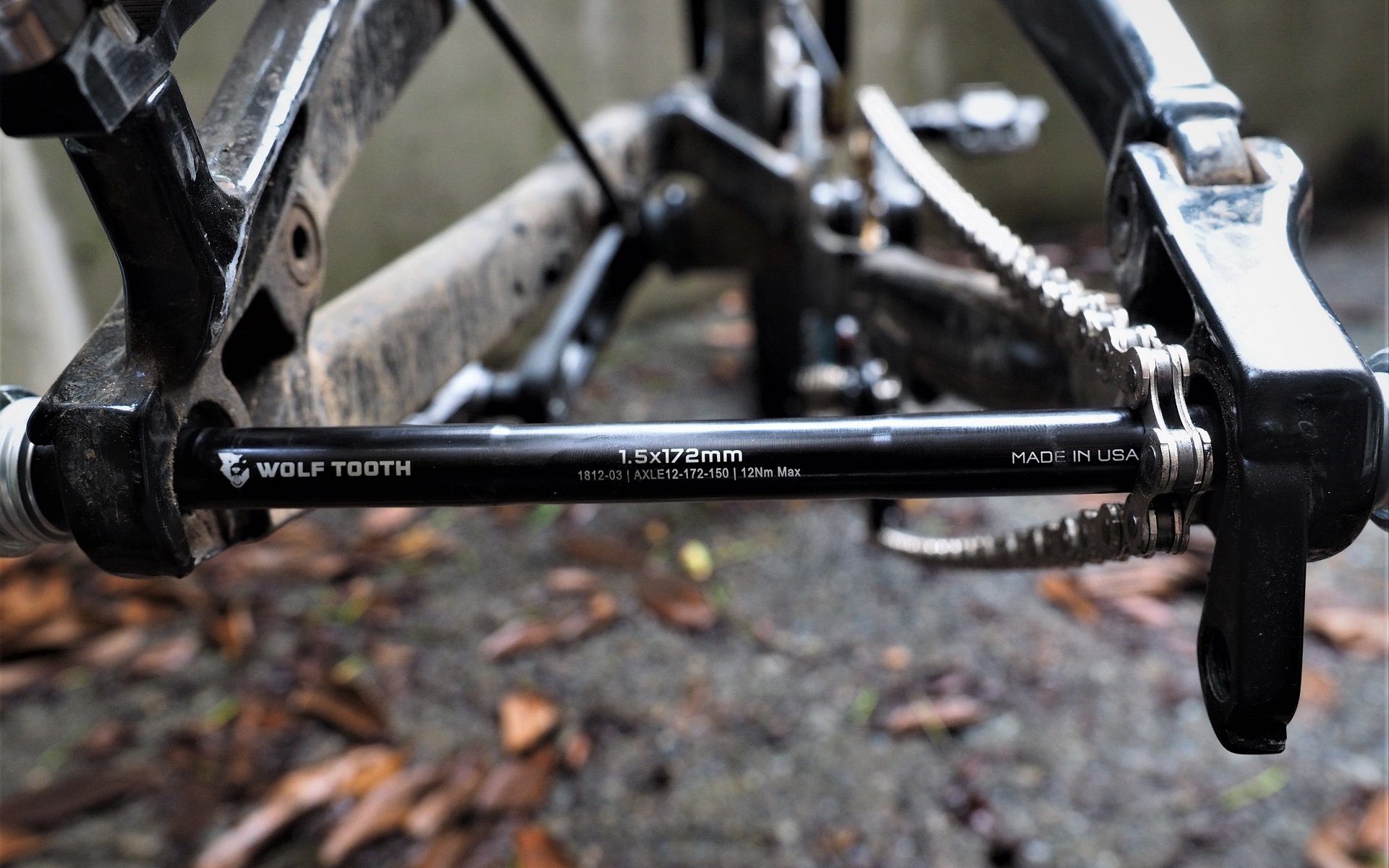 TWO-MINUTE REVIEWS
Wolf Tooth Rear Axle
Axle Buttons
In the market for a rear axle? Fans of Wolf Tooth Components could buy one of their Minnesota-made axles because they like nice things produced by nice people. Other riders could rightly ask the question; does the world really need another bolt-on rear axle? I mean, this one is really nice but it's just a rear axle.

For mountain bikers living anywhere in Canada that isn't our South Coast, and in many places in the USA currently snowbound, Wolf Tooth offers an interesting argument for their wide range of sizing options in the form of quick and simple trainer compatibility .
Whether it's a road bike or mountain bike, with the correct Wolf Tooth axle installed it takes a minute to swap-on the trainer buttons at which point it's plug-and-play to install your bike into an indoor bike trainer. Press on the drive-side button, the thread-on the non-drive button, turn on the tunes, and BOOM - all the imaginary misery miles you can handle.
Even with my Cascadian address and a strong preference for torrential outdoor efforts over spinning indoors, I'm pumped on the trainer compatibility. I envision local shops buying the axles most common on their floors in order to facilitate fitting both road and mountain models. It would be a small investment in helping riders dial in the fit of their new bikes before they even hit the trail.

My trainer can't handle a large 29" tire but many can. It's easy to level the axle with a smaller wheel as needed.
Looking at levers on the various QR rear axles I've run, and looking at my current frames where I'm running low-profile axles, Wolf Tooth's optional protective button makes a lot of sense to me. It costs 10 USD, threads on with an 8mm, and it protrudes just enough to take the hits while protecting the frame. It's not a feature that would have me upgrading if I wasn't in need of an axle for my trusty aluminum Rifty, but if the back end of my bike was plastic-fantastic, or resale value was a genuine concern, the 50 USD for the axle and end could end up being a cheap investment.
So it's just a rear axle, albeit a very nice one, available in so many sizes* that, as long as a frame doesn't require a counter-sunk head, Wolf Tooth probably makes it. Shimano, DT Swiss, and SRAM thread pitches. Don't worry, WTC made a handy print-out chart to help determine what you need.
*Including the thousand different lengths that are apparently necessary for Fat Bikes.
Making trainer life that much easier, looking to protect an investment, ham-fisted your old axle in a fit of rage? Whatever the reason, if you have a need I think this one is worth checking out. The axles are 40 USD, trainer buttons are 20 USD, and the sacrifical combat buttons are 10 USD. More at Wolf Tooth.