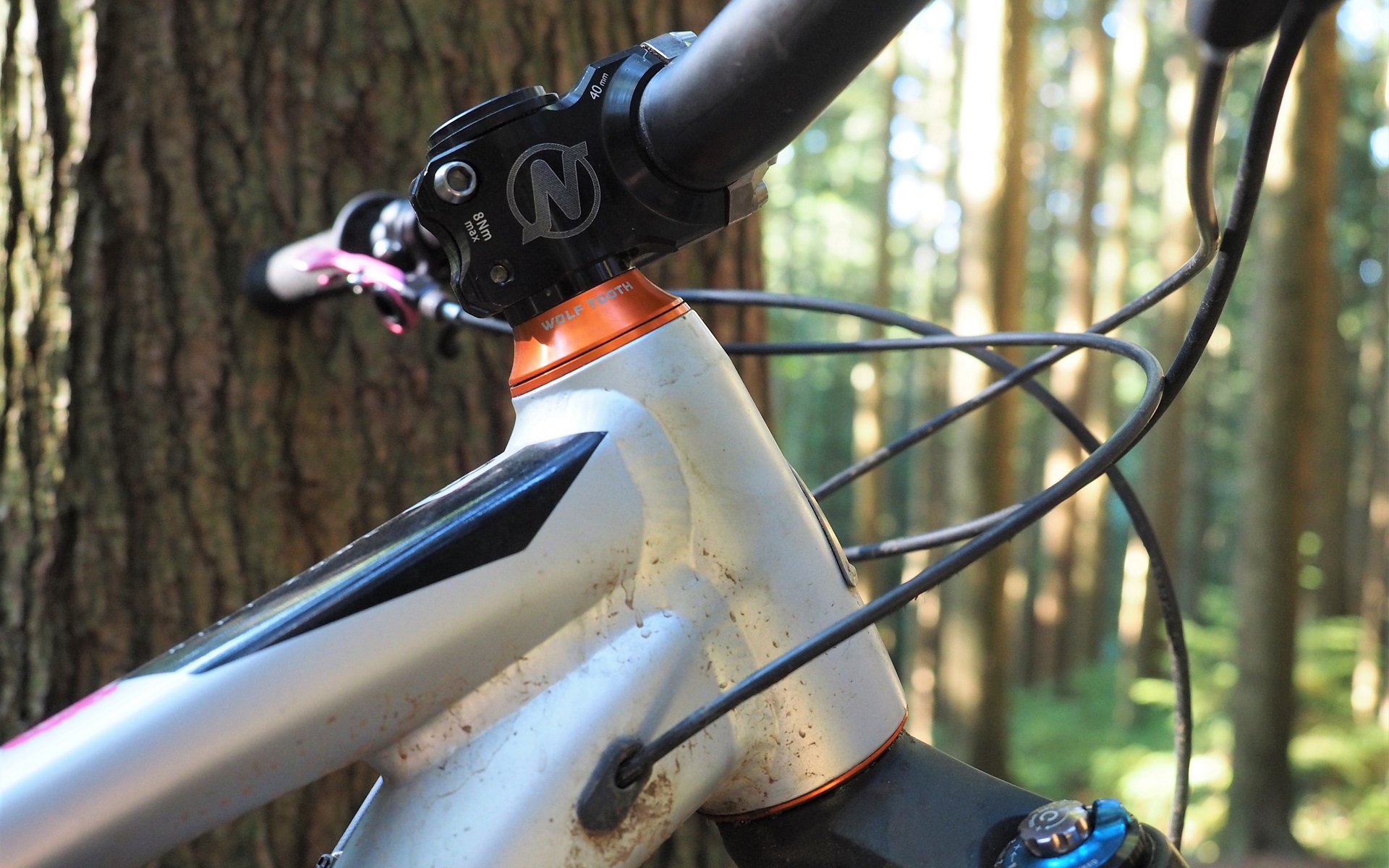 TWO-MINUTE REVIEWS
Wolf Tooth Precision Headset
Aluminum Race
Wolf Tooth's stainless steel narrow-wide rings are one of my favourite products in cycling. I enjoy their pack pliers, their Collab with King Cage, their charge out of the gate with Boostinator, their ReMote dropper lever, and I could go on. I mean, it's totally fair to say I'm a fan of the cycling nuts from Minneapolis, Minnesota.
Their headsets absolutely look the business and my one major concern was the aluminum crown race.
I understood the basic concept. An aluminum race on an aluminum steerer will prevent steerer tubes from corroding, which is a real issue for some steel race and anodized steerer combos in some climates. Actually, as I noted in my first look, the split ring is also aluminum so everything contacting the steerer tube is aluminum.

And man does that sucker go on tight. The first time, the second time, the third time, and the fourth time. This single crown race has been on and off four steerer tubes on three forks from three brands. It's a PItA to remove and it goes on strikingly tight every time. This is not my experience with crown races from other boutique headsets.
I will definitely recommend using their 15 USD crown race installation tool.
Sealing Success
And with my one point of skepticism out of the way, Wolf Tooth's Precision Headsets-In-Halves program is a solid winner in my book. It really isn't surprising as I noted when looking at how well thought out the sealing is in my first look.
That big quad seal really works with the lower bearing remaining as new and essentially zero water penetration of the grease I put in between the seal and the bearing.
In switching frames, I like that I can easily order the headsets in halves as needed and I can even mix and match them with other brand's headsets if I just need a single cup. For example, I have a purple Chris King 44mm upper in great shape that needs a 56mm lower cup for future use and I know where the match will be coming from.
I ride a lot in the rain but looking at the condition of bearings now I'm positive it will be years on end before I'm worried about replacing them - if ever. Wolf Tooth sells all the small parts separately and if I ever needed a replacement stainless steel bearing they're 25 USD for the 41mm and 30 USD for the 52mm. Lower headset assemblies are 55 USD and upper headset assemblies are 65 USD. They're available through your preferred local bike shop, or you can mix-and-match cups and colours on Wolf Tooth's website.
Whether for the quality manufacturing, element erasing design features, size mix-matching, bling-factor, or overall value I think Wolf Tooth Components has a press-and-forget winner.