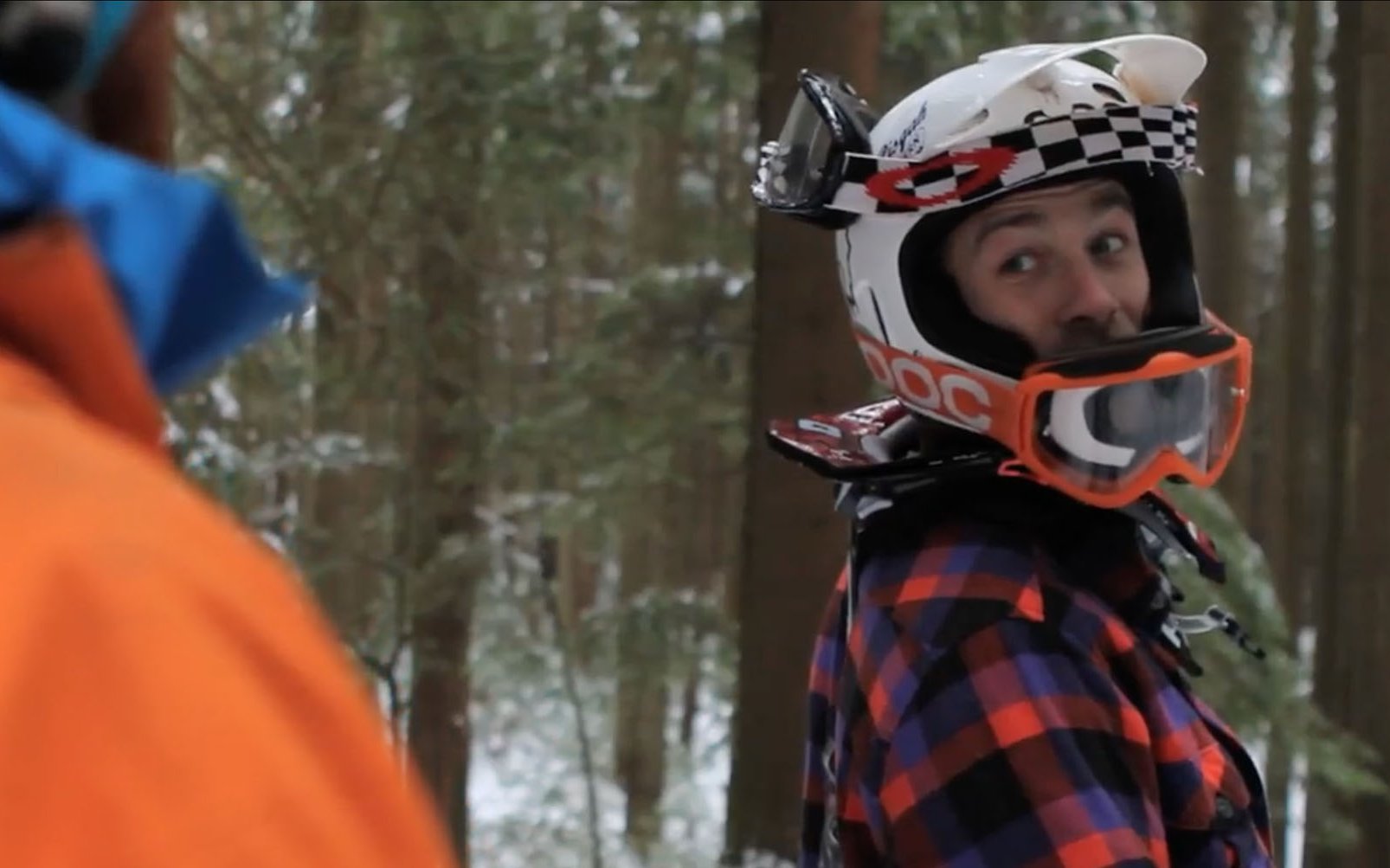 Winter Survival Guide
27 Winter Riding Tips (Winter is Here!)*
Winter means different things to different people even in the same geographic area. Some riders put their bikes away before the first frost, while others embrace the challenge and beauty of battling the elements - like Jon Snow. The right attitude helps but it won't mean squat if you haven't prepared adequately for the nastiness the heavens have waiting for you.
*Originally published Nov 15, 2017
I love to ski and snowboard and even snowshoe, but when the conditions are perfect my favourite winter activity is mountain biking. The right snow conditions will let you drift and schralp like the Coastal Crew and at ride's end your bike is cleaner than when you started. Here are some ideas that will keep you riding when the mercury retreats like a noob at Rampage.
The Basics
Ours is an enthusiast publication so if you are here you likely know the basics. Probably even more than the basics. You should probably be writing this. Regardless, I'd be a slacker to not reiterate the broad strokes for those who live north of chilly; a jacket that breathes and is robustly waterproof (for soggy locales), a good base layer that will keep the moisture away from your pelt, an insulating layer (preferably wool), waterproof and/or warm gloves, tights or knee warmers, and some waterproof shorts for those in the know. Adding some winter shoes and/or waterproof socks will make your ride much more pleasurable as well. Below we'll get into the finer details and a few hacks to help our google ranking.
Clothing and Footwear Prep
You can have studded tires on your full suspension fat bike and perfect conditions, but if you get cold, particularly your hands and feet, there will be no joy, no skill and no fun. Unfortunately hands and feet are the most difficult points to keep warm. Here are some joy-preserving strategies.
Extras
Build in redundancy. If you are going to ride a lot in the wet and cold then one pair of shoes or gloves likely won't cut it. Ideally you'll want to have a relatively quick turnaround time in between rides (always be ready for weather windows) which may mean your stuff will still be wet. If you have a second pair of gloves and shoes, you'll always have a dry pair. For your feet, hang onto an old pair of shoes or pick up a used pair. Bring an extra base layer, gloves, and a toque in your pack in case things go sideways. An injured rider will lose heat very quickly.
Toastie Toes
1. Get a boot and shoe dryer. Andrew Major is a fan of Peet's version but there are others that are more portable if that appeals to you. Some dry both boots and gloves - so be careful to order what will work best for you.
2. Switch to flats for the winter. SPD and other click-in pedal interfaces can become unusable in freezing temperatures. Beyond that, attaching the sole of your foot to a piece of frozen metal isn't great for heat management (unless you use winter shoes with insulated insoles). And riding flats is fun and good for your skills. A downside is that it's tough to wear booties/covers with flats and flat pedal compatible water proof shoes aren't easy to find.
3. Wear some booties/shoe covers. It used to be that booties were pretty much a roadie thing because the covers often wrapped the bottom of the outsole as well as the uppers. Both Endura and Pearl Izumi are making mountain bike specific covers that will allow you to walk around without destroying the covers and the Endura version is designed for flat pedal shoes!
4. Add heat. Rechargeable heated socks are a thing. As are heated insoles that are rechargeable with a USB cable. Disposable insoles/toe warmers are a more reasonably priced option but they require good air circulation to function properly.

5. Waterproof socks. I've had varying success with these, largely because they often feel you've put your foot into an empty hot water bottle. Right now I'm trying some from Showers Pass that actually feel a lot like normal socks. Unfortunately I've been lucky on my rides so I don't yet have much to report but I'll be back with a full review.
6. Go cheapo. If you don't have any sort of waterproof shoes or socks then a plastic bag will work in a pinch. You'll slide around and it won't breathe at all - but it's better than nothing.
7. Go up a half size for your winter shoes. Pressure is the enemy of circulation so you want some wiggle room for your toes. Extra space will also allow you to wear thicker socks.
8. Insulate. Put some insulating tape under the insoles of your shoes for more... insulation.
Dextrous Digits
Warm feet are bad but warm hands are worse.
1. The Unicorn. The ultra warm glove with a thin palm for great bike control... does not exist. If you want warm hands you'll have to sacrifice control. If you want uncompromising control you'll have to sacrifice warmth. (see exception to this rule below) If your rides include long climbs followed by extended descents, consider going warm for the climb and thin for the down. Bulky gloves for high performance riding are like playing piano in baseball mitts, but if you have to choose, go for warmth.
2. Get some pogies or bar mitts; covers that stay with your bike allowing you to slide a thin-gloved hand inside. Pogies come from the rowing world where it's essential to have bare hands on your oar and if you find some rowing pogies that will fit over your brake levers you'll save some money. If you are heading for the Iditarod, or if you ride where it's often cold, check out Bar mitts. These fleece lined 6mm neoprene covers fix to your bars with an expandable bar end plug covering levers, shifters, and even bar ends if you are stuck in the 90s.
3. Heat up your claws. Rechargeable heated gloves are now a thing if that's your cup of tea. But chemical warmers work pretty well for less cash. They are cheaper in bulk but potency is lost over time so it makes sense to purchase in modest quantities.
4. Bring spares in some sort of watertight container (or just a plastic bag).
5. Keep your brake finger warm. Carbon levers help because carbon is less conductive than alumin(i)um - that's right, you can justify carbon in this context! I haven't had success with this, but I know some riders who have used thin, roadie bar tape.
Other Body Parts
1. Knee warmers are fine if you don't wear pads but if you do, they are a pain in the ass. Wearing long socks instead and riding with your pads on is a solid alternative. Or wear full-length tights. (note - not recommended over your baggies)
2. Neck tubes are versatile and easy to carry. You can pull them up over your head if needed and cover your mouth and nose when it's particularly bitter. As always, merino wool is the best choice, but a wicking synthetic will also help.
3. Be bold, start cold! It's tempting to layer every woolen garment you own when the gales of November come early, but you'll be sweating before you round your first switchback. You'll either be forced to stop and disrobe or you'll soak yourself in sweat, making temperature control problematic for the rest of the ride. Don't go too light obviously but too heavy isn't much better. This requires a bit of experimentation - just like shaking out a new bike, it may take a few rides to dial in your perfect layering setup for certain conditions.
4. Goggles on the half shell! Winter is no time to worry about fashion so just go ahead and go full enduro. If you ride in dense forest you'll want clear lenses, unless you are riding in snow.
Bike Setup
1. Be sure to lube your shifter cable(s) if you have been riding in wet weather or cleaning your bike with a power washer. Frozen cables suck. Triflow works great in our experience.
2. Fenders! A front fender is essential if you are riding in the muck and there are folks who swear by a rear mud guard as well. Note - fenders are great in the wet but awful in sticky snow. If the snow is light or well packed then giv'er. If not leave it at home.
3. Weight Weenies stay home. If you have ever changed a flat in sub zero temperatures you know what a joy it is. Prep your bike by riding burlier tires and adding more sealant. Cushcore will be a great winter choice because of the flat resistance, low pressure feasibility and the run-flat capability.
4. Ditch the chain guide if you are riding in the snow.
5. 200mm rotors are your friend in the slippery and snowy stuff for added power and modulation. Just choose your braking points carefully.
6. Fat tires or less fat tires. Huge low pressure tires work great then you can ride on top of snow because it's frozen or hard packed. If you are riding through powder snow fat tires may slow you down and provide too much flotation.
Random Tips
1. Your hydration pack hose may freeze unless you have an insulating sleeve. Luckily there is a company entirely devoted to this product - hydrationtubecovers.com. I'm not shitting you. If you can't find the perfect colour sleeve, you can instead just blow the water back into your reservoir after every drink. Otherwise you'll be trying to eat a popsicle through a straw.
2. Carry a flask. Our lawyer would certainly advise us against recommending pairing alcohol and mountain biking, so what we are talking about here is actually malted grain juice. Ride with care but a wee nip, while not actually warming you up, feels warm and soothing going down. #flaskfriday ftw!
3. Those thermal reflective 'space blankets' do a remarkably good job of preserving heat and they weigh almost nothing. Toss one in for the winter and forget about it until you need it.
4. Night riding in the snow is amazing. You hardly need any light at all and the forest is calm and quiet. You'll probably want to bring a notebook to write some poetry. Do it.
There's something about battling the elements that awakens the warrior spirit. The feeling of triumph and elation may just be chilled endorphins, but a post ride beer never tastes better than after an inclement adventure.
Get on out there and share your #flaskfriday and other winter riding pics with us.