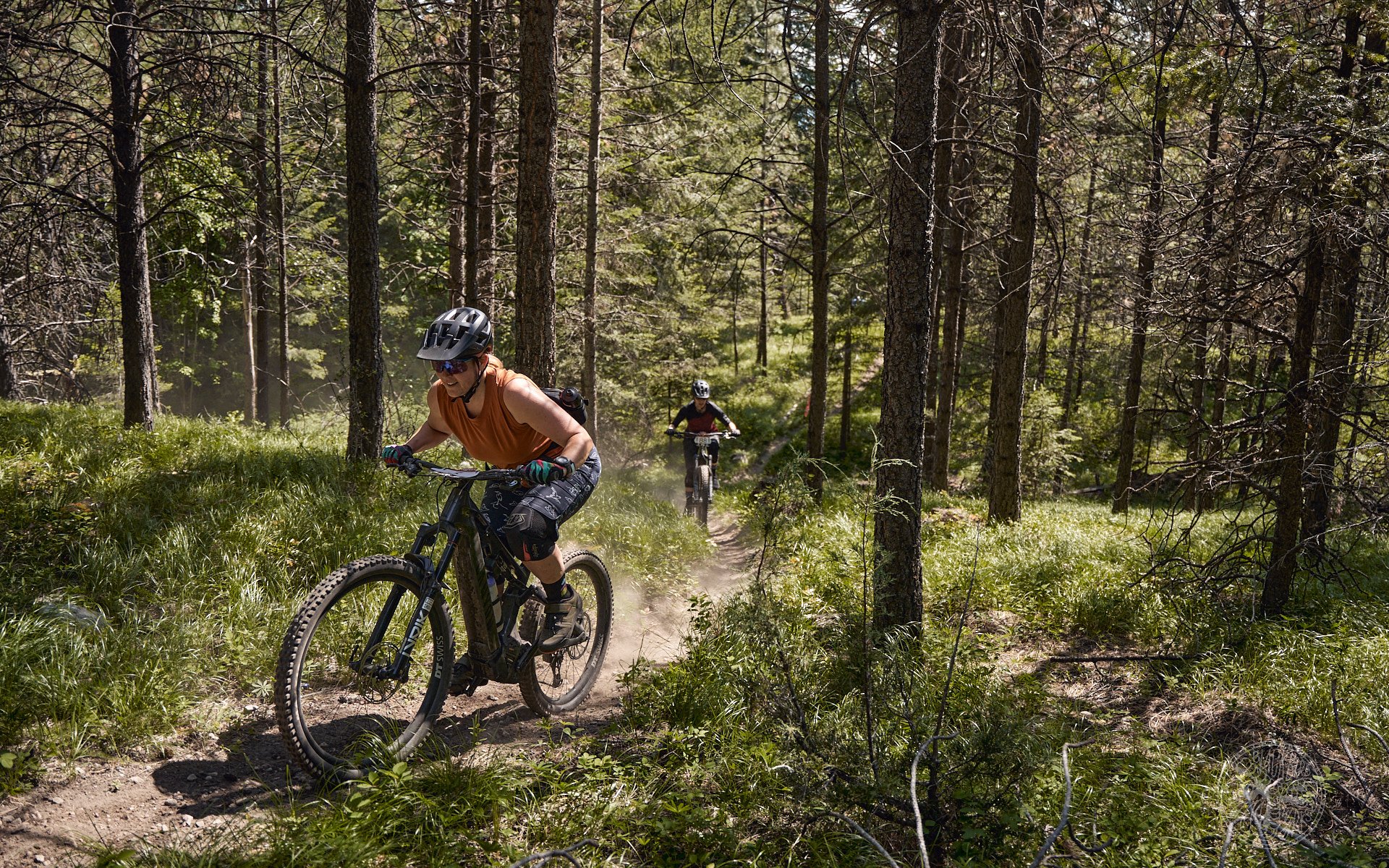 Review
Wild Rye Women's Shorts and Tank
I told Pete I was keen on reviewing products that are interesting to women. The top of that list was Wild Rye, an independently-owned clothing company based in Idaho, operated by a team of 11 (10 women and one man). Their mission is to produce mountain bike and outdoor apparel that "fits, inspires confidence and welcomes more women-identifying adventurers into the outdoors."
Wild Rye sent me two of their most popular mountain products to try; the Merrit Muscle Tank and the Freel Bike Short. I used their online measuring tool to estimate my size and asked them to surprise me with the colours and prints. Based on measurements I fit pretty squarely into a size 12 and ordered both the top and bottom in that size.
Freel Bike Short $129 USD (some colours on sale for $90)
These shorts are made with a SPF 50 Nylon abrasion-resistant blend fabric that has four-way stretch, they have a 12 inch inseam and feature a front closure with a zipper and two snap buttons. The waist is not adjustable but is fitted with belt loops. The Freel features three pockets: two traditional front pockets and one zippered side storage pocket lower on the right leg.
The Freel short is available in 8 prints (plus more on the sale rack) for sizes 0-18, with a Freel Flex version also available that has sizes 14-24 in the Lotus Grayscale print. The Freel Flex looks to be very similar to the Freel, but with the addition of an elastic back panel for more flexibility.
My shorts came in the Great Blue Heron print.
Merrit Muscle Tank $62 USD (some colours on sale for $34)
The Merrit Muscle tank is a made from Wild Rye's "chill out fabric," a blend of recycled polyester, tencel and spandex and is described as being breathable, quick-drying and wrinkle free. The tank has a relaxed cut and is designed to be great on the bike but adaptable to other uses.
The Merritt Muscle tank is available in three colours (plus more on the sale rack) and in sizes 0-18. My tank came terracotta, which is one of the colours currently on sale.
My Impressions
My shorts and tank arrived right at the end of May, and I excitedly packed them for their maiden voyage to MegaVolt, an e-bike event held in Naramata BC. I'm not a frequent rider of e-bikes, but I admit they are fun as hell and I was looking forward to tripling my time to date on e-bikes by attending this festival. I rode my Wild Rye shorts and tank Friday, and two rides on Saturday, until the trail took me for a ride and I ended up catapulting through the air into broken-hand territory. I also managed to scrape my shoulder and sustain a few other bruises. Unfortunately, that has limited how much time I've been able to spend trail riding in this gear, but I can honestly say, they have been "crash tested" 😉 I have managed to get out for gravel rides, some light mountain biking and I'm basically a professional hiker now. I have taken this gear with me on all those adventures and the shorts have become my go-to selection for a trip to a swimming hole as well.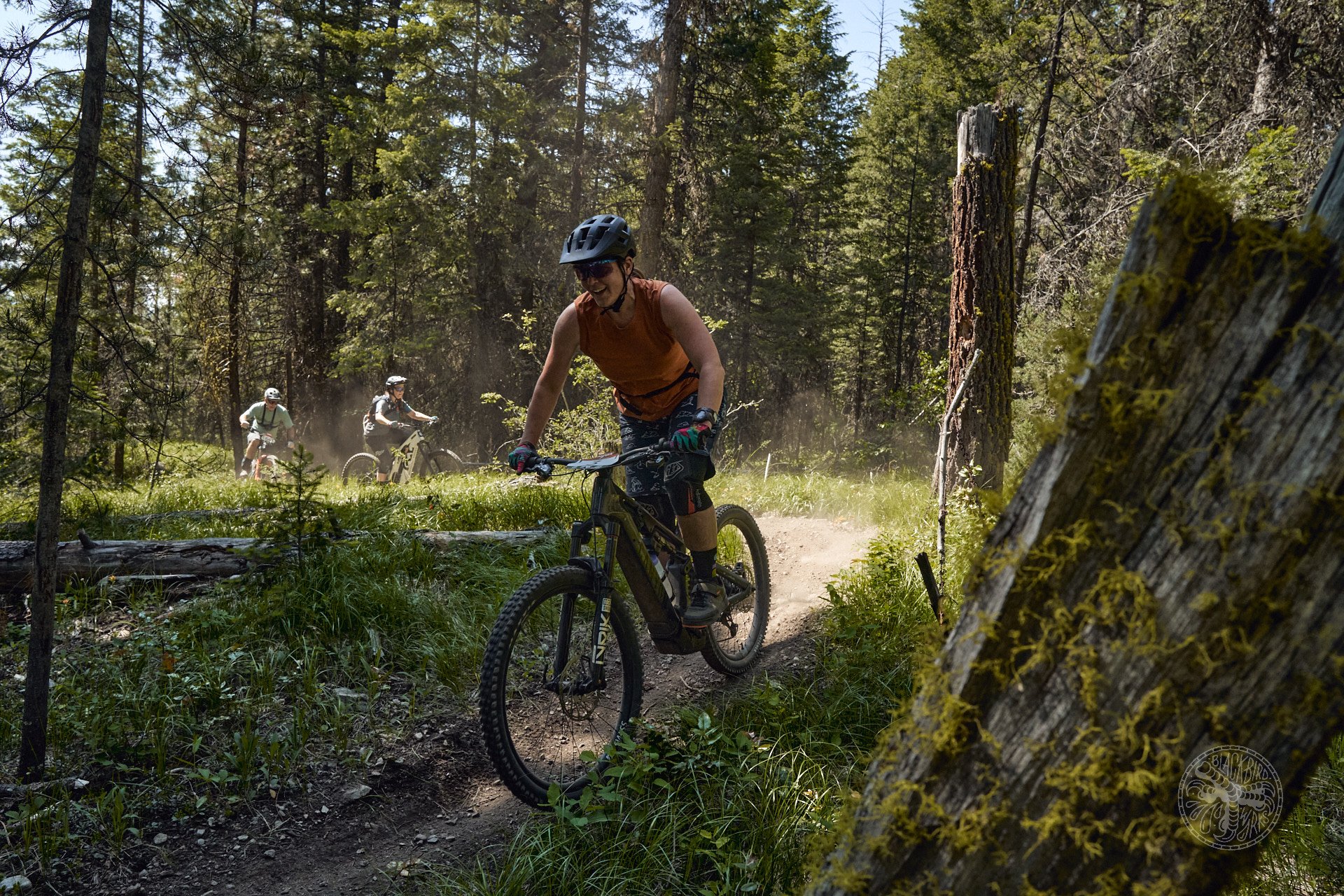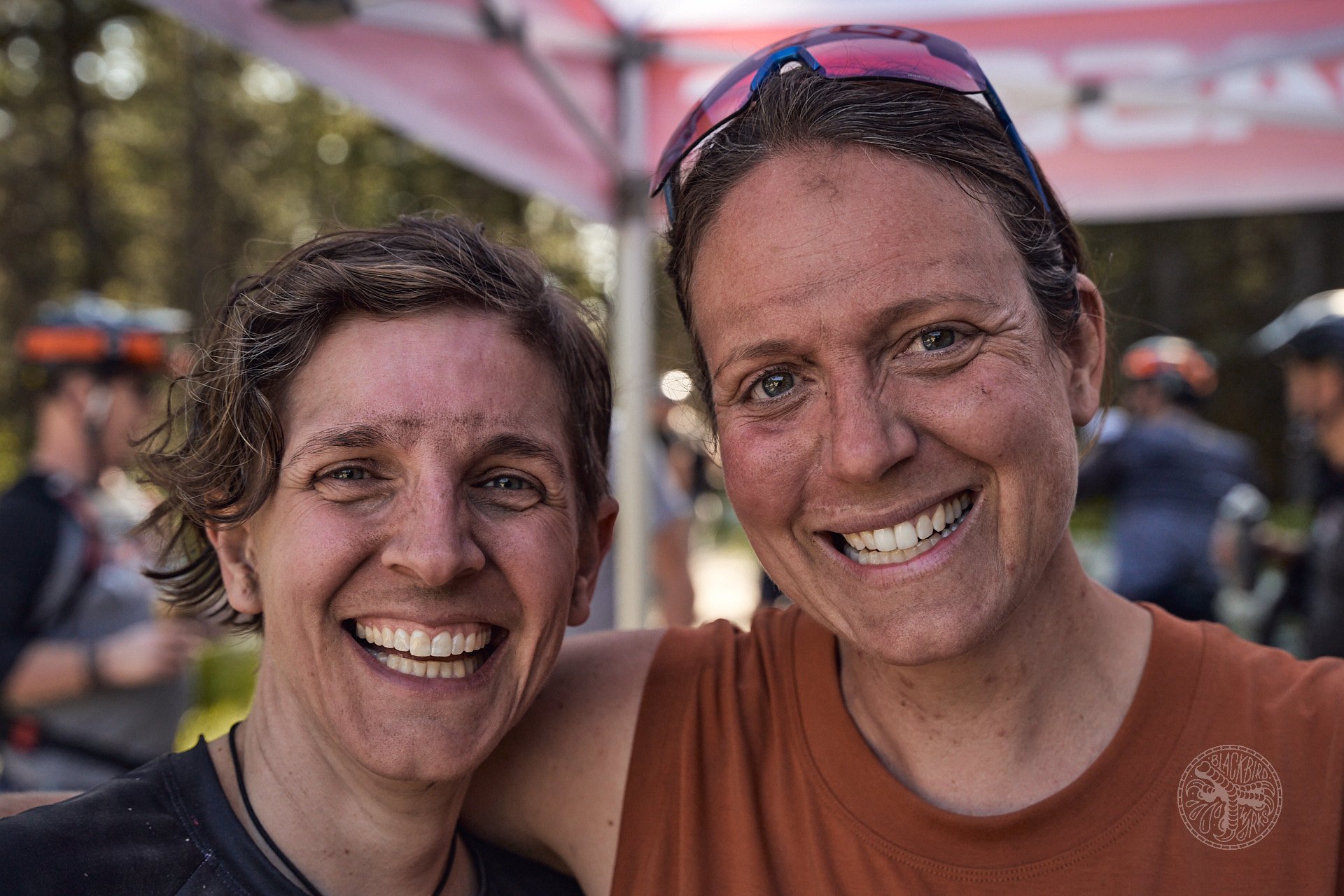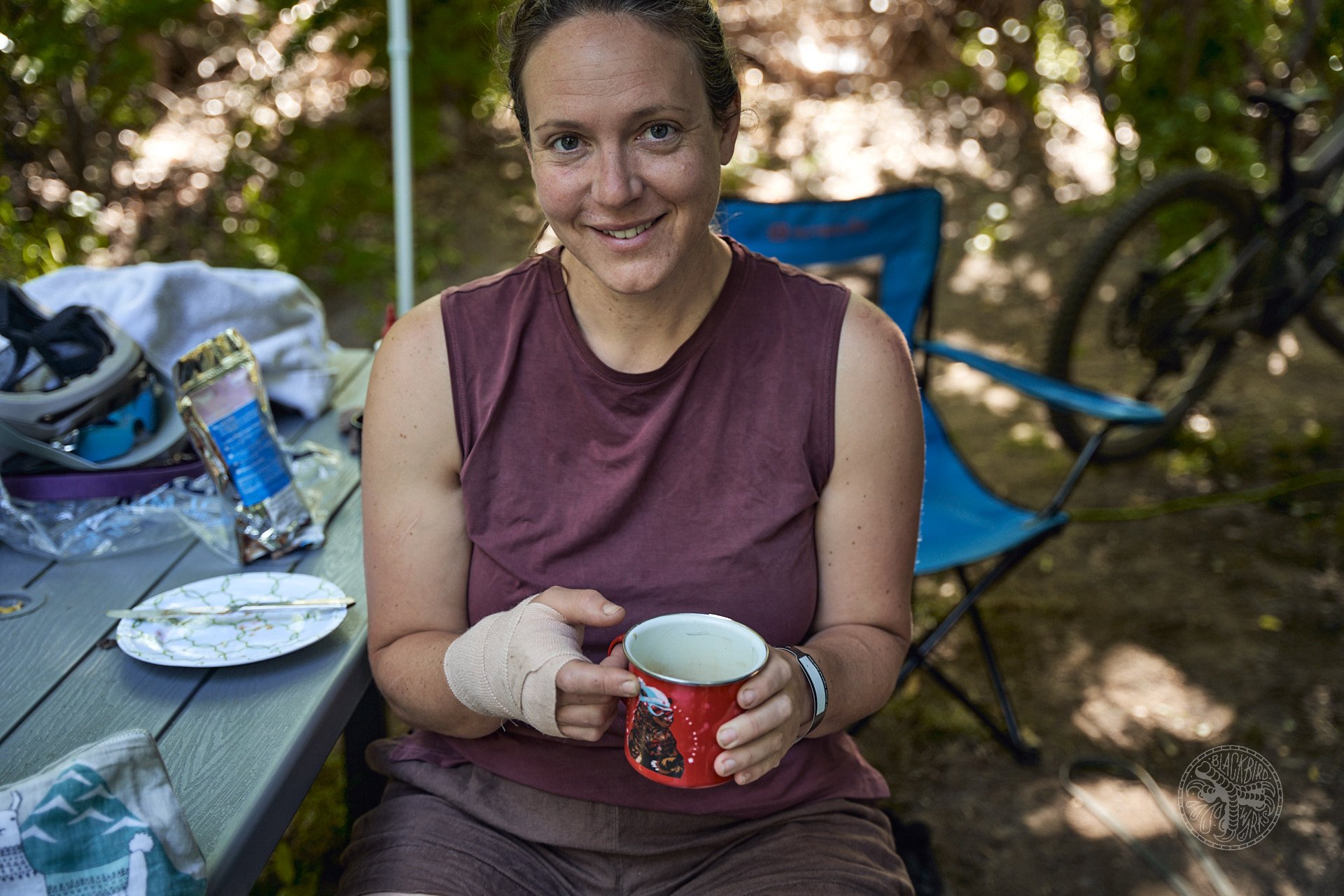 Freel shorts
These shorts are very stretchy and I really love the gusseted crotch; it is full length and there are no sneaky seams; they are flat and durable. I find these shorts really comfortable to ride in with or without a shammy. I appreciate the shorts have three pockets, but for riding only the side stash pocket is really useful. I never place things in my front pockets to ride as they dig in. The front pockets make these shorts really versatile for other activities though, as you can use them like normal shorts as well.
The length is more than enough to keep knee pads tucked in without the dreaded gorby gap, but also just above the actual knee is you ride pad-less they don't rub on the knee when pedaling. There is a little scallop to the outside seam on the shorts to give a design flair and more room for knee pads. I don't love the design look of that scallop because I like the aesthetic look of a straighter line to long shorts, but functionally I have no complaints.
The material feels durable and a bit heavier weight than the average short. They breathe reasonably well but on super hot days I prefer a slightly lighter fabric. For 95% of riding days where I'd be in shorts in the PNW, the weight is great. I can attest to the fact that so far these shorts are bomb-proof. Even hitting the ground at 35km an hour and taking these on multiple adventures, they look brand new and not a thread is out of place.
I wish there was a bit of waist adjustment that didn't rely on a belt. I usually ride with a hip pack so a belt would not be a choice addition for me. The waist, hip and leg sizing are well proportioned though, so unless you are someone who often needs to size up to fit the lower body but with a smaller waist, the fit is pretty good and I haven't needed a belt. My shorts just sit a little lower on my hips while hiking or walking around, but while riding they fit as intended and stay high enough on my back to keep avoid loam crack (thanks Emma for that one!).
Fit wise, I felt my measures translated into a good size choice for a relaxed fit short.
Merrit Tank
This has also been a pleasant surprise. Other than in the hottest weather, I gravitate towards wool riding tops. I find polyester and other synthetic materials tend to stink too quickly. I still remember years ago standing around at the end of a race with a group of people overcome by an awful stench… that to my complete embarrassment was my jersey. So far, the Merrit tank has been all clear on the smelly top front. Even with three rides in a row… almost no stink!
The tank is insanely comfortable, super soft and it dries faster than I expected. I like that the shoulders are wide enough to protect my skin from abrasion while wearing a pack and the neckline is high. I love riding tanks but I also don't like a low cut tank while riding bikes, so I really dig this cut. The tank is quite long, and is designed to have a relaxed fit through the body. There is one flat seam down the middle of the back but it hasn't bothered me at all while wearing a pack.
The tank has also been durable. I really took a layer off my shoulder when I crashed and the tank also looks brand new. I'm impressed by how much abuse these items can take. On sizing, I wish I had ordered one size down as I feel the tank fits a bit baggy and I would like a slimmer fit, closer to what is shown in the product photos on the website.
While both the Freel short and Merrit tank are great while riding, they are both versatile pieces that also work well for other outdoor activities, and don't look or feel overly "bike-specific".
I'm happy to have had a great experience with these items, because I really like the story of Wild Rye and I feel like as consumers, we have a lot of options. Its good to be able to choose products that align with our values, but the products also need to stand up on their own.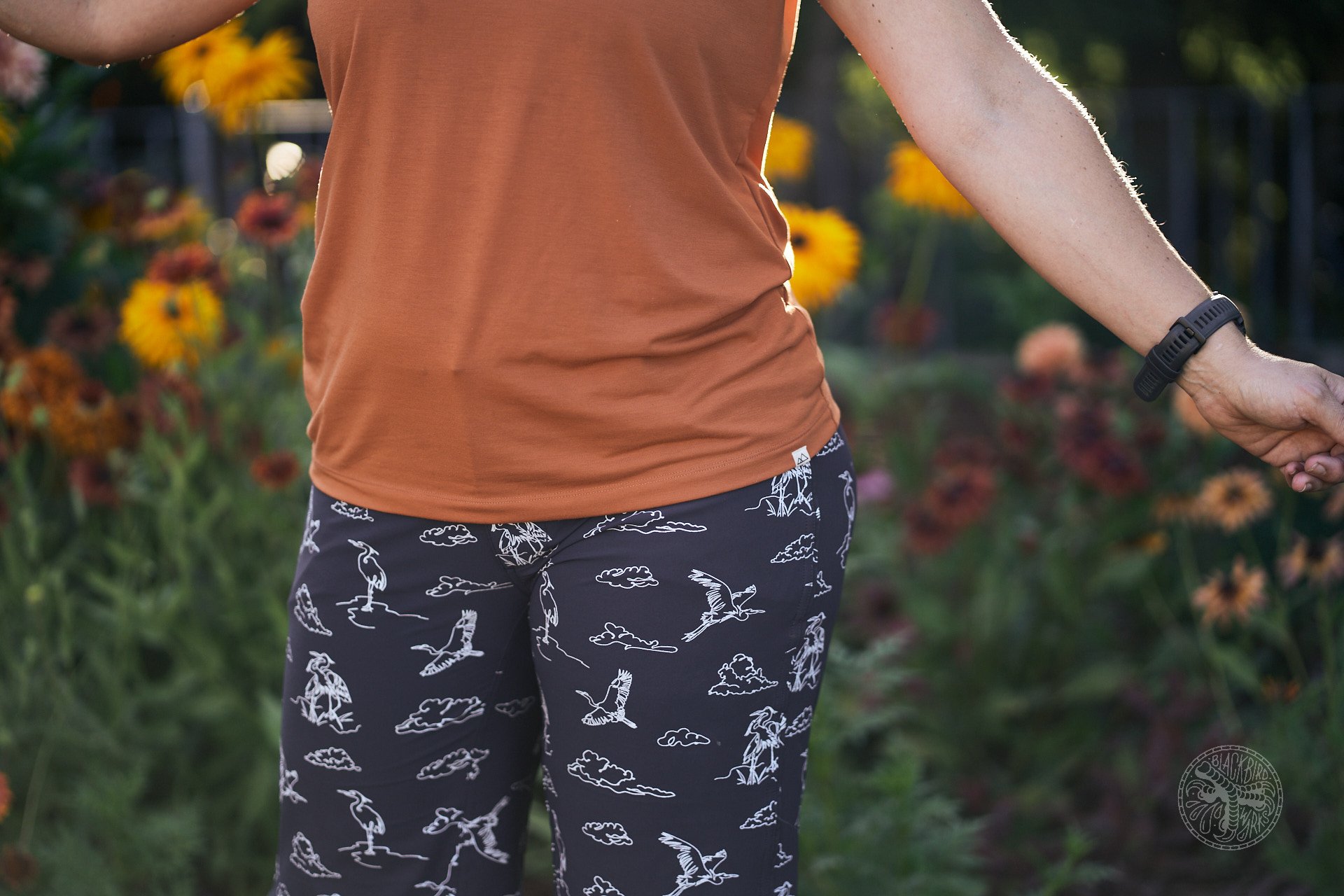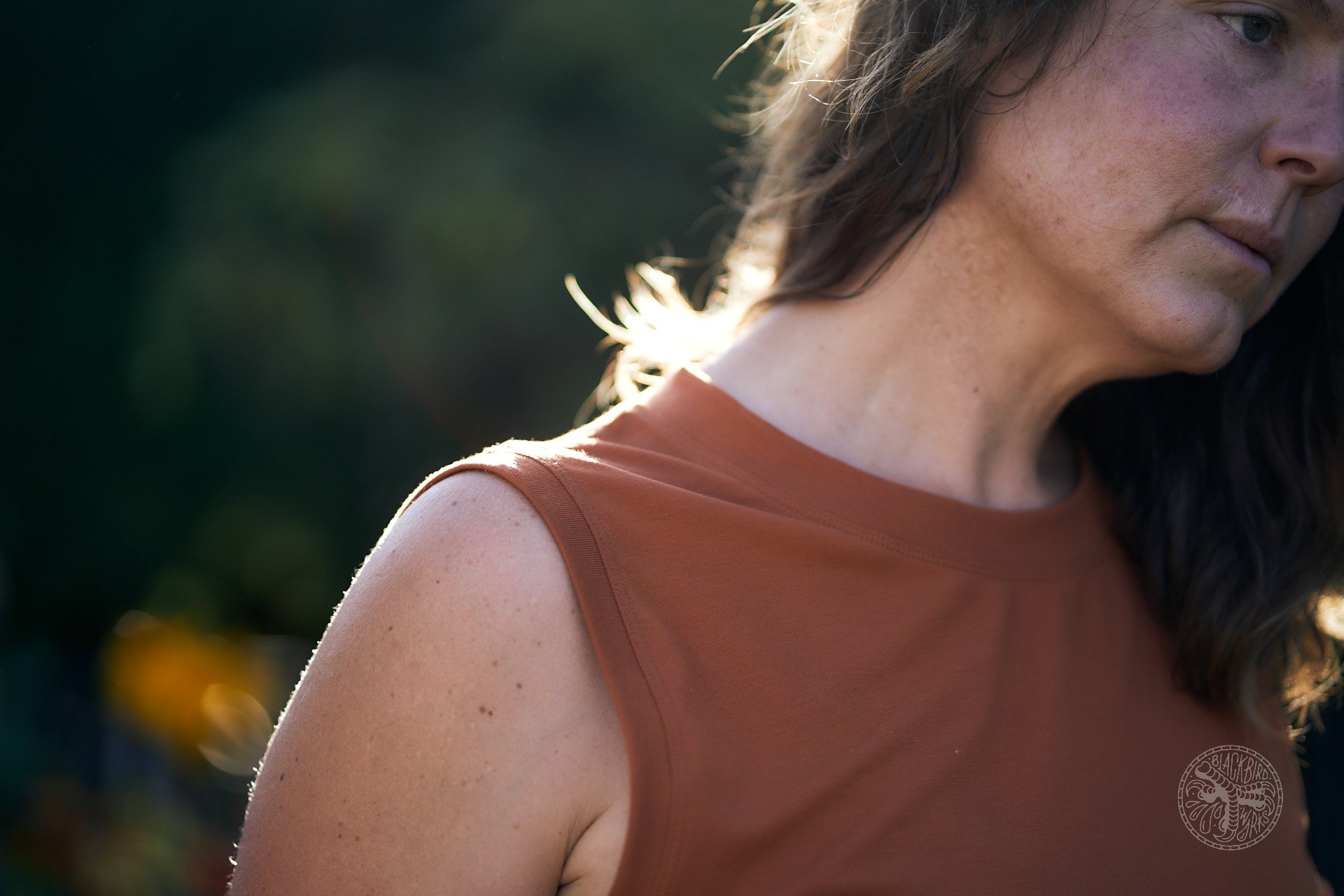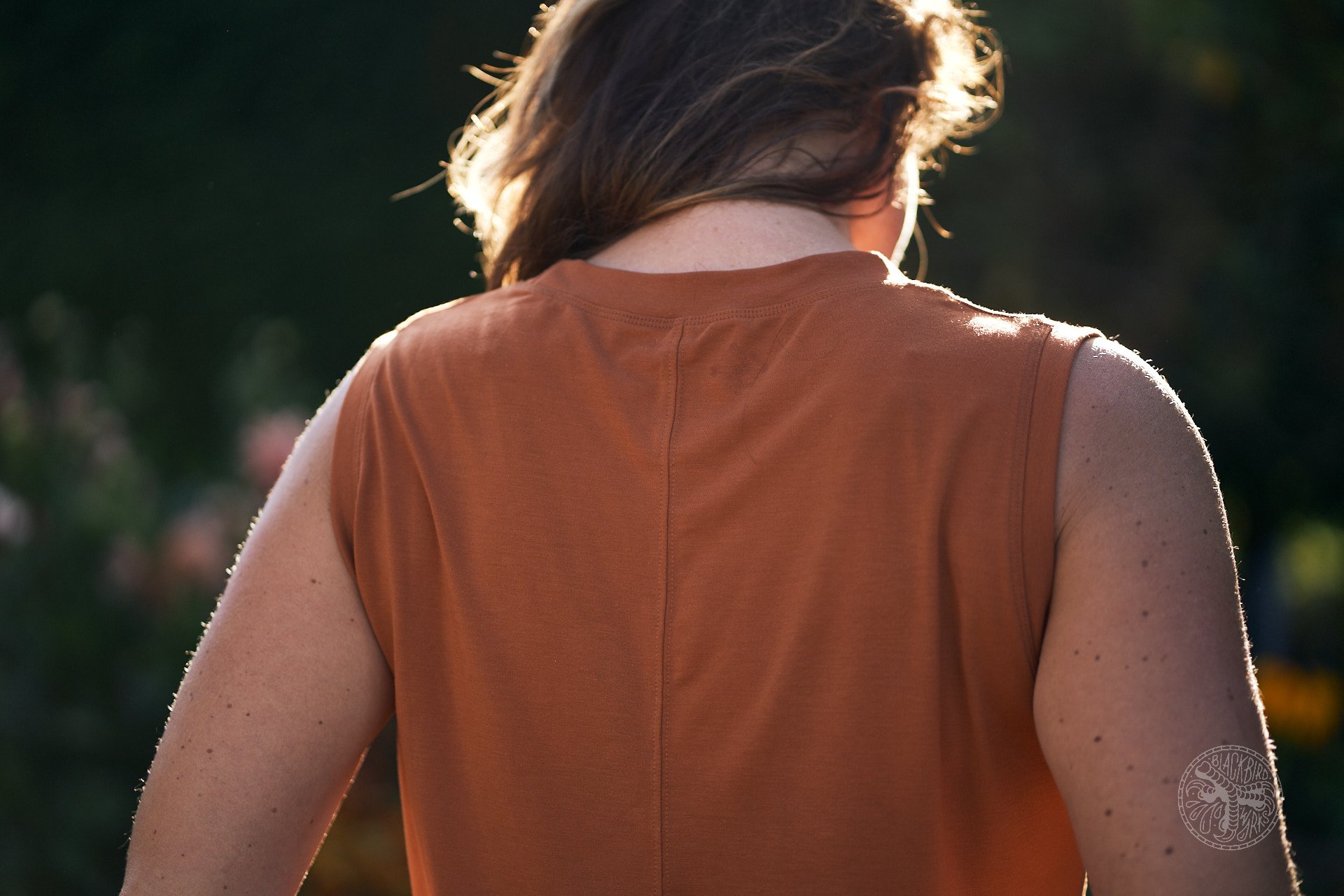 Values
Wild Rye was founded in 2016 by Cassie Abel. Cassie has a long and varied resume including investment banking, lacrosse coaching, marketing and communications. In addition to Wild Rye, Cassie is the creator of Women-Led Wednesday — a directory of women-led brands that goes beyond the outdoor apparel sphere, and an annual shopping holiday that promotes women led businesses. Cassie's love of the outdoors and desire to create better products for women led her to create Wild Rye. A well written bio on Cassie in Medium (https://shorturl.at/htIQ7) really highlights some of the values that Cassie carries in Wild Rye, which I personally love. Cassie talks about her focus on disruption in the bike industry in a positive way – instead of approaching disruption from a point of anger or negativity, Cassie is consciously building a brand that seeks to include and serve many segments of the outdoor industry that have historically been overlooked "not from a place of anger, but with a strong sense of community and understanding, while relying on our powerful allies — oftentimes men…We're creating a disruption that we want people to join. This is not a disruption to be viewed from the outside. It is a movement we want people to jump into, be a part of, and see themselves in. Our disruption is a community that everyone is invited to be a part of."
The joy that Cassie is trying to spread through Wild Rye can be seen front and centre on their clothing. While there are some more neutral colours in Wild Rye's garments, most of the products are instantly recognizable by the use of bold colours and prints, all the better to channel happiness and joy out into the world. In addition to bike gear, Wild Rye also offers a lifestyle collection, but don't overlook those items for on the bike fun either. A friend of mine was recently looking for a pair of overalls for riding and I pointed her to Wild Rye. She eagerly ordered some bright yellow shortie overalls that she's been living with on the bike, and gets compliments everywhere she goes.
Sustainability
Wild Rye is a Certified B Corp. (a designation that a business is meeting high standards of high social and environmental performance, accountability, and transparency) and Climate Neutral Certified. They use Bluesign certified fabrics where possible, ensure fabrics have recycled components and only use merino that is non-mulesed (meaning wool from sheep that are kept to higher animal welfare standards). Wild Rye also ships using mostly recycled and recyclable materials and requires their factories to meet the highest global standards for fair labor and wage practices.
Warranty
Products carry a lifetime warranty for regular use. Damage due to wear and tear, misuse or neglect is not covered under the warranty. Zippers and buttons are YKK brand and have a one-year warranty.
Conclusion
Wild Rye is a small brand, and worth a try if colourful and fun outdoors clothing is your jam. Their gear is well fitting, thoughtfully designed and durable enough to handle my crashes. I love that they offer a wide size range and the fit is definitely accessible to multiple body types thanks to the generous amount of stretch. I find a lot of bike gear tends to fit small, but the Freel Short and Merrit Muscle Tank both fit fairly true, to slightly large. The price is on the higher side but in line with other premium brands. If you have the financial means and the values of the company align with your own, your dollars as a consumer are your voice. Another option for accessing Wild Rye gear is to check out their Peer2Peer resale platform, Wild Rye (redux), which is hosted on the Wild Rye website.