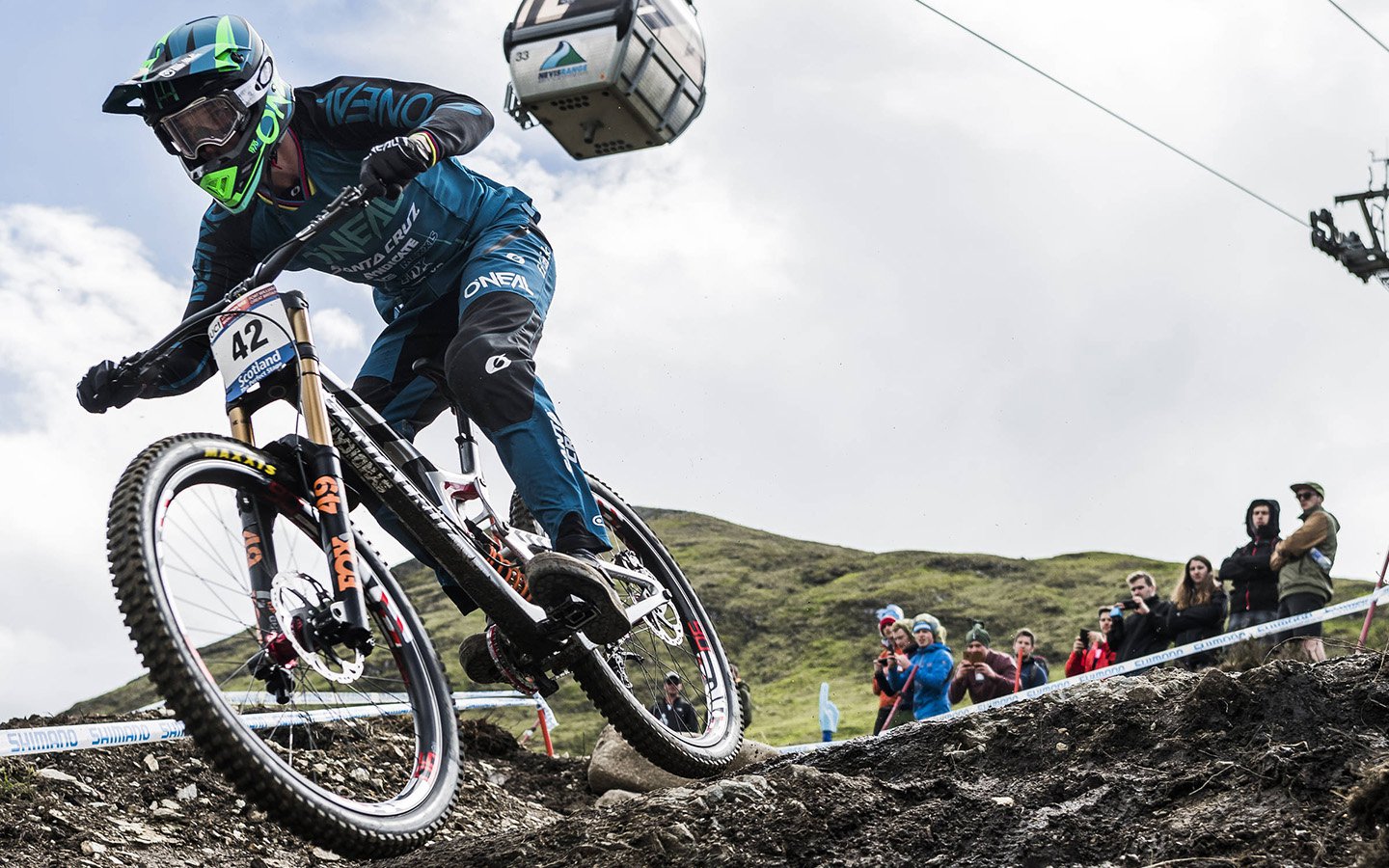 Editorial
Why the Fuss about 29ers in DH Racing?
Fans and athletes in the mountain bike DH world do indignation very well, and there has been a lot of foot stomping and snorting about the arrival of 29ers on the World Cup circuit. Followers of downhill are diehards, we are purists, and those attributes make us resistant to change. But not all change. In fact some changes have been spurred by the DH community's desire to be distinguished from other mountain bike disciplines.
If you look back at the Kamikaze races and early DH in general skinsuits were plentiful along with visorless helmets. Early DH racers wore lycra and other tight fitting material just like today's XC riders, with pads either over top or underneath. And yet nobody was fussed when skinsuits were banned even though they are faster. In fact, there was a lobby against skinsuits and visorless helmets led by riders, media, and fans and in 2008 it was made official. The UCI statement said, in perfect Swinglish "All tight-fitting clothing is not permitted." There were those who spoke of the heritage of the sport as a rationale for this change but DH didn't have a long pedigree at that point. And skinsuits were part of what little there was, despite looking godawful.*
The arrival of 27.5 wheels caused little fuss that I can recall. My web searches dug up little in the way of furor from the media or athletes and it felt like a foregone conclusion at the time. And yet this was the moment when the sacred 26" wheel was forsaken, despite 27.5 having no special status that distinguishes it from 29ers which have a longer production history in MTB. There were some rumblings but nobody suggested a ban or a different category for what were then called 650b bikes. Is it because they didn't look as different? Or maybe because a lifetime 26 rider could swing a leg over and get comfortable quickly? Most riders need some time to learn how to ride a 29er, even coming from tweener wheels but that may not explain the seamless adoption.
Perhaps the contrast in outrage between the wheel sizes is due to 29ers being associated with XC while that stigma has never been directed at 650b. Could it be that 29ers offend the masculinity of DH types since it is mountain biking's most macho pursuit? Skinny jeans did not make it onto the DH circuit the way they have at Rampage and at slopestyle comps. Many riders associate wagon wheels with shaved legs and bib shorts and most DH fans and racers would rather be lumped in with syphilis than XC MTB. These attitudes are changing some, largely thanks to the younger generation but it's a painfully slow process, as highlighted by homophobic comments that still sometimes appear under articles and social media postings about 29ers.
There are some concerns about the big wheels that have less to do with testosterone as well. Loic Bruni has a Specialized Demo 29er prototype ready but he has resisted riding it for philosophical reasons. He thinks big-wheeled bikes are too easy to ride over rough terrain and that the viewing experience for fans is compromised as a result. And this is happening while tracks are getting easier compounding the situation.** Was the switch to 650b okay with Loic? If not was it the degree of change or something else that allowed him to veer from traditional MTB wheels?
I see his point to some extent. The juice for me watching DH either live or after the fact comes from those rare moments of separation; when it's clear that one rider is doing something the others can't or taking lines their peers didn't notice. Could the rollover ability 29ers are famous for make it more difficult to see those nuances? At Fort William Greg Minnaar has a signature line that others don't ride (see screencaps below) where he launches an inside between corners, and he did it on his 29er as well, but what about more technical zones? Will big wheels make it look too easy or will it simply look faster?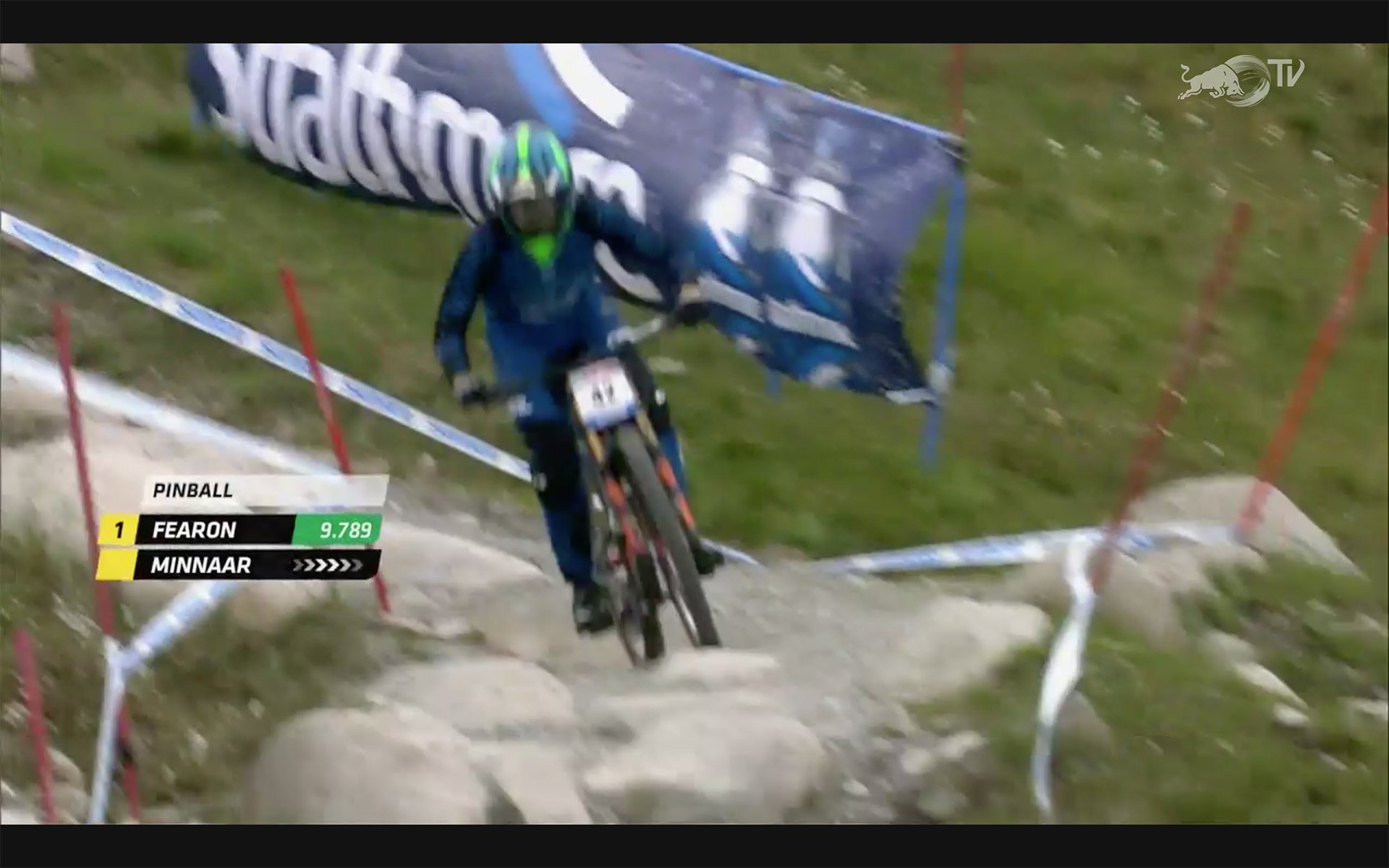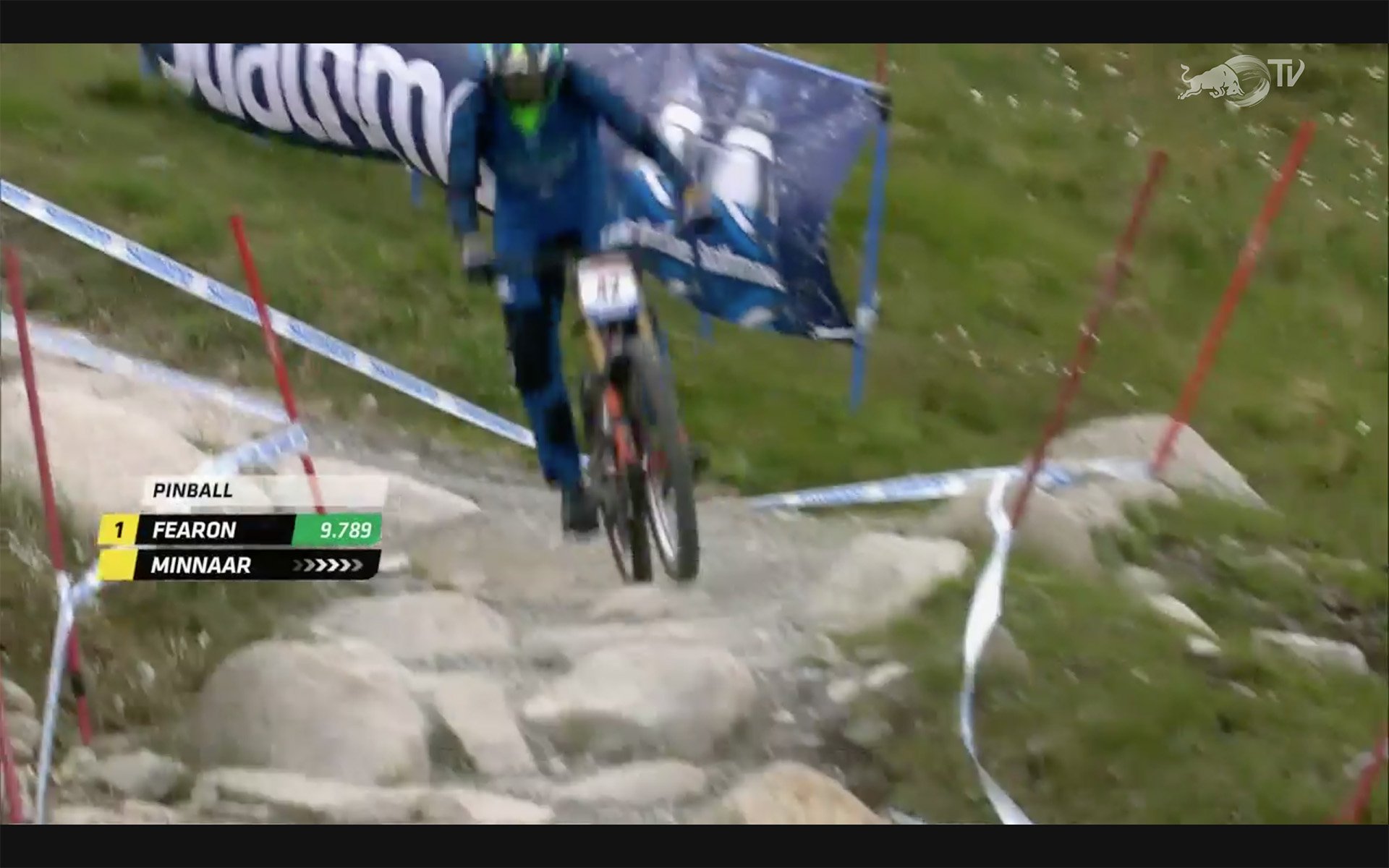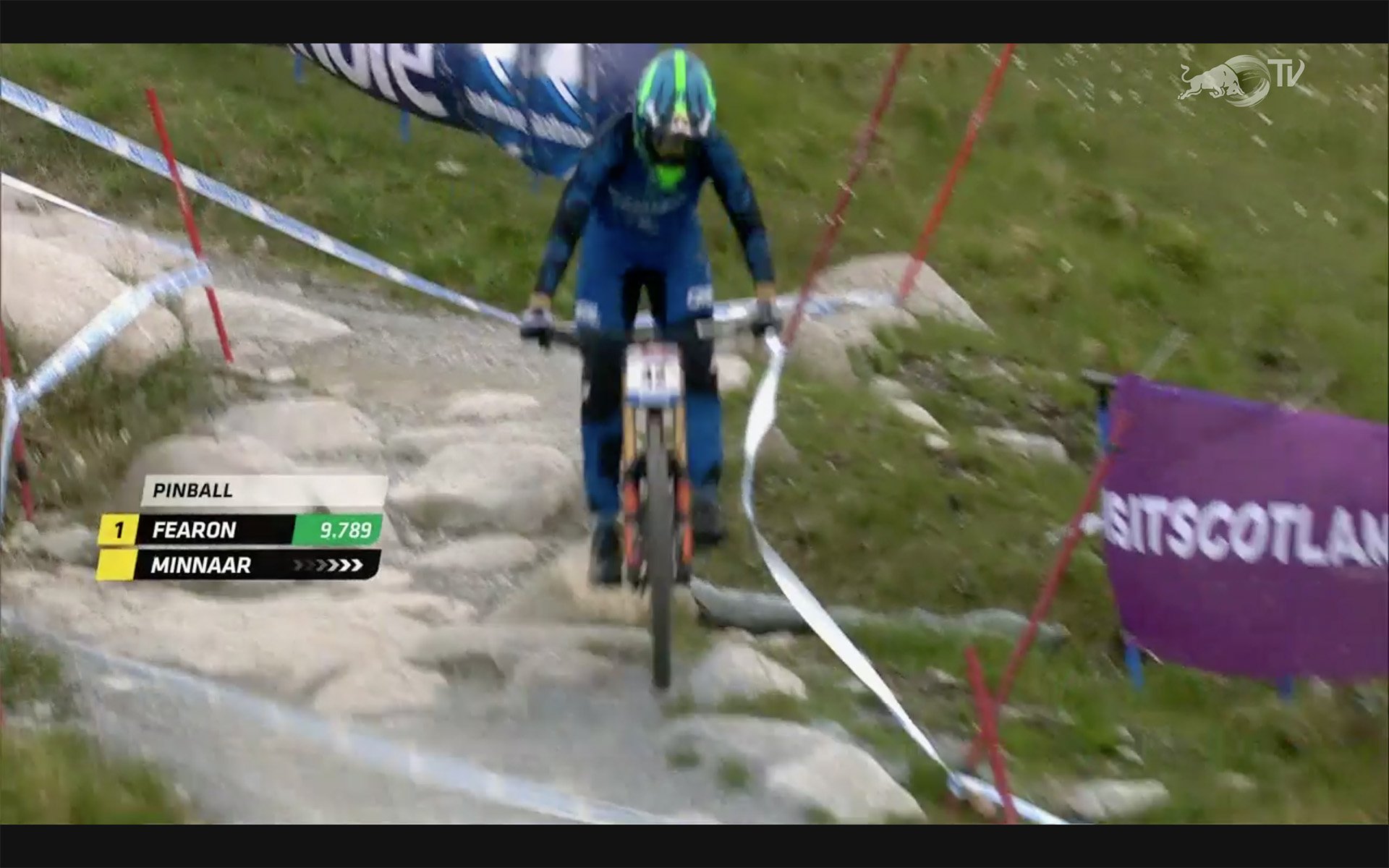 Them's The Rules (or lack thereof)

Those howling that 29ers offer an unfair advantage*** are failing to recognize that within any competitive structure maneuvering to achieve a legal advantage is the point. This scraping for an edge is why racing improves the breed. The UCI has had outdated rules in road racing for years, only recently thinking about reducing the 6.8 kg minimum bike weight and considering allowing disc brakes (albeit with ridiculous and unnecessary guards). Do we really want the Swiss Mafia meddling in mountain bike design and putting limits on what is possible? There are those who wish our industry had never forsaken the 26" wheel but now that ship has sailed and I think striving or as little UCI interference as possible is the way forward.
There are always rules in racing but the parameters constraining bike design for DH racing are few.

ARTICLE 1.3.004 "Except in mountain bike racing, no technical innovation regarding anything used, worn or carried by any rider or license holder during a competition (bicycles, equipment mounted on them, accessories, helmets, clothing, means of communication, etc.) may be used until approved by the UCI. Requests for approval shall be submitted to the UCI, accompanied by all necessary documentation.
Gearboxes however are out! Supposedly at least. 

"The bicycle is a vehicle with two wheels of equal diameter. The front wheel shall be steerable; the rear wheel shall be driven through a system comprising pedals and a chain."
Don't tell Benoit Coulanges however, who has ridden his belt-driven gearbox Nicolai to top twenty finishes on the big stage. Apparently even that one goes unenforced. That's not to say the UCI doesn't have any rules that are particular to mountain bikes. Of the 47 pages in the UCI's clarification guide, all but 6 pages apply exclusively to road and track bikes (no mittens!) and associated equipment. But in the mountain bike specific guide there are some rules:
As you can see wheel size isn't on the UCI's radar. But is it coming? It's unlikely the big wigs in Switzerland will retroactively enact a 29er ban, but they might cap wheel size at 29. Or they may just leave it alone since they don't seem to care too much about what happens in the knobby world as long as they are allowed to rule it.

§ 7 Equipment 4.1.038 The use of radio links or other remote means of communication with riders is forbidden. 4.1.039 The use of tyres fitted with metal spikes or screws is not permitted. 4.1.039 During MTB races no traditional road handlebars may be used. bis Clips-on extensions are forbidden but traditional barends are authorized. (article introduced on 1.02.12; text modified on 1.01.16).
Irish racer Ben Reid called the arrival of 29ers "the worst thing that's happened to mountain biking since I've been involved in it." Ben is not a big guy and he feels riders his size won't be able to capitalize on the twenty-nine inch advantages, despite Danny Hart who is of similar stature being up 3 seconds before a crash took him out of the running at Fort William. Ben says his objection also relates to how gnarly the riding looked in the early 2000s with 26" wheels; "a 29er just mellows that all out. Guys were getting scattered about and just fighting the bikes through sections and I think you're going to lose a lot of that." Of course you have to credit some of the difference to geometry and suspension design and even wheel and tire tech but to Ben those are innovations while wheel size is not.
Isn't it supposed to be about going the fastest? This counter argument is often repeated but in most speed sports there are limitations on equipment dimensions and design. For downhill skiing, there are limits on the minimum ski length and radius rather than a maximum and in motorsport, it's often displacement and aspiration regulations that govern speed and acceleration limits and even downforce is subject to regulation.**** To isolate driver skill some race series dictate one make and model of vehicle for each driver. In a perfect sporting situation, there wouldn't be performance gaps based on the size of your wheel or the efficiency of your dampers. 
Aside from the odd time trial, I don't recall it being suggested that a Tour de France stage was ever won because of non-pharmaceutical technology. But DH isn't road and the technology is part of what we sink our teeth into leading up to and during each World Cup round. Imagine the UCI putting together 47 pages on travel, rotor size, bike weight, materials, handlebar width and more... Regulating technology within DH could be the kiss of death and while 29-inch wheels may be less 'core' than 26, I'd prefer to sacrifice wheels rather than allow mountain bike teams and brands to be hamstrung by reams of lame regulations. 
Viva le wagon wheel!

*A satisfying irony is that these days racers get their pyjama suits tailored to be as close fitting as possible. You won't see any jerseys flapping in the wind because that costs time. 
**While many riders lament the speedway sections of many tracks the loudest criticisms we've heard for some time came from Fort William and the gripe was that the new woods section was too hard.
*** Notoriously contrarian suspension tuner Chris Porter disputes this and notes that Greg Minnaar winning Ft. Bill by two seconds is business as usual.
**** Formula 1 in the past has limited downforce in an effort to increase overtaking but for 2017 they allowed it to increase with the same goal, mostly because the engineers always find a way around the rules.