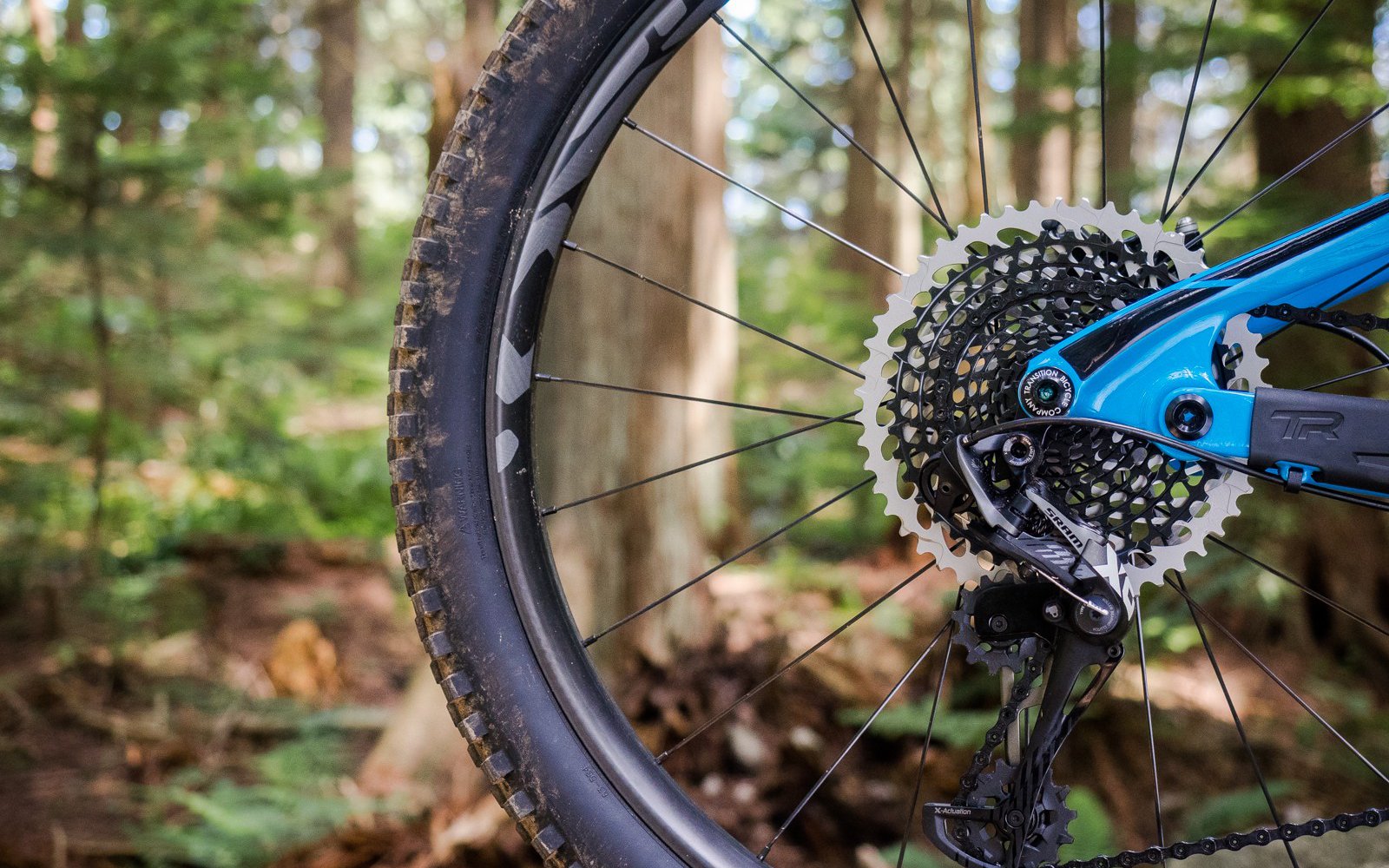 Editorial
Why Eagle Matters
The Bar
Long, long before SRAM dropped the 1x specific XX1 group, complete with the first 11spd 10-42t cassette and Narrow Wide ring, heaps of riders were experimenting with similar setups of their own. eNVy had the 'Inner-E' plate (a sandwich for chain retention for the larger ring) with manual granny shifting but for the most part those early adopters were just mashing away at 11-32 8spd or 11-34 9spd cassettes with a 32t ring up front. Sitting, standing or walking them big gears on the freeride bikes of the day. 
It made no sense. Front derailleurs aren't hard to set-up and granny rings made crawling up tech climbs much easier. The weight savings only added up to a pound or so. Bikes at the time weren't being designed around 1x drivetrains in terms of suspension kinematics and clearance with short stays was a non issue with 26" wheels. 
No sense. No sense at all.

But the hunger/desire/need to keep mountain biking simple is ever present and I think it comes as no surprise that two years after launching the dropper bomb SRAM was looking to appease riders by driving the return to that magic number of four* cockpit cables/lines that is rooted in our collective psyche going back to the birth of the sport. 
I distinctly remember reading NSMB's first ride on XX1. Maybe it was because of a decade riding single speeds or my own 1x experiments but for whatever reason I met the new product with muted appreciation that a huge company was actually listening, watching and engaging with what customers were thirsty for. Another click at the shifter, a new hub driver standard but at the same time a ready made answer to a question a lot of riders were asking.
That isn't claiming anything. Next time you see a group of riders in their 30's or 40's sitting around having a pint take a poll of how many tried ditching their front derailleur before 2010. These days it can be hard to find someone who wasn't in the resistance.
Goodbye Front Derailleur...
...we really knew ye. 

This isn't the end for multiple chainring drivetrains as we know them. But it could be for you. I personally believe this is a great and logical step for drivetrains. Sure, we might still have the dangling protrusion of a rear derailleur, but 11-speed does away with the pesky mess of front derailleurs." - Seb Kemp, August 2012
We all hate front derailleurs. Well you know, except for me. I don't hate them. I quite like front derailleurs! You too? Weird. How many of the four bikes I'm currently riding, including my commuter, have one? Ummmmm... The answer is zero.
Actually, the two biggest front-derailleur-for-life advocates I know** don't have one on their bikes any longer. The only people I know still advocating for them are running Di2 with a single shifter and the front derailleur automatically working in pre-programmed conjunction. Isn't that really just an overly complicated 1x drivetrain with more ratios?
Eagle Trickle Down
I'm perfectly happy with an 11-42t range cassette with a 32t up front. If it's my money and I can pick any drivetrain I'm still throwing down for a GX shifter and derailleur everytime. Mate that to a SRAM PG-1130 cassette on a standard (non-XD) driver, a RaceFace Aeffect Crankset and a Wolftooth 32t stainless oval ring (my one little luxury in my ultimate min-max drivetrain) and I'm happy. 
There have been some loud rumblings that suggest SRAM is bringing a lower priced 10-50t 1x Eagle system to market. I won't be surprised to see this drop because there is a lot of pent-up demand. While hub spacing, bottom bracket and new brake mounting standards all make me groan I think this is a great thing. 
1x makes it significantly easier to design the kinematics for great suspension bikes, at every price point with every suspension system. 1x makes dropper posts way more ergonomic to use. 1x makes it easier for riders to work on their own bikes. 10-50t makes 1x usable by everyone. 
The 10/11-42t cassette didn't kill the front derailleur but I think the 50t, whether Eagle or Shark, is well on its way to doing so. 
The Elephant in the Room
Why does Eagle matter? Beyond simplifying bicycle design and bring usable 1x gearing to everyone?
Because Scott, Ray And Sam, Corp (SRAM!) is a $600 Million+ a year company that, to some arguable extent, is looking to develop what its customers want rather than a $2.6 Billion+ a year company telling riders what is best is for them. 
Yes, I'd love a wide-ranging 11-42t 8spd cassette/shifter combo with old-school 8spd spacing and a fat chain but the fact is that in terms of range and individual ratios Eagle 12spd works for the majority of riders in the majority of locations. That matters because designing a great bike around a 1x drivetrain that can be pedaled by everyone is the key to maximizing performance on bargain bikes. The Hawk Hill I've been riding for example. 
On another level it matters because competition is important for riders and a healthy industry. It drives innovation and hopefully keeps prices in check. When the largest company's net profit (the big blue Japanese one) is 50% of the second largest company's total revenue it's heartening to see support for number two in the same way that it's great to see third-option products like Box's Push-Push drivetrain. 

"We recently started producing a mineral oil brake because that's what brands were asking for OE but the fact is we simply can't compete with $11 a wheel so we've had to re-think our entire approach to gaining market share." - Brake Company Tech Rep.
Voting With Your Wallet
No one has to buy an Eagle drivetrain, a bike with an Eagle drivetrain or even buy into the concept of Eagle. But I'll say anecdotally that a lot of riders have as evidenced by how its showing up on the trail and it will grow exponentially as riders replace bikes and the trickle continues down. The next big trickle will likely be the nail in the coffin.
That's not saying SRAM has the best quality drivetrains, best pricing, best performance or every best value. They are simply demonstrating what happens when you listen to riders and then identify and produce the products we want.
*The record I've seen is a tie between a Cannondale and a Scott with 7x cables leaving the handlebar but 4x, or even 3x, looks a lot cleaner. 
**Hi Jimmy and Todd!