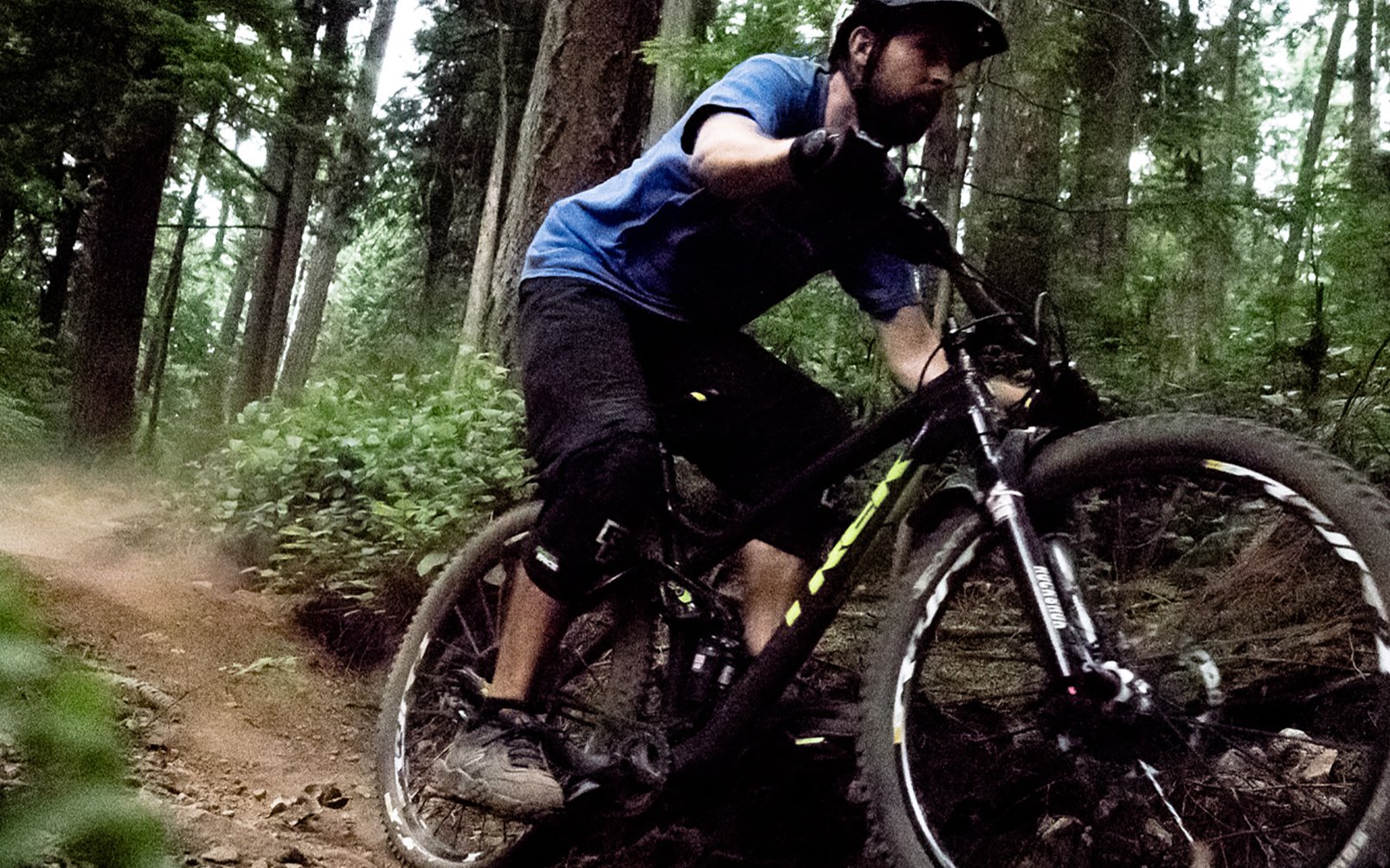 Ask Uncle Dave
Why Does the Spec on my Bike Suck?
Dear Uncle Dave,
Since I'm allergic to practically every green living thing outdoors in my neck of the woods, I've had inordinate amounts of time to wonder about things. Mostly useless things, like why complete bikes are sold the way they are.
Since we're in the middle of long-term reviews (the useful kind) from last year's models, and new bike release press releases, inevitably I find myself wondering why some models get released into the wild with a hodge-podge of substandard parts but a price tag which suggests no expense was spared...
Sometimes I feel like product line managers working for bike companies have either the hardest, or the easiest job in the world. The logical corollary is that it's either so easy that anybody could do it, or that us bike consumers are such a finicky bunch that nobody could keep most of us happy most of the time anyway. I feel like Shimano and SRAM have done a really good job with making drivetrain and brake parts logically tiered, so that's pretty hard to get wrong - but the quality of suspension and wheels seems to be all over the place.
So, I have these questions:
I know riders will get on a bike with lots of shiny carbon bits and end up thinking 'I thought it would feel lighter'... but
Has anybody every ridden on a bike, and thought to themselves 'I think I'd like this bike just as much if it had worse suspension'? Or "I wonder what this would be like with flexier wheels?"
Does the fact that mid-range bikes come with carbon frames, and up-specced derailleurs alongside flimsy wheels and budget suspension mean that us mountain bike customer are delusional? Or are we as customers just plain dumb?
A Dumb Llama.
---
Dear Dumlo:
This is the kind of question that I love so much, I'm almost afraid to answer it. There's just so much to talk about, I want to tuck it away so that I can make it perfect. But since I have to hammer out a couple of servings of nonsense before heading out on vacation, I'm going to take a stab at this, right now.
I was listening to the CBC this morning, and they were talking about the repercussions of the United Airlines debacle. They were making a point about Harvard Business School, and how the students going in think they're going to learn all about building enterprises to create goods and services, and the graduates coming out have nothing but skills for maximizing shareholder value. And I think this is the inherent problem with what is going on with bikes these days: people are actually trying to make money off this shit now.
You laugh, but back in the day, you could feel pretty confident that the bicycle you were riding was nothing more than a labour of love for some poor schmuck struggling to feed his family. Now, some asshole is funding a yacht by shaving dollars off that wheel spec you just made fun of. It's unconscionable.
I think where it all started to go downhill was with the creation of OEM spec tires. There was a time where you'd walk into a store, and the bikes on the floor had actual tires on them - the same ones you would pay money for, and that you could ride down a trail without fear of skewering yourself on a sapling (well...they did suck, but relatively speaking, they were good tires). And if you didn't like the ones that your bike came with, the shop would usually be happy to swap them out for another set of actual bloody tires. This was a beautiful thing.
But I kind of get it. Tires got expensive. And if you're just as likely to sell that bike whether it's equipped with real tires, or imposter pseudo rubber, why not shave 30 bucks off your cost?
The next nail in the coffin was probably the OEM spec fork. You have to admire the genius who figured out that all you really needed on the front of your bike was a fork that looked like it knew what it was doing. I mean, a good solid half of the bikes you're selling probably only come down off the garage wall a few times a year, and the elastomers have hardened and all of the oil has all seeped out anyhow (if it had any to begin with), so who gives a shit, really?
Of course, the good old days, before this nonsense was invented, weren't all sunshine and horse manure. Those old timers had some tricks up their sleeves. You're going to notice if they swapped out that Shimano crankset, but it takes a much more diligent eye to spot the off brand, North Korean sourced bottom bracket tucked away from prying eyes. And it was pretty standard that your handlebar, stem and seatpost would be devoid of a logo, basic engineering, or any sort of quality control standards. So maybe they're just re-levelling the playing field with newer, flashier ways of tricking us? We should admire the ingenuity.
And we can't even blame the bike companies. Read the comments of any bike review, or hack your way through some of the insane bulletin boards ramblings. Within 10 minutes of a new review going up, somebody is chiming in with a "you can get the same spec from so-and-so for $500 less."  What is the ultimate bike for these people? A heavy discount on a bunch of components stapled to a discarded broom? Why worry about things like handling or suspension performance when all many care about is a flashy spec on a couple of items?
"We put five years of R&D into making sure this frame lasts a long time and rides well."
"Oh. Really? Well, F#CK YOU! THIS ONE HAS A NICER CRANKSET!"
Talk about a wet dream for a cost cutting product manager. All he has to do is bring his laptop in to any spec meeting, point to a few of these jackass comments, and the rest of the team pretty much has to go along with his attempts to chip away at costs. For whatever reason, a flashy drivetrain attached to a carbon frame moves units. Shoddy tires, crappy forks and self-destructing wheels are just the price we have to pay sometimes.
So I don't know, man. I don't know what's going on. I don't know how to fix it, or even what's wrong. Each day, a new "greatest bike ever" is invented but we're so far up our own asses that we don't know what to do with it. We're constantly chasing newer and more and flashier and we want it faster and for less. The poor bastards making them for us don't stand a chance.
Sorry,
Uncle Dave
---
Uncle Dave's Music Club


Back in the day, I was a fan of the Supersuckers. Not like...you know...crazy or anything. But I liked them. Before they got...I don't know...however they got. Anyhow, take a swing by "Marie" or "Creepy Jackalope Eye" for a taste of what they were.
Into that, dropped Must've Been High. And there I was one day, flicking through CD's and A&B Sound, and what do I find but a brand new Supersuckers album. I buy it, drive home, put it on, and....Ha. That's pretty funny. They started it off with a country song.
And holy shit do these guys ever take the joke far. The second song is a country song too.
And goddammit...that's pretty funny...but three country songs?
Okay. I can take a joke, but four country songs? Five country songs? Six country songs? I'm starting to feel like something might be up here. I mean, they always had that stupid wannabe-cowboy thing going on, but a fucking country album?
The odd thing was that I listened to it a few more times, perhaps just because I enjoyed making myself angry. And...shit...I started to...enjoy it? And the crazy thing is, other than the two songs alluded to above, twenty years later this is probably the only thing by the Supersuckers I'd bother listening to.
"Must've Been High". The album opener. Looking back, it must just have been the shock that didn't cause me to immediately like this.
"Dead in the Water". A little more rollickey. I love the intro to this song.
"Barricade" is just awesome. "Keepin' those crazy people in their place, it's the barricade."
"Road Worn & Weary"  Man, I don't know how this song didn't make these guys a million dollars.
"Hangliders"  How the hell do you make a country instrumental?
And, for a special bonus this week...Country Mike's Greatest Hits from the Beastie Boys.
Johnny, he worked on the railroad!