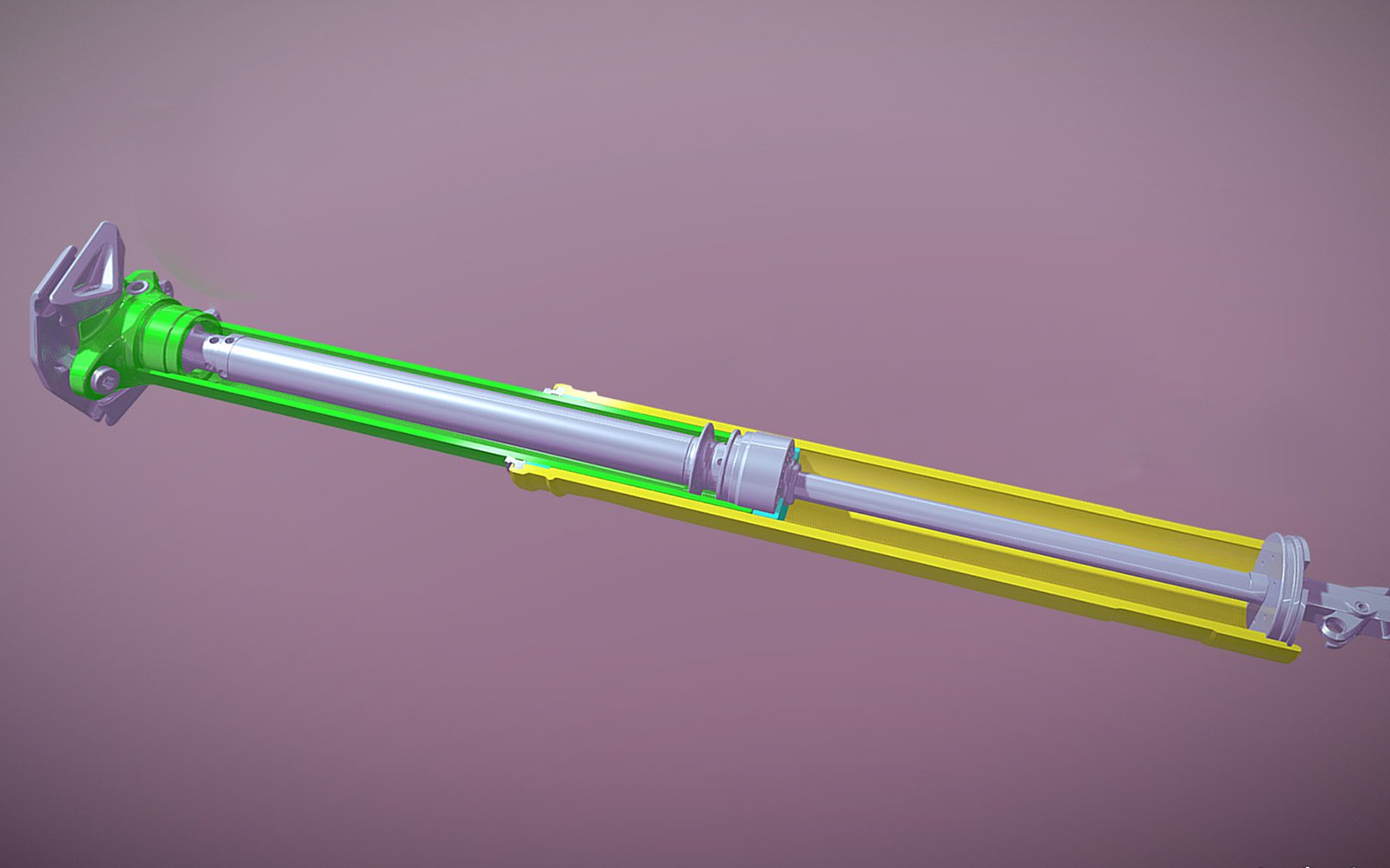 2-MINUTE EXPERT
Why All Dropper Posts should be 34.9
Have you ever wondered why the majority of modern mountain bikes accept 31.6 or 30.9 mm diameter seat posts? Those standards are held over from the days of aluminum tubing sizes and while it's stupid to still have both of those sizes, Stefan "Sacki" Sack's dream is to nuke both in favour of 34.9.
As the designer of the BikeYoke dropper post, Sacki told me his post is the first 34.9 that makes use of the extra diameter, and it turns out the advantages are significant. 34.9 posts that predate the BikeYoke Revive in that size used the same diameter upper tube as 30.9 or 31.6 posts, and simply beefed up the lower tube to decrease the inner diameter, and added unnecessary weight. Sacki instead scaled up the entire mechanism and, most notably, the inner tube. It went from an outside diameter of 25mm to a colossal(!) 28mm. That doesn't seem like much, but physics often baffles intuition, and that's the case here.
There are 3 main reasons to obliterate 30.9 and 31.6 diameter seat posts in favour of 34.9, each with compelling supplementary benefits.
1) Strength and Stiffness
With a dropper designed around a 34.9mm diameter, the upper tube can be larger. As mentioned earlier, the difference is small in terms of dimensions but large in terms of an increase in robustness, with the inner tube becoming over 40% stiffer. This becomes important since leverage increases as dropper travel extends. A heavy rider with his saddle pushed back can exert massive force and flex when pushing his dropper down. This flex can make the tiny gap between the upper and lower tubes (as small as 0.1mm for 30.9 or 31.6mm posts) close so that contact occurs, increasing wear and producing added friction during actuation.
Many dropper malfunctions are the result of the seat collar pinching the lower tube so the upper tube can no longer move freely. The 34.9 OD lower tube will clamp at lower force, resisting compression under clamping force better.
Finally, 34.9 will allow for bigger drops because of the stiffer and stronger upper tube.
2) Space for Internal Hydraulics
Sacki put this eloquently: "All 'standard' posts have to deal with small seals, high pressures, and low air volumes, which is one reason hydraulics are so prone to failure. More space means more stable hydraulic designs can be achieved." So 34.9 will allow for lower pressures, higher volumes and larger seals. All that means fewer failures, less maintenance, and improved longevity.
3) More space Between Moving Parts
Using BikeYoke's Revive as an example, the gap between the upper and lower tubes is only 0.1mm at the narrowest points for the 30.9 and 31.6 posts. This means excess flex could close that gap, increasing friction during use and wear over the long term. A larger gap in these smaller sizes would either reduce the inner diameter of the lower tube, making it prone to binding from seat clamp pressure, or a smaller diameter upper tube, which would be more flexible, causing more problems. With 34.9 Sacki was able to double this gap to 0.2mm leaving more space for any flex (which will be reduced as well as mentioned above) and allowing for smoother deployment, even for heavier riders with the longest droppers available.
What's the catch?
There seems to be a very small weight penalty to pay for all of this goodness. For BikeYoke's Revive dropper in 185mm length, the 30.9 weighs 560g, the 31.6 weighs 580g and the 34.9 in 185 drop is 630g. 50-70 grams seems like a reasonable tax for higher strength, increased reliability and smoother operation. The challenge now is getting bike companies on board. Obviously this should be relatively easy to do with carbon frames since there is no relationship between tubing size and seat post diameter, but it shouldn't be a problem with modern aluminum forming techniques either.
Having two seat post sizes is a pain in the ass for everyone; bike shops need more stock, consumers often can't use their old seat post with a new bike, and manufacturers have to make more models, increasing cost for complete bikes and after market parts.
Dear bike industry, can we make this happen, please?
---
For more on BikeYoke, head to their site.
Check out our teardown of BikeYoke's Revive Post to get a look at the internals, or our full review of the Revive here.