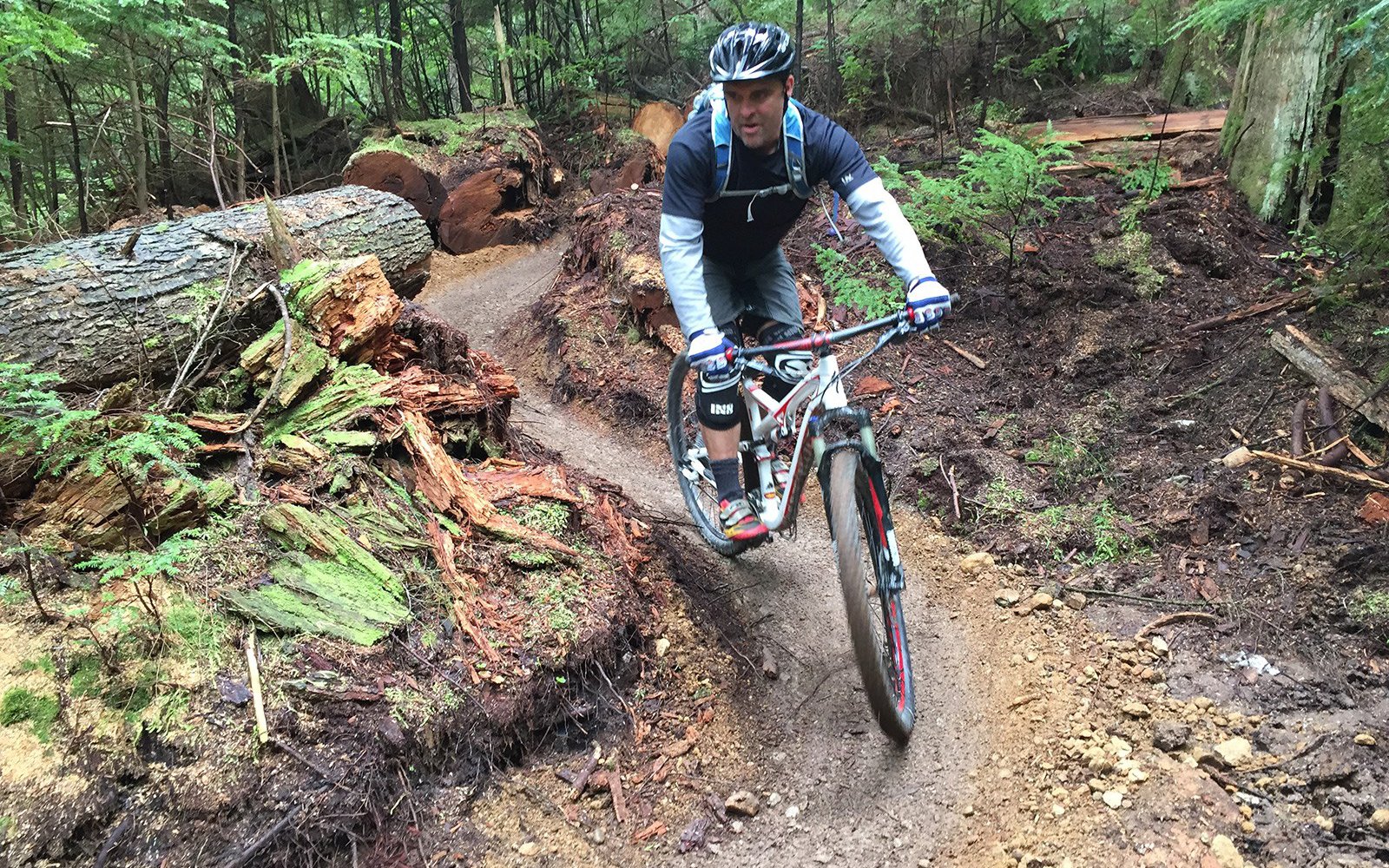 News
Who to Vote for on the North Shore
Tomorrow is voting day in British Columbia and many of you will be trying to figure out which politicians are going to support mountain biking. Here on the North Shore we have two municipalities that have some influence on trail access, maintenance and funding; The District of North Vancouver (not the city) and the City of West Vancouver. I got started a little late but I sent questions to two councillors who have indicated support for mountain biking in the past; Craig Cameron* in West Vancouver and Matt Bond in North Vancouver. Matt just responded to my questions this afternoon and his answers are below. As a past president of the NSMBA I think we can count on Matt's continued thoughtful support of mountain biking and principled service to the community.
Craig Cameron, who has been known to ride a mountain bike, as seen above, was able to respond to my questions which I have published below. He paid me very little to write this. In fact he may owe me money and/or a bike. Or two. 
*Disclosure - While I have known Craig, a close friend, for 30 years, I wouldn't suggest you vote for him using this platform if I didn't think he could have a positive influence on the trail situation on Cypress and the community as a whole.
NSMB.com - Would you say you have acted as an advocate for mountain bikers and trails on Cypress?
Craig Cameron - I have acted as an advocate for the mountain biking community over my time on Council.   I sat on the Upper Lands working group and ensured their report on preserving the upper lands included preserving a place for mountain biking.  I am presently supporting the implementation of our trail plan, which should lead to improvements in the condition of the trails and the signage. 

NSMB.com - How well do you think West Van is doing preserving the mountain biking experience on Cypress?

Craig Cameron - I think we are doing a fair job. I think we can do better.  I would like to see the parking situation improved.  I would also like to see a more coordinated approach to trail maintenance, as occurs on Fromme.
Can you tell me about some wins and losses?
A win was getting mountain biking incorporated into the District's plan for the upper lands. Also, the creation of Whyte Lake Park, West Vancouver's largest, opens up new possibilities. A loss is the delay in moving forward with some of the improvements described above.

Has West Van dedicated any funds for trail building and maintenance the way the DNV, Squamish and Whistler have?

Yes, we have dedicated funds to trail maintenance. However, to date, these funds have been directed to hiking trails, as far as I understand. As with the other municipalities, we need to expand our support to mountain biking trails. 

Each of those communities has recognized the social, physical and economic benefit mountain biking trails can bring while West Van hasn't seemed to come to the same conclusion. How do you explain that?

We are an older community and a community more resistant to change.  I think there is growing acceptance of mountain biking trails in West Vancouver and appreciation for the value that they add. 

What should we expect in the future as development continues?

We should expect more trails, better trails and better signage in the future. While there will be conflicts, I think that mountain biking will only improve in West Vancouver over time. I believe British Pacific Properties, the major land owner, recognizes the value of mountain biking and will incorporate it into plans for the future Cypress Village.

Thank you for taking the time to ask me questions, Cam. 

Where to Vote in West Vancouver - All voting places are open 8 a.m.–8 p.m. on Saturday, October 20, 2018.

Eagle Harbour Montessori School, 5575 Marine Drive

Gleneagles Community Centre, 6262 Marine Drive

Hollyburn Elementary School, 1329 Duchess Avenue

Irwin Park Elementary School, 2455 Haywood Avenue

Presbyterian Church, 2893 Marine Drive

Ridgeview Elementary School, 1250 Mathers Avenue

Rockridge Secondary School, 5350 Headland Drive

Seniors' Activity Centre, 695 21st Street

Sentinel Secondary School, 1250 Chartwell Drive

Westcot Elementary School, 760 Westcot Road
---
Despite his busy schedule, Mathew Bond just got back to me with responses to my North Vancouver-specific questions.
NSMB.com - What do you think are the threats currently facing mountain bikers and trails on the North Shore?
Mathew Bond - Complacency. The trails and the community have made great strides over the past decade. The trails are in better shape than any time I can remember. There's more people out using the trails, with a wider range of abilities, more women, more kids. Riding is good. We must not forget how much work it took to get here, nor how much work it will take to keep all the good things we have.
I think the continued and rising popularity of the sport, as well as growth in outdoor activity in general, will continue to put increased pressure on our trail networks. We've been catching up on deferred maintenance for a long time. It's time to think about expanding the network to meet emerging needs and take pressure off some of the more popular trails and routes. This will require more funding, as well as closer partnerships between the various landowners. 
The impacts of climate change, with more intense periods of rain and longer, dryer summers will challenge tried and true North Shore building techniques and we will need to adapt. 
NSMB.com - Do you think the District of North Van is currently doing enough to promote outdoor recreation and mountain biking in particular?
Mathew Bond - The District does very little to promote outdoor recreation. I don't believe promotion is necessarily the best use of our funds. Steady, predictable funding for long term maintenance and trail renewal is the key. 
NSMB.com - There seems to be a willingness of local governments to spend money on recreational assets like soccer fields and ice rinks but a reluctance to put similar resources into mountain biking. What is the rationale for that and might it be changing?
Everyone understands recreation centres, soccer fields, pools, arenas. They all have a relatively low barrier to entry and so almost everyone in the municipality can participate. That's one reason why the municipality invests heavily into them. For walking, hiking and running, trails also have a low barrier to entry. For mountain biking, the cost of the bike is a barrier. We have some of the highest incomes in BC in the District, so many don't think twice about spending thousands of dollars on a bicycle. Mountain biking is not as accessible of a sport, and so historically has received significantly less funding. 
I think municipalities are monitoring the growth of the sport and starting to shift resources to meet the demands of their residents. In smaller communities, the economic benefits from tourism are valued quite highly as well. 
What do you feel are the community benefits mountain biking provides?
Like many sports, there are enormous physical and mental health benefits to getting out for a ride in the forest. The social benefits, fostering a community of riders, volunteers, builders, businesses, and visitors are also extremely important. So many of us have met many of our close friends or partners while riding or building. We host visitors from across the world, and then we travel across the world to stay with them. The trails are what keep a lot of us here, despite the high cost of living. 
The economic benefits, especially for small, local business also cannot be understated. The North Shore is world renowned for our lifestyle, and that helps many or our larger, established employers attract talent that might otherwise work somewhere else, for higher pay.
2016 was a terrible year for mountain biking on the North Shore in many ways and it seemed that hostility between hikers and riders might rise. How do you think the climate is now?
I think there were a few, isolated incidents in 2016 that got spun up in the media cycle. I felt that day to day interactions out on the trails are probably better than the day to day interactions you have with people on the street. I still feel that way.
What do you see in the future for trails and riders on the North Shore?
Better connector trails across the mountains, to provide more options to link favourite sections of trail, instead of just the traditional climb to the top and ride down. A flourishing culture of fun community events (Fivers, etc). More and better staging facilities to take some pressure off of neighbourhoods. More family friendly spaces, like pumptracks, to celebrate bike riding.
---
Where to Vote in the District of North Vancouver - All voting places are open 8 a.m.–8 p.m. on Saturday, October 20, 2018.
For more information on how DNV candidates go to this link at NSMBA.ca to see a survey put out to the candidates with specific questions about the NSMBA's mandate.

At first glance those that indicate clear support and knowledge of the issues facing trail users are Matt Bond, Jordan Back, Greg Robins (who I know personally and would support), and Lisa Muri. I would need more information on the others before making a recommendation. 
Blueridge Elementary School

Brooksbank Elementary School

Canyon Heights Elementary School

Capilano Elementary School

Carisbrooke Elementary School

Cleveland Elementary School

Eastview Elementary School

Highlands Elementary School

Lynn Valley Recreation Centre

Lynnmour Elementary School

Montroyal Elementary School

Mountainside Secondary School

Norgate Elementary School

Parkgate Community Centre

Ron Andrews Recreation Centre

Ross Road Elementary School

Seycove Secondary School

Sherwood Park Elementary School

Upper Lynn Elementary School

Woodcroft - Capilano Building

If you live in West Vancouver we recommend you support Craig Cameron while voters in the District of North Vancouver are encouraged to vote for Mathew Bond.

Please get out and support Craig and Matt - or Uncle Dave will be upset.