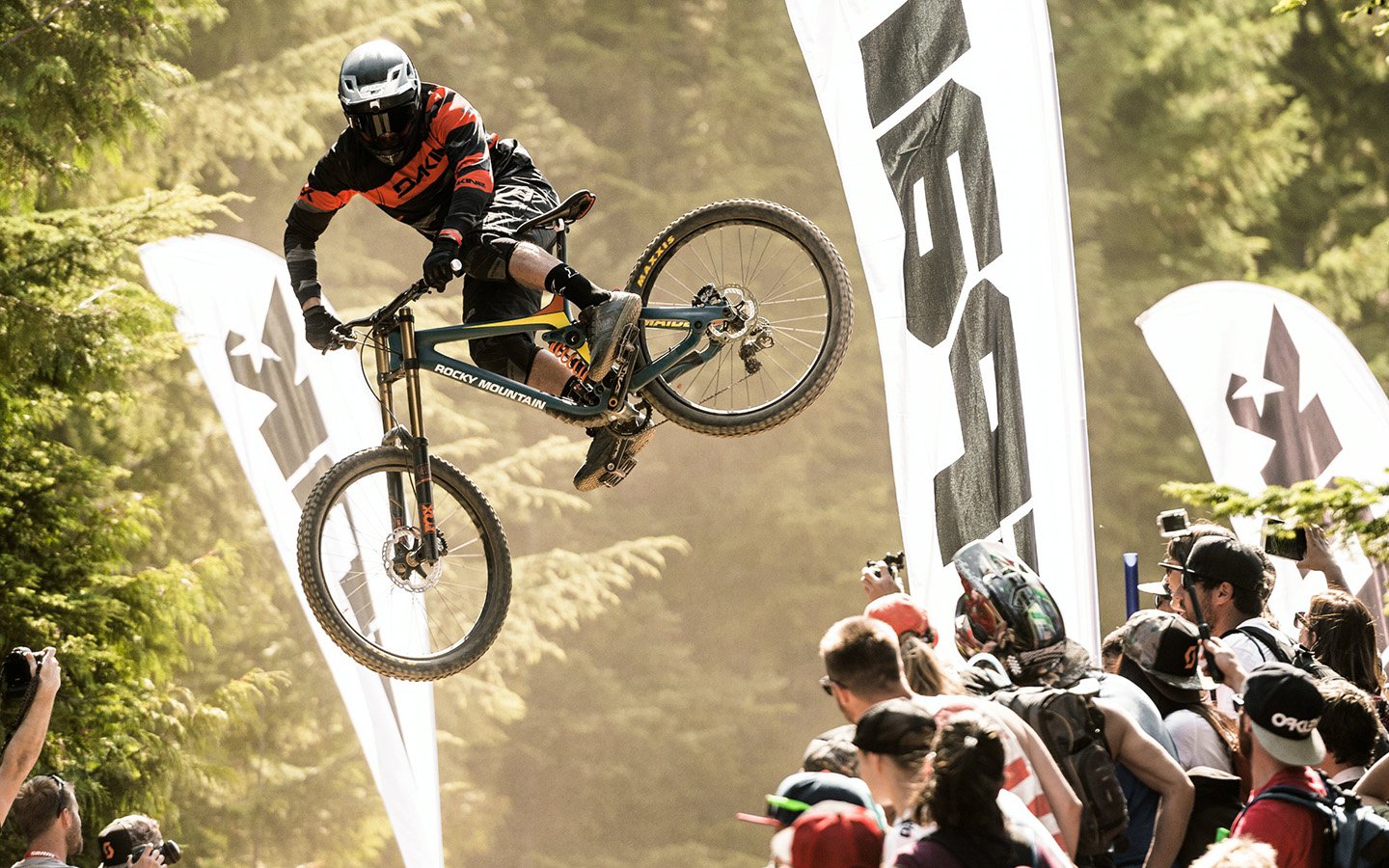 News
Whistler Bike Park Prevails in Injury Lawsuit
The facts in this case have never been in dispute; Blake Jamieson was riding in the Whistler Mountain Bike Park on August 28th, 2009 when he crashed. He was riding A-Line and attempting to pre-jump the well-known A-Line rock drop. Unfortunately it seems he clipped his rear wheel and went over the bars. The rock drop has continued to shrink over the years but it was at one point a significant drop. This move is signed and not mandatory. Riders can choose to ride around to the right and avoid it completely. Pre-jumping the drop is an advanced move. Jamieson suffered a spinal cord injury resulting in paralysis from the waist down.
On August 15th, 2011, Jamieson submitted legal action against "Whistler Mountain Resort Limited as the bike park owner and Gravity Logic Inc. as the company that originally designed and created the park." I have not seen the value of damages sought but they were based on "pain and suffering, wage loss, medical expenses, future care, loss of income earning capacity and other damages." He was likely seeking a significant sum.
Yesterday the reporting on other mountain bike sites was based on articles from mainstream publications because the judgment hadn't been released to the public. I opted to see the document for myself before reporting on this matter because it all seemed preposterous. The injured rider had spent time volunteering as a trail builder for the bike park and as a volunteer patroller for three seasons tending to injured riders in exchange for a bike park pass. Before his injury, Jamieson had participated as a ski racer at the provincial and national levels and even spent time heli-skiing so he was familiar with sports involving risk and with signing waivers. But it gets better. By August 2009 Jamieson had completed an English degree and the first two years of a medical degree.
Since his injury Blake Jamieson completed his medical degree and became a radiologist. Despite this education, Dr. Jamieson claimed that he was unaware of the risks associated with riding a mountain bike in the Whistler Mountain Bike Park. He claimed that Whistler's four-page waiver failed to adequately warn him of the dangers. Specifically, "The plaintiff argues the Release is invalid because it fails to alert patrons to a known mechanism of injury (being thrown over the handlebars), a possible injury (spinal cord injury) and the frequency of injuries."
Dr. Jamieson had a unique opportunity to witness and understand the risks of the park when he worked as a volunteer patroller. I have some perspective on this because I worked as a volunteer winter patroller for Blackcomb for three seasons in the late 90s. Dr. Jamieson claimed that working as a patroller, "led me to believe that the risks of serious injury associated with mountain biking in the Park were minimal." 
Obviously, there are differences between winter and summer but it is generally accepted that the rate of injury in the bike park is several orders of magnitude higher per rider visit than even the winter terrain park. Despite this, my time volunteering on the mountain opened my eyes to the number and severity of injuries sustained by skiers and snowboarders and it made me more risk averse. Beyond the incidents I witnessed and tended to myself, the other patrollers always talked about what they had dealt with in the locker room at the end of the day. In my view, the statement below is disingenuous. Working as a patroller made my hyper-aware of the risks on the mountain and this exposure caused me to exaggerate the danger involved. There were times the experience left me positively spooked. To suggest that performing first aid in the bike park would make you downplay risk is as logical as suggesting a cop would underestimate the crime rate. 
---
The significance of Dr. Jamieson's contention about his experience as a patroller and what he felt were failings in the wording of the release is that he stated that if he had been aware of the risks he would not ride have ridden his bike in Whistler Bike Park. He did not go on to say he wouldn't drive if he became aware that cars sometimes have collisions but we can assume that is the case. 
Interestingly the plaintiff relied on a statement provided by a rider named Fernando Romero. Mr. Romero suffered a spinal cord injury while riding outside the bike park and he stated that this experience made him more cautious and that he felt many riders are unaware of the risks. The judge found that Mr. Romero's evidence actually helped Whistler's position as shown in the text below. Note that Mr. Romero continued to ride the Whistler Bike Park after his injury. 
---
While this gives riders and bike park operators some cause for optimism the circumstances in this case are unusual. Dr. Jamieson's level of education and his experience as a skier and rider made his contention that he failed to understand the language in the release untenable. His experience as a patroller nullified his ability to suggest that he was unaware of the risks of riding in the park, particularly when evidence was produced that Dr. Jamieson took precautions for spinal injury while treating some riders and on one occasion ruled out spinal injury after examining an injured party. 
While these factors worked against Dr. Jamieson and helped the defendants, it's also heartening that the language of Whistler's waiver stood up to judicial scrutiny. This doesn't mean there couldn't be a circumstance in the future that the release fails to account for but this finding is likely to discourage future legal action, particularly because The Honourable Madam Justice Sharma awarded legal costs to Whistler and Gravity Logic. 
I have generally found it difficult to pass judgment on those who take legal action after being injureds. The pressure to pursue compensation from family members and lawyers must at times be intense and in the U.S. many injured parties have no medical coverage. This could force injured parties to choose between legal action and bankrupting the family and/or to go without necessary treatment. Here in Canada many of the costs associated with an injury such as this would be covered by our (mostly) excellent medical plan. It's also said that treatment of spinal injuries in Vancouver is some of the best in the world because of the number of patients our active population produces. Undoubtedly this injury caused incredible pain and hardship and unanticipated costs, but they failed to disrupt the plaintiff's career path and it seems his earning prospects are significantly better than average at this point. 
In this case, particularly considering Dr. Jamieson is now gainfully employed as a radiologist, it's hard to see how he could in good conscience blame the bike park operators and designers for his injuries. When I read that despite having been a patroller Dr. Jamieson was unaware of the risks of mountain biking, his credibility was seriously eroded in my view. 
It's unlikely that the loss of this suit would have had a dramatic impact on the Whistler Bike Park. It's possible some features would have been dumbed down and the waiver might have grown to 6 pages, but life would have gone on. It could, however, have had a devastating impact on smaller operations if insurance rates had skyrocketed. Places like Coast Gravity Park, Sun Peaks here in B.C. or Highland in New Hampshire could easily have been forced out of business if this judgment had gone the other way.
It's a nice change to see the legal system working as it should and the table tilting toward all of us being responsible for the consequences our actions. 
The Reasons For Judgement document can be found here...