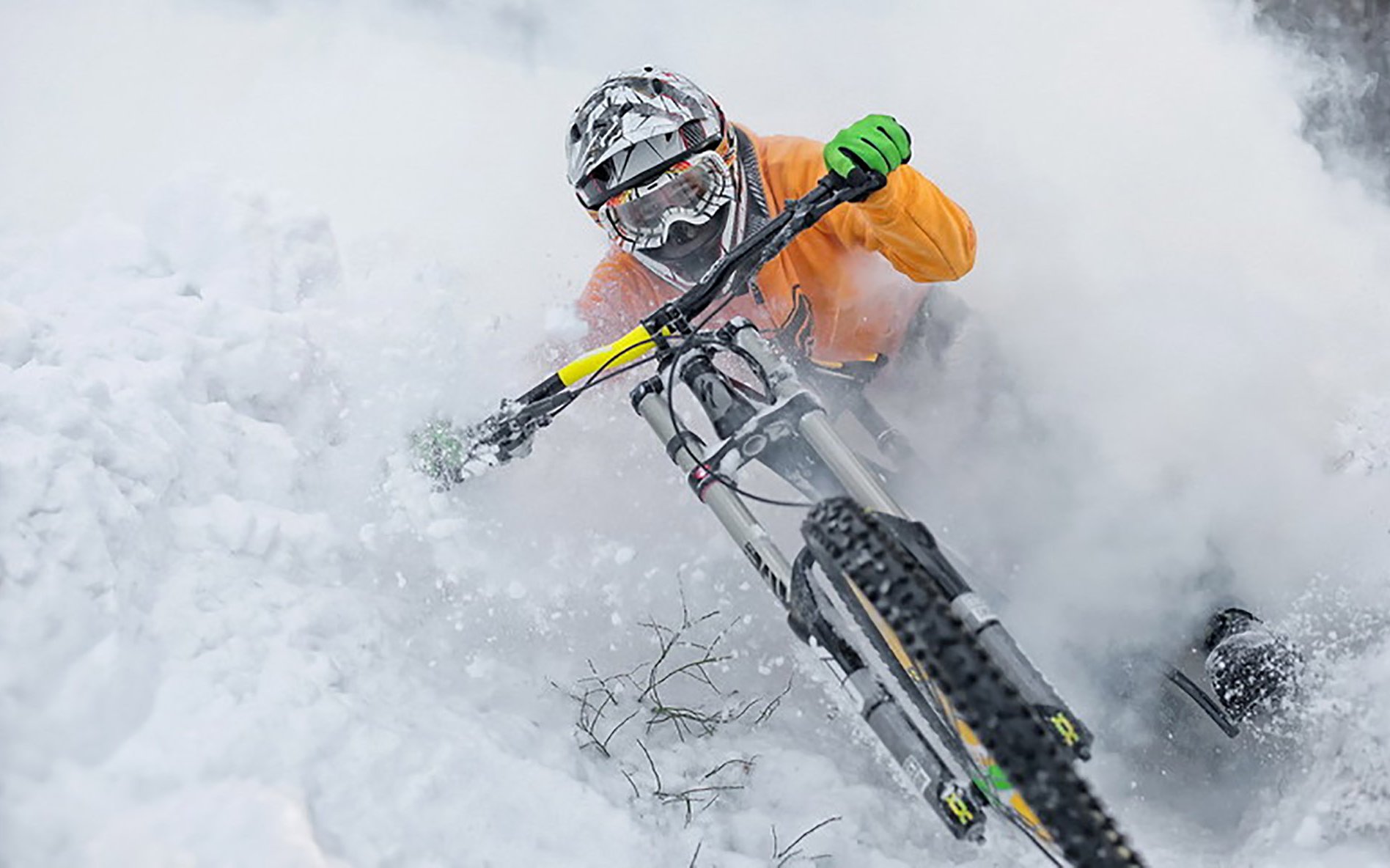 Bike Park 365
April Fools! Whistler Announces Year-Round Mountain Biking for 2020
The Whistler Bike Park has always been a leader. When you create the curve, staying ahead is essential and this latest announcement is so far ahead literally nobody saw it coming. Beginning in the fall of 2020, Whistler has announced that the bike park will remain beyond the shoulder season and then continue to provide trail accesss for mountain bikers when the snow flies and beyond.
"We realize many other resorts aren't ready for this but we are looking ahead," announced bike park manager Brian Finestone. "We've had great snowpacks for the last few years, and some models predict that will continue, but climate forecasts are becoming less reliable every year," he continued, "and we realize we can provide a world class product regardless of the weather - so we decided to pull the trigger on something we're calling white pow."
There are some obvious moves that will catapult the WBP into the four season-era with the velocity of Aaron Guin late for his McLaren's detailing appointment. A Line is a no-brainer and it will be available as several different experiences depending on snow coverage. Other single track lines, like Goats' Gully and Angry Pirate will be open for launch as well as Freight Train, Dirt Merchant and Crank-It-Up. Expansion will be pursued quickly and aggressively during the first season.
During low snow years it's likely certain trails, A Line being a prime example, will remain plowed down to dirt, allowing riders to have an authentic WBP experience, but when things get too deep and/or soft, grooming and downhill skiing course prep techniques will be utilized. If the temperatures are cold enough water injection bars and snow making equipment will firm up the snow and in other conditions sodium chloride and high nitrogen fertilizer (46-0-0) will be used. Both react with the water in the snow to freeze the top layer to provide an optimal riding experience.
Those of you wondering how other mountain users will react to bikes on the hill needn't worry. Consultant Wade Simmons who, on top of being the Godfather of mountain biking, is an experienced and expert level skier and snowboarder, has the answer; "Come on! Are you serious? If skiers and snowboarders can learn to get along world peace should be a no-brainer! When you consider that savage mix, adding mountain bikers likely won't ruffle a single feather."
Still there are some hazards and there will be restrictions. "There will be 3 zones to start off with," Finestone explained. "There will be areas that are mountain bike only, others that will be for skiers and snowboarders exclusively, and some select areas, notably ski-outs and terrain parks, where both groups will be co-exist." There will be some further restrictions to mountain bikers however; "riders who seek the extra grip from studded tires will be restricted to mountain bike only areas to minimize injury hazard."
Lift access may prove a little tricky and will involve dual lines. To begin with only a certain number of mountain bike trays will be added to the Fitzsimmons and Garbanzo chairs but gondola access will be without restriction once trails are snow-covered. Bikes will no longer be dirty from dirt and mud and will be compatible with other mountain users.
Whistler Trail Crew PR Manager Peter Matthews asked for the last word. "The truth is, not everyone likes to ski or snowboard, but pretty much everyone likes to ride mountain bikes. And if you think Dirt Merchant is rad in the dirt, you will be extremely pleased by its winter presentation. And guess what? Falling on snow hurts less than falling on dirt."
Stay tuned for more details about WBP 365 including pricing as well as discounts for fat bikes and tracked bikes.