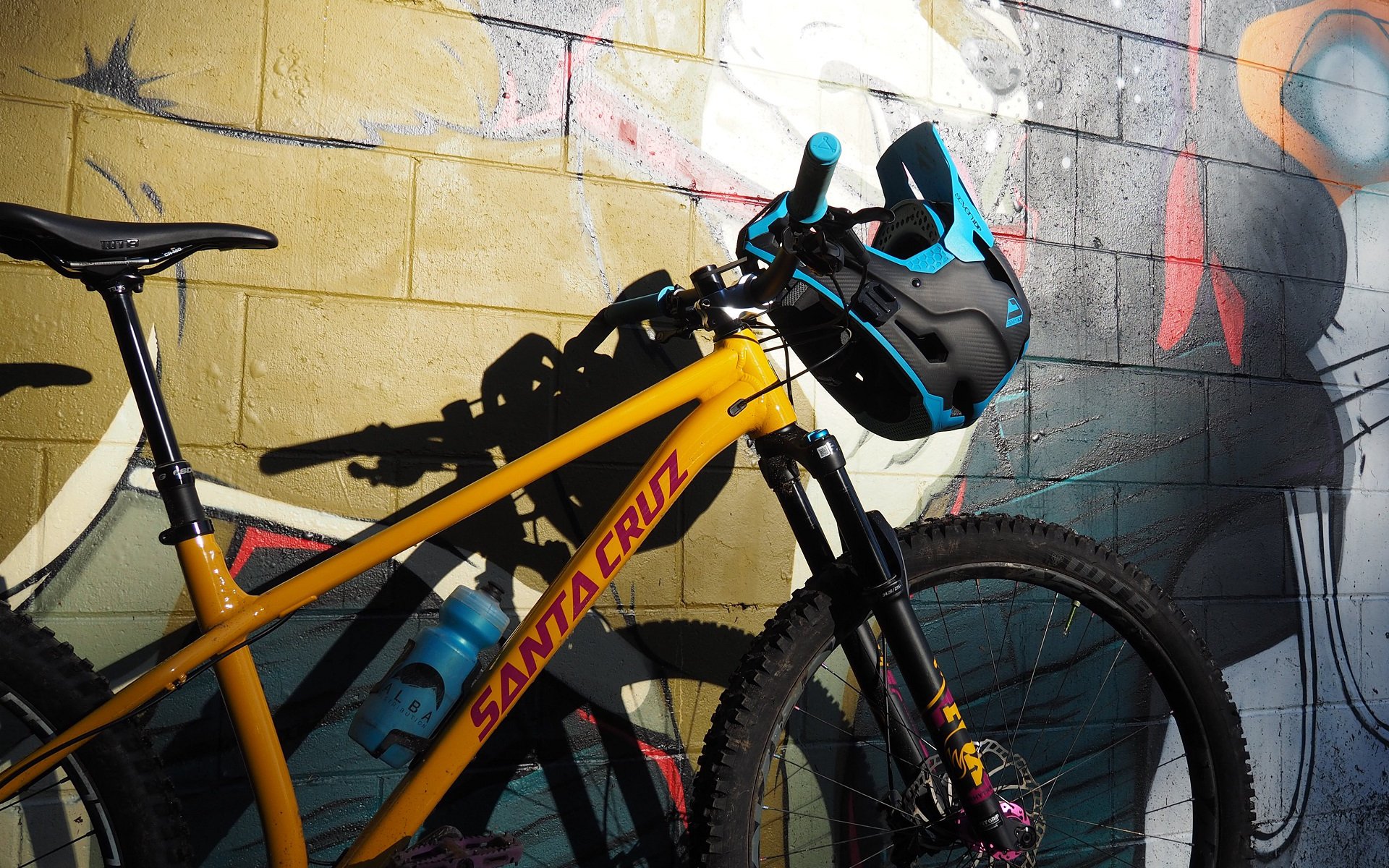 EDITORIAL
Where Have All The Chin Bars Gone?
Head & Boulders, Teeth & Nose.
The majority of my regular riding companions don't ever wear a full-face helmet. Of those that do, most of the regular users of them only wear one when shuttling or in the bike park. I know that on its face that information qualifies for a hearty "Not Interesting" but I bring it up because it's not just a factoid, it's an unexpected trend. The number of them that routinely wear a chin bar when trail riding has been decreasing every year since some of them purchased a Bell Super 2R some five-to-seven years ago and full-face curiosity has been on a downward curve with the folks I ride with. I think it's fair to say that's the overall trend on local trails as well.
The Super didn't, and doesn't, fit every head or use case but since it relaunched the category of removable chin bar full-face helmets, a plethora of options have come on the market - including three different options for Bell. Some are lighter and more breathable. Others are DH rated. All of the chin bars take seconds to remove and instal. Between all the brands on the market, it's hard to accept that fit or convenience is the deciding factor. They aren't cheap - but I'll argue they offer a lot of value. So why the regression in use or, if that's just down to my experience, at least the reluctance to adopt them more universally?
I'm coming at this from a place of curiosity. I've looked at, and discarded, the most common reasons I hear from friends for sticking with open lids. These aside, I'm curious to know what keeps riders from wearing a chin bar and why others regularly wear one.
"I'm Not Convinced They Prevent Concussions"
Why wear a helmet at all? There are plenty of different head injuries that are possible. Heck, I have a friend Mark who all but ripped his ear off crashing his mountain bike wearing an open lid. Frankly, whether you're running MIPS, 360° Turbines, LDL, or any other system on the market there's a lot of debate out there about how much bicycle helmets do to prevent concussions in general. If anything, it may be easier to prove that the addition of a chin bar prevents certain types of concussions - from hitting one's chin or jaw. I'm not even going there. NSMB has published quite a bit of interesting stuff about helmet tech so if you're curious here are some rabbit holes:
This past summer I had a crash where the chin bar of my full-face saved me, without any doubt. No, not from a concussion. I'll let folks much more knowledgeable about helmet engineering and the human brain field those arguments. What my full-face helmet saved me from was grinding the whole side of my face across a boulder with momentum. Instead of the very light kiss of plastic on rock followed by my head smoothly gliding across the surface, it would have been my cheek engaging granite. Maybe I would have been fine, maybe I would have smashed out a few teeth, maybe worse.
But let's say I saved myself from paying to replace a couple of teeth. Never mind the pain and suffering and inconvenience, I can buy a heck of a lot of fresh bike parts and gear for the price of an implant or two. And this isn't some boogeyman I'm raising, I've met a couple of North Shore riders who've left a tooth on the trail. I know, I could prevent plenty of other potential pains with a full bodysuit of D3O armour but there's something about losing teeth or f***ing up my face that is on a different level than cracking a couple of ribs.
"But I Don't Wear A Pack!"
So you ditched your backpack for a hip pack? You can still strap a removable chin bar to the outside of most of them. It's a bit more complicated for the myriad of riders I know who've stopped riding with a pack, period. A chin bar is an awkward shape to try and accommodate in a frame bag and you certainly aren't tucking it into your stash-bibs or SWAT-Box. Anyone who's ridden on the Shore for a long time will remember the days of riders climbing the mountain with their full-face helmets strapped to their handlebars and certainly, that's still an option. In fact, it's even simpler when we're talking about just strapping on a chin bar.
Not clean enough? There are oodles of outfits making mounting options for bike-packing that could be easily adapted to transporting a helmet. Check out drj0n bagworks, for example. I've played with some cool ideas using brackets and clips from light mounts, and there are a number of bike-packing solutions. On the Chameleon, I've been playing with the steerer-mounted HAF-CLIP, which works well and has a time-honoured background story when it comes to mountain bike products.
The proprietor, Hafez, is one of the many folks who discovered mountain biking some 18-months ago. The government closed down his previously-preferred form of exercise, hitting the gym, as part of their response to Covid-19. And of course, mountain biking is awesome so he's become rather obsessed with it. But, there's also a fair amount of crashing involved in progressing through the local trail network and, thus, a full-face helmet makes a lot of sense. But, how best to carry a DH lid when climbing up gravel fireroads or a removable chin bar when climbing in general if you aren't wearing a pack?
His clip takes the place of a headset spacer and I'm sure it would be handy for strapping on other stuff as well. I've just used it for full-face helmets and chin bars and I think it works great.
"I Don't Trust The Removable Chin Bar"
At first, my rebuttal to this was that any chin bar design I've seen offers more protection than no chin bar - even the very lightweight two-point mounting system of my Leatt DBX 3. For those in doubt, systems like the Super DH are very robust. However, I like to simplify mountain biking as much as the next person. If someone isn't happy with the convertible systems on the market there are numerous choices for proper full-face helmets that can work as well.
I wear a 7iDP Project 23 lid a lot. It's light enough and has good venting and for sustained single track climbs it's a snap to pull out the chin pads. For sustained fireroad climbs, I simply remove it but I've done some long road climbs and if there are cars around I always leave it on my noggin. I have a regular riding friend who loves the Smith Mainline as an all-day fixed chin bar helmet.* It would be very high on my list of all-day full-faces to try. I've yet to see a Kali Invader in person but it's another interesting trail-weight helmet with a fixed chin bar.
*I also know a couple of shop folks who recommend it as a comfortable and breathable full-face option but every time I see them riding they're in open shells
Chin Bar Courage
It's only been in the last year or so that I've been exclusively riding technical trails wearing a full face. It was originally out of a pact with my grom but since then I've had riding friends comment that I've been trying more things and riding more confidently. I appreciate that most folks I ride with don't need any 'chin bar courage' to make North Shore riding happen, but as I've become more and more used to wearing one, particularly when I'm headed to the ground, it surprises me how few people I see wearing one. Even on some really janky trails that folks hit a lot faster than I do.
It's not just old Shore XC folks. I regularly see new riders crashing their way down the hill; progressing riders tangled up with their rig when they didn't have quite enough speed or advanced riders shooting their 7" bikes into the air, and they all make me wonder why I don't see more full-face helmets on the trail.
I'm not trying to tell anyone what kind of helmet - make, manufacturer, or model - they should wear. If the helmet fits your head and your risk assessment then have at it. But if you're riding hard and heavy, with a real possibility of crashing on any given ride, and choosing to stick with an open face, I'd love to hear the thought process. Likewise, if you've switched to riding with a chin bar - removable or otherwise - what was your motivation? Finally, if you were one of those early adopters of the Bell Super and you have stopped using a chin bar, what changed your mind?