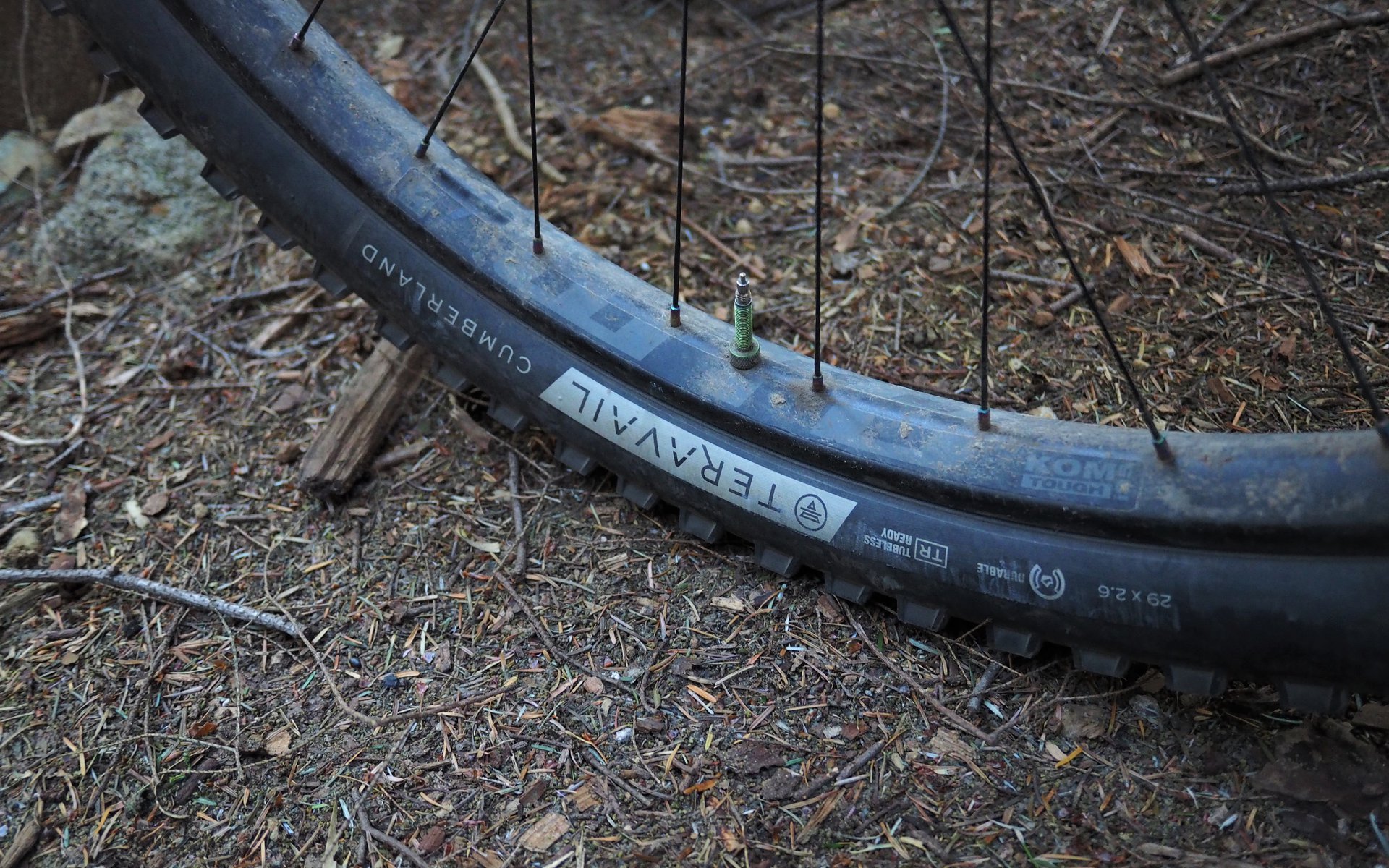 REVIEW | EDITORIAL
When Is A Semi-Slick 2 Damn Quick? (With The Teravail Cumberland)
2 Slick 2 Quick
I'm standing, bent over my handlebars, with the saltwater version of Niagara falls cascading down my face, digging for any kind of rear-wheel traction I can find. My back tire slips, I lurch forward, and my first real endo of 2020 is a violent example of the uphill variety. I land right on a stack of roots and just stay there for a while staring up at the canopy. Lovely morning.
Conditions are hard. I mean, loose-over-hard, but just plain hard works too. Summer came late and I never quite adapted to the heat when we left Junuary behind. Most of my riding this year was from home, straight up the road, and then straight up the No Quarter climb. Trail conditions jumped straight from slimy to loose with maybe three days in between. What a great 'summer' to commit to riding a semi-slick tire!
For a long time before When Is A Semi-Slick Too Damn Quick? was published I had been only riding aggressive knobby tires front and rear; Vigilante, Magic Mary, SE5, G5, LG1R, etc. After participating in the comments and lamenting the last of larger semi-slick options two things happened. Firstly, I was really eager to get back out on a semi-slick tire. Secondly, a true-2.6" semi-slick tire showed up for testing from Teravail.
The 29x2.6" Teravail Cumberland is the tire Specialized doesn't make, in a 29" size. It's the tire Bontrager could make, combining an SE5 with an SE2. It's the tire e13 will hopefully make by just enlarging their current S/S. It's the tire WTB may already make in their 2.6" Ranger, albeit with less vicious-looking side knobs.
CushCore
While this review is about the Teravail Cumberland, I do need to note a couple of Oscars for the roll of Best Supporting Tire - wet or dry. Playing the villain we have the 2.6" WTB Vigilante in the Tough Casing / Fast Rolling variety. I was running it as a rear tire before making the switch to the Cumberland and it made riding to the semi-slick extra, extra, spicy for those first few rides while exaggerating energy savings on climbs.
The role of veteran tire keeping the Cumberland from getting too out of line was shared by the Bontrager G5 on my Alpine Trail and the 2.8" WTB Vigilante Tough Casing/High Grip on my single speed. Having a front tire you can fully trust when getting hard on the brakes is key to having fun with a semi-slick.
Then there's CushCore, up for a lifetime achievement award or something of the sort. My original plan was to ride the Cumberland extensively both with and without an insert but I soon abandoned that plan and carried forward with inserts and narrower scope.
It didn't take many rides to determine that I'm over the combination of a semi-slick and a 6" travel full suspension bike. Where I love the Cumberland on my hardtail and I'm certain I'd love it on a short & slack bike like the Transition Spur or Enduro Evo, the trade-off just isn't that great when I'm talking about a bike with a coil shock, big brakes, etc. I'm winching the bike uphill anyway so I might as well maximize the fun factor on the way down. It's my experience that healthy amounts of rear-wheel traction are an important factor in maximizing the fun on that bike.
A couple of rides after I abandoned notions of regularly riding the Cumberland on my Marin, I also pulled back from plans to ride it without an insert. Maybe I've become addicted to the damped CushCore ride on my hardtail or maybe conditions this year have been especially trying for the hardtailers amongst us. Either way, the boost in up & down performance and the fun factor of running the Teravails on my Waltworks, jumped exponentially when I dropped tire pressure significantly and sagged into the big grey inserts.
Wet Bets
I couldn't tell you what we were thinking. Sure, it was a perfect dank and dreary North Shore November day, in July, but my A-game had obviously been absent climbing up Fromme and either Upper Oil Can or 7th Secret would have been the right choice. Instead, my friend Jac and I headed down Bookwus.
I had ridden the trail recently on my hardtail, with a rigid fork and a pair of Tough Casing Vigilante 2.8" tires, and CushCore Plus inserts, and I'd been more than satisfied with my efforts. Sadly, even with some help from a 120mm suspension fork up front, a few awkward offs where the rear tire simply wasn't cooperating left me walking more than I'd care to admit.
When we popped out at the bottom I was still having fun, laughing, but most definitely ready to call it a day and head down Pipeline, my favourite, janky, baseline trail for testing things out and getting a confidence boost on whatever setup I'm riding. I was already thinking about rear-wheel 'steering' (sliding) the Cumberland down some of Pipeline's greasy rock sections when Jac pointed the way to Ladies Only and dropped in.
I actually started putting together a decent ride. There was a brief intermission when we ran into the trail's builder, Digger, and he and Jac proceeded to ridicule my rear tire for a while, but in general, I stopped thinking about the Cumberland and the greasy performance of the semi-slick became better and better.
The side wall support on the Teravail 'Durable' casing is not on par with WTB's Tough Casing and is similar to Bontrager's SE2 or WTB's Light Casing. In a Maxxis tire I would put it at the same approximate level of support and protection as EXO+. Trying to air it down a bit for slick roots and rock faces I couldn't achieve the level of support I was looking for without an insert.
With the insert it was another matter. The tire's casing and tread have both held up well and it has a nice suppleness that works well with the suspension that CushCore brings to the game. With air pressure dropped closer to 14-15psi, the big side lugs are easier to engage by leaning my bike over a bit but I don't get any squirmy or squirrelly feeling thanks to the support of the inserts. And those side lugs are key.
There are lots of situations where I prefer the even transition of the Bontrager SE2 over the big side lugs of a semi-slick; however, going down something steep and greasy or loose, I feel I've saved myself dozens of times by really leaning over my bike and introducing the side knobs. It's confidence-inspiring enough that I'm intending to enter the wet season with the Teravail installed
High & Dry
Climbing the 1150-gram* Teravail tires in loose-over-hard or greasy conditions is a lot like riding the tires downhill. I'll often try to lean over my bike to get the side knobs engaged and climbing performance improved immensely on the hardtail with the addition of the tire inserts. I had a much easier time adapting to the semi-slick in greasy-wet condition than I did in pebbly-dry conditions where I had many, many, more "OH SHIIIIIIIiiiiiiiiiT!" moments.
With the added traction of my full suspension bike, climbing the Cumberland tire was an excellent experience and with the right gearing and body position, I only spun out a few times where the G5 or Vigilante would have held firm. On the medium-long travel dually though, the descending performance murdered the semi-slick experience for me. It was significantly less fun on greasy wet trails, and when suddenly, a day later, everything was desiccated the fun factor only dropped from there. Insert or no insert, I couldn't wrap my head around riding the semi-slick on a bike that wants to go fast - or at least fast by my standards - and then needs to be hauled in for tight sketchy sections of trail.
*shave 100 with the Light & Supple casing
On the hardtail, I've been making the Cumberland work on sections where I would have preferred a meatier tire. With the insert, low pressure, and a bit of rhythm, I'm getting it up climbs with minimal slippage and, with the exception of a few steep ladders that are somehow less terrifying in the rain with a 'real' back tire, I'm no slower or more cautious running the Teravail.
If I had left North Vancouver more this spring/summer, or if we'd had a longer transition between the extremes of our trail conditions, I think I'd be singing its praises loud and proud. Based on the year we've had, and the winter that's coming, a full-on knobby is probably the better choice for most local folks unless they're looking for an XC-fast tire with a get-out-of-jail-free-card courtesy of those big lugs.
Since I love riding in Cumberland, BC, I've run a semi-slick there most times I've visited with great results shy of a couple of the steeper and looser double-black trails. For long days on the trails there, the semi-slick saves a bunch of energy.
If You Don't Ride From Home...
And that's where the semi-slick is a clear winner for me. Saving energy on really long rides, or riding from home, while delivering enough traction to have fun on aggressive trails albeit at a little slower descending speed and with my brain turned on all the way. Giving my bike a bit of a snappy XC feeling while still bringing bite to bear on steep nasty descents.
Whether it's a hardtail or one of the new light-enough-to-thrive & slack-enough-to-survive bikes that every company will have out next year, a semi-slick with the right setup, insert, or pressure, makes all-day efforts, and road climbing significantly more enjoyable. I used to run one on my Rift Zone, and I think it's more than nostalgia that has me thinking the Cumberland would be great on a Tallboy, Epic EVO, Spur, or the like. I ran it mainly on i35 and i40 rims but even aired up on the more common i30 size most companies spec, the tire works very well with lower pressures.
I can't universally recommend the Teravail Cumberland. Many folks I know will never have fun without a DHR-esque tire out back on their bike and in a lot of cases, that's true for both uphills and downhills. Mountain biking is supposed to be fun and there's no performance gain uphill that's worth terrifying yourself on the way down. Prefer a big knobby tire? Your friends will wait on the climbs.
But, if you are semi-slick curious, semi-slick sold, or semi-slick delirious, I think the durable version of the Cumberland is an excellent choice and not just because it's the only choice with big volume (29x2.6") and big side knobs. It rolls fast, it's comfortable, it's proven durable, and there's enough traction available that I'm in no hurry to take it off my bike even if today's rains have me looking at the full-knobbies hanging on my wall. At 75 USD, it's also a solid value compared to other semi-slicks that either don't match it for size or don't match it for aggression.