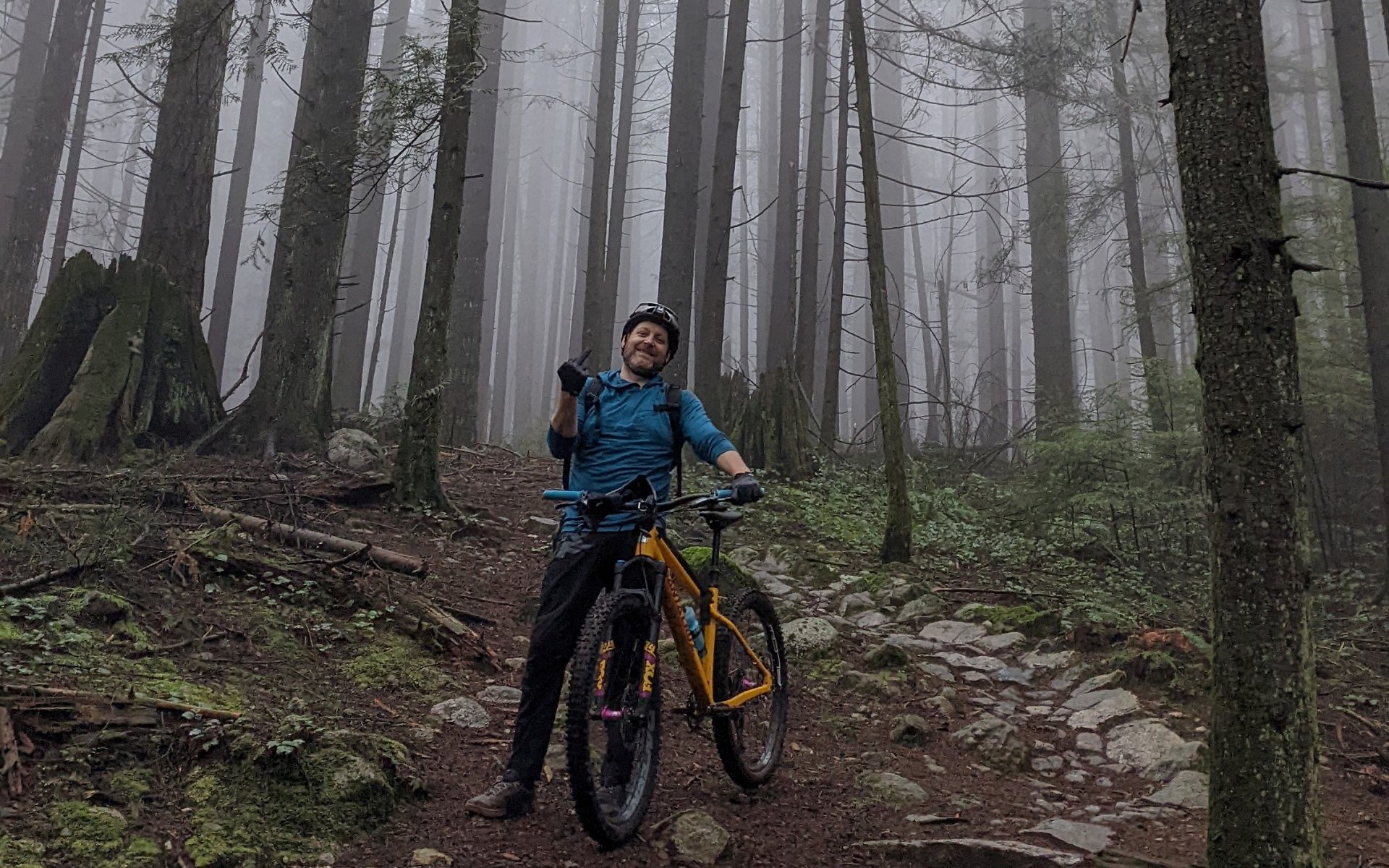 EDITORIAL
When, Not If.
Don't "Last Lap" Yourself
Many years ago, when I first moved to the North Shore, I hooked up with some folks on the NSMB.com Forum to do some shuttle laps on Mt Seymour. It was the good-and-bad old days and every sort of rig and attire you can imagine was present, from me wearing a bucket on my single-speeded Balfa MinuteMan to a dude with a Monster T-equipped Rocky RMX wearing the full gladiator package. Shuttling wasn't really my thing even back then, but somehow we all managed to ride together and have a bunch of fun.
A couple runs in while re-setting the crew, one of the fellows innocently suggested we should "do one more lap" and then call it a day. I was halfway through nodding my agreement when another member of our party came stomping over and grumpily retorted something along the lines of "DO NOT LAST LAP US!" and then "now we either have to do at least a couple more or it's time to roll and get a beer." I had never come across the concept before, and it was explained to me thus: the last lap is always the last lap anyway, but saying it out loud is inviting catastrophe. As if voicing the option ensures the outcome one way or another.
It was a bit of a moment, but mountain biking has always been filled with folks with big feelings and interesting superstitions so I filed the whole event away under 'Uncouth Moments On Group Rides With Strangers' and moved on to some beers. I can't even remember the name or face of a single rider who was there. But today, I'm sitting in my daughter's room while she keeps me company by playing Lego, preparing for months of being patient and looking back on that moment with half a laugh. Having fully last-lapped myself yesterday, I suddenly find that I'm a disciple of the concept.

I had never come across the concept before, and it was explained to me thus: the last lap is always the last lap anyway, but saying it out loud is inviting catastrophe. As if voicing the option ensures the outcome one way or another.
Life being what it is, I had everything in the bag to complete my review of the Chameleon MX except for a couple of riding shots. Conditions were perfect to portray the bright yellow bike against the background of some dark, dank North Vancouver forest and off we went. I even f***ing said that I was planning for this to be my wrap up ride on the #HotForMullet bicycle. Nice move, Andrew. Way to be that guy.
And how I wish I had an epic crash story to tell. Some green-means-grip log ride, greasy rock-armoured descent, or maybe a blown corner due to epic and impressive speed. But I don't. I simply stepped backward, put my foot down, and was hit with a flash of pain. If it makes sense, it actually hurt so much that it really didn't hurt at all. I sat down, I stood up, I sat down. My ankle felt very weak. I looked at Jac. There were three of her arranged by height and blurriness from left to right. We talked a bit. I closed my eyes, and when I woke up she was on the phone ordering me a bus.
I liken it to rebooting a computer because when I woke up I was normal. My calf was wicked sore and my ankle region was on fire but my brain function had returned. Using the bike as a crutch we made our way down the trail, keeping me focused on the task at hand by laughing with some dark humour and bad crash stories of years past. When the slope was less steep I could coast with one foot on the pedals - Foot Out, Flat Out - and for climbs and steeper descents I just sort of hobbled along. If I was self diagnosing in the moment I would have told you I had a bad sprain.
I don't have much in the tank in terms of pending gear reviews, but you'll certainly see some from me coming up. I also have some long-long term reviews I've been meaning to find the time to write - the universe provides, am I right? That aside, I'm sure I'll have plenty to write about in the hopefully-not-more-than-six-months that I'll be off my bike. I've heard some scary stories about recovery times over a year. At this point I'm waiting to see a specialist so I don't know if I'm a candidate for surgery or wait-and-pray healing. Even if it is the former, with our hospitals clogged with Covid, wait times are epic.
That said, I do have to say that the folks at Lions Gate Hospital were friendly, funny, and efficient. I really appreciated the level of care I received last night from people that I know are over-worked and over-stressed and I'm choosing to take it as a positive omen for things to come. On that note, I also have to shout out my friend Dr. Smillie, who took time out of a brutally long day to prepare me with hard facts and a few laughs for a process that I know is going to try my patience.
And look, I can't complain too much. I've had a good run without any prolonged time off my bike in years. I'm just paying for that now, and obviously should have read the fine points about variable interest. Joking aside, I know plenty of folks get hurt worse than I have while riding their mountain bikes and that a lot of us - maybe even a majority of us - will experience some significant time off our mountain bikes at some point in our lives. As many people have said to me, when it comes to a real injury "it's when, not if." What's crazy is that we're at Day 2 and I'm already jonesing SO HARD for a ride. I can hear my bike calling to me right now (sorry boy).
Have to say I appreciate the help from my friends and family getting out and getting sorted. My reduced mobility is certainly going to impact people other than myself, especially my daughter and my wife, and it's lovely to have their support anyway. I appreciate any experience that you can share from dealing with a ruptured Achilles. I'm a big fan of gallows humour, and I already have friends sending me cheeky "You Just Missed The Best Ride Ever" messages so there's that too. I've also had endless "standing offers" of help - always accompanied with "no pun intended" - which has been so touching. And if it is a matter of 'When, Not If' I have to say that I couldn't ask for better backup than I have.
Cheers!