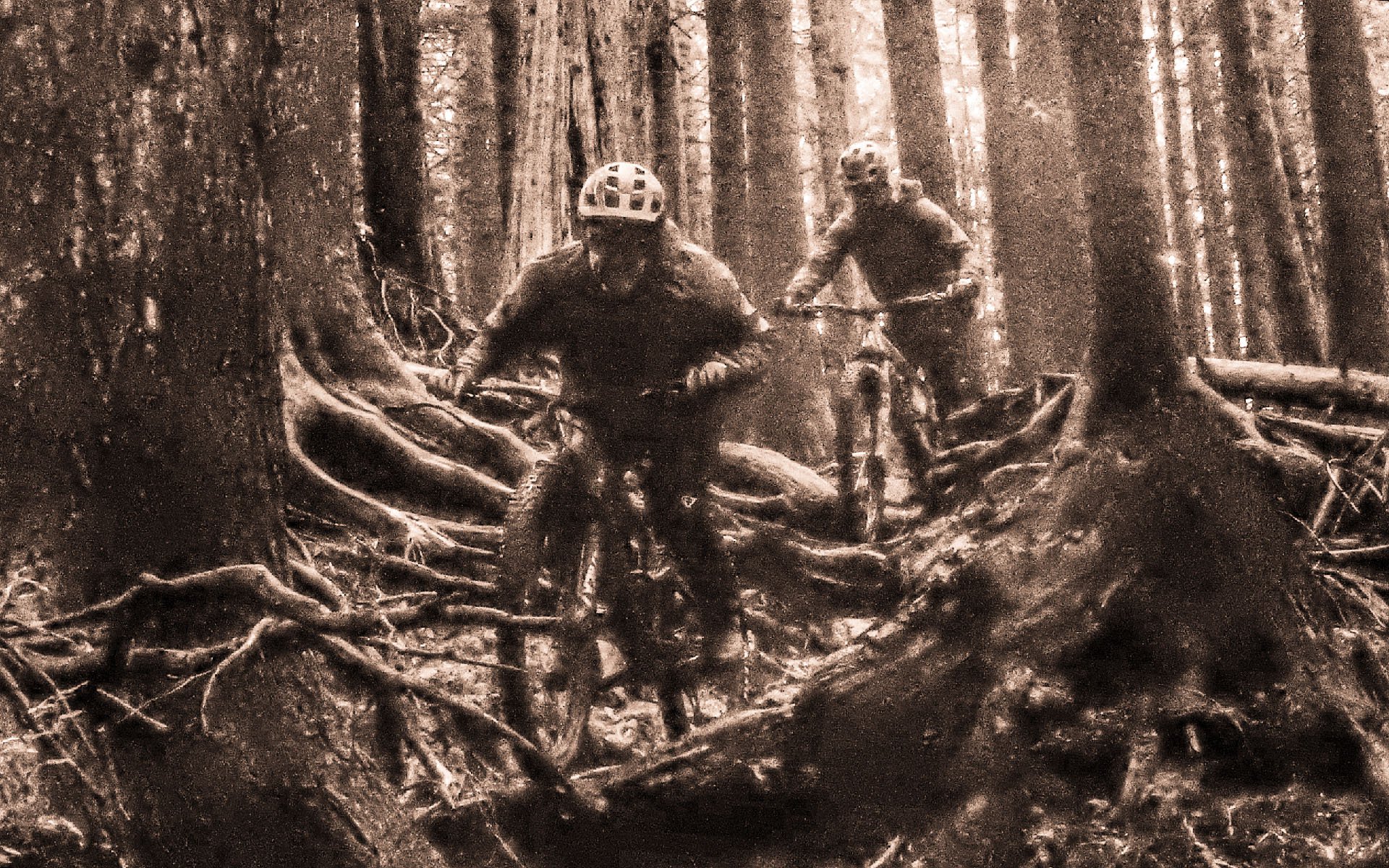 EDITORIAL
When Mountain Bikers are the Saboteurs
There are a few trails on the North Shore that have retained the character they had when they were first built. From a distance, and often from handlebar distance, the North Shore appears soft and new in geological terms. In reality in most places there is only a thin layer of duff and mineral soil, beneath which you'll find either hard pan or rock, usually granite. If a trail survives the periods of neglect that virtually all older local trails have lived through, this means it's found the durable layer that can be ridden for years with little or no maintenance.*
*There was a time when Digger's talents weren't appreciated by local government
Much of Bookwus, built by Todd "Digger" Fiander in 1995 or '96, hit this layer years ago and this has helped preserve its often nasty character. Less than a minute into the trail there's a challenging rock face with several rooty and steep exit options. After that it's time to buckle up because old school tech moves start coming at you in waves. Many features are combinations meaning if you don't clear the previous tech move, and exit to allow the perfect set-up for the next, you may as well head back to the fire road. It's the sort of trail that will slap you hard and often if you miss a move or two; at that point you're unlikely to find your mojo again before the exit.
For as long as I can remember Bookwus has flown under the radar. The entrance was for years partially concealed and for a very long time someone (I believe I know who) nailed sticks and branches into the opening log roll-over to further discourage riders. Some of these remain today. Even now that it's on the map, it's not very inviting, considering its justified double black diamond rating and its proximity to the much less frustrating and janky Seventh Secret (the 6th most popular trail world wide on Trailforks). While the heatmaps and the Trailforks ranking (172nd in the world) suggest it sees quite a few tires, I don't think I've ever run into another group on Bookwus. As we were about to drop in today, an afternoon so slick you could see your green reflection in the roots, both riders who passed us on their way to 7th asked about the sanity of our trail choice.
I often encounter skilled riders who want nothing to do with the trail, but in the last couple of years I've rediscovered Bookwus and the focus required to navigate it without a hospital visit. I even cleaned it for the first time last year. While I've come close a couple of times in 2020, one feature, a blind narrow ramp that angles steeply downard, continues to confound me. On my previous visit I was sure I'd nail it, but a bobble on the rock roll before turned me into a tripod. Today I was very happy to make it work but next time will likely be a crap shoot.
Even the hardiest trails need some love and Bookwus has some wood and rock work that needs labour periodically. A large bridge was rebuilt a few years ago and this year some holes have been filled. This welcome maintenance, most of it subtle, has brought the trail closer to what it was like originally. Much of this labour has been performed by the local trail association's paid crew, but I was told today that an unidentified trail fairy has been contributing as well.
Like almost every rider, I don't agree with all maintenance decisions. There are a few places near the top of the trail where it was necessary to let your front wheel drop off a root or cedar board as you descended, and a few of these have been skillfully backfilled with rock and dirt, and I wasn't sure why.* Clearly it makes the trail a little easier, but, I thought to myself, it's a double black trail FFS and it's supposed to be hard. For the most part however, the work is welcome, essential, well intentioned, and skillfully carried out by my estimation.
*a conversation with Digger cleared this up and he told me he built the trail this way originally
Mini rant aside, unless I've got a shovel in my hand, I don't think it makes much sense to nitpick and second guess skilful work done by trained professional builders.* Others disagree and sometimes feel they deserve to have a trail preserved at exactly the moment when it suits their skills and tastes, and never changed again. These riders sometimes fail to realize that these lines were once much different and their affection for trail decay shouldn't override either the original or current builder's desire to maintain it to a certain level. Still, constructive ideas may be welcomed with the right approach. It seems to me the best way to have some input is to pick up a shovel and volunteer with your local trail association.
*When the changes have been made by amateurs, simply to make a hard trail easier, that's another story.

I thought to myself, it's a double black trail FFS and it's supposed to be hard.
I recently heard about a troubling manner of expressing contempt for trail work. A pair of professional builders was working their way down Bookwus and the entire time they were digging, only one rider passed them. As they climbed back to the top when their day was done, they discovered that some of their work had been removed and destroyed. The rider who had ridden through was asked about this later but he denied having had anything to do with the vandalism. It doesn't end there, unfortunately. Someone removed the sign for the trail earlier in the year and hid it in the woods a short distance away. A previous sign, that hung from a tree by a chain, was turned around so it couldn't be seen, and eventually removed. Someone has since been trying to yank the replacement sign post free from its moorings and it was loose and off kilter when we saw it today.
You have to wonder what sort of person sees fresh trail work, on a trail that he (likely a dude) had no hand in building originally, and decides they have the right to put it back the way it was? I can't imagine the conversation this person might have in their head to justify shitting on the hard work of fellow mountain bikers.
I've heard of a few other examples of this lately, and one was very close to home. Someone I know recently had trail work undone, despite weeks of work completed with the blessing of the original builder. The perpetrator carved a message into the large jump he built, leaving the builder rather annoyed. He ripped out the work and put it back the way he wanted it and left a note expressing his feelings rather forcefully. I was riding with that same builder, in an area of unsanctioned trails built by others, and he told me he'd changed a couple of corners on the trail we were riding, seemingly unaware of his hypocrisy. What was that golden rule again?
Mountain bikers have always had enemies and while it's troubling when they come from within our ranks, it's hardly surprising. Entitlement is as human and universal as hairy armpits. We can get used to any sort of royal treatment and feel like it's our birthright, even if we had no hand in its creation and no reason to feel deserving. There are few mountain bikers anywhere in the world as privileged as those of us who live in British Columbia. There are many places in the world with great trails, but it's hard to think of an area that comes close when you think of the entire province. And what did most of us do to deserve this? Through hard work and selfless sacrifice, we were born in the right place at the right time making us very deserving indeed.
This works in reverse as well when we are asked to make even small sacrifices. COVID-19 has shone a light on what spoiled children many North Americans have become. I shudder to think what my grandparents, who lived through the Spanish Flu, two World Wars, and the Great Depression to name a few wee hiccups, would make of those unable to deal with the inconvenience of wearing a mask when it's required to protect vulnerable members of society.
If you ride locally, keep an eye on Bookwus, and particularly the sign. I'm not an advocate of vigilante justice, but if you see someone vandalizing a trail, wherever you ride, do your best to dissuade the perpetrators, collect some evidence, and report whatever you learn to your local trail association, if you are lucky enough to have one. Canadian Thanksgiving was last weekend and I have never been so thankful nor humbled by the trail builders who have made the North Shore and other areas a mountain biking nirvana. Thanks to every builder and trail advocate for your hard work and diligence, especially Digger for leading the charge and demonstrating an impeccable building standard.
Continued access is not guaranteed so please slow down for hikers and get out of the way when you can, say hello to everyone you encounter out in the woods, and express your appreciation for those who keep your trails in good repair.
If you'd like to see Bookwus as it was meant to be ridden, watch Wade Simmons tackle it here...
---
The best way to support your local trails is to become a member of your local trail association (better yet, join several if you ride in different areas):
North/West Vancouver: NSMBA
Tri-cities (Coquitlam, Port Coquitlam, Port Moody): TORCA // Fraser Valley: FVMBA