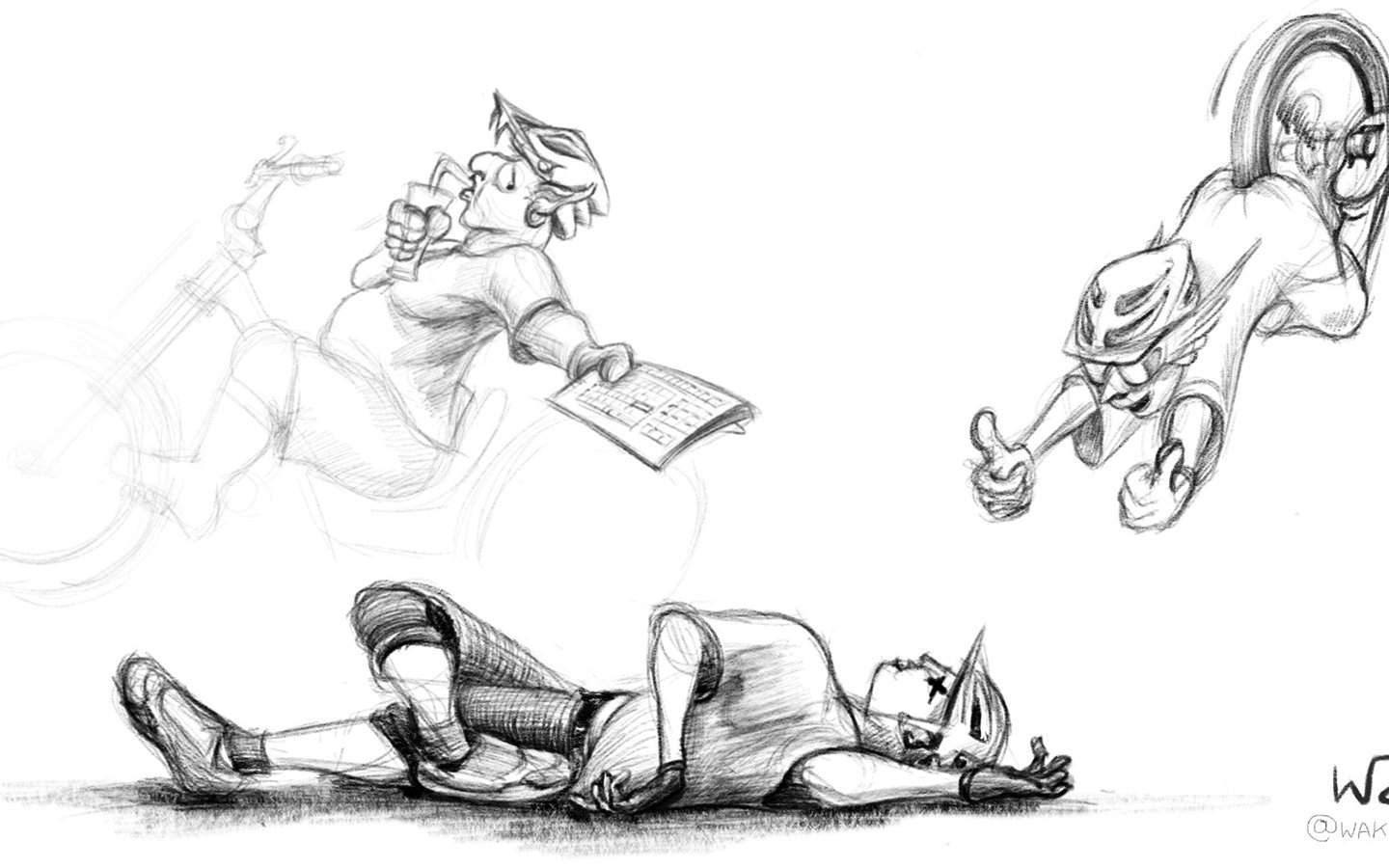 Ask Uncle Dave
When A Broken Back Kills Your Stoke
Dear Uncle Dave, 
I love biking I really do but last fall I had a pretty serious crash that busted up some vertebrae and stuff. I'm lucky to be able to walk. It was a tough recovery but the doctor has given the go ahead to bike again. Well now I'm back out on the trails but I've found my confidence is shot. So much so that, do I dare say it, biking doesn't hold the same magic it once did. I feel like I've lost my mojo. What can I do to regain some of that excitement for the bike again?
Sincerely,
A Broken Man
Dear Brony:
It's amazing how much effort we put into defining ourselves as "mountain bikers".  For many of us, a large part of our personal identity is wrapped up in this sport, and that comes with a whole host of shit; Some good, some bad. But it is an identity and it is something to belong to, and something that gives us a tiny bit of definition to separate us from the unthinking hordes.  Threats to our ability to ride can become a life and personality defining thing. Even if we ride less often than we would hope, we're all still mountain bikers. But at what point do you change from a "mountain biker" into a "guy that spends too much time looking at cycling websites for no reason?"  Sometimes I feel awfully close, but luckily I'm usually just a ride away from re-aligning that balance.
Struggling with stoke isn't all that unusual, and is certainly not a surprise for somebody coming back from a serious injury, nor is questioning the very idea of what you are getting from the sport or why you are doing it in the first place (but perhaps I'm reading more into your letter than you intended). It's interesting that you feel some sort of requirement to keep going with something that no longer "holds the same magic it once did."  It honestly wouldn't be all that surprising if you walked away from this thing that almost paralyzed you, or if your spark just didn't re-ignite and you no longer wanted to ride a mountain bike. There's absolutely no shame in walking away or finding somewhere else to put your energy, but it's understandable that your identity as a mountain bike keeps pulling you back in.
So I think you should spend some time answering that question, first and foremost. Is this something that you really want to do, or this just something that you're used to doing?
Now, as you know, dear Brony, we swapped some e-mails and you were able to state quite clearly that you do want to keep riding bikes, so let's move on to the next steps.
I'm lucky in that I've never personally had to recover from such a serious event, but I do have some exposure to people that have experienced serious illness or injuries.  And this frustration that "I can't do what I used to do" seems like a fairly consistent challenge.  It's impossible for us humans to not look back on the past and see all those great moments and wonder why our current state isn't entirely like that.  We're just not wired to accept our inevitable decline. I really feel like if you're going to re-claim your mojo and "feel the magic", the key will be to overcome this frustration of "I used to".
What you need to do is start treating the sport like it is new to you again. Hopefully your learning curve will be steeper than the average beginner, but if you can somehow turn your little victories into that fresh-faced reaction of a beginner, rather than that of a grumpy veteran hung up on what he was once able to do, things would be great, wouldn't they?  You'd be riding all the time.
My advice to you is to sell all of your gear and start fresh. I know that sounds expensive, but you're a beginner now, so you don't need the fanciest equipment. You can get something perfectly serviceable for a few grand, or even buy some non-glamourous off-trend rig from the buy-and-sell. And, as a beginner, you don't really need those slack angles or 170mm of travel. Something with more well-rounded geometry and 100-120mm of travel is all you need to start challenging some of the easier local trails. Besides, if you have a shorter travelled bike, it's not necessarily your skills that are holding you back, and your inferior equipment can be the reason for your shortcomings.
Maybe one day, after a few years of learning how to ride your bike, and progressively taking on more challenging terrain, you'll once again be the fully committed mountain biker that you once were.  But if you assume you're still that guy and try to enter at that level, there's a good chance you're going to be frustrated, and you're much more likely to fail.  Besides, we all know what the key to motivation is: spending money on new gear.  You should be super happy that you have an excuse for all of that shopping.
Sorry,
Uncle Dave
---
Uncle Dave's Music Club
I think even when I'm super old I'm going to look back to the pre-Internet days as the music that I got really excited about. There was just something about the work and the discovery that added a critical element to things that is unavailable now.
I remember one weekend, I think it was probably '98.  I was a supreme little shit, floating around the bike scene. I had befriended some hooked up dudes, who were old as shit, and, for some reason, they invited me on a quick weekend road trip down to Seattle to hook up with some people down there.  It turned into a memorable weekend of late nights, drag queens and epic shuttles in the woods beyond Snoqualmie.  My sole contribution was to suggest our entertainment for Saturday evening.
I remember thumbing through the Stranger or the Rocket or some other such thing, overwhelmed by our choices.  "We gotta go see this one."  I was too naïve to comprehend the potential downfall of dragging a half dozen people to a somewhat risky and polarizing show.
I know it was the Crocodile. I think the other bands on the bill were Gaunt and Nashville Pussy. I definitely remember being pretty excited about once again being underage, and stealing the persona of some 30-year-old so I could sneak into the bar. The show exploded, and the star of the night was the Murder City Devils. Nothing back in Vancouver touched this show for me, for a good long while.
This was rock revival before the rock revival. Hipster before skinny jeans. The Murder City Devils sort of exploded and then disappeared. And then re-grouped. And disappeared. And re-grouped again. But for me, it all comes down to a couple of songs from back in the day, and you should listen to them.
https://www.youtube.com/watch?v=o-fYFPyjXn8
https://www.youtube.com/watch?v=9k99L6FY91g
We'll help you start the process of rebuilding your confidence with some Raceface apparel Brony. You win a Trigger Tech Top and a pair of Trigger shorts! Send us an email to claim your prizes.  If the rest of you would like to get in on some sweet prizes, send an email to askuncledave@nsmb.com and you just might get lucky!