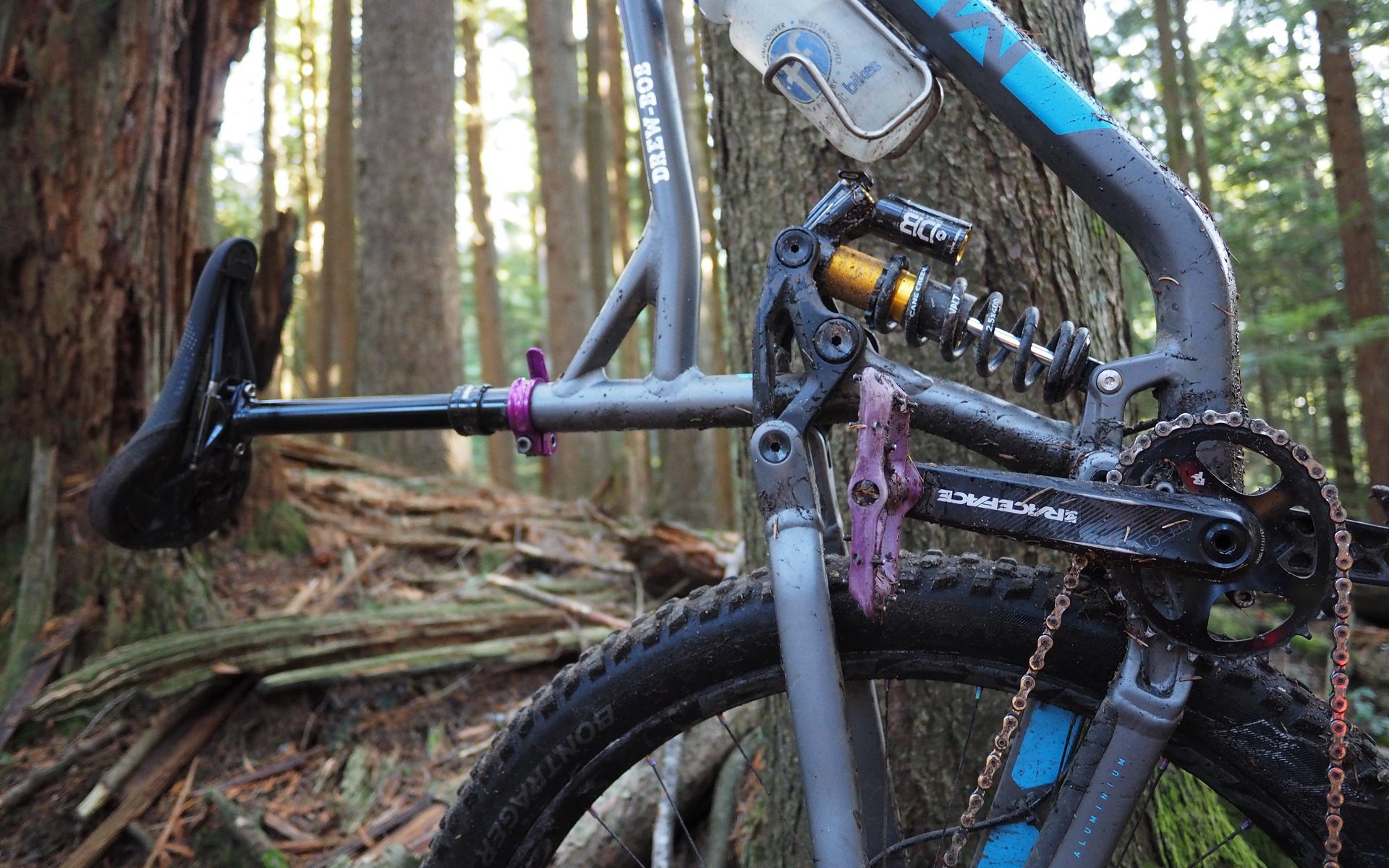 EDITORIAL
What's Your Bare Minimum Mountain Bike?
XTR Or Bust
One of the many ways 2010 was interesting for me was that I owned more bikes in a short window of time than any year before or after. At one point there seemed to be a hole between my super light single speed XC rig and my Fox 40-equipped pedal and plunge freeride bike and I decided to plug it with a full suspension 29er trail rig. By "29er trail rig" I mean another over-forked XC machine with the wheelbase-reducing road bike head angle that was popular at the time.
Despite working full time in a shop and spending way too much money on bikes and flipping others, a fleet of three was a significant expenditure. Especially since my two main rides were sporting nice spec. My single speed had a lightweight build including a Syntace bar & stem and XTR brakes. My freeride rig was a Saint/XT drivetrain mix with Saint brakes, the Fox 40 and a custom DHX 5.0, Chris King wheels and 1.5" headset. For the first time since the dirt bag, used bike days of my youth, I found myself min-maxing some strategic upgrades to a full Shimano SLX bike. It was the first time in many years that I'd spent real time on a drivetrain that wasn't an XT or XTR equivalent and in 2010 the performance gap between Shimano's XTR systems and their lower level parts was significantly wider than it is today.
The only thing that was truly crap on the bike was the budget Easton XC-Two wheels, and I kept changes to a minimum. I swapped the big ring for a bash guard, installed a larger front rotor, a 40mm shorter stem and 40mm wider bar I already owned, and immediately ditched the Kenda Small Block 8 tires in favour of some Schwalbe Racing Ralphs. Maybe that sounds like a lot of stuff, but I'd have called it all standard changes to make an XC bike into a Shore-XC bike at the time.

It's XTR or BUST for me, if I had to ride that cheap crap I'd quit mountain biking. -Bike Shop Customer
To reiterate, this was Shimano's mid-level SLX drivetrain. Not the lower end Acera, Alivio, or Deore. Not the Shimano STX RC setup on my first real mountain bike. Still, I was quite pleasantly surprised with the results of my slumming it experiment and it became a talking point in the shop and over post-ride beers with friends. Not everyone was amused or enthused, with the prevailing sentiment being that a bike build for an experienced rider should start with Shimano XT or SRAM X9. A customer at the shop memorably remarked along the lines of: "It's XTR or BUST for me, if I had to ride that cheap crap I'd quit mountain biking."
Fast forward to 2017 and I was sat upon a Marin Hawk Hill full suspension bike that retailed for 1900 CAD. It was the first time since riding SLX in 2010 that I'd spent real time on a drivetrain that didn't hit the 'XT minimum.' It had a Deore clutch derailleur, a very basic suspension package consisting of an X-Fusion shock and RockShox fork, Shimano's cheapest hydraulic brake system, and no dropper post. The geometry was modern, with a 27"-wheeled, 120mm travel platform sporting a 67.5° headtube angle. The 2022 Rift Zone 27" is the obvious progeny with a nearly identical build and only a degree slacker HTA.
The Hawk Hill was very good for the price, particularly the rear suspension kinematics which Marin had tuned around the basic damper. I had a great deal of fun on it that included playing with a whole series of min-maxed upgrades. But even with those upgrades, folks were interested in talking about the bike but almost always its short comings rather than its strengths. The linkage driving the shock was two pieces instead of being a single unit or at least bolted together. The rear end used a 141mm QR instead of a 148mm thru-axle. Really heavy wheels, cranks, and cockpit. Basic brakes. That price point is only possible in shorter travel full suspension bikes due to the substantially higher cost of big bike worthy forks, brakes, and shocks. Again the sentiment emerged that it's nice that such a rig exists for other people, but it would never be on the radar of riders who had experienced much more advanced machines.
MADE FOR FUN
I too prefer opulent micro-batch components over basic stamped out parts. Let there be no doubt that in choosing between two hubs with exactly the same level of engagement, cost no object, I'd jump on the interesting one with the small brand backstory. But I've found that in many cases my lust for luxury doesn't necessarily translate to more fun, or even more performance on the trail. The gap between riding experience, longevity, and even weight between boutique bits and basics has also closed substantially since I started mountain biking, to say nothing of the geometry gap.
Based on my experiences riding Rocky Mountain's latest Growler hardtails and Marin's Alpine Trail 7 and other budget-friendly bikes, it's safe to say that good geometry is now available outside of specific price levels. And so, when I ask you "what's your bare minimum mountain bike?" it's no longer a question of geometry. Whether you're riding a Growler or a Geometron, let's assume the frame is optimized for your application.
Under-biked, over-biked, or right in the sweet spot for your terrain and application? Suspension travel must be included in the pricing discussion. Suitable brakes for a more aggressive application cost more than basic ones but a Revelation RC and a longer travel Yari RC cost the same amount. A Domain RC isn't much more cash beyond that. For the sake of simplicity let's say the amount of travel you prefer doesn't come into play. I do, however, have friends who would give up mountain biking before they'd trade their full suspension for a hardtail.
When I picture my own min-maxed hardtail, I always start with a Kona Unit or Honzo DL frameset, depending on if I'm thinking rigid or suspension fork. I add an Angleset, some Magura Trail Sport brakes, a Race Face Aeffect R crankset, and CushCore with aluminum rims. A 170mm PNW Rainier dropper can feel essential and other times I think I'd do just fine with a Chromag QR and a fixed post. On the Honzo I'd run a lowered SR Suntour Durolux or a RockShox Yari RC depending on how flush I imagine myself. I'd run i40 rims, a 2.6" rear tire and a 2.8" front and 29" hoops. Either way I'd have two drivetrains, a single speed setup and my Zee clutch derailleur powering through 5-7 cogs with my old Paul Thumbie.
On the full suspension front, lately I've been obsessed with used bikes. A 2014 Trek Slash with the DRCV shock swapped out for a coil? What about a 2015 Banshee Spitfire or Rune V2? I think back to the 2014 Kona Process 134 I reviewed. The chainstays are much shorter than I'd prefer and it doesn't take a water bottle in the main triangle, but that's an 8-year-old bike with legs. Angleset, mullet, RIDE! Starting with a used frame and a good used coil shock and otherwise building the bike with the setup from my hardtail I'm getting an epic amount of mountain bike for the budget.
But those are min-maxed rigs, not my bare minimum. And that's a harder conversation to have. I have a deep respect for highly upgradeable bikes like Rocky Mountain's 2022 Growler 20. But knowing what I know, could I be happy with a beyond basic non-adjustable coil sprung fork, lowest end hydraulic brakes that sell for less than replacement pads for high-end systems, and total sh*t rubber, on the same janky North Shore trails I love to ride, if that's all my budget allowed for? If I'm being totally honest, I would probably buy some good boots and get all my forest time in hiking. Just jump up another 500 CAD and the 2022 Growler 40 solves all my concerns except for brakes. Then jump up another level, and another level, and another level, and at some point the amount of money input is going to yield a bike free of compromises.
New or used, hardtail or full suspension, I've come to the conclusion that if I needed to buy a mountain bike tomorrow it would cost me a few thousand dollars or I wouldn't bother. Even buying something more basic and upgrading the brakes, rubber, and contact points to my minimum level, I'm not getting out for less. It was an interesting thought exercise, and I'm a bit surprised to have come to that conclusion. It turns out that knowing what I know and having ridden what I've ridden, I can put a price of fun.
I'm still interested in testing $1000 hardtails and 2K full suspension bikes, and I've not committed myself to a life of carbon wheels and obscure unobtanium, but I have a newfound realization that there is a bottom-level bike, below which I'd pursue another activity.
Would you still ride if your only option was a basic mountain bike, hardtail or full-suspension, with a non-adjustable fork, the cheapest hydraulic brakes on the market, and plastic tires? If not, how much more would you have to spend to keep yourself in the saddle?