Whatcha Packin'
AJ's Riding Camera Pack Solution
Earlier this year I shared my packless carry solution. Sometimes however, I go on rides that I'd like to document with still images and unfortunately, I haven't found a safe way to carry a camera without lugging a small baby on my back. Longer rides further from civilization where extra food, water, and first aid items are necessary, also see me riding with a small pack and often the two go hand in hand. But similar to my regular packless rides, I've been working on minimalist solutions to transport these items.
Different scenery, amazing views, and a big day on the bike inspire me, making more adventurous rides perfect for a small camera setup. But packing relatively small with only the essentials is still important. Heaps of things can happen and cause a ride to go sideways but I've found carrying much more hasn't helped. It's not reasonable to pack for every possible scenario so I've identified the most likely failures to prepare for.
One example of not being able to cover all issues was hinted at in my Pack-Less Carry story last spring. Years ago, a friend and I were visiting Rossland where we rode our faces off for five days. We headed up to hit Seven Summits on day four. Early on the climb I noted a strange feeling in my pedals but was too keen to pay close enough attention. By the 5km mark, the freehub in the test wheels I was riding completely shat itself. Coasting was fine but any force on the pedals caused them to spin freely. Nothing in my small camera pack setup could fix a buggered freewheel and carrying a bigger pack wouldn't have changed the outcome. I resorted to hiking and skating the bike along the traverses and climbs, testing my mate's patience along the way. We eventually made it to the descent and after having an absolute hoot down, I'd forgotten about the hub issue… Until we had to pedal back home.
Despite this mechanical, I'd found a good balance with my camera carry setup. It had the essentials and I could still enjoy the day. It took some faffing to get to my current setup and in the process there were rides where I was underprepared, but I wondered if it could be improved to cover more scenarios.
My Camera Pack Progression
When I first got into photography, I shot primarily video and for the life of me I cannot remember what I used to lug gear around. I probably used some old Billabong backpack that also lugged books to school and Uni. When I picked up the camera again in Canada, I began by stuffing it in a towel or jumper, and again I stowed it in my backpack, one that was also used for college.
As I grew more enamoured with documentation, my gear expanded. I bought a Dakine camera pack to get out on the trails with but that soon became a storage location for everything photography related. The pack tidied up our spare room while keeping the camera, lenses and bits and pieces together but doing this added heaps of weight to the bag. Shortly after acquiring that pack, I realized it was no longer suitable for rides where the camera is secondary – it was overkill on anything but an actual shoot. I despise riding with anything on my back so lugging a full camera pack around wasn't happening unless the riding was merely for transportation.
Evolving To the Evoc CP35
Years later, the Dakine pack was retired for a larger F-Stop bag that I never got along with. It never sat well and constantly moved around when riding during work shoots. I ditched it in favour of the Evoc CP35 – a monster of a bag but a suitable home for everything I had at the time. The CP35 has accompanied me on many event shoots and single-day client projects but its size can start to weigh on me as the day progresses. The contents aren't all needed for most shoots and it's far from suitable for having fun riding trails.
However, despite its size, the CP35 is the most comfortable camera pack I've used. The large flexible waist straps and velcro closure, in addition to the common waist buckle, hold it more securely in place. The pack also suits my long torso well, improving the fit when hunched over the handlebars between locations. The experience had me wonder about a smaller Evoc pack for more on-location projects, and possibly as a suitable pack for riding with my camera.
Today, the CP35 pack stores all of my camera gear, which includes things I don't typically need on location when shooting action. I consider it more as my studio shoot bag and it's become the permanent location for my Sony FE 90mm 2.8 G lens along with triggers, cleaning kit, spare batteries and charger, props etc. A small light to assist my larger one will also join the contents in the near future. Before trying the smaller Evoc option, I would take everything but the 90mm lens in this bag on location. I could remove what I didn't need but also didn't require all that space – the physical outline of the bag is quite big.
Riding with a Camera
During more adventurous rides like the Seven Summits experience noted above, the only time I'll carry a pack on a ride, my camera and the incredibly versatile Canon EF 24–105 f4 lens were stuffed in a dry bag and stowed in my small-ish Camelbak. At one point I moved to an even smaller bag that worked great but the zips have now seized shut. When I sold the 24-105, I wondered if a blend of the small setup with the option for another lens could be comfortable with a smaller Evoc pack. Dropping to a 24–70 lens loses a significant amount of length at the long end and I wanted to see if I could manage a small setup with a 70–200 and be happy. It was time to try the CP18.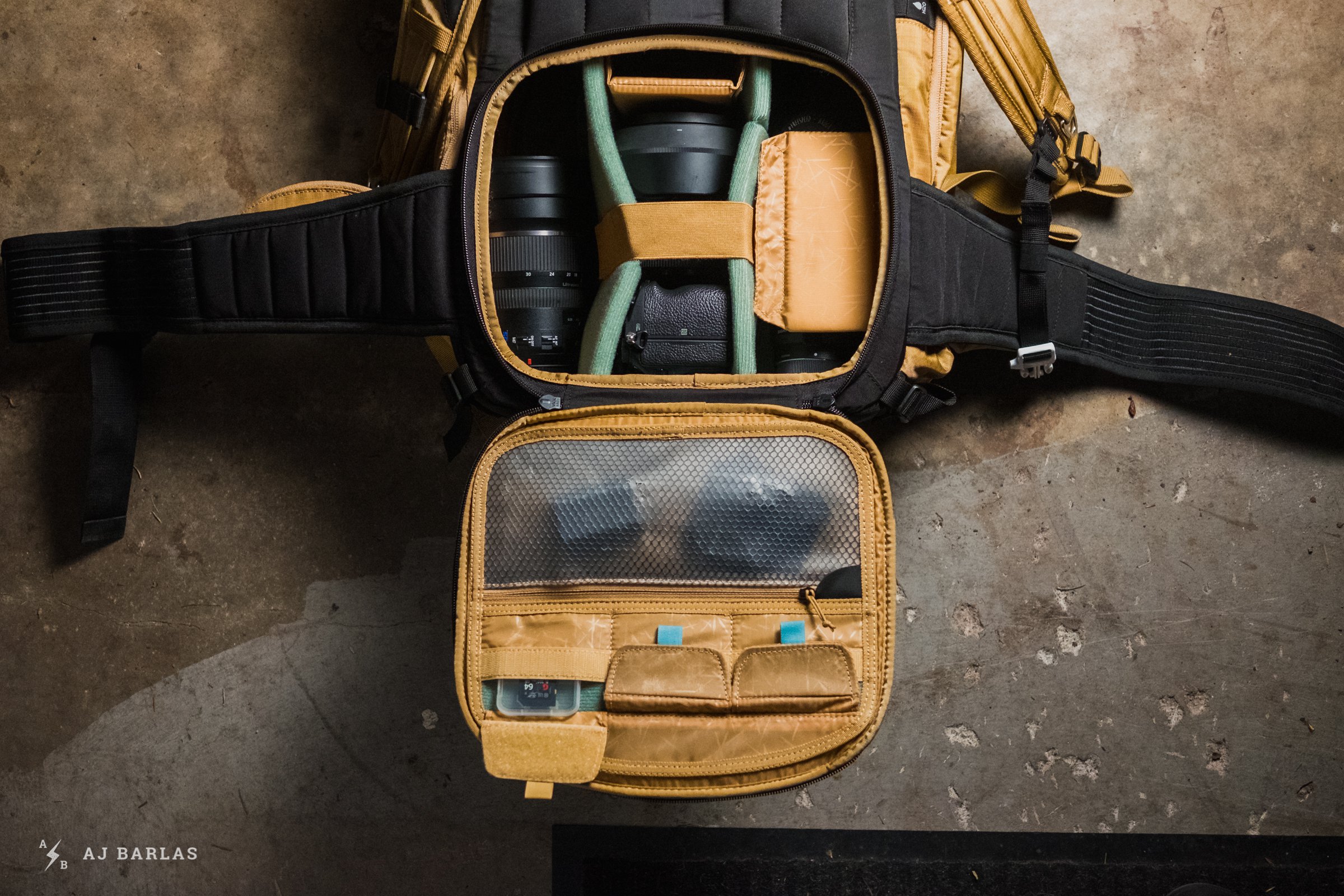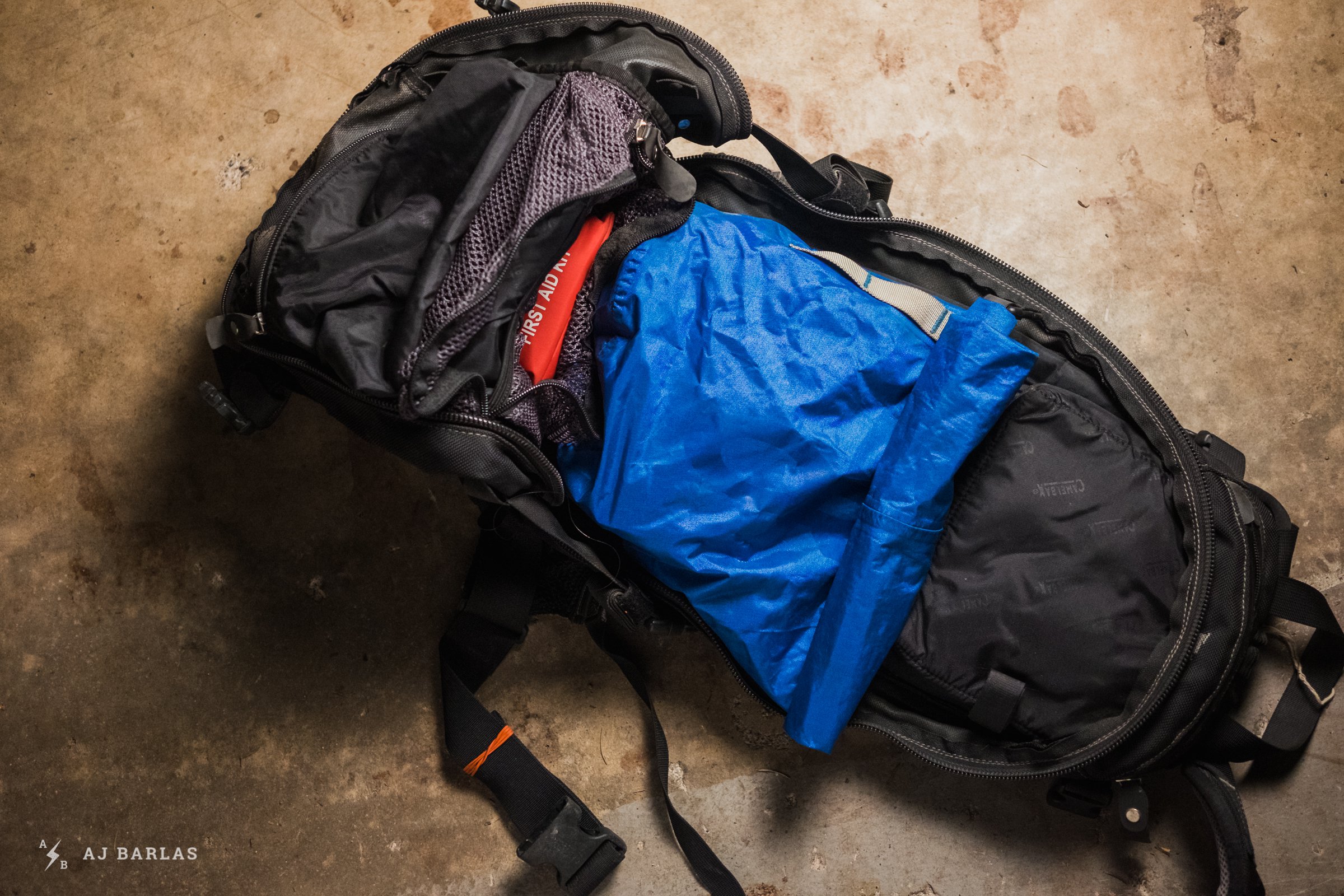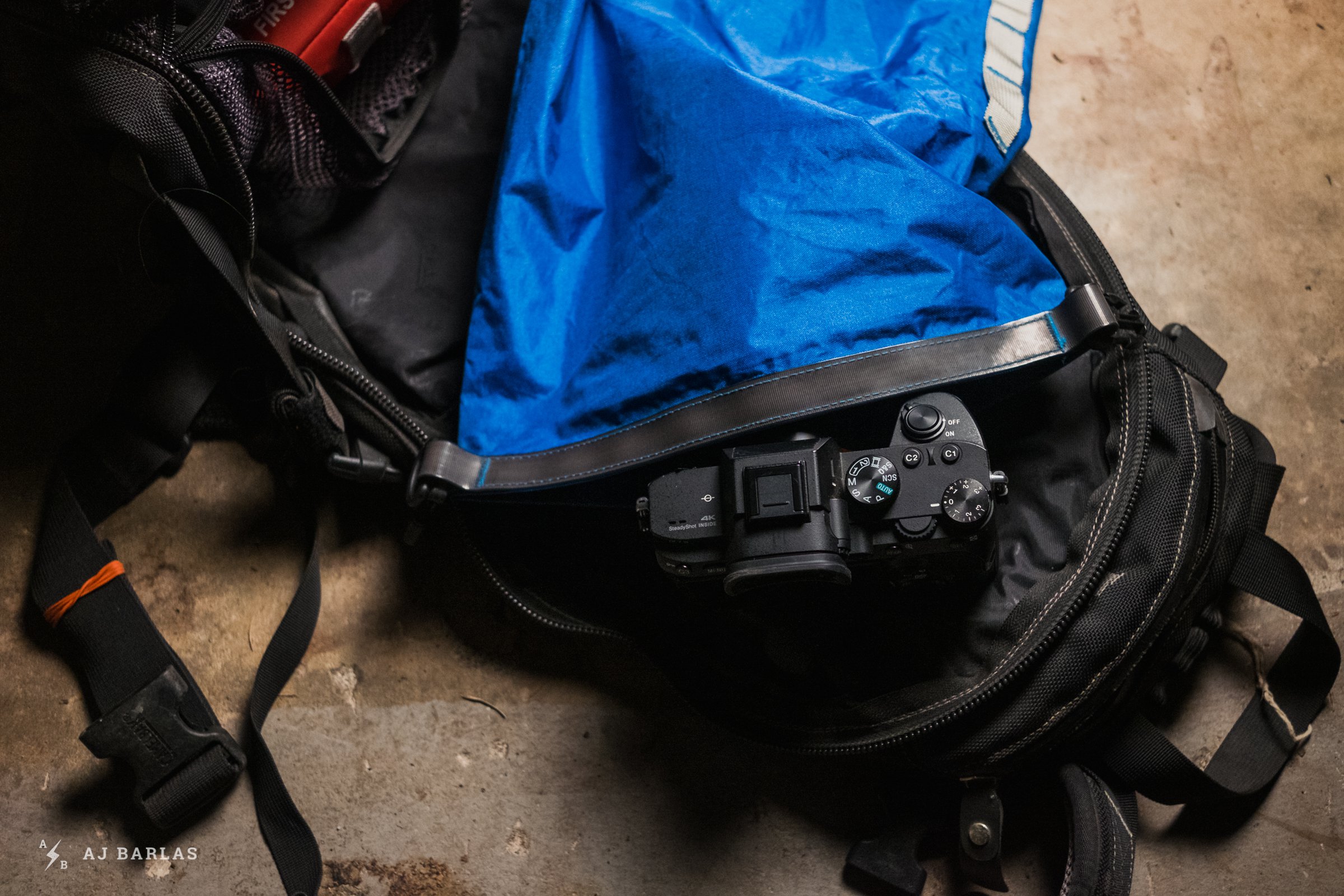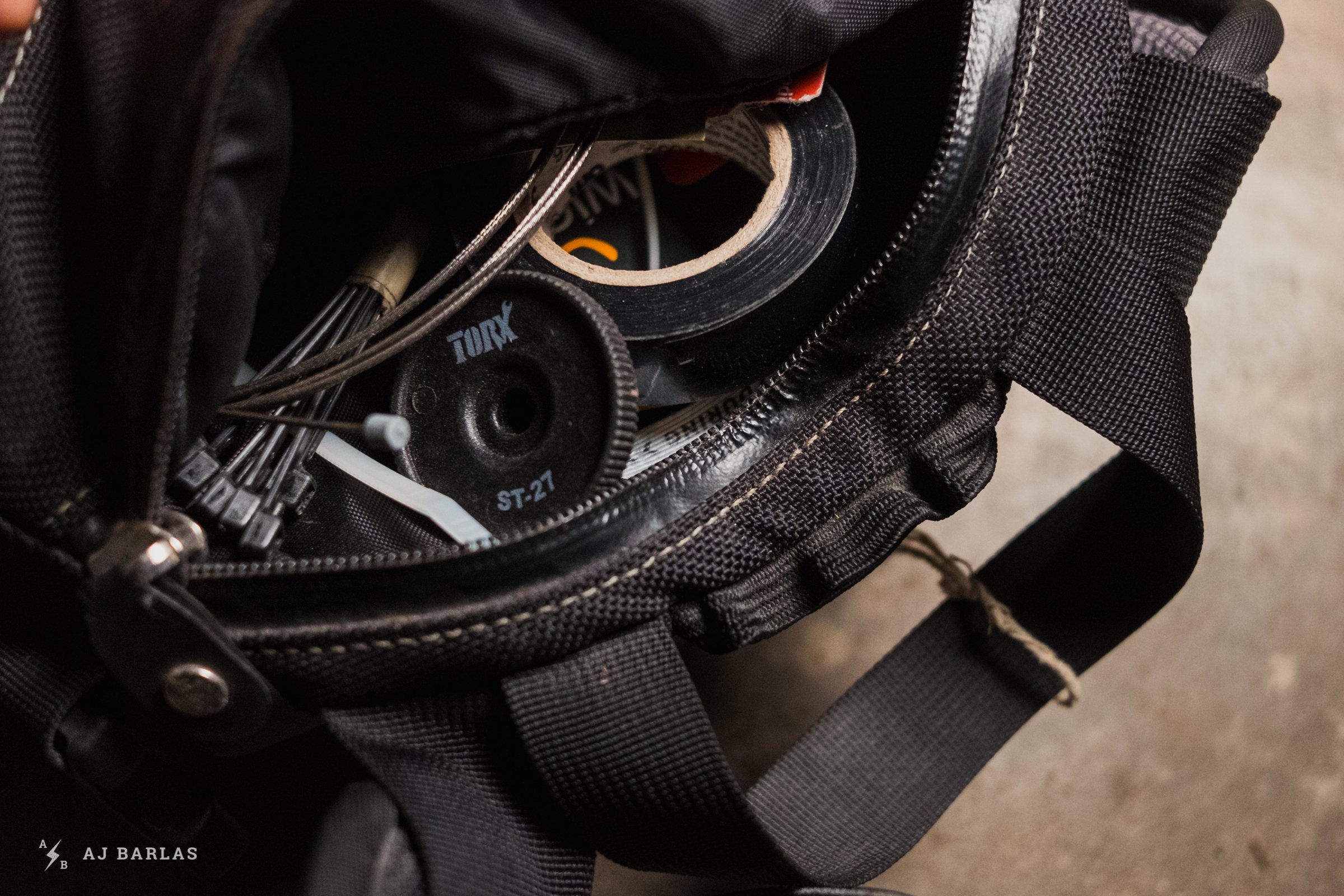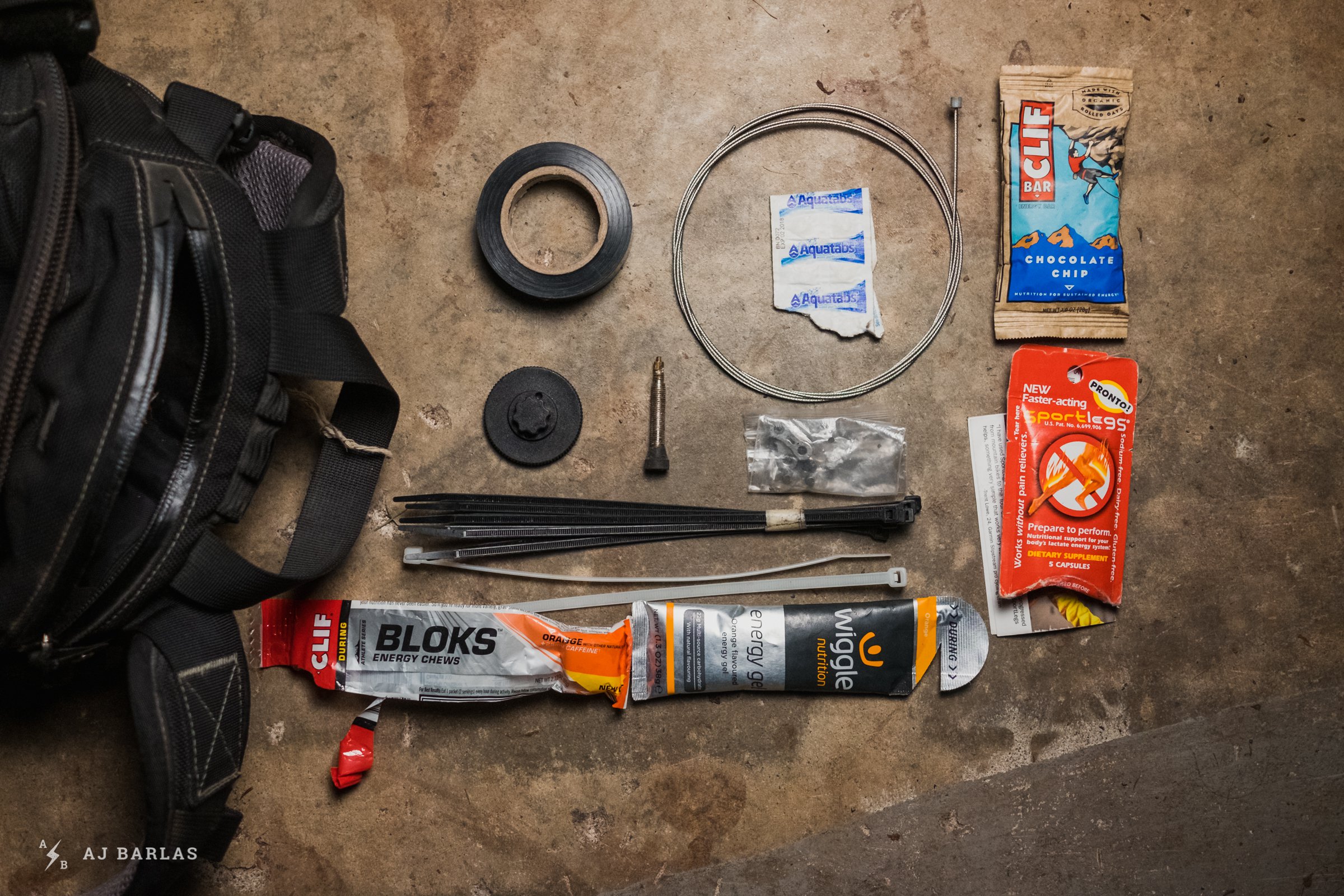 As my on-location pack, the CP18 has been set up with spare batteries, memory cards, and my A7iii body with Sigma 24–70 2.8 attached. My staple 70–200mm 2.8 is also needed and often a 15–35 2.8 tags along just in case. The last two are both from my old Canon kit so a Sigma MC-11 adapter is also required, usually attached to the bottom of the 70–200. Coming from a DSLR, these lenses are quite large.
The CP18L has room to squeeze a water bottle or small bladder in the side pocket, a spare tube, a small multi-tool and a jacket or extra layer as well as snacks but honestly, I didn't get the opportunity to test it on the bike this year. I don't feel a need to from the use it has had, though. This is larger than my super minimal Camelbak setup and from the time with the CP18, I don't see it replacing the minimal setup on those rides where the camera is secondary and enjoying the riding a priority.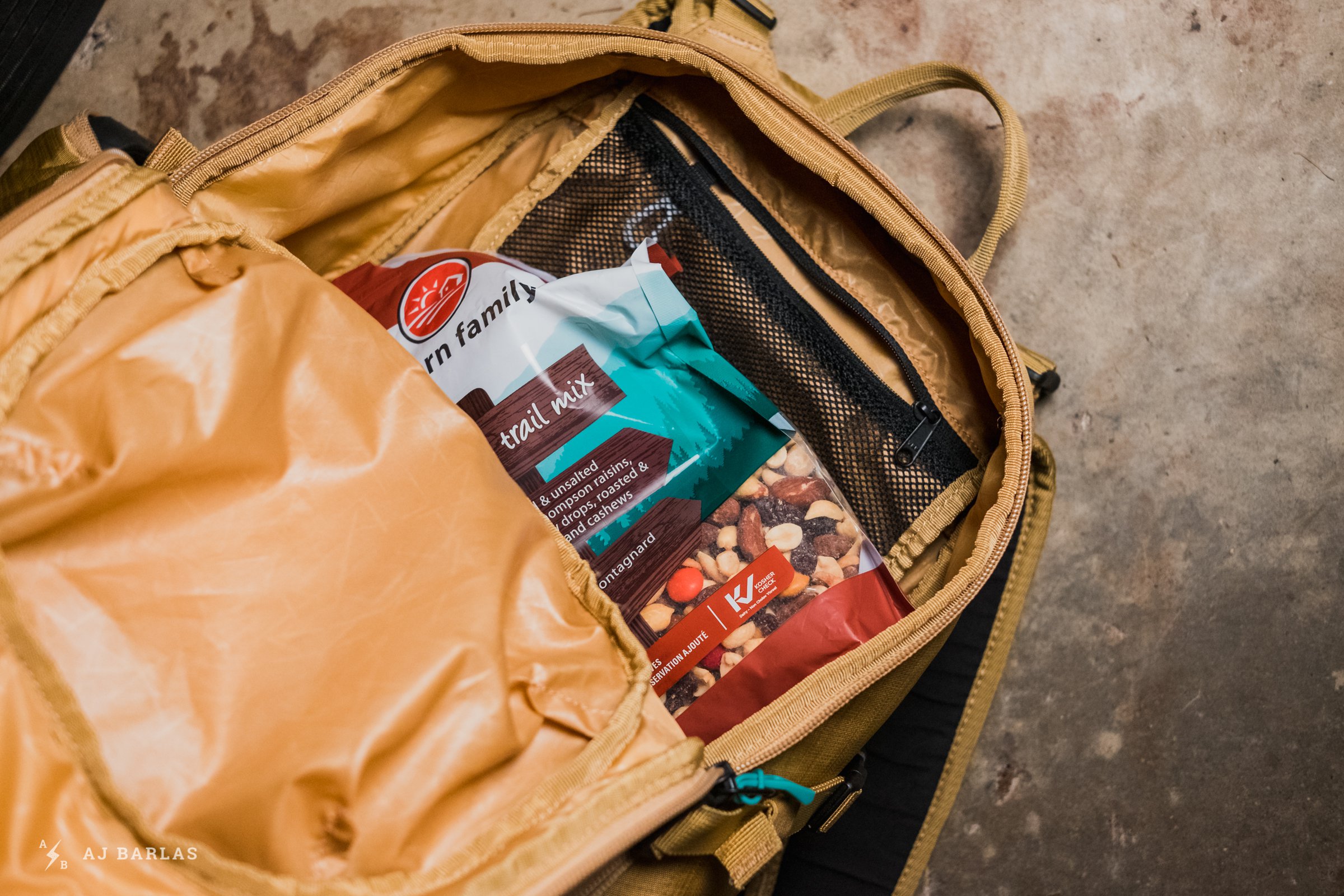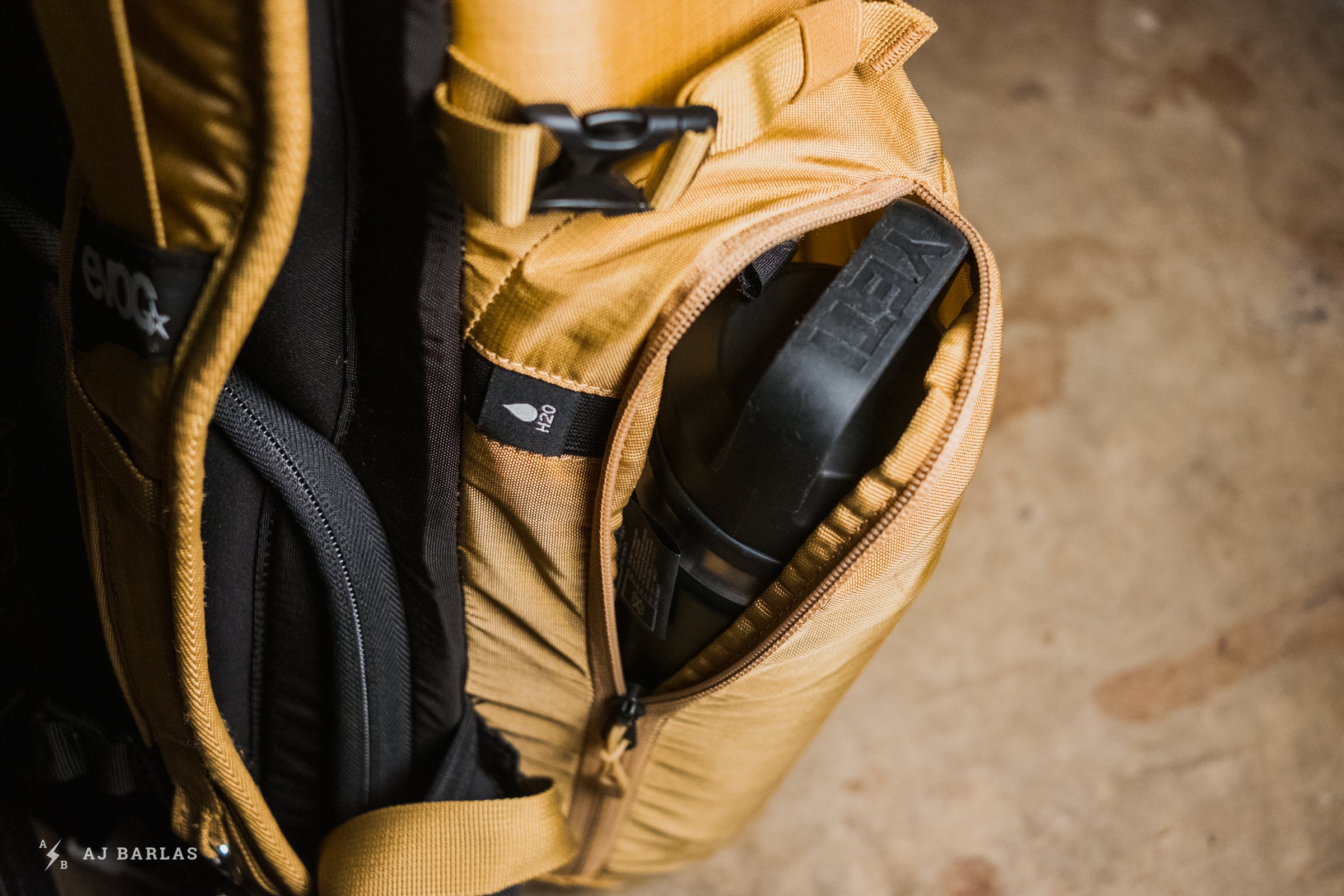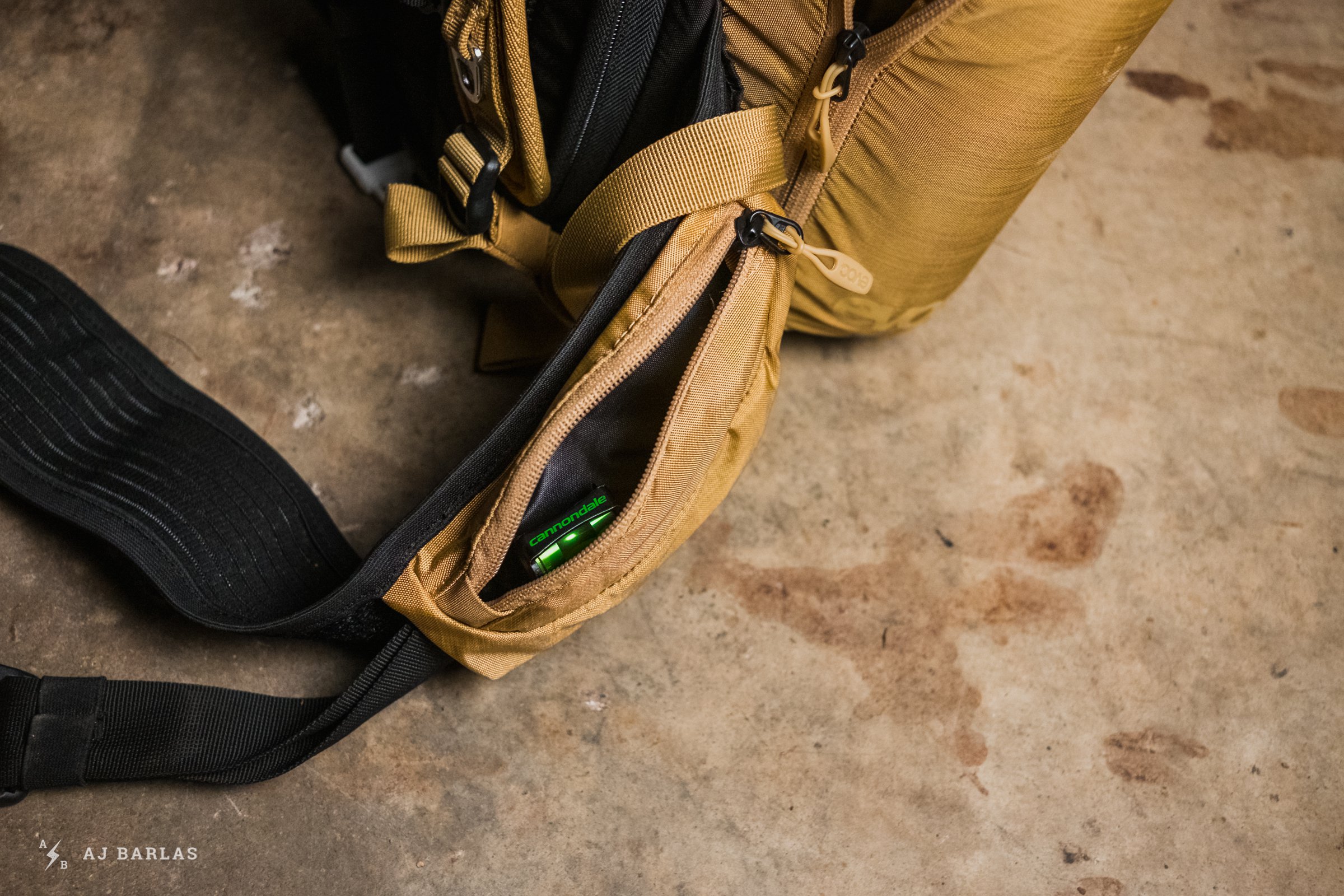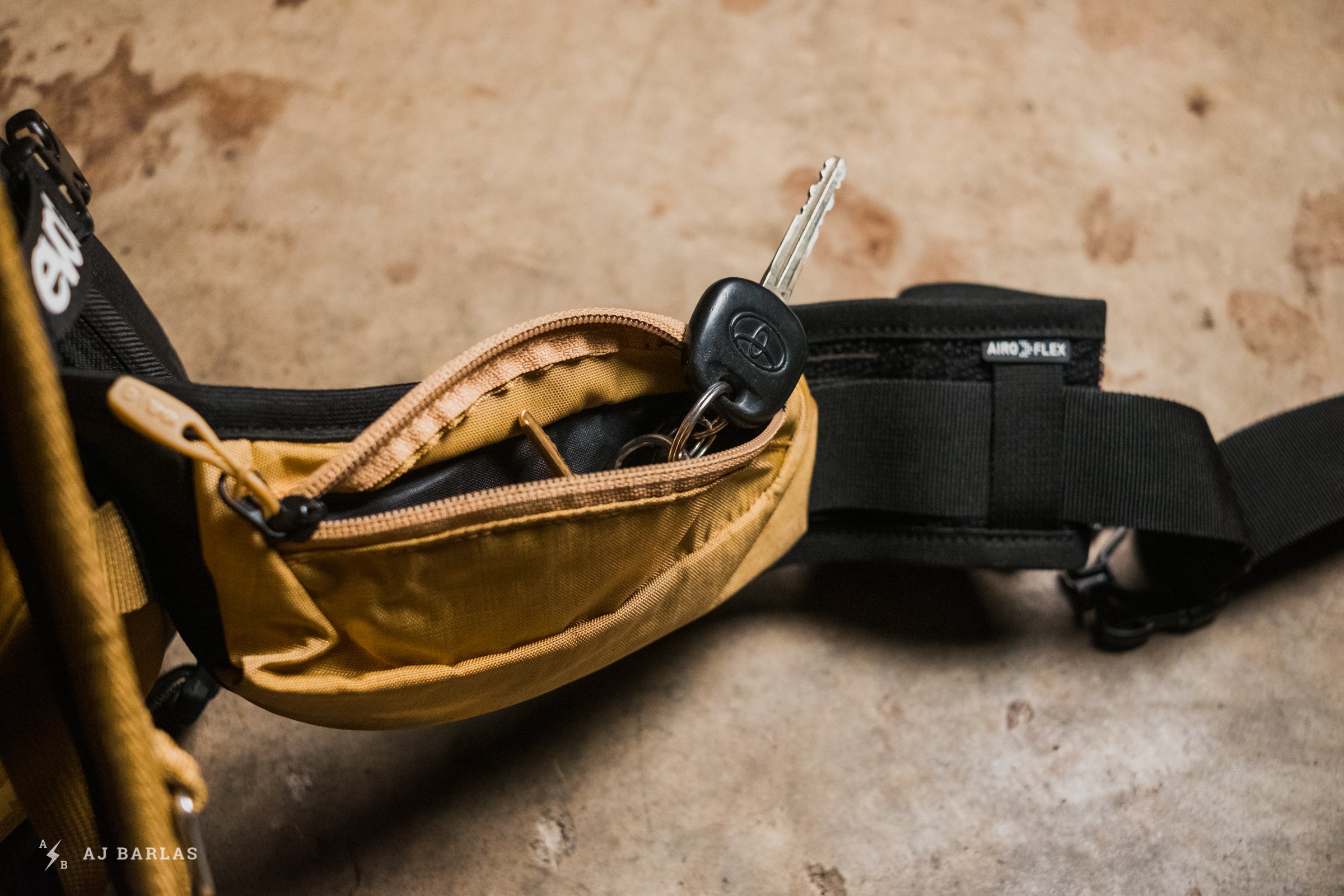 The CP18 has been great an on-location pack. The fit is similar to the CP35, though not as comfortable on my long torso. The CP35 measures ~18 inches from the shoulder strap to the bottom of the waist strap; the CP18 is two inches shorter. Hiking and walking around, the CP18 fits fine and the shorter length isn't as noticeable but once on the bike, it doesn't offer the same comfort. But that's incredibly personal and specific to my gangly shape.
Additional length could be handy, though, as I've found it tight when slotting my 70–200 with MC-11 adapter attached inside. For my use, the 18L seems to slot between too big for a riding pack with a camera, and a touch small for my on-location work. I struggled to get an appropriate configuration using the adjustable dividers with my camera and staple three-lens kit. A compact crop sensor camera and three equivalent lenses would likely fit wonderfully, but a full-frame mirrorless, which isn't that big, and three lenses – two of which are big – make for a squeeze. Eventually, settling on a vertical setup worked, but the space requires careful camera placement with the 24–70 attached. Running the dividers vertically also negates the side access, which can be useful from time to time, but I'd be just as happy without it.
Thanks to COVID, the pack didn't get used during any event shoots in 2020 but I hope to change that this year. It did accompany me on numerous client shoots and I found it reasonably seamless to use. Coming from another Evoc pack, the storage layout is familiar and transferring between bags is seamless. Despite the tight fit with my three-lens setup, I still enjoy the bag and haven't had any issues with limitations for full-day shoots.
The fit doesn't allow it to remain as stable and worry-free when riding. I'll keep my mini-first aid kit and emergency items like zip-ties, spare hanger and cable, stale emergency food (I really should update that) in my small single-lens Camelbak setup for those adventure rides. I can live with the shorter range of the lens but have learnt I'm not willing to negotiate the bigger pack; the camera needs to remain secondary on those days. While the size of the CP18L isn't perfect as a general pack for my current setup, it's close and I believe that once the lenses are updated it could be perfect. It sure beats lugging my big pack with tons of needless items or unused space around on most shoots.
More on the Evoc CP18 camera pack.