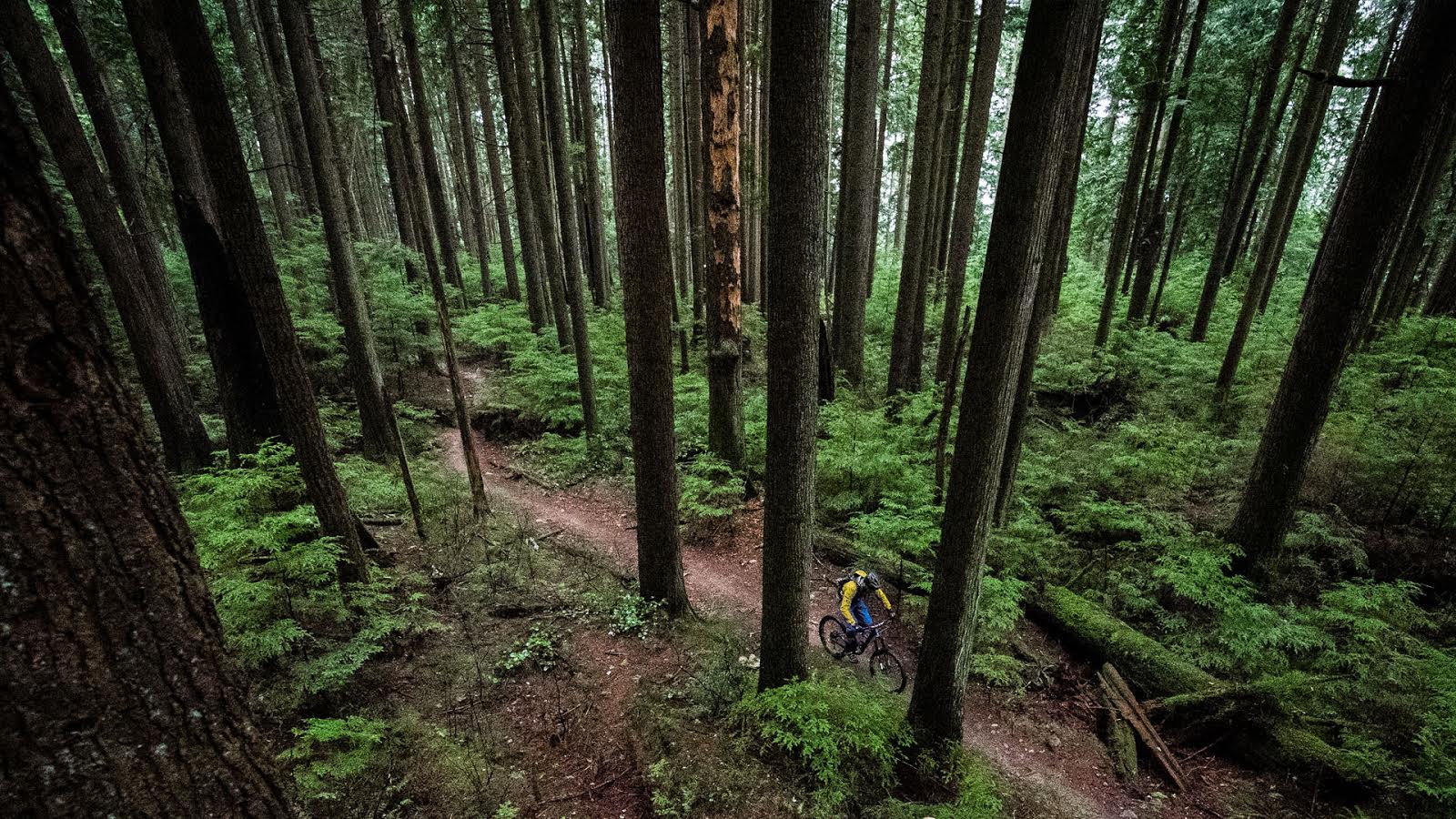 What Development Has Benefitted Riders Most?
After invoking the ghost of mountain biking future, I wanted to talk about progress. I'm not Joe Consumer at this point so I'm clear that it's much easier for me to look on the bright side of mountain bicycles. I get to ride bikes, essentially as demos, for weeks at time. I often invoke primae noctis. When a bike that I'm not going to test arrives, I build it up and have my way with it. And if my first experience is memorable, and the tester doesn't claim it fast enough, I have another go.
Even in this context, I have anxiety about choosing a bike to spend money on. If I'm buying a bike it's essential that I can use it as a platform for testing in the future. The last bike I bought was a Giant Reign. It's a fantastic bike and it made me a better rider everywhere I rode it. But it didn't have Boost spacing so for my purposes it was obsolete after a year.
If it's problematic for me, it's a minefield for your average rider. And while I'm clear the term 'average consumer' doesn't apply to most of our readers, I'm aware that the struggle is real.
What development in mountain bikes over the past five years has provided the most benefit to riders?
And yet bikes are better. The 29 lb bike that pedals up efficiently and descends like a downhill bike from 2010 is no fantasy. We have become jaded about new technology but how many of you would give up any of the developments of the past five years?
With this in mind, I asked a selection of insiders about the best things; the development of the last five years that have served up the most benefit for mountain bikers. It was telling that the first five answers were completely different. So many improvements have rained down on us that it isn't clear what has made us most wet. Bikes have changed a lot. As a result, bikes have made leaps and bounds.
---
Vernon Felton – Cycling Media Hack – pinkbike.com
"It's not a radical technology change. I'd say that if you are looking at the new crop of cross country bikes like the Kona Hei Hei, the idea that what people conceived of as 'super aggressive geometry,' I guess we're talking about steeper seat tubes, longer top tubes, shorter stems, what Gary Fisher was pushing all those years back, to see that moving into several genres of mountain bikes, cross country, trail and all mountain. They're all better for that. I think we're getting to the point where there's a tipping point where it gets a little silly. When everyone is trying to make an enduro bike. Not good. They're not enduro racers. But, you look at those cross country bikes that are coming out right now, I could actually want one and I could ride it all over the place. A 4″ travel bike – it's sick now because there's no compromise on it. Every bike should be that way. And it's cool kind of anywhere. As long as we don't get wheelbases like 47.5-48″ on medium bikes, which is kind of happening, and going a little far. I think geometry, the least sexy thing, is the biggest change. And that's awesome."
---
Todd Bischoff – Veteran of E13, Trek, SRAM, Truvativ and Burley Design – Currently looking for a rad gig in product or brand management.
"Long travel bikes have gotten really lightweight and really rideable. You can pick just about any brand of bike and you're going to a pretty decent riding bike now. Five or 10 years ago that was for sure not the case but now the consumer can go out and buy a long travel bike and it's going to ride pretty nice. They can ride all day on that bike. On a 6″ bike 5 years ago you didn't want to spend all day on that bike. But now you can do that. And for the most part, the equipment is durable that it's going to stick with you and not cause a lot of trouble."
---
Wesley Meyer – Evergreen MTB Alliance, REI – operations
"In mountain bikes, I would say lightweight suspension. Air shocks, air forks, and enough design to go with it. I was surprising myself the other day riding a 6″ travel bike up a road for 1000 metres and then you come down and it's basically a downhill bike from a few years ago. But it wasn't that hard to ride up. And they are reliable and don't squeak most of the time and seem to put up with it day after day without cracking. Things aren't shearing off. That's the biggest difference for me. Having that bike I can ride kind of everywhere now. "
---
Brett Tippie – One of the godfathers of Freeride (don't tell Wade), Director of Good times
"The pretty colours! Fashion and function! (insert Tippie cackle here) In the last few years, I think the dropper post is awesome. I like wider rims. Suspension just gets plusher and plusher. I'm just stoked to see a 5-6″ travel trail bikes are so prevalent and people are getting out there and 'mountain biking.' I'm not saying give up a DH bike or a cross country bike – it's great to have a quiver if you can afford it or if you are sponsored obviously. But if you are going to have one bike, there's a good bike that can do it all. I think it's cool to be able to ride everything on one bike. I love my DH bike, don't get me wrong, but it's nice to have a multi-purpose everything tool."
---
Brandon Watts – Publisher and founder – Freehub Mag
"From the intro to mountain biking standpoint I feel like geometry, having something a little more slacked out and forgiving, suspension technology making it smoother. And I also think the Plus size tires make it easier for someone who doesn't have very much skill on a bicycle at all to get away with more and be more comfortable out of the gate. Those are some of the things that allow for a bigger margin of error. Probably geometry is the one that I see the most brands getting behind and being able to ride everything on one bike instead of buying an XC bike and buying a DH bike you can buy a trail bike and you can go far and go short so that's probably the number one. "
---
Mike Kazimer – Tech editor – pinkbike.com
"I think 1by drivetrains in general because we don't have to deal with front derailleurs anymore. It's a benefit for mechanics. For anyone who's worked in a shop, front derailleurs were a hassle. Now it's trickled down to an affordable point. I think that's the biggest benefit there."
---
Kelli Sherbinin – President – Endless Biking (#goodtimesonbikes)
"The dropper post. The terrain that we ride, we go up and down all the time and before it was hard if you had to adjust the seat. Even now, most people have dropper posts, and when one person doesn't have one it's mind-boggling how much of a pain in the ass it is."
---
Pete Stace-Smith – Brand Ambassador – Norco Bikes (37 years at Norco!)
"I have a rock solid one. Wheel size. For me, it's been a game-changer, for people I've got from an older bike to a new bike. The initial move from 26 to 650, a game-changer for thousands and you can see it here and I'm going to say the same change from 650 to 29er in trail bikes. There's already a few true trail bike 29ers out there. Not world cup race 29ers and that will probably see the same change again. For some people, not for everybody. So, to close it; wheel size."
---
Forrest Arakawa – Assistant Something or other – MTBR.com
"Carbon wheels."
---
Ryan Leech – Coach and Pro Rider
"Wheel size is probably a common answer. But I would rather have a 26″ bike with a dropper post than a 29″ or a 650b without one. So in my mind, if that's the case then the dropper post, for me as a technical rider, that for me has made the biggest difference. Because I love dropping the saddle as much as possible. And it allows me to just on-the-fly play no matter whether I'm climbing, descending whatever it is. Dropper posts have made a pretty big difference."
---
What's brought you the most benefit?