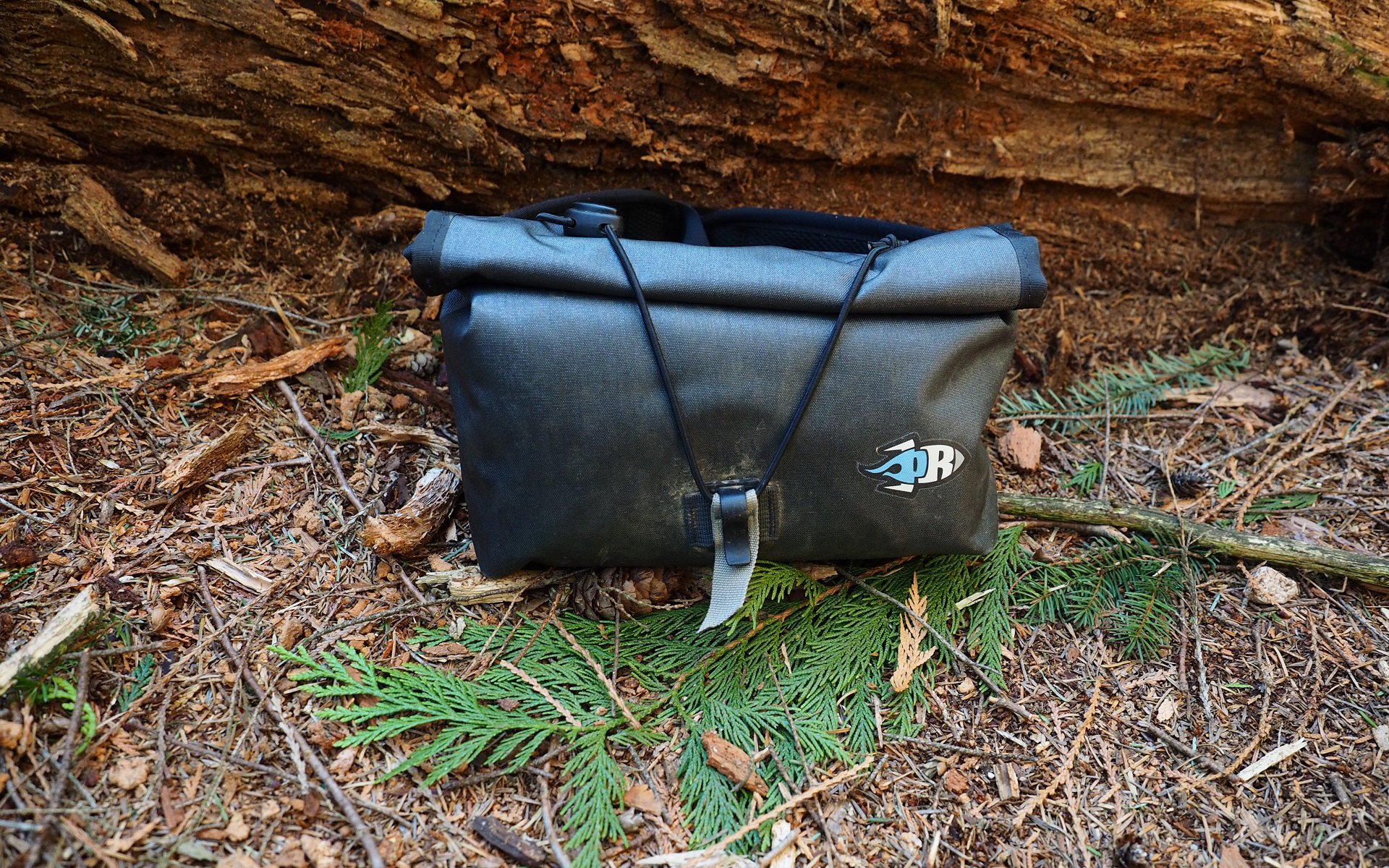 REVIEW | EDITORIAL
What Are You Carrying? Andrew's Hip Pack.
Full Of Surprises
What are you carrying? A new series from NSMB where we look at what our test-writers are actually packing around on any given day and I get to go first. Pressure's on! It's all a touch problematic because my kit changes on any given day. Laundry to be done, tools I've misplaced around the world's smallest bike shop, camera or no camera, am I carrying beer?
My family was heading out for a hike anyway, so I decided to grab my hip pack and dump it out on the trail when we had our snack break. I wasn't expecting to pull out three pairs of spare gloves and my emergency Honey Stinger waffle seems to have gone missing.
I also regularly wear my Mission/Acre pack but these days it's only for wet winter epics, where I need a lot of clothes and food or if I want to bring my Silky Saw along. That may change as I see more and more riders carrying their folding saw on a bike. I'm not anti-backpack as much as I'm very happy with running a hip pack after finding some options that fit.
The weather changes constantly much of the year and I run hot, so one of my requirements is being able to strap a wet jacket on the outside where it won't soak the rest of my stuff. I also feel naked in the woods without a bunch of stuff so being able to comfortably carry most my crap is very important.
I will cop to the fact I'm probably running light on first aid gear. I have a wack of electrical tape, water-purifying tablets, and an emergency blanket that I plan to replace with an emergency bivy sack this year. I 'usually' have Tylenol but I gave it to a friend six months ago and never replaced it, which is a good reminder. On the planning front, I'm going to stash a bag of Steri-Strips in my handlebar or up my Giant Clutch. There are no band-aids in the future of my kit but I'm open to suggestions.
Gimme Shelter
I have weaned myself off carrying tools and spares for situations I never personally experience. Why the hell did I have extra headset spacers with me all the time? Yeah, that's a circa-1998-buddy's fault and it was time to stop that nonsense. That doesn't mean I'm not ready to share. Case in point, my Dakine emergency shell has been worn more times by my various friends than by me. I even wash it.
It's one of those stuffs-in-its-own-pocket numbers that on the surface has no redeeming qualities. It isn't proofed against wind or weather, it isn't warm, it appears to have all the durability of wet paper. It gets rated 5-stars, above awesome, would absolutely wear again every time I pull it out for myself or a friend in any conditions.
I love thin, simple, and preferably dry gloves. No Velcro, thank you. How much do I like them? Even I was surprised to dig three pairs out of my hip pack. The green gloves and 'infrared' gloves are both Bontrager Evokes which provide an almost bizarre combination of durability, wash-ability, flexibility, light weight, and comfort. They're also relatively cheap.
The pink beauties are a pair of 100% iTrack gloves which are surprisingly simple for a brand known for embossed rubber and bold eyewear. They're a fit-favourite but I can't say anything for durability because they were missing for months - yes, in my little pack - until this feature. On cold days I wear a pair of 100% Brisker gloves that are as good as anything I've found in terms of balancing warmth with lever feel. I'll still always choose thinner gloves any time my fingers aren't going numb.
I always carry an extra top. I have a couple of five-year-old IceBreaker merino & wood-fiber t-shirts that have been washed countless times and look moth-eaten and I always bring one along. The holes don't seem to get any bigger and a quick change on a sweaty day is a luxury worth carrying.
The last piece of clothing I always carry is a virtually weightless, Rocky Mountain branded, neck-tube (thank you Sieneke). At first, I thought it was silly, but now it's my secret weapon on colder-than-it-looks commutes or when under-equipped for an epic North Shore deluge. It's like a little warm hug when I really, really need it. That one dry piece when the rest of my kit is soaked through and I have two frigid lakes in my shoes.
Not All The Tools
I've really paired down my tools these days. Partially a product of switching to a hip pack but just as much the absence of a tool roll making me more thoughtful of how I'm packaging my gear. There is some duplication that I hadn't considered until I started writing this. For example, my multi-tool has spoke keys that are perfectly usable in a pinch, but I've been carrying a full-sized shop spoke key with me for twenty years. It's more superstition than necessity.
My pump is from the first run of the current SKS AIRBOY lineup and it's ready to be put out to pasture. It's well past the five-year warranty and has been exemplary. I've rebuilt it a few times and the seals still hold up fine to mountain bike pressures but the shaft is badly worn and there's nothing worse than an emergency pump that doesn't pump in an emergency. I've checked out a few options but I don't see any compelling reason not to get another AIRBOY.
I put a big wrap of electrical tape on it and to be honest the tape has saved me, or a friend, from a long walk home at least as many times as the pump has done. It's pretty amazing how something as small as one broken zip-tie can ruin a ride, never mind patching up the inside of a tire casing.
I don't carry a chain breaker anymore. Just the 9spd & 10spd quick-links that work on my drivetrains, and on 12spd drivetrains in a pinch. If I need to remove pieces of a broken chain to put one on I just use the pliers on my EDC Leatherman Skeletool.
A couple of notes on the Skeletool. The Leatherman bit kit is entirely a waste of cash. The bits fit like crap and it's beyond worrying trying to loosen bolts that are at all tight. Don't bother. If they beef up the one arm and put on a 1/4" bit fitting then I could potentially just carry this as my tool. Also, I use the more expensive CX version, not because of the totally cosmetic carbon finish, but because you get a much higher quality steel blade for the extra money.
I've used Wolf Tooth's Pack Pliers to do many of the jobs I've used the Leatherman for, like truing rotors. The main reason I pack around the extra weight is to have a really usable knife blade with me. I've used it countless times and never go into the woods without it.
More future changes here. I only carry a lighter for starting a fire in an emergency and I'll be changing over to something less fuel-dependent this summer. I'm just having a hard time deciding on which fire-steel kit to go with.
Otherwise, the pouch holds my Park spoke tool, quick-links, and my Dynaplug kit. The Dynaplug plugs are such an improvement over little tire-patching bacon strips that I sound like an insane person when I get fired up recommending them. They are NOT cheap but the refill plugs are reasonable v. their performance and it's 42-grams of not having to walk home.
I'm quite guilty of being 'that guy' who doesn't carry a tube with me on rides anymore and I don't check my sealant often enough so the best plugs are a key to getting me home with a pinch.
Packing Up
Wow. That seems like a lot of stuff but I'm not sure where I'd start with cutting gear out. I'm definitely not giving up my fresh t-shirt, my neck-tube, any of my tools, my Dakine shell, and if anything I'm swapping the Space blanket for a larger bivy-bag option. So, I guess minus my missing snack this is my kit. I have also previously carried all the tools in a small frame bag to save weight on my back but I only had to forget them on my other bike once to take that option off the table. Testing bikes often calls for me to carry a shock pump, my camera, or extra layers but that's still a comfortable hip-pack load for me, just with the Stealth instead of my Porcelain Rocket Dumpling.
Looking back on past pieces I've written about my kit I've also realized that my last-ditch-walk-out basic-battery Petzl headlamp has gone missing. I feel like I lent it to my wife as the Muddbunnies ride club often finishes spring rides around dusk. Time to repatriate or replace.
I'm a constant fiddler, so this is a snap-shot in time. I'm open to recommendations for changes or additions as long as I can still fit a whole Enduro Potato or a can of beer in there as well. If I want both I'm happy to jump up to the Stealth.

I'm all ears on a recommendation for your best manual fire-starting option and I've also been considering ditching the Leatherman for the combination of the Pack Pliers and a stand-alone folding knife. Beyond that, I'm satisfied with my setup for the moment.
What would you change?