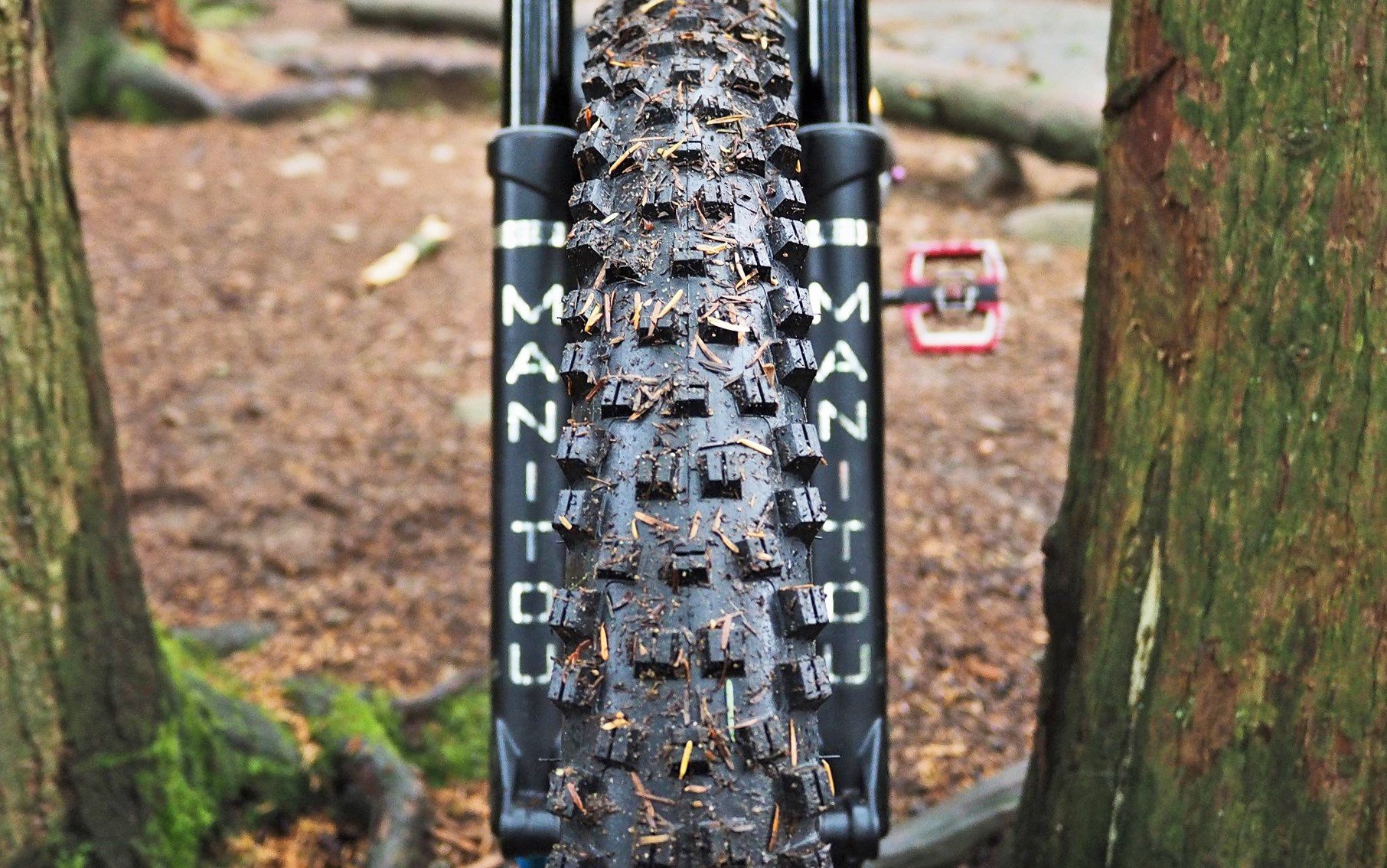 REVIEW
Wet Weather & The 29x2.8" WTB Vigilante Plus Tire
I'm soaked right through with water pooling in my weatherproof socks and uncomfortably sloshy skivvies as I stare down a steep armoured rock-roll. It's a long way back to my car and while this is the best all-weather trail to get me there, the combination of wet rock, roots, and woodwork has placed me out of my solo-comfort zone on a greasy North Shore day.
I look down at the only front tire I've known for months, wet & dry. After first experiencing it in the 27+ format on the Rocky Mountain Growler, I'm running the 29+ version on both my suspension bike and my rigid single-speed; The WTB Vigilante 29x2.8. I roll off down the trail confidently as I load my front tire into the first tight turn and the rear slides around to join it.
Vigilante!
I get into trouble; it gets me out of trouble. Sometimes, on a slick log ride or rolling a steep jank, I feel like it breaks the laws of physics. I've ridden the Vigilante (which some of my friends call the 'Vigi-Mary' because of its resemblance to the Schwalbe Magic Mary) in a few sizes including 27x2.8, 29x2.5, and 29x2.6 with positive results, but nothing has been as remarkable as the 29x2.8 in the High Grip compound.
On an i40* rim like my Race Face ARC, I'm never been more confident in a front end setup on trails wet or dry. In fact I've been riding a few of my favourite trails in the wet like it's dry which is an entirely bizarre experience compared to my normally hyper-conscious upright winter riding.
*Or an i39 rim in the case of the Velocity Dually
The 29x2.8" Vigilante is available in a few different configurations. First, choose a compound. The High Grip option seems the most obvious choice but I can imagine using the Fast Rolling option for strictly dry conditions or possibly as a rear tire if I cared about matching front and rear tire wear. Locally, I think the best choice is to go High Grip at both ends and cycle front tires to the back as they wear out.

Next, choose a sidewall option. I hate flats, like low-ish pressures, and I weigh a buck eighty-five or a buck ninety so I'm sold on the extra support and durability of the dual-ply Tough casing. This manages to not be as dead feeling as Schwalbe's Super Gravity or e13's LG1r DH casings but still offers excellent support. Too much support? Maybe. On the front with CushCore installed I could potentially get away with the reinforced-single-ply Light casing if I cared about a couple hundred grams or was a lighter rider looking for nicer ride quality.
With the new CushCore Plus installed many riders may prefer the more supple ride of the light casing for their front tire. I'm not trying to win any climbs, I hate punctures, and I like the support of 29+ Vigilante combined with the CushCore insert, so I don't see myself giving up on the dual-ply tire. On the front of my Marin with the 160mm Mezzer, I've been running 17-18psi depending on conditions. That's with no insert. On the front of my single-speed, with CushCore, I've been running 12.5-13.5psi.
Straight-line braking traction and control are excellent even with big, sensitive, four-piston brakes mated to large rotors and at the same time, the Vigilante changes direction easily compared to some other high traction rubber. It digs in harder than most of the Plus tires I've ridden, with less of a floating feeling. This may be due to the weight and the damped ride of the overbuilt sidewalls.
There are of course trade-offs to the best front tire I've ridden. At my speed, support is excellent when leaned over but epic-level berm smashers or ultra-precise racers may prefer how narrower, but similarly aggressive, tires like the excellent 2.4" e13 LG1r or Magic Mary SG cut into terrain. There's also, of course, the need for an i40 rim and a fork with adequate* tire clearance.
*'Adequate' could be a manufacturer's listed max tire size, or it could be your own measurements.
29+ Adoption Challenges
This is a heavy tire. There isn't a similarly aggressive dual-ply 2.8" tire on the market, but plenty of riders find that 1354g number a bit shocking. Although, for comparison sake, a 29x2.35" Magic Mary Super Gravity tire is ~1170g and a 29x2.6" Magic Mary Super Gravity tire is ~1370g so I think WTB is in the ballpark.

Secondly, it's a matter of compatibility. Fork compatibility, rim compatibility, frame compatibility, the fact is most current fork lowers fit 29x2.6", frames that could already clear 29x2.4" needed little modification to jump up to 29+/-, and the 30mm ID rims companies spec can handle the 2.6" rubber even if it's generally better on a 35mm ID.
There's also the argument of diminishing returns. I'm enamoured with the 2.8" Vigilante up front on my Marin but a 2.6" Vigilante in the same compound and casing would also be a great choice. On my rigid Walt, I'll take the 2.8" every day, with a CushCore insert thank you, but then that's not an application many folks will care about. With the 2.6", 29+/-, market growing I hope that there's enough demand for bigger meat that good aggressive rubber in the 29+ format will continue to be released. I know that my next hardtail will absolutely clear a 29x2.8" Vigilante in the rear.
I've ridden a lot of great rubber in the regular 2.35-2.5" sizes. I've had good 29x2.6" experiences to date. But, allowing for fork-tire clearance and proper rim dimensions, I'm happiest descending winter grease or summer loam on bigger rubber and the 2.8" Vigilante is the best of the 29+ breed I've tried. It's available in a High Grip | Light Casing for 73 USD and the High Grip | Tough Casing I'm testing for 84 USD, with more information from WTB right here.