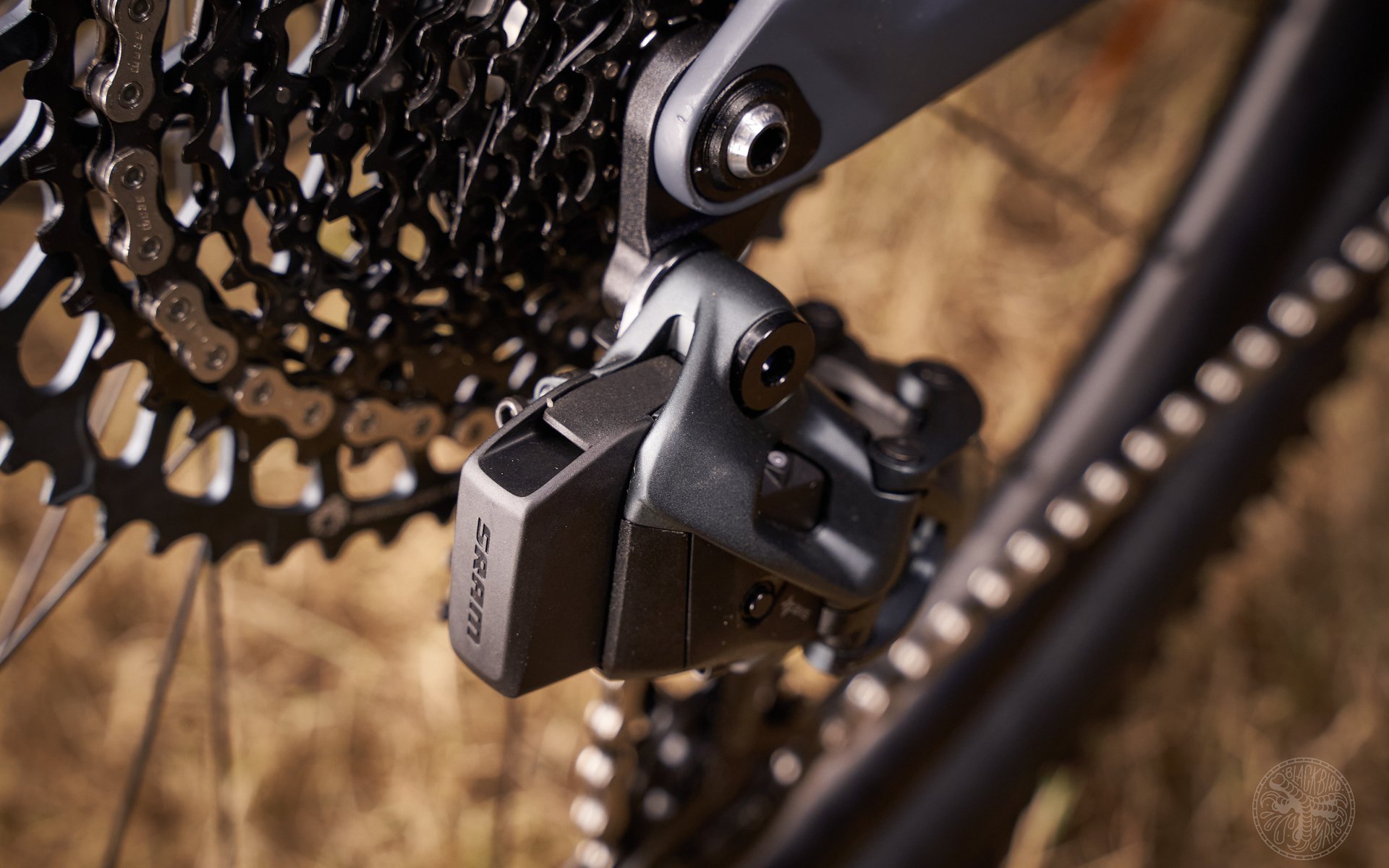 EDITORIAL
We're Still Buying Rear Derailleurs Instead Of Mountain Bikes
Dog Shit Tiara
We're stood in a gravel parking lot at Whistler. Currently it's dressed up as the pit area for Crankworx. Arranged behind us is a bustling camp of heavily-branded Sprinter vans and large tents shading tired technicians. In front of us there's a carbon full suspension bike, brand new, displayed on a pedestal. Gucci build. The hex interfaces on all the frame hardware are pre-rounded from the factory. I'm thinking about asking the company rep about it, but he's busy trying to explain to a very frustrated customer why they've been waiting months for a frame warranty and the conversation doesn't sound like it's going to be wrapping up anytime soon. I let out a long sigh and look down at my camera, then over at Bikeroom-Jeff standing next to me. He shrugs in a way that says "what do you want me to do about it?" I mutter something a little more 'blue' than "thanks for your help."
We've come up for a long day of finding interesting stuff at Crankworx. Hopefully stuff that a lot of other folks doing the media rounds have missed. I'm calling the series 'Sweating The Small Stuff' and we've already bagged some nifty finds. But this, this is a dilemma. You see, it is my first in-person impression of a bike from a brand that is being trumpeted all over the bikernet for incredible value. As I told Jeff at the time, I could take a shit and stack an XTR drivetrain on top of it and that too would be cheaper that most other companies SLX builds. Even with Kashima coating and plastic wheels most riders are going to be smart enough not to sit on my turds and call them high value. After a few more minutes I decide to walk away. We spend a great day talking to brands and riders, getting insights on stuff that's new but also stuff that's been around a while that deserves another look.
I think the coverage was well received. The best bit is that my article wasn't overshadowed by the derision of a bunch of fanboys who are convinced that the reason they're getting a banger deal on a top end parts package is that the direct sale model cuts out those massive independent bike shop margins. I didn't forget the moment though and I watch as the young company grows to employ more talented designers and visibly better manufacturing while at the same time eroding much of their competitive pricing advantage. I read and hear about the low rent customer service and after sale support nightmares (pre-pandemic, sorry no Covid-cover for you) and calculate that the remaining difference in price comes down to a failure to stock adequate spares or staff the phones.
*Title Image: Deniz Merdano
Working in bike shops, I used to badger sales reps consistently about the bike brands they represented treating customers like idiots. But the truth is, back then, a bike with a few throw-away components and an upgraded XTR rear derailleur was absolutely easier to sell than a full XT bike with decent everything, and the bike companies' margins would be better to boot. I think it's fair to say that in general, the mountain bike customer, at least here on the North Shore, has become more educated. If you call your bike an 'X0 spec' and then hang a bunch of GX parts on it, folks are much more likely to take notice, and comment on it.
But even if folks generally are no longer looking at two similarly-equipped bikes and buying the one with the nicest rear derailleur, there's still an obvious disconnect when talking about value and I see it regularly in the comments on NSMB. That's despite the fact that I think it's fair to say most folks around here know not to drink battery acid. I'm not telling you what bike to buy or the best rig within your budget. For a lot of riders there is a significant, potential, extra value in buying a bike from a good bike shop (bike setup, trail support, local jobs, after sale support) in exchange for the margin they make but if you disagree that's okay. Here I'm just talking about what you get in terms of frame, parts, and support for a given amount of money.
And yet you can have two identically-equipped carbon-framed full suspension mountain bikes, one that is notably more expensive than the other, and the more expensive one can be the better value. Take away looks, take away the race results of sponsored riders, take away how cool their branding is, and there are many factors that can make a more expensive bike the better purchase. Raw materials, quality assurance, manufacturing geography, where is the bike assembled (in-house or outsourced) and what level of care goes into the process are all factors. It takes a lot longer to build a bike properly than to slap it together. What is the after sale support like? Do they answer the phones or e-mail and follow through. Do they invest in inventory to make timely warranty and crash replacement decisions or are they stalling you because they have no idea when the chainstays you need are arriving? How long after the warranty period do they actually support the bike with spare parts, especially if the frame has proprietary suspension parts?
The cheaper bike, even if it's just a catalogue frame hung with nice parts, may be the better value to you. It may be the better value for the vast majority of riders. Same goes for the company that's just been tweaking their design for a decade rather than investing in new molds every couple of years. But I think it's flippant to say one bike is a bargain compared to another because they're different prices and have the same rear derailleur, and that logic extends to the whole mountain bike parts list.
The median bike has gotten ever better and I'm not saying that you can even buy the extreme of dog shit with an XTR tiara on it these days, but there are still obvious quality differences between frames. Sometimes that quality difference boils down to cosmetics or a few grams, and sometimes that quality difference boils down to how many hundreds of dollars a year you'll spend repairing mangled rear shocks over the life of the bike. How much extra is it worth to have a rear triangle in the air the day after you crack your frame versus months from now? Are you paying extra for properly shielded, properly-sized bearings that will last a long time in a properly aligned frame, or are you frequently going to be buying bearing kits and potentially paying a shop to install them? What about ride quality? Even in 2022, not all frames perform equally within any travel category.
I sometimes wonder if some brands have fully lost the plot on high-end mountain bike pricing but I don't personally need to drive or ride a fresh Ferrari. Take a solid aluminum frame, Deore drivetrain, great brakes, good suspension, and a nice rear hub and I'm a happy camper. But if your next bike is going to have wireless shifting, boutique suspension, and a carbon frame (with or without an ashtray) do yourself a favour and dig a little deeper than the parts list and geometry chart. If you can afford to ride the best parts, you should afford yourself the time to take frame performance, reliability, and customer support into the value equation as well.