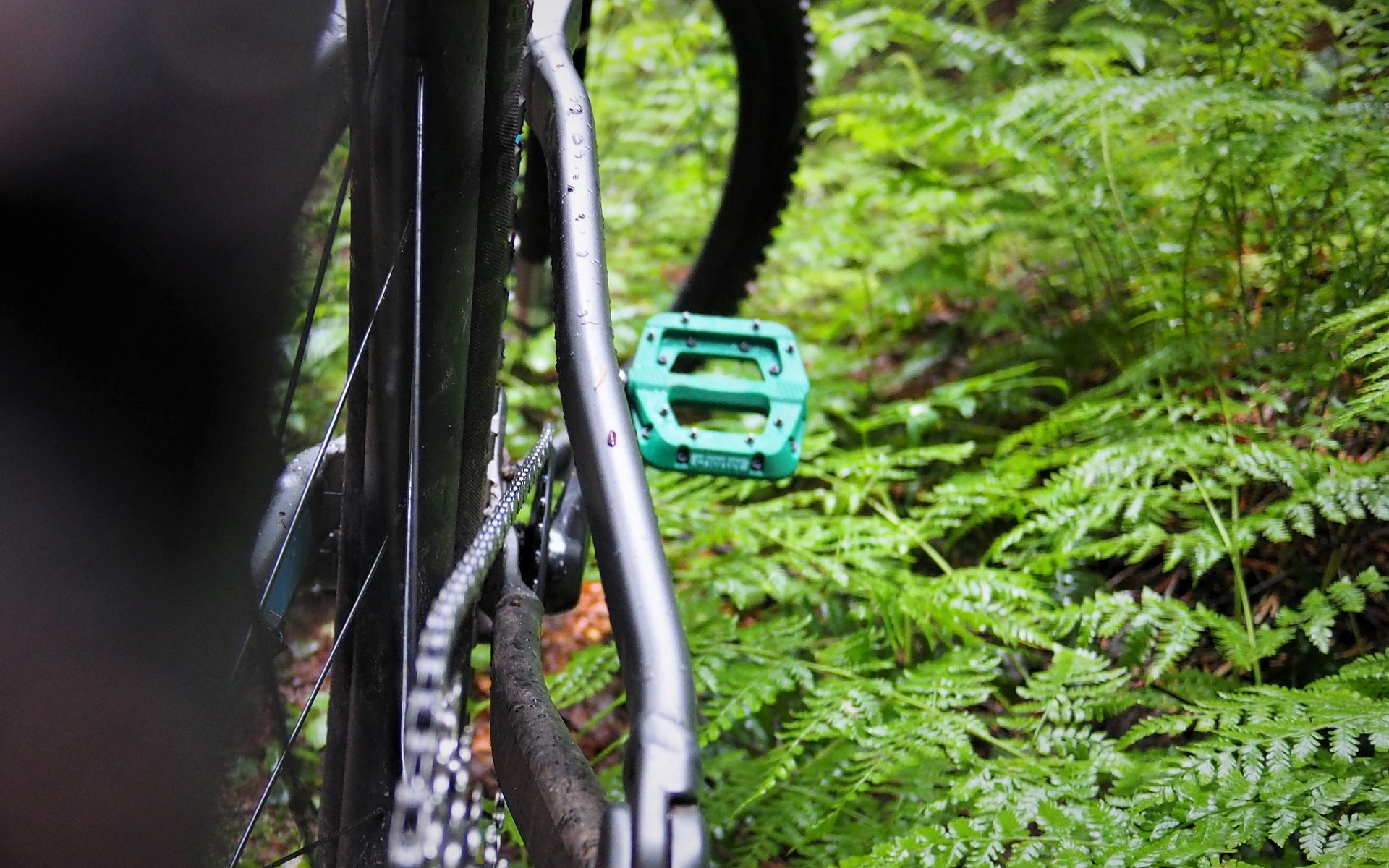 EDITORIAL
We're Being Slowly Boiled Into Super Boost
Turning Up The Heat
When the Super Boost 157x12mm hub standard first came along, riders were still choking down Boost-148. We gargled out "no thank you" and almost every bike brand heard. Whether it was better or worse, (or any difference could only be perceived on some designer's computer) we didn't care. Bloated from one too many fresh incompatibilities, we couldn't stomach even a little bit more bullshit.
And if Boost-148 flooded through mountain biking like the consumption of craft beer, it's fair to say that Super Boost has caught on at a similar rate to drinking someone's lukewarm bath water. Sure, it's been flavoured with Kool Aid and some folks have been happy to chug it up but it's safe to say its an acquired taste. Just remember that, in the near future, when we're all holding our noses and lapping it up, there's now an actual performance reason to sip that sapien-soup.
And before you scream "I'M NOT DRINKING THAT" and throw down your sippy cup, I'm disgusted by it too. But, changing analogies, we frogs who didn't jump into the boil after Super Boost's original raison d'être had already expired, are still swimming on the same shitty stove top. We skeptics, about to initiate the next rapid wave of change - the mass adoption of Super Boost-157 - are having the heat turned up much more slowly. And if we're all going to stay and get cooked, we might as well talk about the 3-millimeters making it happen.
Boost-148 Recap
Before I get too far ahead of myself, let's review how we arrived in this mess. The 148x12mm rear, and 110x15mm front, axle standards were initially advanced by Trek, as a way to improve the stiffness of cheap 29'er wheels with 28-spokes. I think that now, as then, the vast majority of riders would agree that any improvement in stiffness is only academic. At the very least this is true on well designed bikes with well built wheels. Ask anyone, or at least anyone I've talked to, who has ridden good wheels on a Banshee bike, which can be run with both Legacy-142 or Boost-148 rear spacing for an apples-to-apples comparison, and they'll tell you there's no difference.
There's an argument to be made that, if more stiffness was required, 110x20mm and 157x12mm were already existing standards and would have been a better choice than 148. Move the hub flanges as required to maximize whatever quality your marketing department is pushing. But here's an even better argument. There was no good reason to switch from Legacy 142x12mm spacing, at least none that ever mattered to the vast majority of riders. But most of us made the switch to 148mm anyway. And, quick! No one wanted to be caught-out holding a frame or wheels that were unsupported. And the bike industry took note.
Super Boost, Then
The reason that Super Boost 157x12mm came into being is so usage specific that even the originator of the standard only initially used it for one mountain bike. I'm of course talking about Pivot Bicycles and one of the more interesting every-person full suspension bikes ever made in the form of their first Switchblade. The ménage-à-scenarios that required the ultra-wide back end?
Very Short Chainstays
Front Derailleur Compatibility
Plus Tires (27x3.25")
Good luck finding a tire bigger than 2.6" these days. Never mind that really-short chainstays are out of fashion, and that short-enough chainstays can clear huge rubber with a Boost-148 rear hub. Even with a Legacy-142 rear end, any suspension design can clear 2.6" rubber without committing any crimes against science or nature. Front derailleur compatibility? For years now, front derailleurs have been like really bad facial hair. You don't think about it until you see it and then it's most polite to just not mention it.
The last time I had the privilege of picking the brain of Pivot's Chris Cocalis, he spent most of our chat chewing me out because we accurately quoted his claim that the 2017 Firebird was a "Nomad Killer" but that doesn't change a couple of facts. One, he's one of the more interesting thinkers in mountain biking and I've always come away from our exchanges thinking. Also, he runs a relatively small bike brand that is often wagging the dog. See Super Boost-157 and PF92.
"Chris Cocalis can definitely see a day when all Trail, All Mountain, and Enduro bikes use Super Boost 157mm spacing. With the Firebird a 148mm Boost setup provided everything Pivot needed in terms of stiffness, stays, and clearances. In the future the frame could easily be updated with a Super Boost Plus rear end with no negatives. Why not now?
Simply put. The Switchblade couldn't exist without Super Boost Plus. The Firebird could. With all the vitriol directed by riders towards 148mm Boost spacing I can see why Pivot wouldn't want to jump on the grenade of 'change for change's sake'"
While I think it's fair to agree that Super Boost-157 was necessary for the Switchblade to exist in its first format, it's also fair to say that mountain bikes changed very quickly after 2016. Plus tires quickly settled at 2.8-3.0" and then almost as quickly were pushed out in favour of 2.6" rubber that didn't have any special requirements for internal rim widths or frame clearances, and I already mentioned front derailleurs and super-short stays. Even as the current Switchblade maintains true 27+ tire clearance, Pivot's entire full suspension lineup could have easily switched to Boost-148 years ago without any practical negatives. I contend that's true of any brand that's been pushing Super Boost-157.
Super Boost, Now
Running stock setups, chainlines for 12-spd drivetrains have sucked for years now. Just shift into that massive 50, 51, or 52t cog and witness the contortions that the ever-narrower and more expensive chain has to perform to get way over to your chainring. Back pedal and listen to the drivetrain protest, despite being silent in the middle of the cassette. Hop on the bike and pedal around trying different gears, and tell me you can't feel the extra drag up in that dinner plate. But now, the biggest bike companies and drivetrain manufacturer's have worked together to find a solution to that extra drag, noise, and premature wear in those high-torque low gears... Just kidding, they're making things even worse.
Previously, the chainline for a Boost-148mm 1x drivetrain was 52mm. For this year the good folks at Shimano and SRAM are working with huge brands like Scott and Trek to push that out another 3mm to 55mm. I know that doesn't sound like much, but cassettes are a game of millimeters. Not only is your low cog in an even worse position but your second gear, which was decent previously, is basically in the same shitty position your low gear was in before. For comparison's sake, the chainline for a Super Boost-157 rear end was originally 56.5mm and many folks run 55mm as well despite the cassette being pushed outboard 4.5mm from Boost-148.
Starting in 2019, I've written a series of pieces lamenting bad chainlines in high torque gears entitled Does The Future Have Fewer Gears? I think we all know the answer is no. There are tricks that can be theoretically be implemented with bikes like the 2022 Slash or Top Fuel. Downsizing the front chainring could allow a rider to move their chainring inboard by running a Boost 52mm chainline or even a Legacy 49mm 1x chainline. This will vary frame to frame so I recommend doing your research before making a purchase.
Likewise, it's always possible to swap the cassette for one you can pull a couple of cogs out of, making for bigger jumps between gears but effectively spacing the low gears outboard. In my experience this requires switching to an HG hub driver, rather than SRAM XD or Shimano MicroSpline, so it will be increasingly less economical or viable, with the latest machines.
In reality, there's only one spec solution when an average rider, with actual hills to climb, comes around to how awful these bikes pedal in their low gears. Not even, mind you, compared to other people's bikes, but just compared to cogs on their own drivetrain with straighter chainlines. Not even just the average rider on the trail, but the plethora of average riders who work at the various bike brands moving to wider spacing.
When I heard that We Are One had chosen to use Super Boost-157 hub spacing on their new Arrival platform, I was more than a little flummoxed. I've been waiting for years now for Pivot or Devinci to blink first and then for the whole 157mm spacing option to evaporate overnight. But, their choice makes a lot of sense for two reasons. Firstly they've optimized the chainline around the largest 8x cogs by combining a Super Boost-157 rear hub with the Boost-standard 52mm chainline. This is a beautiful thing. The equivalent of moving the cassette outboard 4.5mm from a standard Boost-148 chainline.
They're also making the right choice for their customers who are planning to own their Arrival for some few years. Will Trek Bicycles, Scott Bicycles, and many others, be selling Super Boost-157 bikes a year from now, for their 2023 model year? Go ride up a steep hill in the lowest gear on any Boost-148mm frame with a 55mm chainline and you tell me. Whether we're uncomfortably steamed frogs or reluctantly imbibing grey-water, I know if the next bike I ride has a 55mm chainline I'd prefer it to be Super Boost in the back as well.