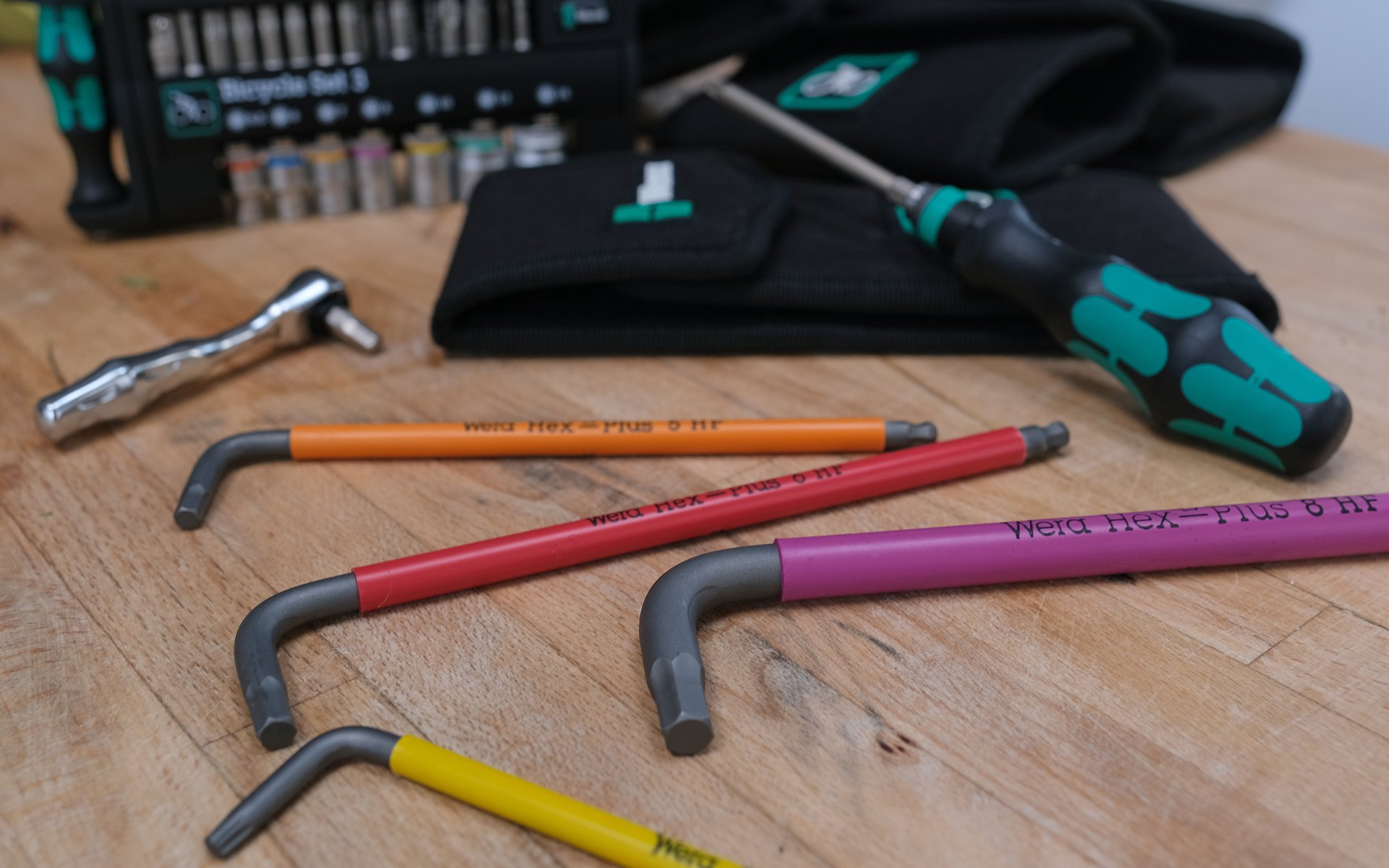 REVIEW
Wera Bicycle Tools
For reasons that I may get into at a later date, I recently found myself abandoning my years old Park P-handle hex head wrenches. They still work! They still give me pleasure! However, the plastic handles proved to be too bulky to fit into my new system for hauling tools around. Since a good set of hex head wrenches is the backbone of any serious bicycle tool set, I took this as an opportunity to explore a whole pile of hex wrench options. And since I knew that this set was going to stay with me for many, many years, I decided that this was going to be a spare-only-some-of-the-expense type of purchase. I wanted something that was going to be both practical and that would give me a little tinge of excitement every time that I picked them up. That research eventually led me towards a purchase of a new set of Wera Hex-Plus hex key wrenches, and that eventually led me to discover Wera's dedicated bike tool line.
The theory behind Hex-Plus is that your average hex wrench doesn't do a very good job of interfacing with a bolt. I mean, obviously, it does what it needs to do, but it could be better. Since there is some degree of tolerance required for the hex key to fit into the head of each bolt, the wrench only makes contact at 6 small points within the bolt head. Wera decided that they could create a larger surface area at the interface between the tool and the bolt through a subtle sculpting of the heads of their wrenches. Increased surface area should equal less concentrated stress, resulting in reduced rounding of bolt heads and an increase to the amount of torque that can be applied. What you wind up with is a tool that looks like a cross between a regular hex head and a torx head. Even though it looks a bit strange, it fits in every standard hexagon socket screw, and forms the basis for most of the tools that you will see across the various bicycle specific kits.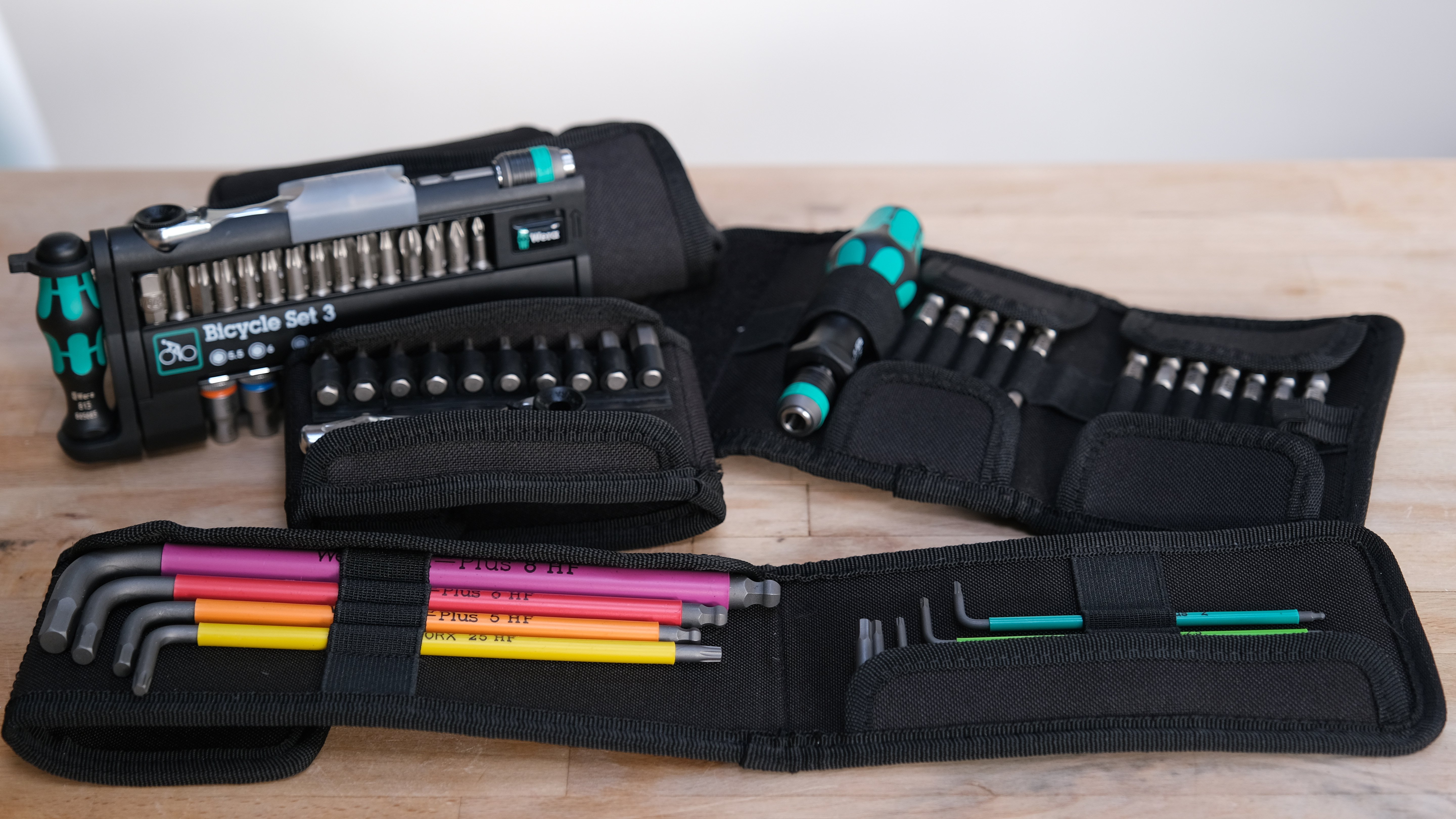 We'll start with a look at Bicycle Set 4. This set takes Wera's standard metric L-key hex wrenches (2-8 mm), adds a Torx 25 and a Torx 10, and puts them all in a nice carrying case. Each hex tool has a straight cut head on the short end, and a ball end on the long end. The ball ends also incorporate a small ball bearing to improve retention (except for the 2 and 2.5 mm). Another thing that you will notice is that these wrenches are cut from round stock, rather than the typical hex stock of most wrenches. And finally, Wera adds a nice, colour-coded plastic cover over each wrench, which also clearly displays the size of each wrench.
This all results in a wrench that feels nice in your hands. The combination of the round handle and the plastic sleeve makes a difference, especially when you're cranking away on a stubborn 8mm. Every head fits well, yet releases nicely. Even the ball heads feel quite secure, as the ball bearing in the head gives a healthy click as it engages and disengages.
I'm also really enthusiastic about the carrying case that Wera provides. It seems like most companies jam their tools into a crappy plastic holder (Wera does this as well, with their non bicycle specific metric set). This soft sided holder adds a bit of bulk, but it's so nice to be able to lay your wrenches out flat on a table where you can easily slide them in and out of the elastic straps that hold them in place. One could argue that your tools are also better protected as they are fully surrounded when the case is closed up.
If hard pressed, I really only have one nitpick (and it is a nitpick). Wera uses the same colour coding throughout all of their tools. It's nice that a 2.5mm hex key has the same colour as a 2.5mm socket, but less nice that it also shares the same colour as the Torx 10 and 3/32" hex key. With the Hex-Plus head it's really easy to get the T-10 and the 2.5mm mixed up if you're just making a quick glance. Like I said, a nitpick.
This is a really nice, compact, easy to carry and easy to use set that could form the backbone for 90% of your bicycle related repairs. The price? More on that later.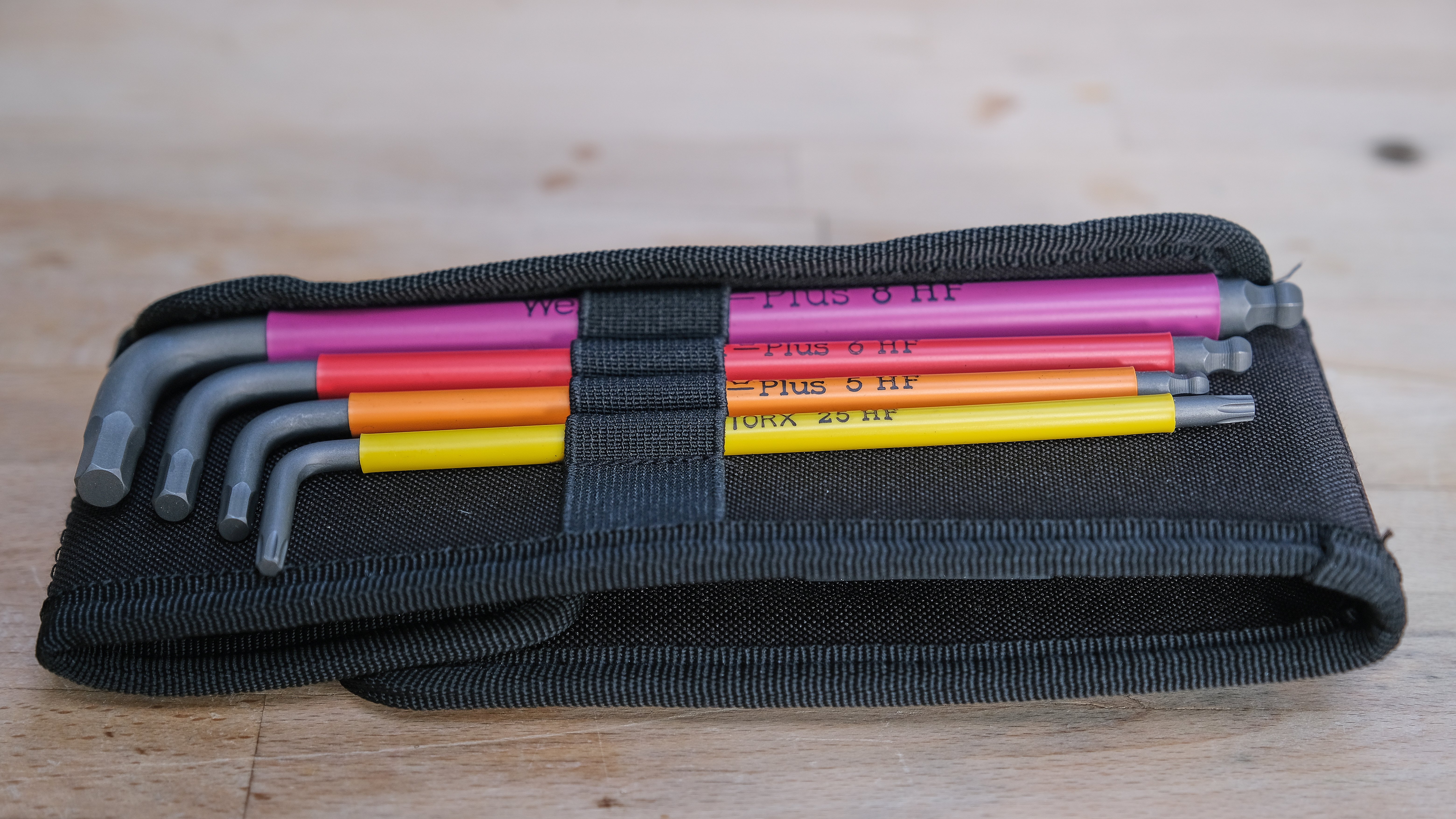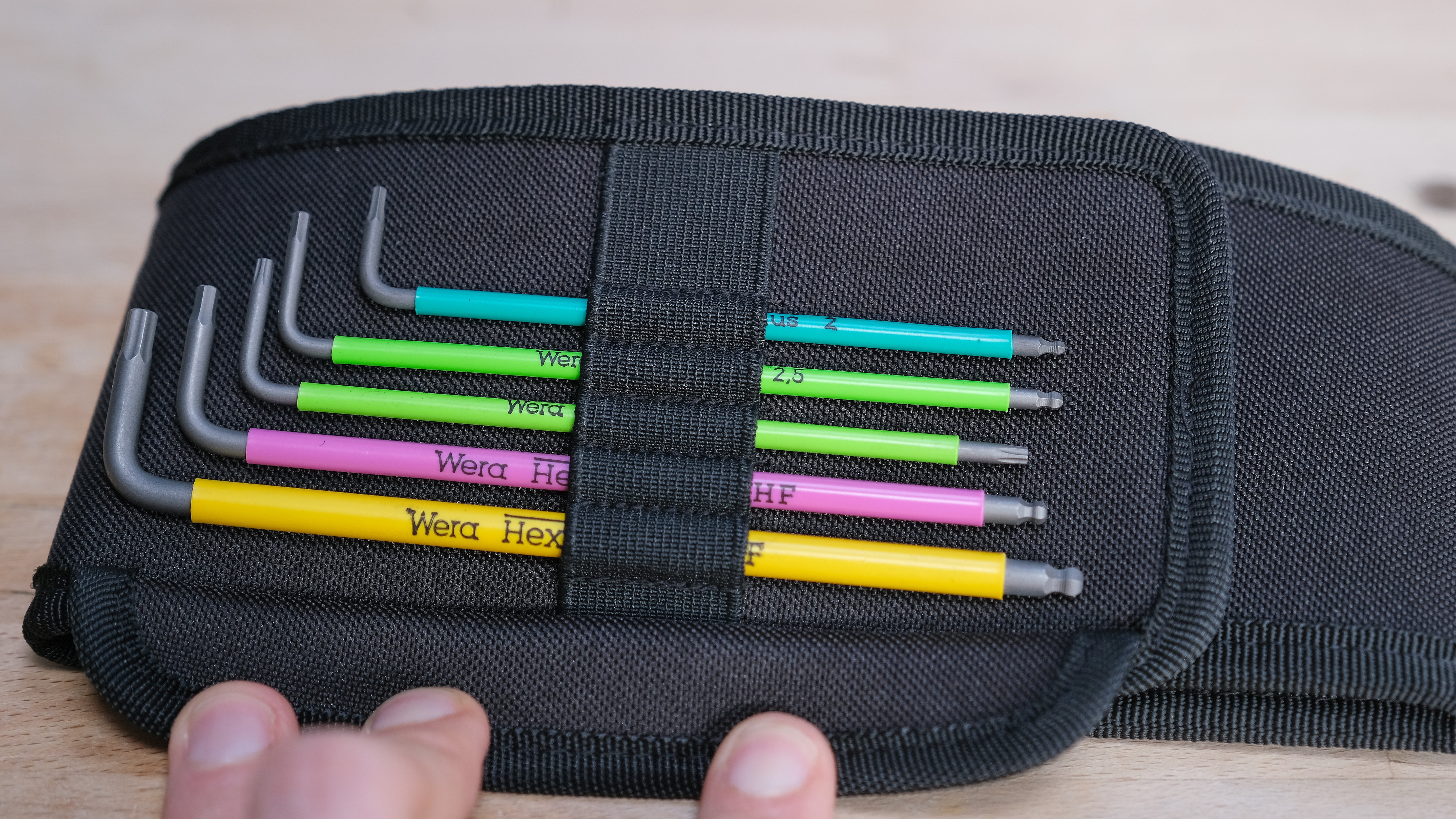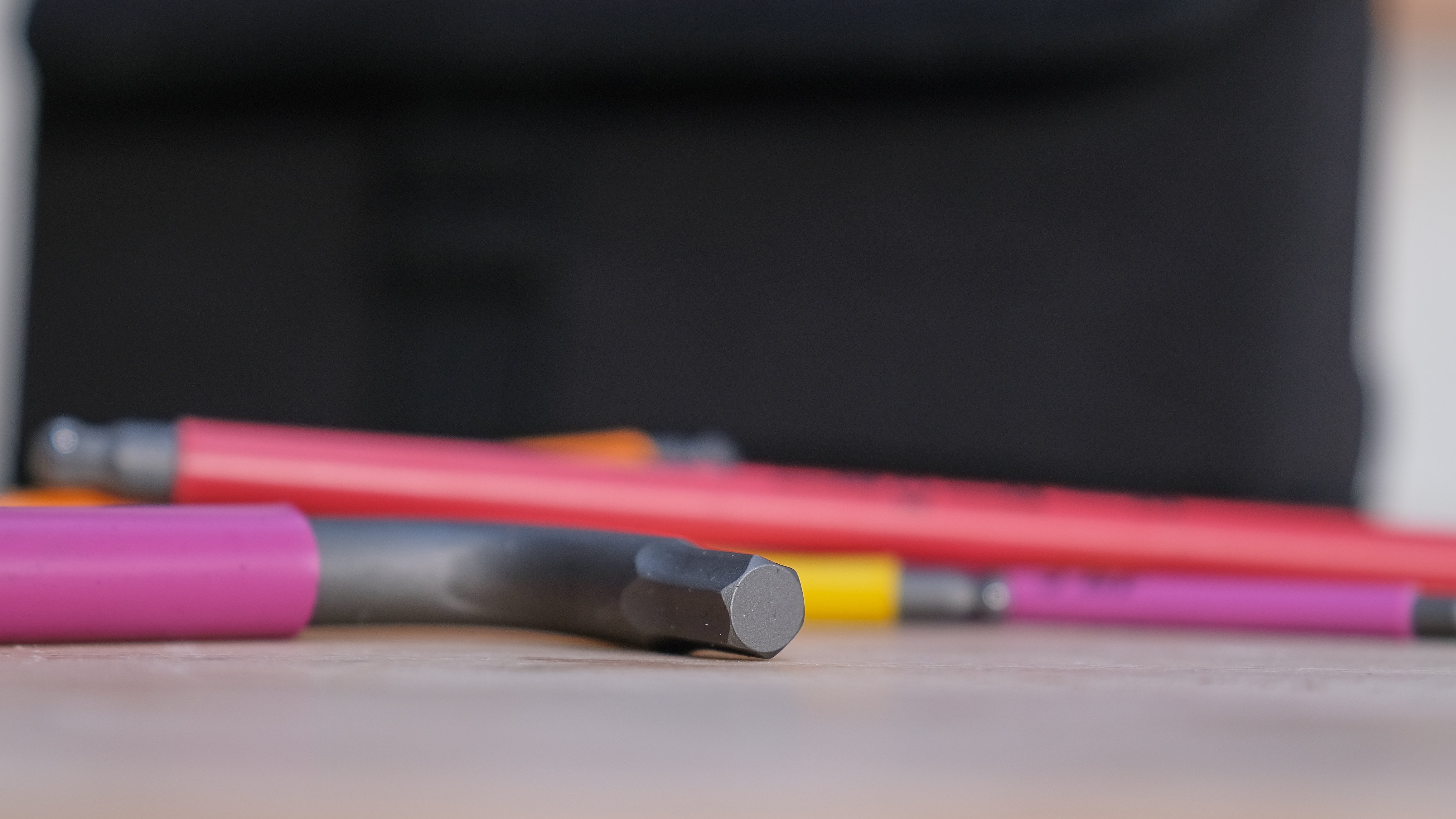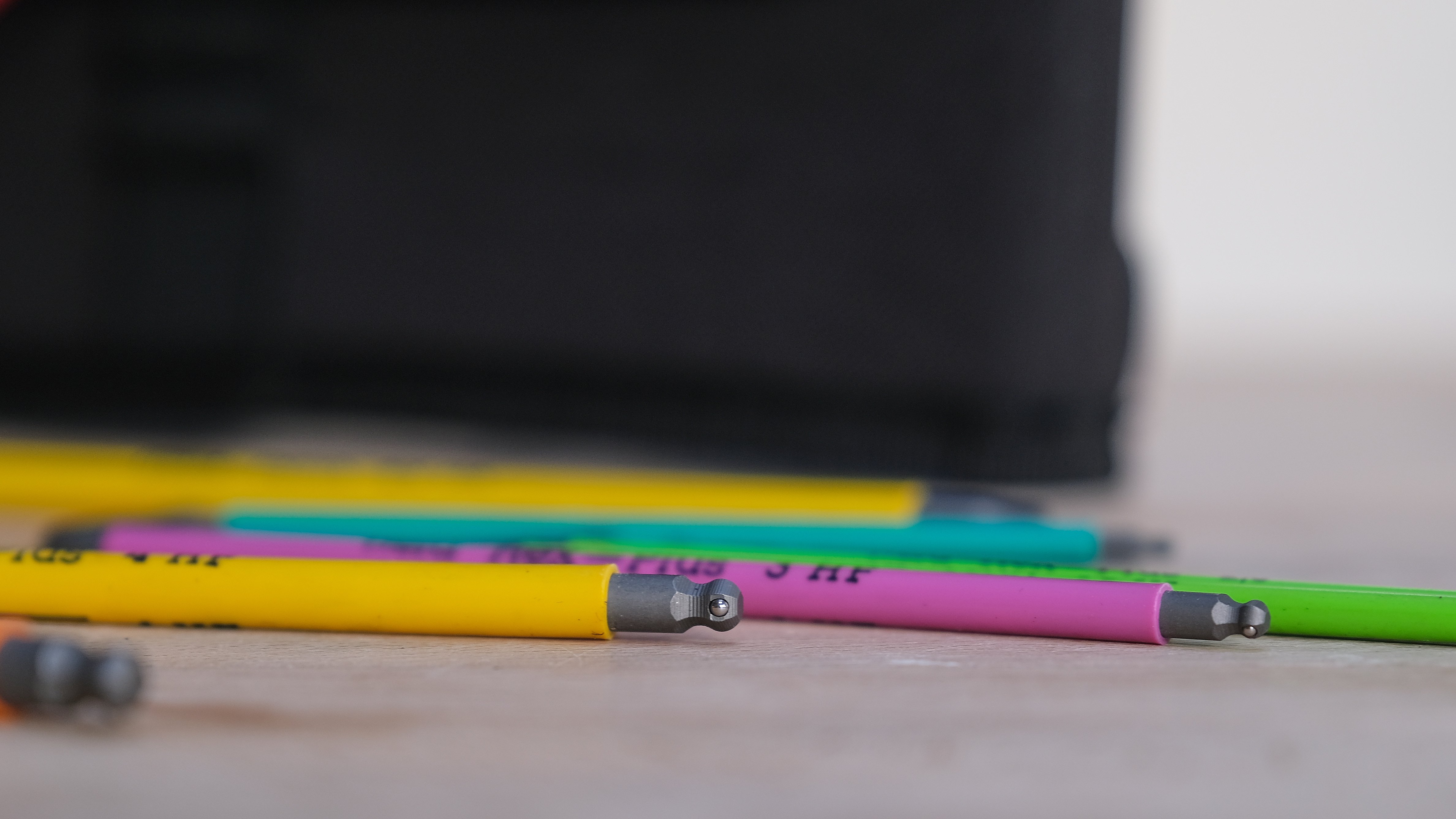 This was the most surprising set for me, so we'll deal with it next. On a surface level, all Wera has done here is take a standard replaceable bit screwdriver and lengthen the bits. I have at least 1 or 2 other sets of replaceable bit screwdrivers in my toolbox that theoretically provide the same functionality, but that I wouldn't dare introduce to my bicycle, other than for a derailleur adjustment. Just through attention to detail, Wera has made a set that is really nice to use, both on my bike and around the house.
First of all, it might not seem like a big deal, but the long bits of this set make a big difference. So many times in my life I have hauled out my adjustable bit screwdriver set and found that I can't do certain jobs just because of the lack of clearance provided by the large tip required to hold a bit. Most sets have the bit slide into a gargantuan slot down at the business end of the tool, and it's surprising how often there isn't enough clearance to do the job with this system. Wera moves their interface up by the handle, leaving you with (more-or-less) a standard tip to work with.
Another nice feature is that the built in chuck is incredibly secure and nice to work with. Each bit clicks firmly in place, and releases easily with a simple push.
The handle itself is great, as well. The grip is soft and…err…grippy, and the rubber surrounding the chuck allows you to grip the tool firmly with one hand while you spin the tool with the other.
What you end up with is essentially a full set of screwdrivers/hex heads/torx that fit into a nice, compact case. Once you slide the bit into place, it's not going anywhere and the tool functions just like a regular screwdriver, not like a handle with a bit stuck in the end. As well, how often do you see a quality set of hex heads in a screwdriver type format? Less often than we should, is my answer to that question. This format winds up being perfect for low torque bicycle applications. Working on things like handlebars, stems, controls or seatposts are a real pleasure with this set. It's amazing how quickly you can get used to not having to find the room to spin an L-wrench around, and this is now my go-to kit for anything control related.
My only nitpick with this tool is that I wish they provided a few more bits. The kit comes with Hex-Plus 2 through 6 mm, two sizes of Phillips, as well as Torx 10 through 30. It would be nice to have a flathead, but I'd also probably just ruin it trying to pry something off when I was too lazy to go and find a better tool for the job.
The price? More on that later.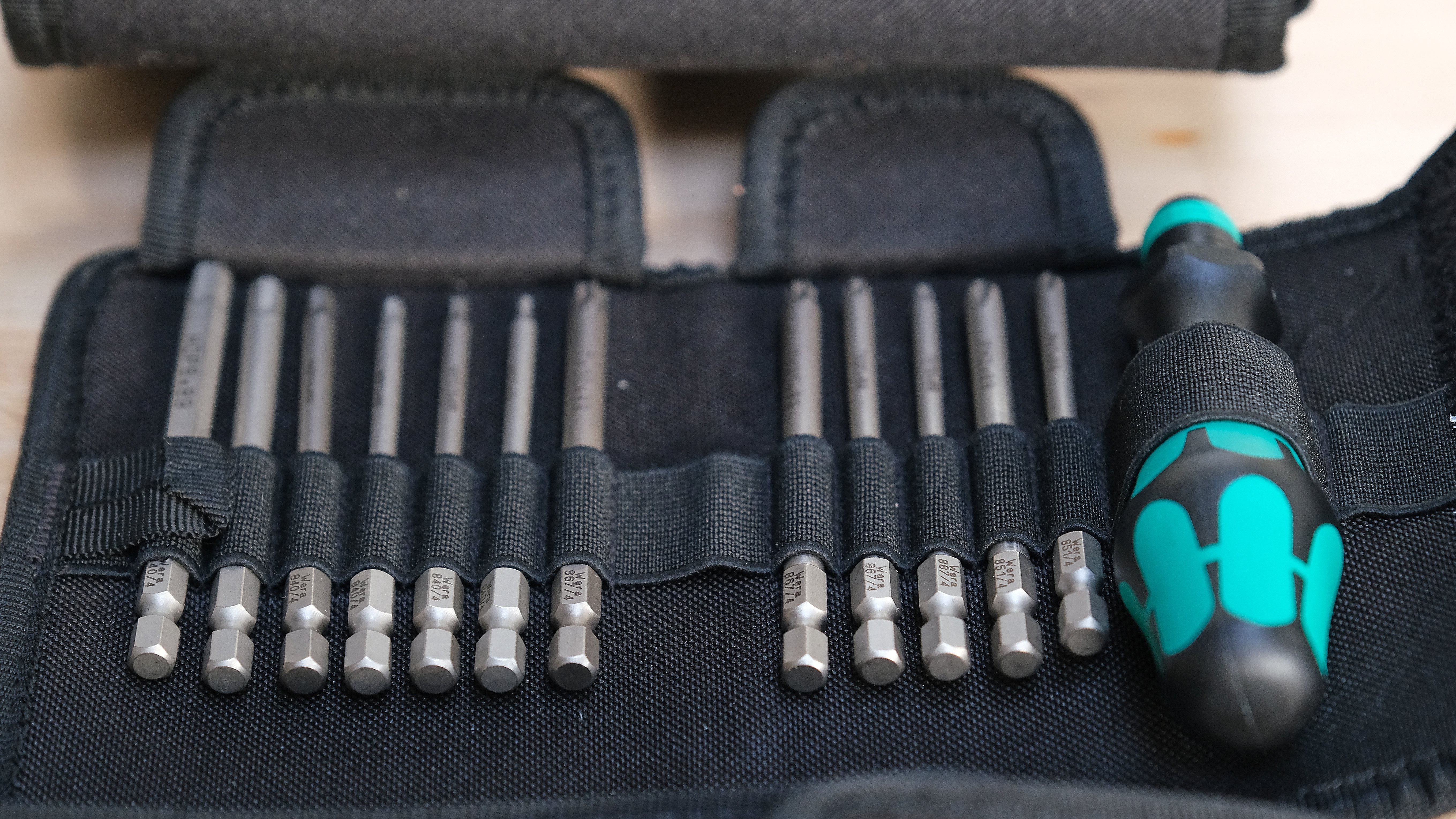 I've been using a set similar to this one for several years now. It comes on all of my rides. Hell, I've built bicycles with it, just to prove that I could. There is a lot that you can do with a small bit ratchet set and I'd argue that it's the best way to pack a whole lot of function into a really small package.
I've also experienced quite a few really crappy bit ratchet sets over the years. I've had bit ratchets that blew up after a week of use, and I've had bits that made me shudder due to their terrible fit. The level of refinement in this set is superb, especially compared to some others that I have seen.
The heart of the system is the Zyklop mini bit ratchet. For bits, you get Hex-Plus in 2 through 8mm, as well as Torx 10, Torx 25 and a Phillips 2. Last, you get a really long extension, and a nice little carrying case.
First, we'll talk about what this kit does well. That starts with the Zyklop ratchet, which is a tiny little piece with a tonne of engineering packed into it. It has a 6 degree return angle, and a claimed max torque of 65 N*m (Race Face recommends 54 N*m for their crank bolts, just to give you an idea as to how much torque this is). It's a robust piece with firm clicks that feels very solid in your hands.
Next, we have the bits themselves. In my opinion, these small bits are where Hex-Plus really shows its worth. With some other bit ratchet sets (even some fairly nice ones), I find that any fit challenges are really apparent. If you're giving your suspension pivot bolts a nice little tighten, for example, the bit can sometimes be hard to remove. This is less of an issue with the Wera tool, and suggests that there might really be something to this Hex-Plus thing.
There are a few areas where I would like to see some improvements. I find that I very often use my bit ratchets with an extension in place. Without the extension, you're too close to the part that you're working on to be able to function, so the extension is necessary to give yourself a bit of room to work. While this helps with the job, this also contributes to the problem of bits getting left behind on your bicycle (no easy way to reverse your leverage on the bit, plus an extension that doesn't lock the bit in place to the tool). The problem with this tool is that the extension is too long. It's longer than the actual ratchet itself, and this throws the balance of the tool off. A slightly shorter extension would be much easier to work with, and I will probably swap one in from another set after the review period is over.
My next nitpick is with the case itself. While the cases on the other sets are a high point, this one needs a bit of refinement. There are a lot of nice features (the mesh pocket on the backside of the cover is a nice touch) but it's a bit tricky to use. The biggest issue is the plastic piece that the bits slide into. They do hold the bits very firmly in place, but combine that with the small piece of fabric that covers the side and it's difficult to slide them out. It's easiest to push from the outside, towards where the bit ratchet is held in place, which of course can't be done unless the ratchet is removed from the case. This does provide for more security for bits than with some other cases that I have used, but the bits are held so securely I wouldn't mind losing a bit of retention for ease of removal.
Other than that, this is a great tool and all of the challenges are workable. Some small refinements would make this the perfect set to carry along on rides (for me). If you feel like you're missing anything (a small chain breaker like a Park CT-5, for example), you can probably fit it into the mesh pocket.
The Price? More on that later.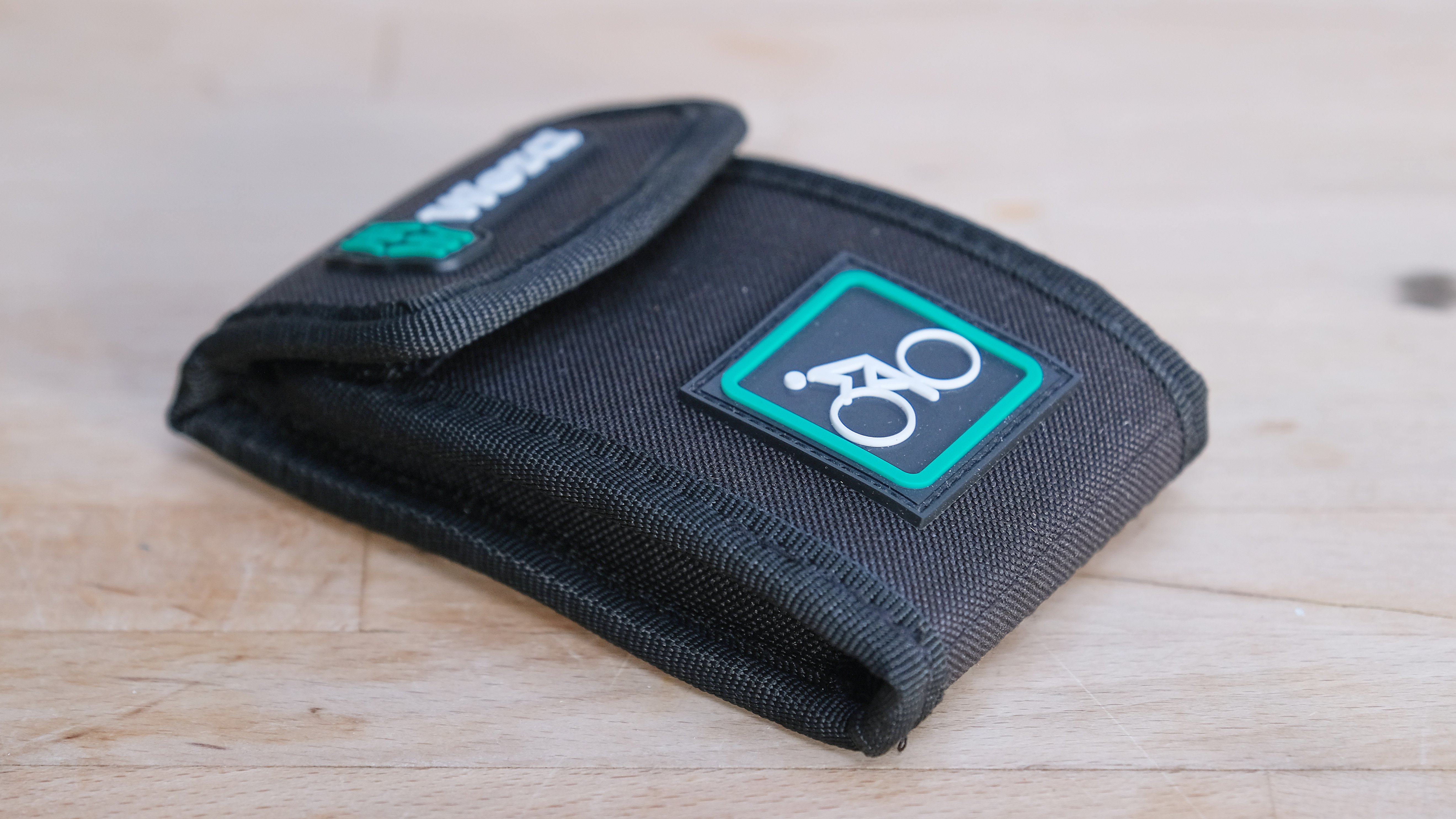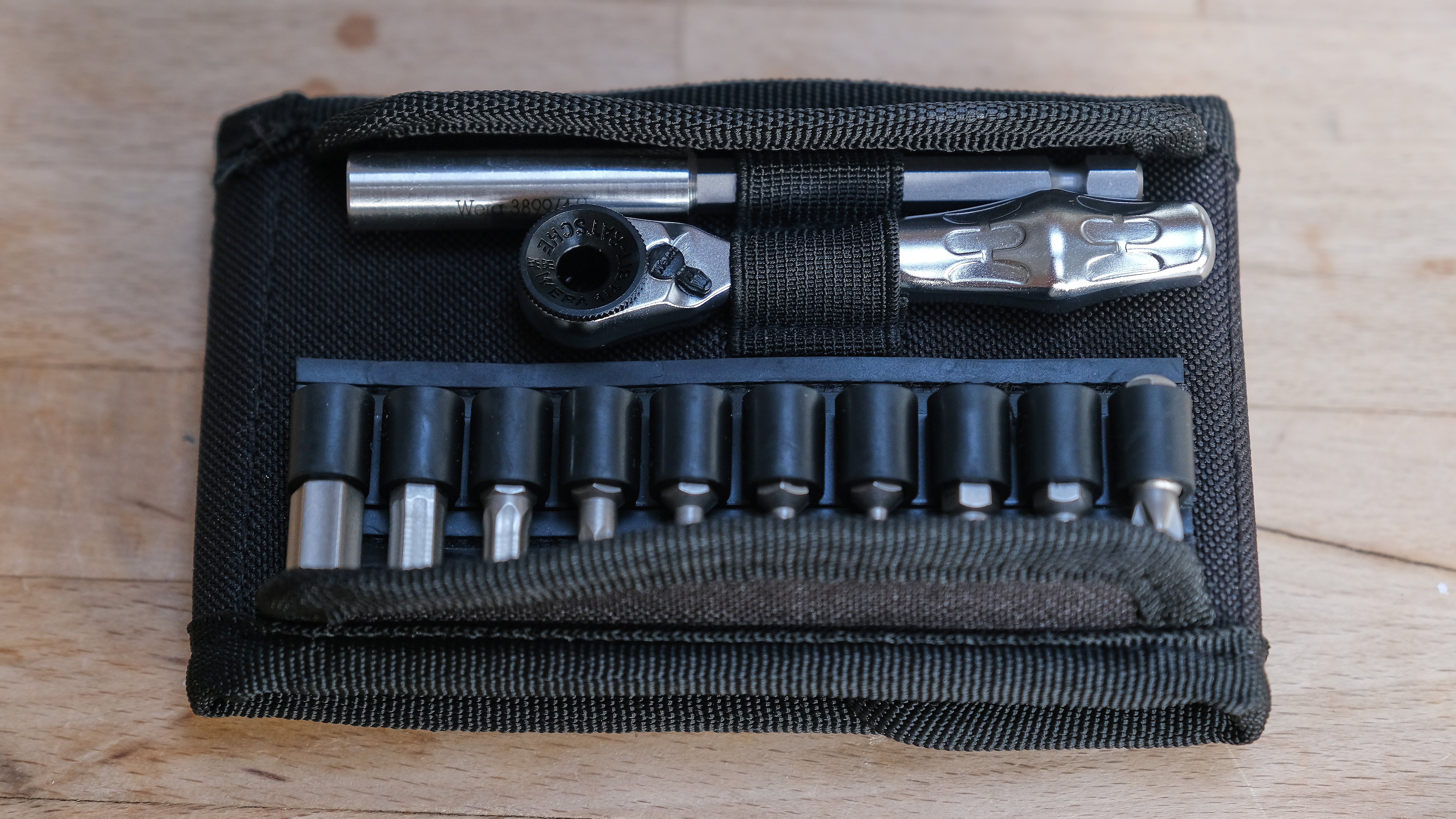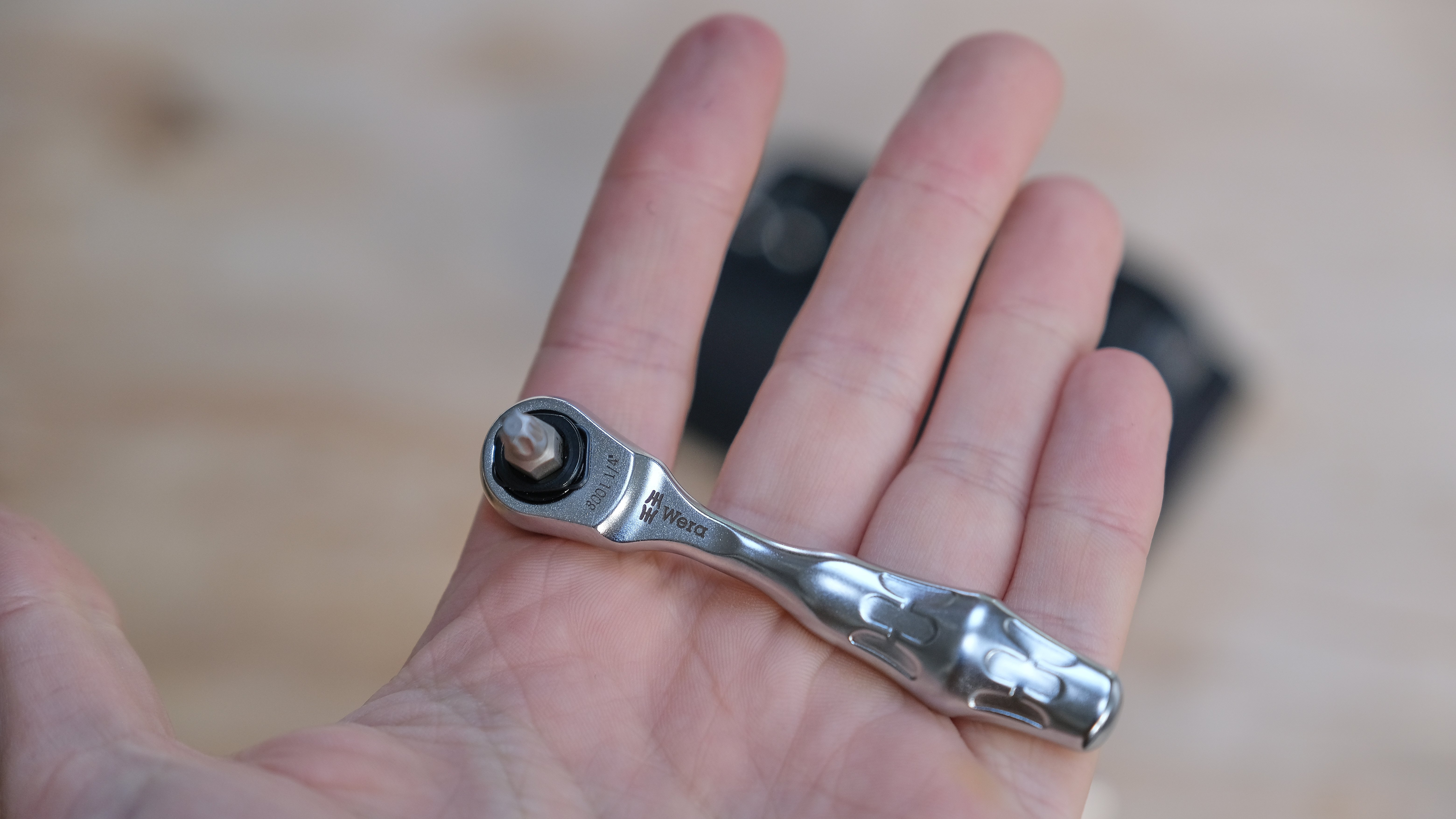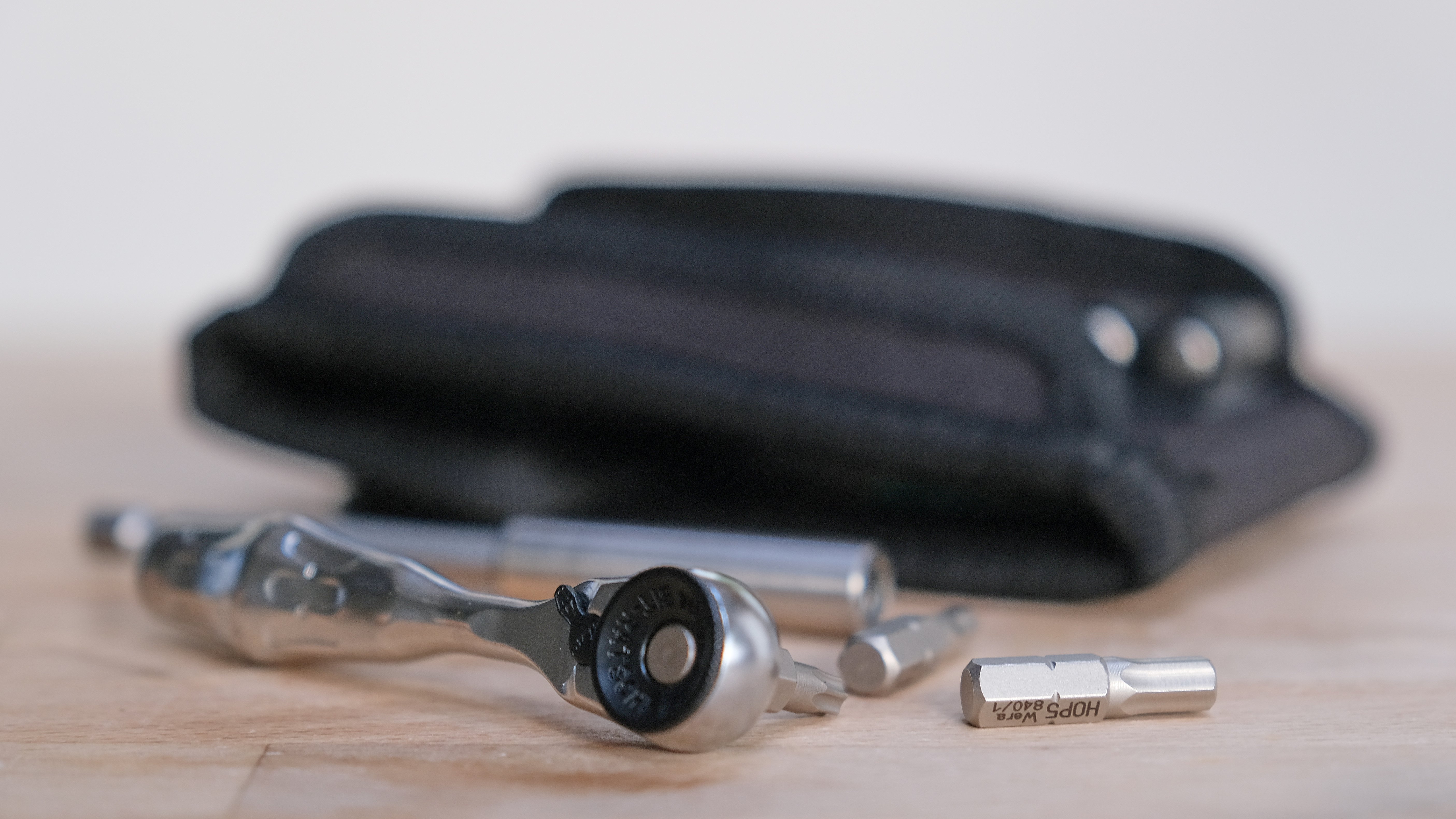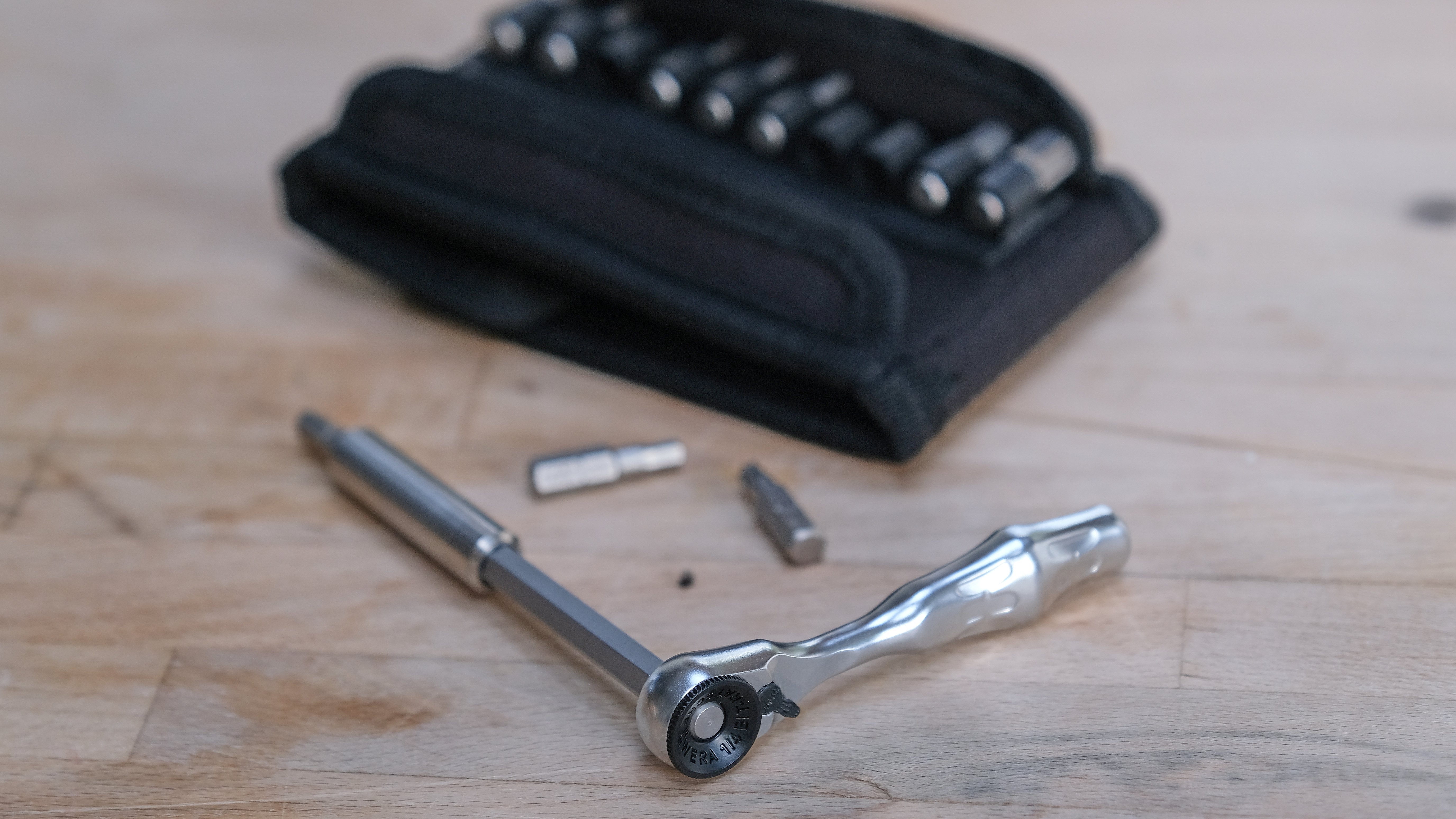 It's been a long one, but we're almost there, I promise! The last kit we have to review is the Bicycle Set 3. What it is, is a juiced up version of Bicycle Set 1. You get the same bit ratchet, plus a smaller version of the screwdriver type handle found in Set 2, plus a locking extension chuck and then a whole bunch more bits (Hex-Plus 2-8mm, Hex-Plus Ball end 2.5-6, 3 sizes of flatheads, Torx 10-40, 3 sizes of Phillips and then 7 sizes of socket heads). This is all jammed into a fairly compact plastic holder, which then slides into a larger nylon case. And, to top it all off, there's a second plastic holder for you to build your own little kit to bring along on rides.
This is the set that I've found the least amount of use for. Sure, it has a bunch more bits than all of the other kits, but when was the last time you used a 7mm socket or a Torx 40 on your bicycle? It has been pretty useful around the house, though. I've used it to put some Ikea furniture together, to replace the battery in my motorcycle, and to change a taillight in my truck. It's very nice to be able to do these sorts of jobs without hauling out a massive socket set.
The ideal use case could be as a smallish kit that you keep in your vehicle, that lets you complete some parking lot bike repairs, and allows you to build your own little haul along set (via the small plastic holder) as well.
The Price? More on that later.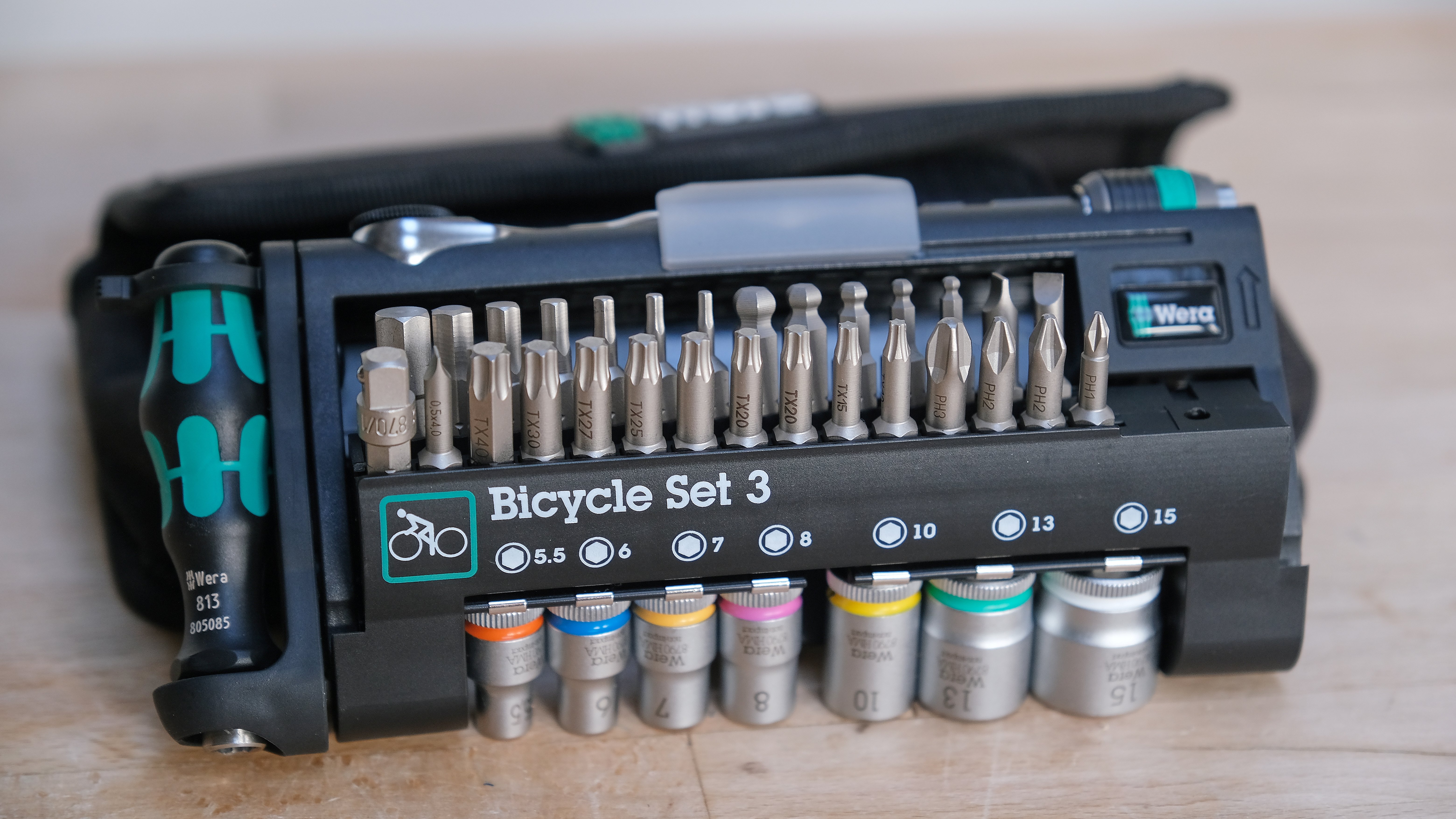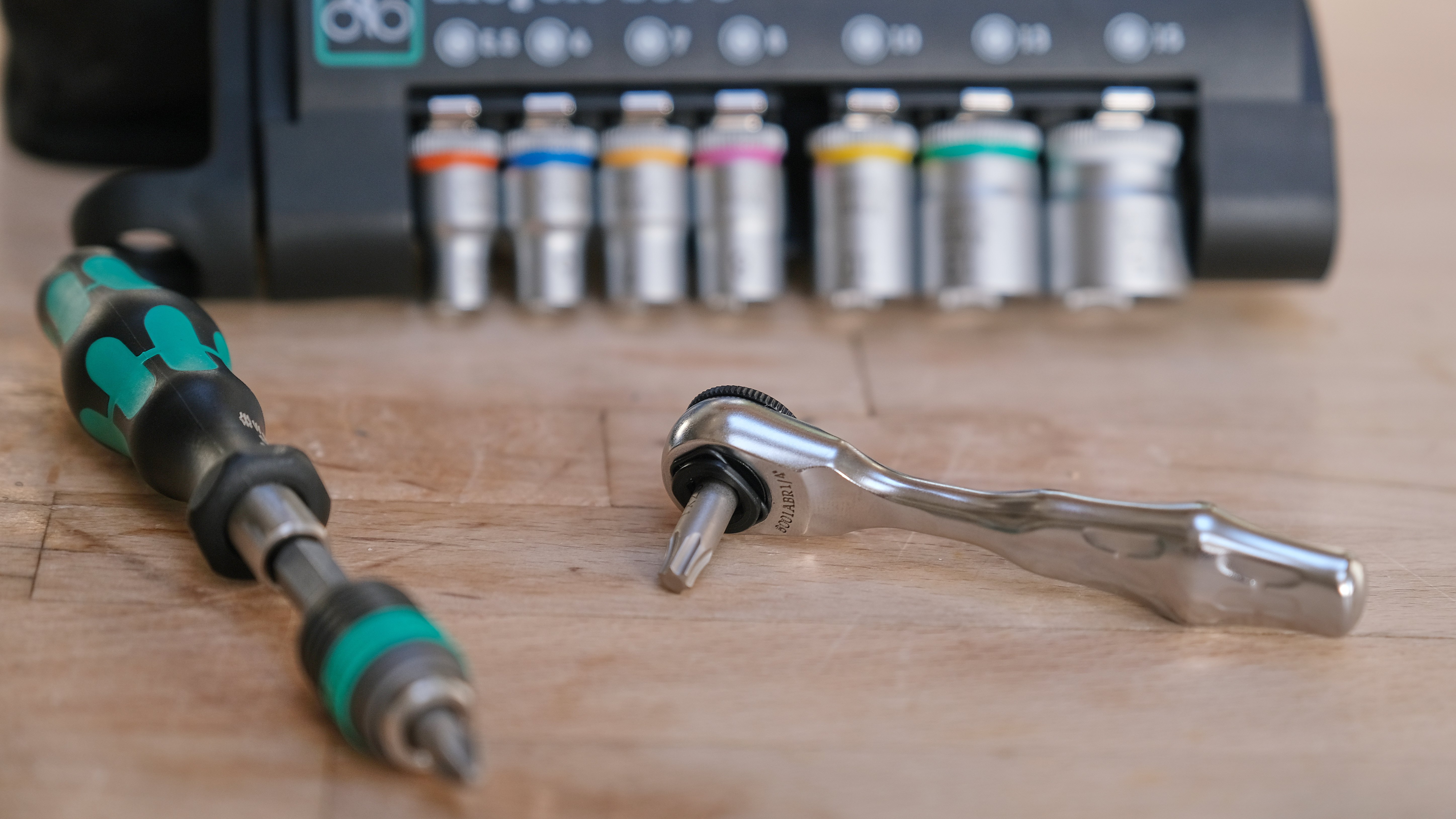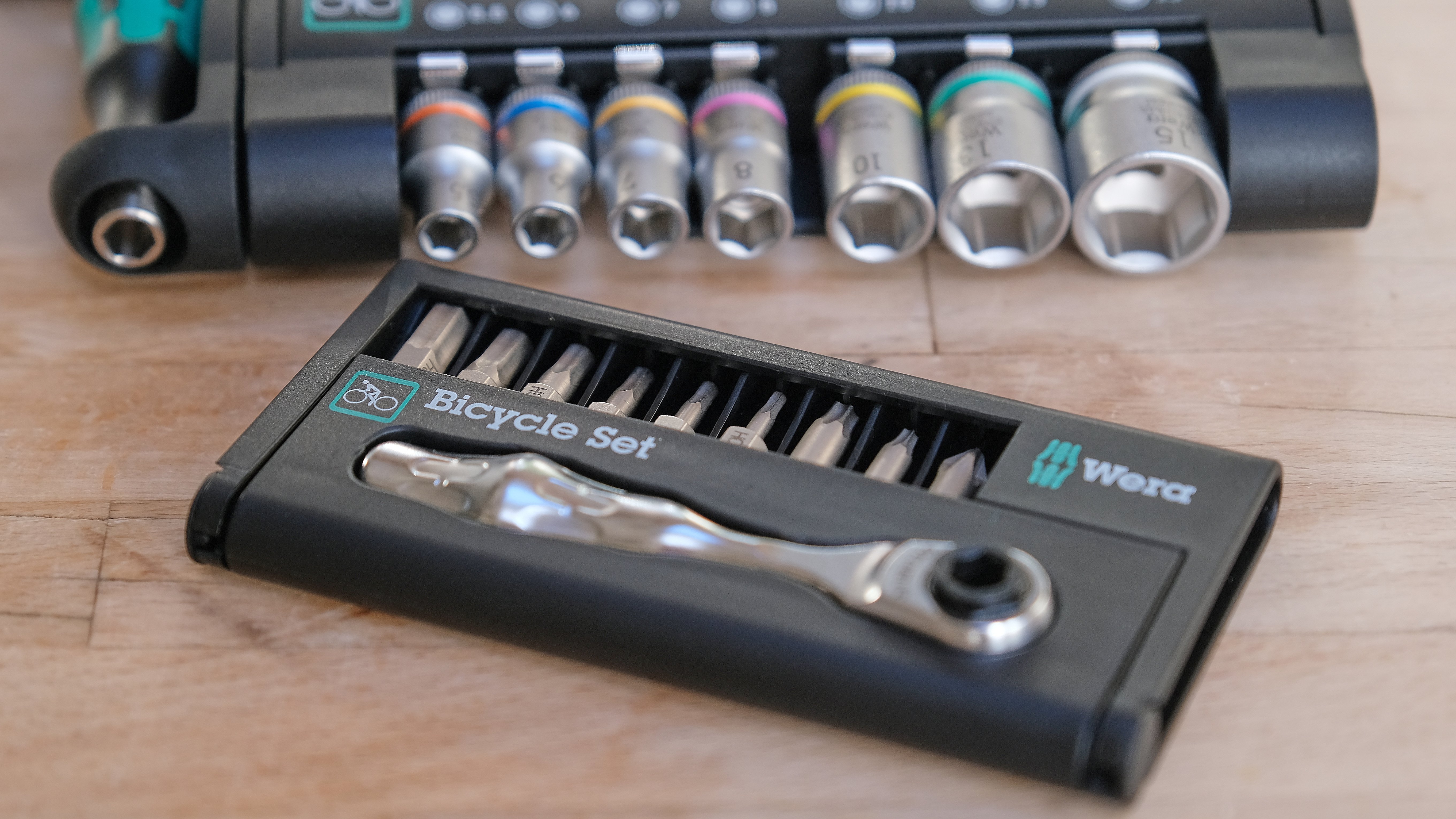 Let's Talk about Pricing
As a cheapskate, I try to be mindful of how I speak about cost. In all honesty, I wouldn't fork out the money for many of the things that I wind up reviewing, so it often doesn't feel right to judge things on absolute cost. When I do judge on cost, it tends to be on a relative basis. Does a product offer more (or less, as it sometimes does) than a comparable product available at a lower price? It's a much more fair judgment of value when done this way. This can be especially challenging with tools, as it's hard to judge quality just with a visual inspection, and "value" isn't often apparent for many years. So, let's just get it out of the way that you can obviously find similar tools for less money than you will pay for these. None of us should have a problem with that. So, let's have a look at the MSRP's for these tools.
Bicycle Set 4 - $105.42
Bicycle Set 2 - $139.16
Bicycle Set 1 - $92.58
Bicycle Set 3 - $206.63
Update
There's a reason why reviews talk about MSRP, and not the actual price available in stores. First of all, one assumes that these two numbers are going to be close to one another. As well, even if they aren't, we can't possibly account for the pricing decisions of individual shops.
The (somewhat) strange thing with Wera is that if you search for their stuff online, it always seems to be sold at some discounted price to this MSRP. You can even see below that a few of our readers have found these specific bicycle sets online for less than full MSRP (a fair amount less than full MSRP). Then throw into the mix that Wera usually has a non-bicycle specific option comparable to most of these sets, and that those sets often are available (on the surface) for even less money. So, it becomes quite difficult to compare these tools based on price. Yes, those MSRP's are made up of fairly lofty numbers and yes, you can find these sets for less than that stated price, and yes, you may even discover that Wera offers a similar set at an even lower price, as well. Where does that leave us? I'm not exactly sure. They are nice tools to work with and could be a good option if you can find them at a price that works for you.