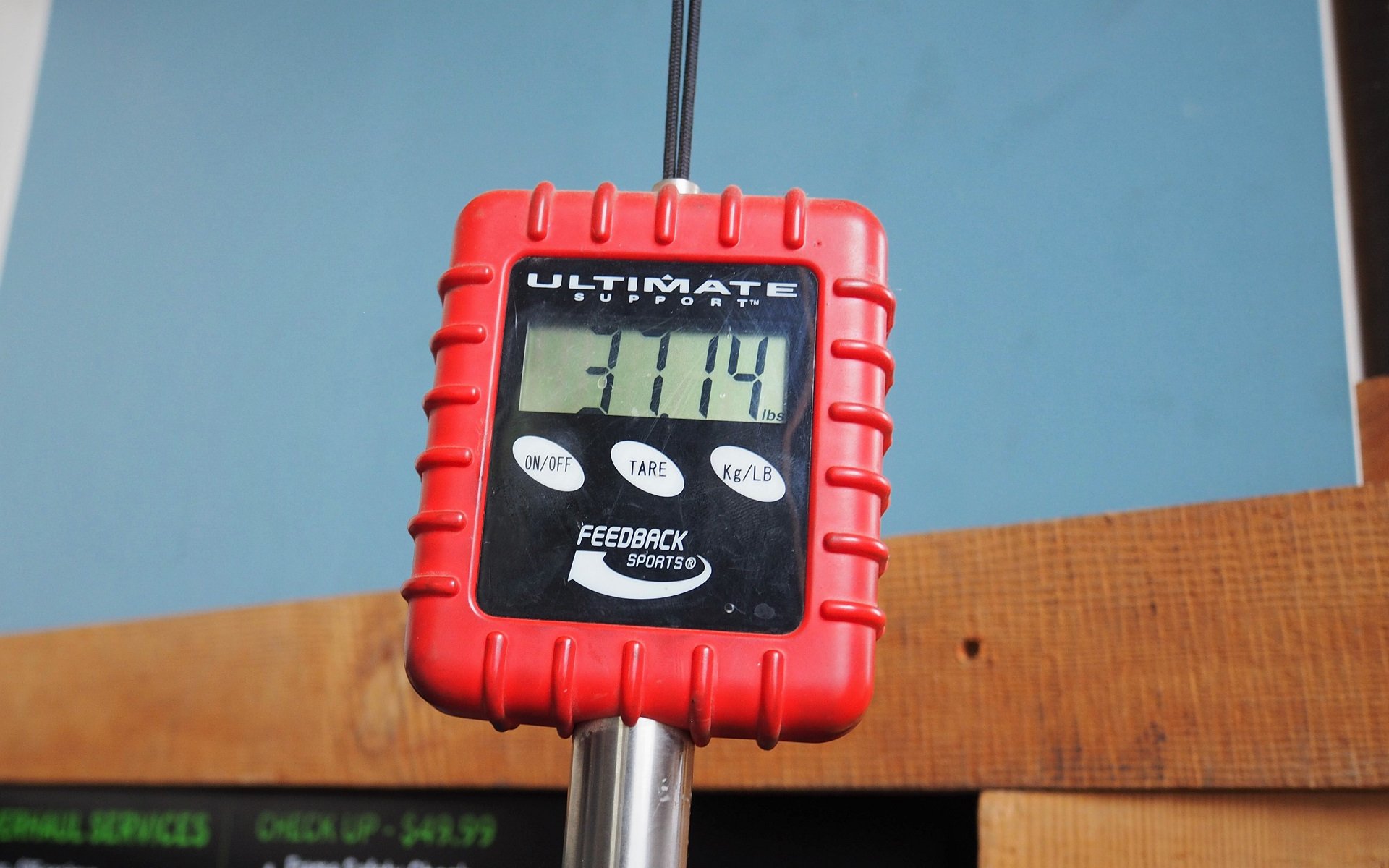 EDITORIAL
The Weight Is Over
Shitty Grams
There are about a billion iterations of this quote and if your frontal lobe hasn't pumped out a rough equivalent at some point you've certainly heard it opined a dozen ways. I'm going to go with "who cares about a couple of hundred grams, just take a big shit before your ride," but I'm certain I've heard funnier, danker, and less appropriate versions. I've also largely lived this philosophy for a decade or so only to find myself reflecting a lot on it in the last few weeks. The impetus is the surprising number of riders I talk to who seem to be suddenly interested in shedding weight off their bikes. Folks I've known for years who until recently were riding DH tires and are now rolling on rubber weighing hundreds of grams less and sporting trail-level sidewall protection.
Now to be clear. I'm not talking about shitty grams. If two products cost the same amount, perform at the same level, and have similar durability and one is substantially heavier, then I'll choose the lighter one. But, I run aluminum cranks so I don't have to think about them failing, a bash guard to protect my drivetrain, CushCore Plus or Pro inserts for the ride quality and run-flat properties, big brake rotors, and a lowered longer travel fork all for reasons I can easily justify. Or maybe, all for reasons I could easily justify.
Either way, I'm guilty of calling out my friends, in writing, for their opinions on the future of mountain bike trends - for the sole purpose of reminding them in the future. So here I am sharing my short-term future prediction for an abrupt change in the pattern of bicycle and component purchases on Vancouver's North Shore and anywhere else where the riding is chunky and demanding. The 2023 model year is already in the bag with 2024 on the design table so for the purpose of future accountability, let's call this a prediction for the return of mass weight weenieism by 2025.
Either way, I can hear you muttering "get more fit and take a shit" and to a large extent, I agree with the sentiment. But, I predict in the near future the average self-powered mountain biker will be busting out the gram scales and min-maxing weight and performance more often than they have in a long time.
Inevitability
It's no coincidence there have been two articles about weight on NSMB.com in as many weeks. I'm going to start by preparing you for a lot more, here and everywhere on the internet you read about mountain bicycles. I'm not talking about folks drilling holes in their chainrings to save a couple of grams, but rather choosing a slight compromise, or even a large compromise, in performance to account for the size of their meat motor. And while I'm fully aware of the latest lighter weight e~machines, here I'm focused only on plainly person-powered pedaling.
For a deeper dive, I'd suggest starting first with AJ's Weight Vs Geometry, check-in on Cam's experience running the latest carbon XC wheels on his go-to North Shore rig, and there's also some solid discussion in the comments of High Pivot AND Pedaling. Actually, I was just browsing Cooper Quinn's review of the Transition Spur in relation to this piece as well. And that's just the beginning because I'm going to guess there's plenty more indirect and direct discussion of weight coming.
I also want to highlight one very succinct point about bicycle weights past vs present that NSMB contributor Ryan Walters has brought up on a couple of occasions. Bike frames are massive compared to even the recent past. Just looking at my size medium Walt V2 with 450-470mm stays, a 480mm Reach, and a tubeset to support a ~62.5° static HTA and of course, my frame weighs a lot more than the equivalent ride from a decade ago. Heck, my Balfa Minute Man looks like a kids' bike in comparison. Spending for carbon fibre can help offset some of the weight gains in an otherwise apples to apples comparison but someone riding a boutique-build Giant Reign in 2011 shouldn't be surprised if their equivalent Reign 29er in 2021 is heavier.
So as I move forward with my own micro-weenie weight shedding project, my goal isn't to end up riding a machine as light as some of the loosely equivalent bikes I've owned in the past. Rather, I'm considering ways to achieve near-peer performance with my current Waltworks build while reducing weight at the same time and I think this is the tack most riders will take. I won't be going full ship-of-Theseus as I'll be riding the same frame but would you believe I can drop 45 grams by switching my 180mm travel OneUp V2 post for a 150mm version!? Kidding, kidding, but still, 150mm was okay most of the time?
Dual Crown e~Enduro
Two years ago, maybe even a year ago, the rise of the dual-crown Enduro fork may have still been a niche market; however, between folks tired of creaking CSUs and those looking to best optimize stiffness where it matters, and flex where it improves ride quality, I think there would have been a relatively small but solid market for these heavier chassis.
Now, running on the success of the RockShox Zeb, Manitou Mezzer, and the reliably creak-free next-gen Fox 38 CSU (crown steerer unit) and with a host of beefed up single crowns from the likes of Ohlins, DVO, and SR Suntour in the wings, I wonder how the market remains in 202x? Going forward I don't foresee riders choosing the weight penalty of the dual crown, for all but the beefiest riders surely won't notice the performance gains.
For example, the Mezzer is an awesome up to 180mm 29er single crown fork that weighs around 2,050 grams, and the just-launched Dorado Pro is 2970 grams in the same configuration. Comparing the top end Pro models, the Dorado also adds +750 USD to the purchase price. The Dorado Expert takes the price difference down to +400 USD with no loss of performance but at 3120 grams that's an extra 2.35 pounds of weight at the front of the bike.
I haven't ridden the new Dorado but on a lift-assisted DH bike, the Expert would be very high on my personal purchase list based on my experience with the previous generation product. I have a fair few hours on the Mezzer and it's excellent to the point that I can't imagine paying the weight penalty on a bike I'm driving under my own steam.
I think many of these latest single crown forks cycle back to the promise of the Manitou Travis, RockShox Totem, and long travel Fox 36 from many years back. Not to mention the driver behind 1.5" steerer tubes. All the performance from a double-crown fork that almost any rider needs in a lightweight package. The extra steering radius on climbs is just a bonus.
Freeride Lives
I'm just going to pause for a second to say that herein I'm talking about the average aggressive Shore rider, the above-average aggressive Shore rider, hell, even some really f***ing talented mountain bikers going pretty damn huge in our local mountains. But, I'm certainly not saying that there aren't riders who will gladly continue to take any weight penalty to run coil shocks, dual crown forks, and DH tires with full-on inserts.
It's just that as there's been a renewed focus on Freeriding locally - which I'll define here as having fun and going huge with friends - I think we're seeing the same trends as we did decades ago. The average local rider would probably be happiest on EXO tires and CushCore XC inserts - or 'CushCore Trail' as my friend Toucan calls them - but instead finds themselves running DoubleDown casings and a CushCore Pro insert because some of the people they ride with or see riding really do need that level of tire system either because they're going full-send, or they're going full-hack, or some combination of the two.
If you don't make a Stan's Flow rim egg-shaped in a few rides, ruin carbon rims just looking at them, and have tires jump off the rims because you land sideways at a 45° angle every time, then there's probably a tire, insert (or no insert), and rim combination that could save pounds of rolling weight for even a minimal extra risk of failure.
Where Rubber Meets Rims
I'm coincidentally working on a follow-up to my piece years ago on Plus Tires, so for the time being I'm leaving that aside. I'm also purposely not going to bring under-rubbering a bike into my discussion at the moment so spare yourself from quoting me the massive weight savings and relative survivability of running a pair of 2.2" Maxxis Ikons at 35psi. I also recognize this isn't a perfect argument because many folks run different tires in the summer and winter but then, while an Assegai/DHR2 combo rolls much slower than a DHF/Aggressor combo I'd say the weights are similar enough running the same sidewall and same level or insert.
Either way, the nominal North Shore tire-and-rim combo seems to have averaged out at a 2.5" width, in both 27" and 29" diameters, front and rear with an approximate 30mm internal rim width.
The other day a couple of my friends were talking about how much better the Assegai is compared to the DHF and specifically how it doesn't require the same leap of faith when leaned over as a 2.5" or 2.6" DHF does. Not that I don't agree with the assessment, but I think one of the reasons that the DHF became such a popular tire is that in the classic 2.3" size, or even in the larger pre-Wide Tire (WT) 2.5" Maxxis sizing, the knobs all sat significantly closer together and that floatation period from center to side knobs was significantly reduced.
Then I started thinking about the North Shore standard combo of a 2.5" Assegai MaxxGrip, in either EXO+ or DD, mated to a CushCore insert, either XC or Pro, and then popped on to a 30mm rim. Whichever combo of tire sidewall and insert someone is running, and whether that rim is carbon or aluminum - and light or heavyweight example of either - it's going to have a value of XXXX-grams.
If instead that same rider was on a 2.3" tire, whether a DHF or a future Assegai option, with the same sidewall, and the insert was shrunk so that it took up a similar percentage of the tire volume, and the rim was an 25mm instead of 30, that narrower setup would be lighter weight in a straight-up comparison.
Would there be a significant loss of traction? Doubtful. Would there be a significant loss of comfort? On a hardtail, I can only imagine so but on a 6" travel rig? Doubtful again. It certainly wouldn't look as badass but who's looking at their tire as they ride?
I've installed a few different inserts for folks lately, all lighter than the CushCore Pro setup I run. And I've talked to a lot of folks about their experiences. Specifically what they want an insert to deliver, what inserts they've tried, and how the performance has measured up. Oh, and one day I saw a dude riding down Mountain Hwy with a pink Tannus insert bandoliered over his shoulder, dripping Stan's sealant, like he was a bike courier delivering used sex toys. I've come to a couple of conclusions.
First, very few people have gotten a flat while running an insert and so most of them don't give a shake about the run-flat abilities of some inserts v. others. That was surprising, as it's a key benefit to me. Second, weight is a much bigger consideration than damping characteristics for a lot of folks riding full suspension bikes and the opposite is true for hardtail riders. Third, many folks choose to just run an insert in their rear wheel for rim protection and aren't looking for a change of ride characteristics at all.
I was pedaling home from a Seymour ride the other day, grunting up a gravel climb, thinking about all that and finally just came to the conclusion that if my only concern was rim protection I'd just ride a beefy set of carbon rims and add a bit of air pressure. That's what I did while testing Bontrager's Line Elite carbon wheels and I suffered zero issues. The big thing for me when running without inserts is choosing a more durable tire casing because all this gram talk aside, it's still my goal to never have to install a tube on a trail again.
Taking A Brake
I've been thinking a lot about brake rotors lately. Specifically, 220mm brake rotors and the accompanying adapters. More specifically, the 2.2mm thick - as opposed to 2.0mm - 220mm SRAM brake rotors that I see on trail bikes everywhere. Maybe those big rotors make sense when in summer temperatures, riding in the Whistler Bike Park, or even doing big shuttle laps when conditions are loose-over-hard. That is, hard on the brakes. But what about in the winter, when speeds are much lower and our brakes are generally water-cooled, and keeping tires rolling is absolutely the key to maintaining traction?
Even now, in the dusty summer, even riding 29ers, I think when folks start adding up grams again we'll see a return to 200mm rotors up front with smaller 180mm rotors in the rear for average-sized riders. Smaller folks can ditch even more grams with post-mount direct-mount 180mm forks by shrinking to a 7" rotor up front.
Now, I'm not planning to start riding SRAM Level or G2 stoppers. It's not about a massive drop in performance to save a couple of grams, for example, the extra 60 grams per side for a CODE brake over the G2, but rather the fact that I think I could still get by happily on most slow speed Shore jank on my Cura 4, MT-5, or Dominion A4 brakes even after stepping down a rotor size.
Still talking about SRAM for the moment. Dropping from a 200mm to a 180mm rotor saves about 50 grams per wheel, not including any weight savings from the adapters. What's another 100 grams right? Look, that's the kind of thinking that has me hitting the trails on a 37+ pound, 120mm-forked single speed.
The biggest issue with dropping rotor sizes is of course heat dissipation and for some riders on the Shore, for a while in the summer, that has the potential to really affect performance. But here I come back to the point about some riders needing DH casing tires with CushCore inserts. If you have issues with brakes overheating or fading ask yourself when was the last time you bled them. If it was recently then consider if they're the right brake for the job. If you're running some WC DH-proven super-stoppers then it's probably time for a larger rotor setup.
It's a theory. With my next set of rotors on the hardtail, I'm planning to run 180mm front and rear to see if I really miss the larger option in practice. The goal is of course not to save 100 grams, it's to stack a whole bunch of 100 gram savings together and see if my favourite mountain bike really ends up any less rideable.
Nostradumbass
It's not so much that bigger rotors, beefier rims, heavy-duty rubber, double crown Enduro forks, or coil suspension are going anywhere. The gravity market is going to continue to be well-served by the ever-growing long-travel battery-powered experience that more and more riders are seeking.
It's more that I'm anticipating a massive pendulum shift for those choosing to power themselves on the trails. With most riders switching back to air suspension and looking at places they're paying to pack more weight around when a lighter option exists. Min-maxing becomes about more than price v. performance but also includes a look at weight. For example, smaller cassettes with smaller chainrings weigh less and cost no more. A Lyrik weighs a half-pound less than a Zeb for the same travel. And where does it stop? Will riders go to choosing 160mm travel bikes over 180mm travel bikes, and 140mm travel bikes over 160mm travel bikes, and 120mm travel bikes where they would have ridden 140mm bikes as was the trend a decade ago?
Ah, who knows. I'm more than prepared to be wrong on all accounts. But in the past, I've known many mountain bikers who, after having finished shedding the shitty grams, went looking for every bit of weight they could find. Who really knows where we'll wind up riding a new weight weenie wave? At the very least, I think it's safe to expect a myriad of articles, on every media platform, on the subject.