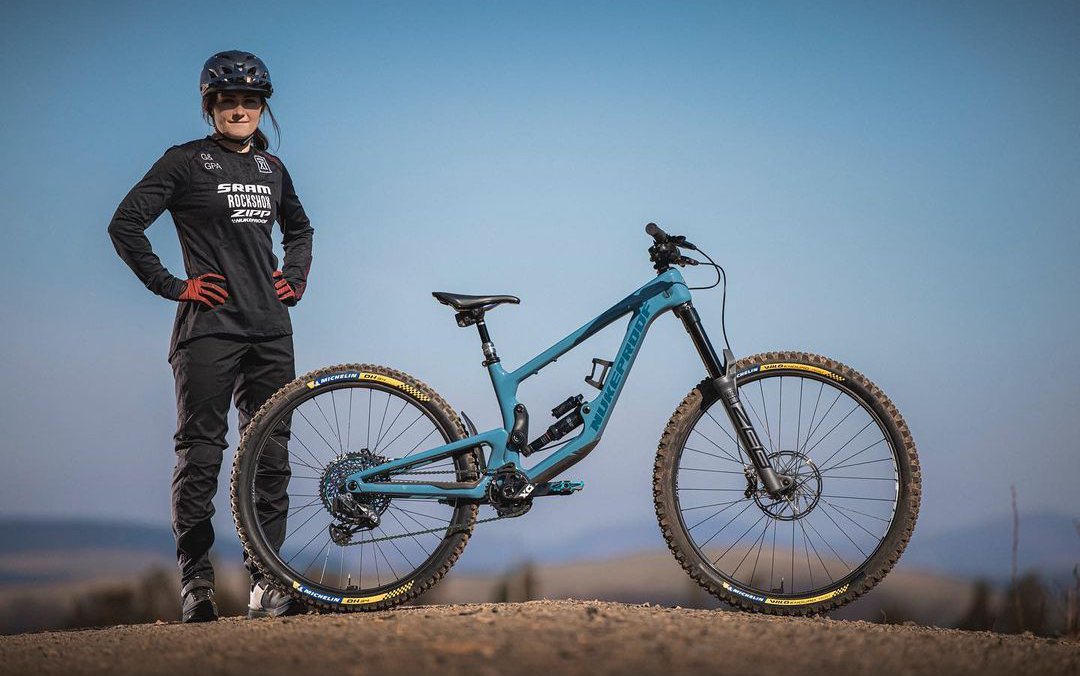 GEAR | TECH | ANNOUNCEMENTS
Weekly MTB News: April 21, 2021
Product News
Fox Release 2022 Suspension Updates – All-New 34 Fork, DPX & DHX Shocks
With every passing year suspension and bike parts in general, improve. With 2020 being the year of new big-hitting forks, this year Fox is releasing their new trail-worthy 34 and a new DPX and DHX rear shock.
The All-New 34 & 34 SC Forks
As we've seen with many new products, the 2022 Fox 34 shows off the trickle-down effect from their bigger hitting forks released last year. The lower legs now feature the bypass channels found on the 36 and 38, helping prevent the build-up of air pressure in the lowers as a fork compresses. Fox also says the channels help improve circulation of lower leg oil, keeping foam rings and bushings lubricated.
Also carrying over from the bigger forks is a similar fork arch design. Fox claims they've optimized the stiffness-to-weight ratio with the new fork and the updated arch helps them achieve this while allowing for more clearance from the larger head tube profiles found on modern trail bikes.
Internally, Fox has updated the EVOL air spring of the 34, increasing the negative air spring to "assist with mid-stroke support." The new 34 SC also comes with the option to tune the negative air spring with volume spacers. The Grip2 damper and the patented Variable Valve Control (VVC) technology provides external damper adjustability.
With the 34 targeted toward trail riding, the 34 SC is focused on XC racing. The Step-Cast design remains, cutting down on weight by a claimed ~200 grams.

Smoother, lighter, more tunable, and more capable than ever before; when it comes to a do-it-all trail fork the 34 is in a class of its own. – Fox MTB
2022 Fox 34
New chassis
New air/oil channels
New arch shape offers improved head tube
clearance with shorter rakes
New 58mm diameter crown
Updated EVOL air spring
Damper option(s): FIT4, GRIP2, and GRIP
Travel options from 120mm–140mm
29-inch wheel size only
Two offsets available (44mm and 51mm)
15x110 QR and 15x110 Kabolt axles available
Factory Series models feature Genuine Kashima Coat
Available in Factory, Performance Elite, and Performance
Claimed starting weight: 1,698g
M.S.R.P: 769–969 USD / 1,079–1,399 CAD / 1,069–1,389 EUR

2022 Fox 34 SC
All of the above with exception to:
Only two of the three damper options available (FIT4 and GRIP)
Travel option cut back to 100mm–120mm
Available in Factory and Performance models
Claimed starting weight: 1,496g
M.S.R.P: 849–1,089 USD / 1,149–1,469 CAD / 1,129–1,459 EUR
The All-New Float X
Designed specifically to meet the demands of aggressive trail riders, the new Float X combines sophisticated damping and fade-free performance with incredible light weight and outstanding structural integrity.
New chassis and damper
High-flow main piston
Volume spacers with smaller increments
M.C.U. bottom out bumper
Tool-free 12-position single-turn LSC (Low-Speed Compression) adjuster
Independent firm mode circuit w/ 2 position adjuster
Increased rebound adjuster range (over DPX2)
Optimized reservoir lengths per shock size
Hydraulic top-out feature
Reduced damper noise
Larger air sleeve bore reduces average rider pressure
by 40 psi vs. DPX2
Bearing hardware compatible both sides
Air valve location offers improved frame fitment
and pump access
Available in Factory and Performance Elite
M.S.R.P: 499–569 USD / 699–799 CAD / 699–799 EUR
The All-New DHX
Riders seeking the ultimate in forgiving suspension have another option with the new DHX. The updated shock "brings coil-sprung, magic-carpet, trail-smoothing performance in a wide range of configurations."
New chassis and damper
High-flow main piston
Tool-free 12-position single-turn LSC (Low-Speed Compression) adjuster
Independent firm mode circuit – 2 position adjuster
Optimized reservoir lengths per shock size
Hydraulic top out feature
Reduced damper noise
M.C.U. bottom out bumper
Single-turn rebound adjuster with a variety of access modes (Tool-free, 3mm hex (direct access), 2mm hex or similar (side access)
Spring preload collar with detents and max/min number of clicks
Full diameter spring retainer with wire ring (like DHX2)
Spring scuff guard on shock body (like DHX2)
Available in Factory
M.S.R.P: 549 USD / 769 CAD / 759 EUR

Team/Rider News
Katy Winton Has A Ride for 2021
Yes, top Enduro World Series athlete, Katy Winton has secured support for the 2021 season. She's had a whopper of an off-season dealing with the emotional and physical strain of trying to keep her racing career alive. Thankfully it all worked out and Katy has lined up partnerships with Nukeproof, SRAM/RockShox – who were massive in pushing for her to get a deal – Crankbrothers and Troy Lee Designs. Her team name has a nice ring to it too: Moxie XI.
We're so pumped for Katy and look forward to seeing her between the tape on her new setup. We've reached out to see if we can get her to join for a podcast, so keep your eyes and ears peeled for that.
Forbidden Bikes Announce EWS Team in Partnership with Crankbrothers
Created in partnership with Crankbrothers, Forbidden Bike Co. is pleased to announce our entry into the world of Elite mountain bike racing with the formation of the Forbidden Synthesis team.
Featuring an all-Canadian roster with a core focus on the Enduro World Series for 2021, our trio of riders; Magnus Manson, Rhys Verner and Jack Menzies aren't strangers to the podium and represent three of the most exciting riders to call this epicentre of the sport home.
Talking of which, in this video, the boys get together for some pre-season shenanigans on their Druids and Dreadnoughts in Squamish, BC. Filmed and edited by team and content manager, Thomas Doyle, expect more edits featuring these three (and friends) as we lead up to the season and ultimately overseas to mix things up in Europe...
Race/Event News
Crankworx Innsbruck Registration Now Open
Crankworx has announced that registration for the 2021 Innsbruck stop is now open. Pro riders, amateurs and what they call CWNEXT competitors (youth) can now prepare for their spot to compete when the action gets underway in the Austrian Alps. The event is scheduled to go ahead between June 16–20, 2021. The events open for registration are split out below, What's clear is the number of events being cut back from what we're used to seeing.
Pro & Amateur:
Specialized Dual Slalom
Crankworx Innsbruck Downhill presented by Raiffeisen Club
CWNEXT:
Specialized Dual Slalom
Crankworx Innsbruck Downhill presented by Raiffeisen Club
RockShox Pump Track Challenge
Registration links and details are available here.
Industry News
Vorsprung Suspension Announces New Melius Suspension Tuning & Service Centre
Wait, what? Expanding with a second suspension servicing company? That's right, Vorsprung has split their services to focus separately on the global and regional markets. The new brand, Melius Suspension, has a new location that will focus on servicing, repairs and tuning for riders in the Sea To Sky while Vorsprung will focus on aftermarket mountain bike suspension upgrades and tuning systems.
The new company also expands the capabilities of both Vorsprung-owned facilities, with more staff, space, and tools to provide service and work on solutions to improve current mountain bike suspension products.

Melius will continue to be managed by Vorsprung for the foreseeable future, with the long-term goal of it becoming a fully separated, arm's-length operation in its own right. – Vorsprung Suspension.