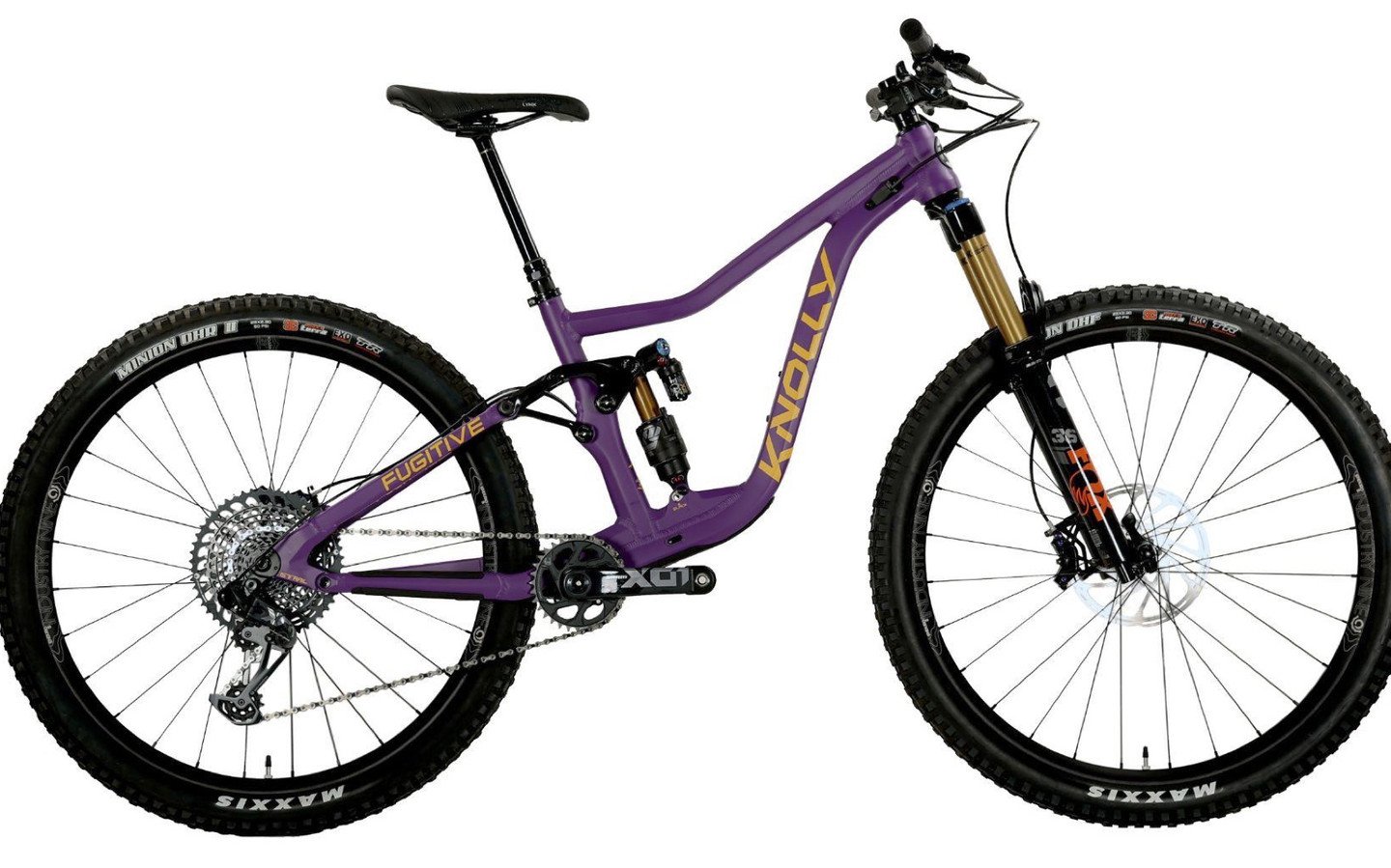 GEAR | TECH | ANNOUNCEMENTS
Weekly MTB News: April 14, 2021
Knolly Updates the Fugitive for 2021
Knolly's first 29er sees a geometry update for the 2021 season, bringing with it a "more in the bike" feel. Read on below for the full rundown on what's been revised for the Fugitive v1.5.
When the Fugitive was launched in 2018, it was our first 29er and the first model to kick off our 5th Generation Fourby4 suspension design. Skip forward 3 years and we're incredibly proud to release the next version of the Fugitive with some significant changes to the geometry. These fresh updates give the Fugitive an improved positioning for climbing and an even better ride performance on the downs. We've increased the reach in the cockpit, adjusted the seat tube angle, and incorporated a slacker head tube angle. All of these improvements culminate into the rider being more in-the-bike of this versatile 29er.
UPDATED GEO
The front end geometry gets a complete overhaul and the head angle is reduced by 0.5 degrees, the seat tube angle is increased a full degree and the effective top tube length is lengthened proportionally for each frame size. All of these changes contribute to a substantial increase in reach and wheelbase, providing a roomier cockpit while improving high speed stability and allowing the rider to be in a more aggressive position. The steeper seat tube angle and increased reach makes it feel even more competent and comfortable on long steep climbs. While the Fugitive is still a highly proficient technical trail bike, we didn't want to remove the "trail" from its abilities.
MORE TRAVEL
We've bumped up the travel slightly and the Fugitive now features 138mm of rear travel and 150mm on the front for balanced performance. After seeing many of our riders over-fork the previous Fugitive, the geometry improvements now allow for better compatibility with 160mm forks. For those riders seeking a burly adventurous set up with a little less travel, the Fugitive can also run 131mm of rear travel and a 140mm fork.
SIZING, PRICING, COLOURS & AVAILABILITY
Our Fugitive comes in four frame sizes (S-XL) and we're offering two build kit options: DP and EC kits. For this release, we're serving up three great colour choices including purple with gold decals, raw with black, and anodized black with grey decals. The Fugitive 138 complete bike pricing starts from $5310 USD and will be available for sale now at your Knolly Bikes Dealer and online.
Hunt Release Updated Enduro Wide and Trail Wide Wheels
Hunt have released a new version of their affordable MTB wheels. Seeking to improve the strength-to-weight ratio of their rims, they've updated the rim profile using new in-house testing equipment. The new equipment gave them benchmark data for the current wheels, where they focused on two key areas:
First damage energy: The amount of impact energy resulting in visible damage (dent) to the hook.
Failure damage energy: The amount of impact energy resulting in ride-ending rim damage.
Using the data, Hunt updated the rim profile, and when combined with the new hubs and spoke configurations, claim they've been able to provide similar system weights but with improved durability.

As impact energy levels increased, the damage was not isolated to rim dings but also compromised the integrity of the wheel with spoke de-tensioning and loss of trueness. For all wheels reaching160J, the damage to the overall wheel system was severe enough that as riders and engineers, our experience told us that these wheels would require mechanical attention beyond that of a 'normal' trailside repair. – Hunt Wheels
The development process involved impact testing that recognized the UCI impact data, which is great for safety but Hunt feels it doesn't represent real-world impacts. Hunt notes that in action, wheels are typically stuck unevenly rather than across both sides, and at random angles. They say replicating this during development help provide a tougher rim.
Hunt also states they used F.E.A. (Finite Element Analysis) during development. They say "F.E.A. is a numerical modelling method to visualise and analyse the structural behaviour of components" and when applying this to rims, allowed simulations with the possible rim profiles, under identical situations. Using this information, Hunt modified the material thickness distribution throughout the rim, focusing material in the key areas.
Enduro Wide V2
Hunt's hardest-hitting wheelset for all-mountain and enduro riding. Designed to take a beating on the most unforgiving trails. The wheels are front and rear-specific, with the rear rim featuring a narrower internal width and extra support to take the increased impacts a rear-wheel deals with.
27.5/29/Mullet
33F/31R Wide Int.
Rims: 6069 T6 alloy, welded construction
Spokes: 28F/32R, Triple Butted (2.2-1.6-2.0) PSR reinforced Pillar Spokes.
Hubs: Large body NDRO front hub and 5-degree RapidEngage rear hub, boost (110/148) and SuperBoost (157mm) spacing.

Large double sealed cartridge bearings
Rock Shox Torque Caps for Boost hubs are available.

Weights: 2,041 (27.5" set) / 2,105g (29" set)
MSRP: 399 GBP / 689 CAD / 549 USD
Pirelli working with Fabien Barel to develop Gravity MTB Tire Line
Pirelli is working hard on a new line of Scorpion MTB tires that is specifically dedicated to the Gravity Racing world.
In the long process of research and prototyping, which began two years ago and is now in the final stage of development, Pirelli engineers involved an absolute star of the Downhill luminary: Frenchman, Fabien Barel.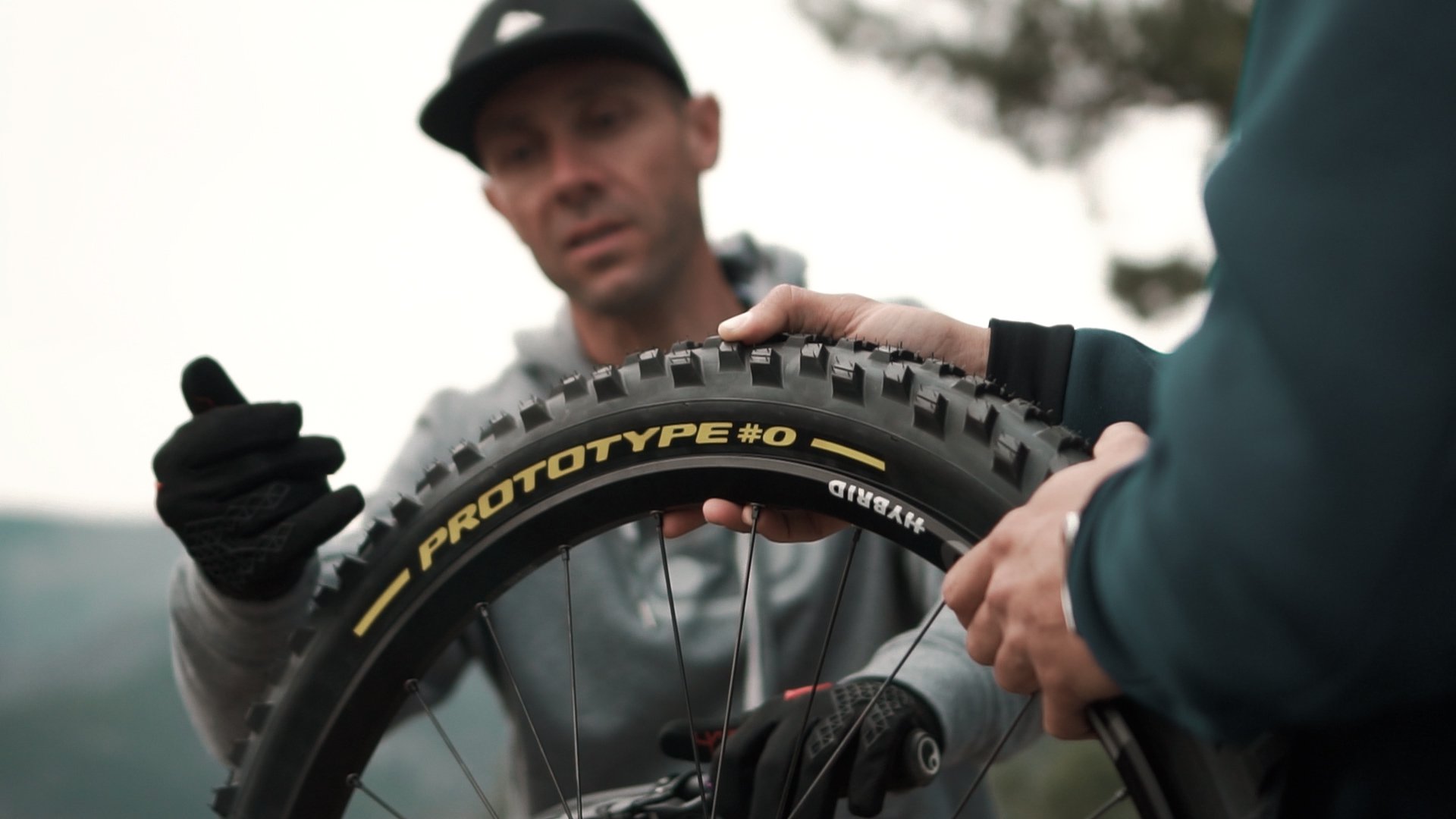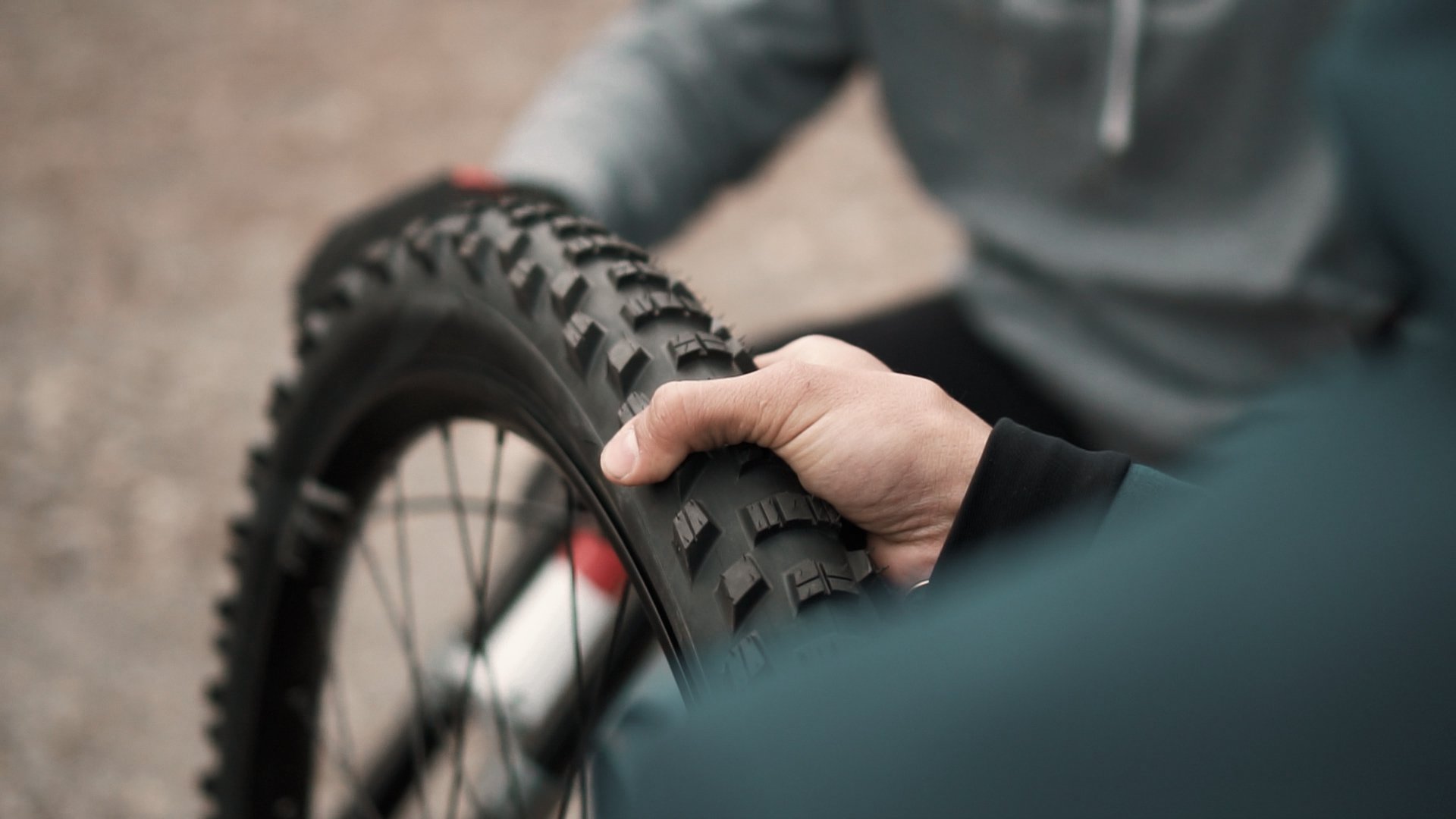 The new Scorpion tires dedicated to the Gravity Racing world are already a reality at prototype level. Today they can be found on the MTBs of some athletes and teams, who will be racing them in the EWS and WORLD CUP DH circuits. This will put the R&D work carried out by Pirelli engineers together with Fabien, to the test as early as 2021.
"Pirelli's involvement in the world of MTB Gravity racing is a great opportunity for everyone" said the French champion. "[…] There's already a solid line of Pirelli mountain bike tires on the market, my job is to help complete it with models dedicated to racing, which will hopefully lead to the successes that the company has already achieved in many other sports. […] The clear objective of these new tires is to reach the top of the podiums."
Industry News
Ride Mòr: Bringing Diversity to the British Countryside
It's no secret that the British countryside is chiefly the preserve of the white middle classes – a perception backed up by data, with ethnic minorities much less likely to visit such spaces.* There are also far fewer women and girls participating in outdoor activities such as cycling and mountain biking. Over the past year, this stark lack of diversity and inclusivity has been further highlighted by the Black Lives Matter movement and inequalities raised through the COVID-19 pandemic.
This is why Aneela McKenna – passionate diversity champion – is leading a quest to change things. "We're seeing a groundswell of demand to get outside from a whole new demographic and it's about time we thought about how welcoming those spaces are," she says. "COVID-19 and the Black Lives Matter movement have been a real catalyst for change. Organisations who don't adapt, do so at their peril." Diversity and inclusion expert McKenna, who is also a mountain bike coach, guide, mentor and cycling entrepreneur, is uniquely-placed to help others address these issues. In her efforts towards inclusion, McKenna recently launched a trailblazing consultancy service. Mòr Diversity supports brands and organisations throughout the UK, with a particular focus on the cycling and outdoors sector, to improve diversity.
McKenna says: "Since COVID-19, more people than ever are enjoying the benefits of cycling and the outdoors." But if we want to create a space where everyone feels they belong, we must take the necessary steps and commit to action."
The Black Lives Matter movement marks a sea change highlighting the need for businesses to commit to action on diversity and inclusion. "Brands and organisations are simultaneously being challenged and called upon to influence change," says McKenna. "Those that take this approach can benefit from reaching a broader audience while at the same time increasing its diverse talent pool."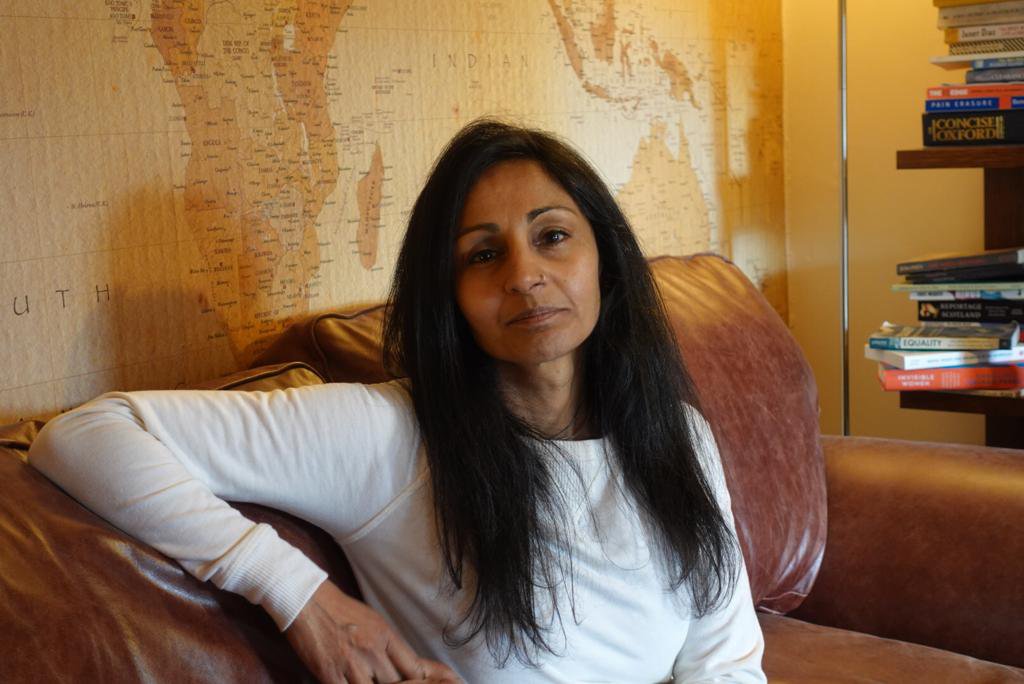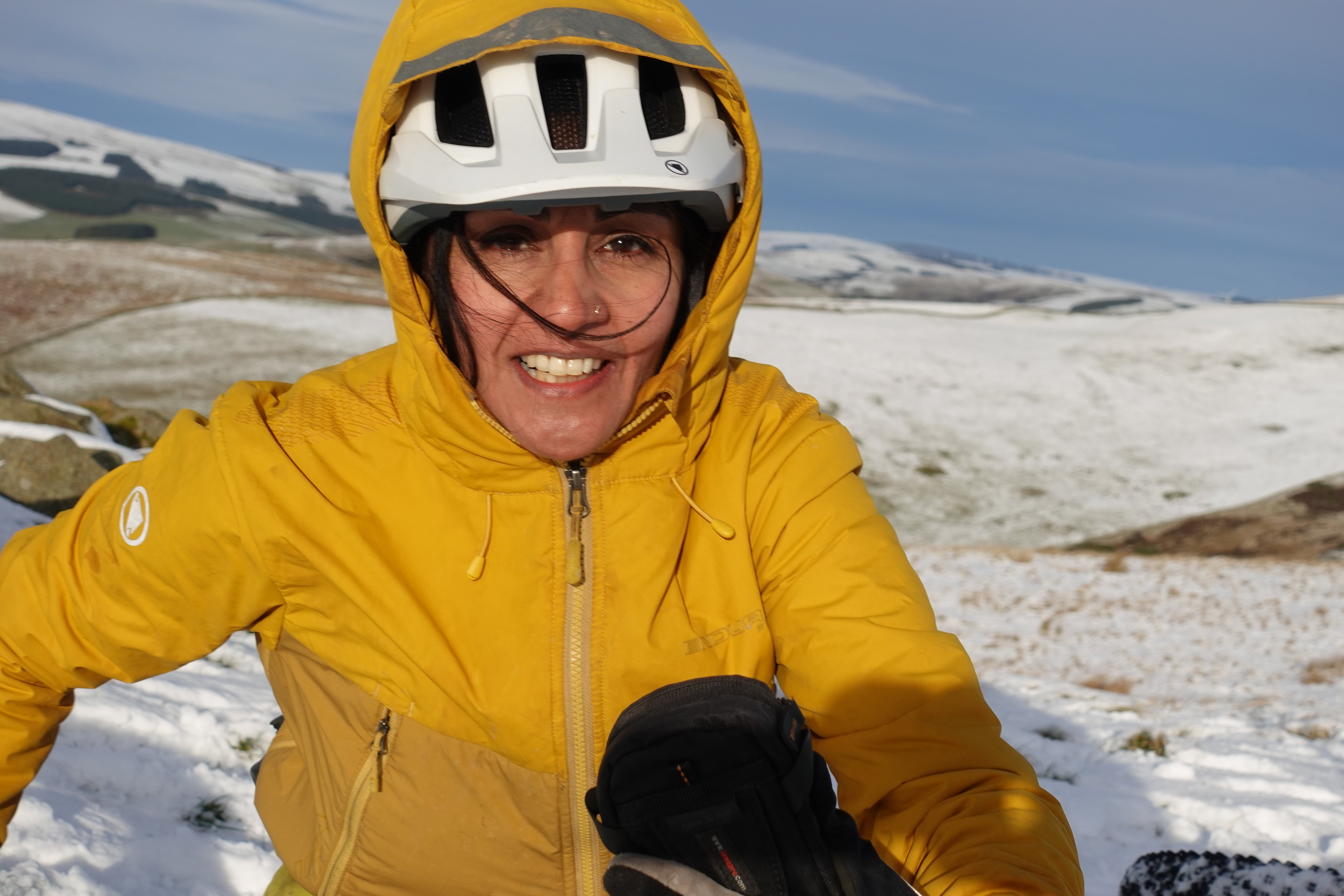 McKenna says Mòr Diversity will help organisations navigate strategic and cultural change. "Sometimes it can even be as simple as a conversation about where to start." It already counts organisations such as the Association of Mountaineering Instructors and Scottish Cycling amongst its list of clients. McKenna says "Diversity is a huge and daunting area for managers and leaders and I've been encouraged by the volume of requests for toolkits, audits and bespoke CPD to assist in this area. This is our opportunity to make sure we create spaces where everyone can feel they belong, no matter which minority group they are from."
Visit Mordiversity.com; LinkedIn; Twitter; Instagram
---
*Stats: At the last census in 2011, 13% of the UK population, around 8.1 million people, identified themselves as black, Asian or minority ethnic (BAME). A recent study found just 26.2% of black people and 25.7% of Asian people spent time in the countryside, compared with 44.2% of white people. Another report found only 1% of visitors to national parks come from BAME backgrounds, while a similar number of summer mountain leaders and rock-climbing instructors in the UK are from ethnic minorities.
Biography: Aneela McKenna is a Scottish Asian with Pakistani heritage living and working in the Scottish Borders. She is a mountain bike coach, guide, mentor and cycling entrepreneur co-partnering award winning cycle tour operator Go-Where Scotland, established 2008. She was recently appointed as the co-Chair of British Cycling's Diversity and Inclusion Advisory Group. She also works part time as a diversity, inclusion and wellbeing manager at Scottish Parliament. Aneela has over ten years' experience working in the cycling sector and over 20 years as a diversity and inclusion professional. Combining this skillset, Aneela's uniquely placed to provide this service to businesses within cycling and the outdoors.
MAJOR ALL-SEASON MOUNTAIN RESORT PROPOSED FOR CHILLIWACK
Bridal Veil Mountain Resort could spur exponential growth for Fraser Valley tourism sector.
CHILLIWACK, B.C. (April 13, 2021) – A new major all-season mountain resort with two sightseeing gondolas and approximately 11,500 acres of mountain recreation terrain has been proposed for Chilliwack through an Expression of Interest filed recently with the Mountain Resorts Branch of the Ministry of Forests, Lands, Natural Resource Operations & Rural Development. In addition to providing year-round recreation opportunities for Fraser Valley residents, British Columbians and destination tourists, the resort would strengthen B.C.'s already strong international reputation in the mountain resort market, elevate the region as a tourist destination, and become a major new, year-round economic and tourism driver for the Province.
Currently called Bridal Veil Mountain Resort (BVMR), the project is being led by B.C. residents Norm Gaukel and Robert Wilson, with the support of Whistler-based Brent Harley and Associates (BHA), one of the world's most experienced and respected mountain resort planning and design firms. If approved, the resort would be located in the Upper Fraser Valley, on the highlands immediately south of the Fraser River, extending over Area D and Area E of the Fraser Valley Regional District and the City of Chilliwack.
Recognizing that the proposed site is in S'ólh Téméxw, the traditional and unceded lands of the Stó:lō people since time immemorial, the goal of Gaukel and Wilson is to first work closely with local Stó:lō Communities and business organizations to explore opportunities for joint equity ownership and management, as well as development options and opportunities.
A preliminary economic impact analysis conducted by Boulder-based RRC Associates suggests that, at full build-out, as currently envisioned, BVMR would create more than 1,800 full-time equivalent jobs and generate more than one million visits each year (640,000 winter, 460,000 summer). Based on that visitation, BVMR is projected to generate approximately $252 million in regional visitor spending and $35 million in tax revenue each year. Those figures are based on industry averages for Canadian mountain resorts of similar size and activity. These estimates also do not yet account for any changes to the proposed design of the resort that would occur through the meaningful participation of Stó:lō Communities and business organizations and their potential joint equity ownership and management of BVMR.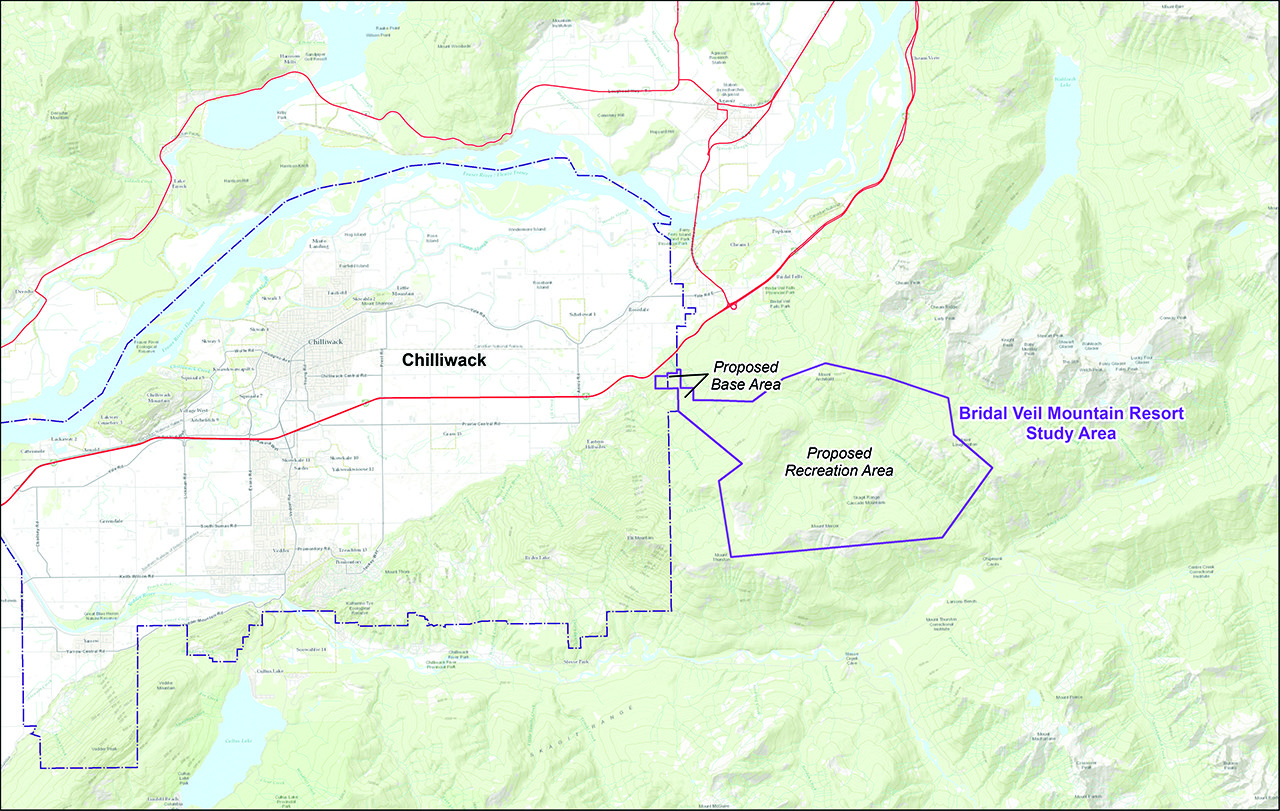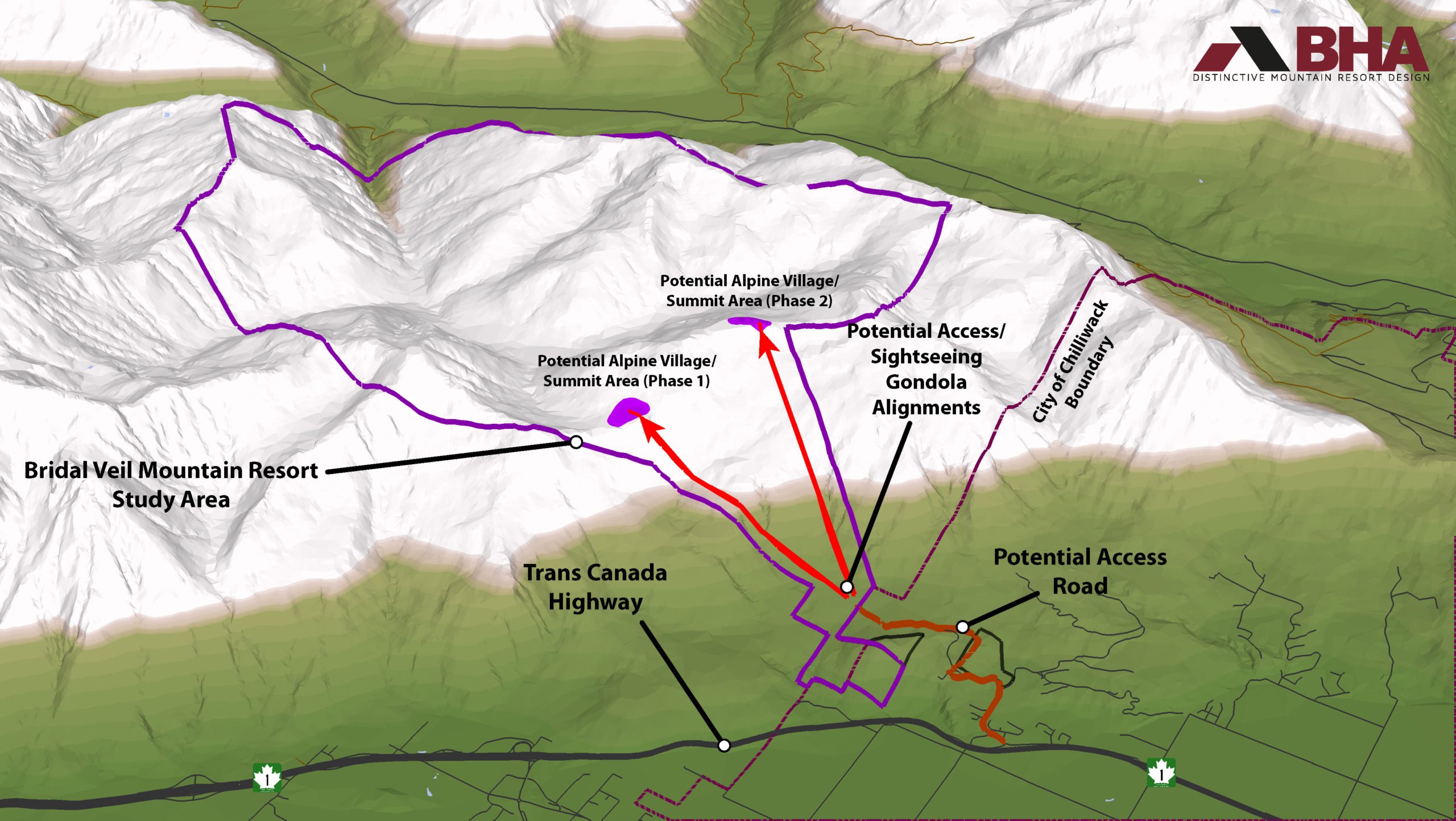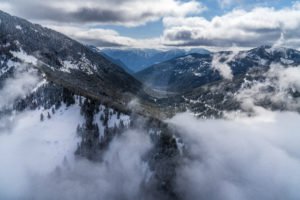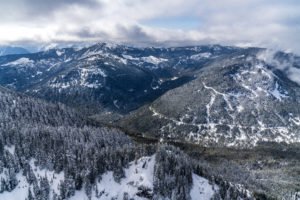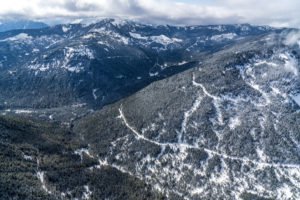 Upon arriving at the resort, the preliminary concept for Bridal Veil Mountain Resort will see guests travelling by gondola from the floor of the Fraser Valley to a vehicle-free, mountain recreation area, where they could ski or snowboard, backcountry tour, hike, sightsee, mountain bike, and participate in year-round ecological and Indigenous cultural programs. These activities will effectively be separated and hidden from the valley, offering guests a remote mountain recreation experience with unparalleled views of the Fraser Valley and Cascade Mountain Range.
In the winter, BVMR would provide a well-balanced and integrated lift-serviced skiing experience with ski runs catering to the full spectrum of skiers, from beginners to experts. While detailed winter climate studies remain to be completed, records show that natural snowfall is significant and temperatures are suitable for snowmaking, thus enabling a ski season that could extend from December to April, serving an undersubscribed and growing skier marketplace in the Fraser Valley. The alpine skiing and snowboarding would be complemented with access to backcountry touring, cross-country skiing, snowshoeing and skating.
For the rapidly growing mountain resort summer market, BVMR could offer numerous hiking trails, viewpoints, and cross-country and lift-serviced downhill mountain bike trails. Its near limitless potential could also include aerial adventure courses, zip lines, as well as hosting events, competitions, races, festivals, and cultural tourism venues and celebrations. In addition to capturing the "day-tripper market" of people visiting its two sightseeing gondolas, each year the resort could also attract hundreds of thousands of additional visitors looking for multi-day experiences.
About Bridal Veil Mountain Resort
BVMR is an all-season mountain resort proposed for Chilliwack, 100 km east of Vancouver. Led by B.C. residents Norm Gaukel and Robert Wilson and designed by Brent Harley and Associates, the project would be located in in S'ólh Téméxw, the traditional and unceded lands of the Stó:lō people. The project is currently in the Expression of Interest stage of British Columbia's all-season resort development application process. For more information, visitbridalveilmountainresort.ca.
Fox Racing Commits to Bicycle Industry Employers Association
BIEA ethos to grow, diversify and build stronger UX for retailers
Fox Racing, the global leader in mountain bike and motocross apparel and equipment is proud to announce a three-year commitment to support the emerging Bicycle Industry Employers Association (BIEA) in its quest to grow, diversify and create a pathway to professional bike education certification.
Kelly Carioti, General Manager NA said, "We believe in all the great work BIEA is doing for the bicycle industry and are thrilled to be a partner to help with the development of solutions. Great service is at the center of the value proposition for the rider and the community. At the same time, there is a shortage of trained service technicians. We have an opportunity to raise the bar by focusing on professional training, certifications and diversity to attract new talent to help build a great future for the bicycle industry."
The company also believes investing to elevate the rider service experience is critical to developing the recent surge of new riders into life-long participants. And that is key to the health of the industry.
David Olson, BIEA Chair, Erik's Bike Shop, President said, "We are grateful for Fox Racing's leadership in supporting the mission, and they join a growing list of premium brands that see the value in building a better retail environment for the future. We believe if young riders can seek a two-semester degree at a cost of approximately $5,000-7,000 and walk into a retail environment on day one ready to handle 90% of issues with a professional manner and capabilities, it will be an important cog in the future of cycling growth in the US. Our goal is to open seven certified schools that can each certify technicians to fuel the future of an innovative and demanding stream of new cycling products from brands all over the world."
Jeff McGuane, CEO, Fox Racing said, "Rider retention is an industry-wide opportunity, and it is important for Fox Racing and other leading suppliers to join with retailers to expand this vision to elevate the rider service experience so we can all rise together and grow cycling."
BIEA Fact Sheet:
BIEA is raising $300,000 to get the first location off the ground to officially launch and certify technicians with the support of the Higher Learning Commission (HLC).
The plan is to expand to seven locations around the country as funding and accreditation is approved.
Technician programs exist because the industry supports the program. Minnesota Community Technical College is supported by the airlines industry and we need to support our Technician certification with support from suppliers and retailers who will benefit from the heightened skills and knowledge from education.
All board of director members are working for free to get this initiative off the ground so 100% of the funding goes to develop the programs to get students educated.
BIEA Accredited Bicycle Technician programs are launching this fall at MCTC in Minneapolis and at NWACC in Bentonville.
BIEA plans to expand their offerings to include one and two semester programs for individuals to continue their education and advance their career in the bicycle industry, including distribution, manufacturing and other areas in the industry as needs emerge
BIEA is dedicated to meeting the professional needs of the entire U.S. Bicycle industry and providing clear career paths through smart education solutions.
For more information or to make a donation, please visit: https://www.biea.org and foxracing.com
New SRAM Service Centre to Open in North Vancouver
SRAM announces the opening of its newest Technical Service Center in North Vancouver, Canada. The new location will provide Canadian dealers direct SRAM, RockShox, Zipp, Quarq technical service, paid service, and warranty processing.
Shawn Cruickshanks, formerly of SRAM's Race Department, will manage the new facility. "I'm very excited to contribute to SRAM's direct presence in Canada. We've assembled a great team and our goal is to ensure that dealers and consumers get quality and timely service. In the near future we will also offer dealers more opportunities for education and training," said Cruickshanks.
"The new office is going to be great for SRAM and the North Vancouver riding community," said SRAM MTB Brand Manager Tyler Morland. "Many of us have deep roots here, so being embedded in the community and having an official place to 'hang our hats' is going to be incredible. The impact other locations have had on their local cycling communities over the years has us all excited to have our home base in one of the most active and engaged mountain bike communities in the world. This marks the start of a new chapter for SRAM in Canada, and we're looking forward to endless opportunities."
The North Vancouver SRAM Technical Support facility will be fully operational by April 12, 2021. SRAM wants to remind Dealers that all purchasing will continue to go through HLC and LTP Sports Group and that both will also continue to provide warranty and paid service.