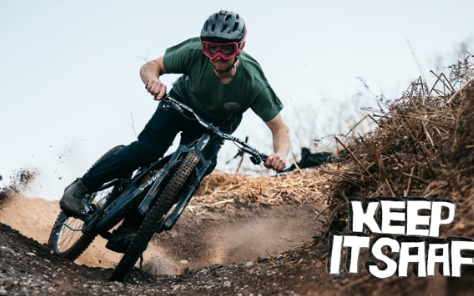 VIDEOS
Weekend Warmup #116
KEEP IT SAAF (Tom Caldwell)
Tom Caldwell did it again with another British edit. Makes me want to do terrible things to my healing shoulder. -Deniz Merdano
Text from Tom: Keep it saaf. Or south if you didn't get the accent pun. Joel Anderson and Matt Roe joined by a few other southern shredders at one of the souths most flourishing and best riding spots.
Shot / edited / produced - Tom Caldwell
Photography - Ian Lean
Soundtrack - RATM - Testify
Pedal Through (REI)
Pedal Through invites us into the world of director-lead Analise Cleopatra as she discovers the healing and joy of mountain biking. Analise had never camped or ridden a bike off the pavement when she decided to plan a week-long mountain biking adventure with an all Black female team: her best friend and fellow newcomer to the sport, DeJuanae Toliver, and professional mountain biker Brooklyn Bell. Together, they traverse the Oregon backcountry on an adventure full of exploration, curiosity, waterfalls, old growth forest, sparkling starscapes, and deep healing. With raw authenticity, Analise shares all the intimate foibles, fear, fun, and beauty of discovering her place in the outdoors. The landscape opens to greet her as she learns to lean into uncertainty, accept support and trust herself on this wild ride. ** CREDITS Cast: Analise Cleopatra Brooklyn Bell DeJuanae Toliver-Porter
One Year Alone in Forest of Sweden | Building Log Cabin like our Forefathers (Erik Grankvist)
This is inspiring to watch, but also really soothing because we're not subjected to typical YouTube chatter and questionable music. I left it playing in the background and would check in on it occasionally to see what Erik was up to. I also found myself reflecting on the fact that we like to pat ourselves on the back for completing maintenance or other small construction projects, but the act of designing a building your own home is something that used to be unremarkable for pioneering types, and yet necessary for survival. Anyway, it's about as distant as can be from a shreddit designed to pump you up for this weekend's riding, but maybe something you could put on while stretching before or after your ride.
Text from the builder/videomaker himself, Erik Grankvist: Sometimes we hear a call from nature. When I was 18 years old I ventured out alone with only a backpack full of simple hand tools to actualize my dream. Build my own traditional off grid log cabin by hand from the materials of the Swedish wilderness. Just like our Forefathers did. I had no previous experience in building, gathering materials or filming. So I started studying myself the old arts and learning from my grandfather and mentor Åke Nilsson. I began to cut down trees and film with my phone, learning as I go. My project started full time once I graduated high school in summer 2019. I filmed everything myself and edited this video so you can follow my journey and hopefully learn as I do. The tractor is a Ferguson TE20 "Grålle" from 1946, they were wildly used to move timber. In 1950 the first chainsaws came to Sweden but they were too big and heavy to be practical. I didn't want to take down every closest tree. So by using the tractor (also as a little tribute) I could haul a few trees from further away, about 150 meters. I would have loved to use a horse but don't have one. yet.. Please share this video with someone who would enjoy it after the year 2020. instagram: @erikgrankvist_
A Day In The Life Of A Trail Builder (PB / Christina Chapetta)
This is a great peek behind the scenes of a day of trail building that has a few techniques and bits of info you don't always see or hear about. Unlike trail building, this video is short and easy to watch - the real deal is hard work but super satisfying.
From PB: We spend a lot of our days riding trails, but how often do we help maintain them? Christina teams up with SORCA trail builders; Ben Haggar and David Reid for a trail maintenance day in Squamish.
Want to volunteer or donate to trail maintenance? Any time is a good time, but all the trail associations are gearing up right now for the work season. If you haven't joined your local trail association, please do - they will put the money to good use and the larger the membership pool, the louder the voice, which is important when they go to bat for you when dealing with land managers, municipal officials and other stakeholders.
In Squamish visit: http://sorca.ca​ for more information.
North Vancouver: https://nsmba.ca
Whistler: https://www.worca.com
Fraser Valley: https://www.fvmba.com
Sunshine Coast: https://www.cmbta.ca
Pemberton: https://www.porcabikes.com
DREW BEZANSON - ALL IN / DK BIKES (DIG BMX Official)
We may all be looking forward to getting outside and riding in good weather, but Drew reminds us that riding indoor parks is just another way the pros can put on a show and make us realize... why we're not pros.
Five Epic Lewis Hamilton vs. Max Verstappen Duels (Formula 1)
Lewis Hamilton is the 7-time world champ, and his Mercedes team has dominated the hybrid era. In that time, a much younger Max Verstappen has emerged as arguably the most talented driver in the field, having logged 10 wins with Red Bull despite not usually having a car quite as fast as Hamilton's. Nevertheless, they have had some epic duels in the past, and early season testing might have shown that Red Bull's car is as good as - or even better - than the Mercedes. The first race of the season is this Sunday in Bahrain!