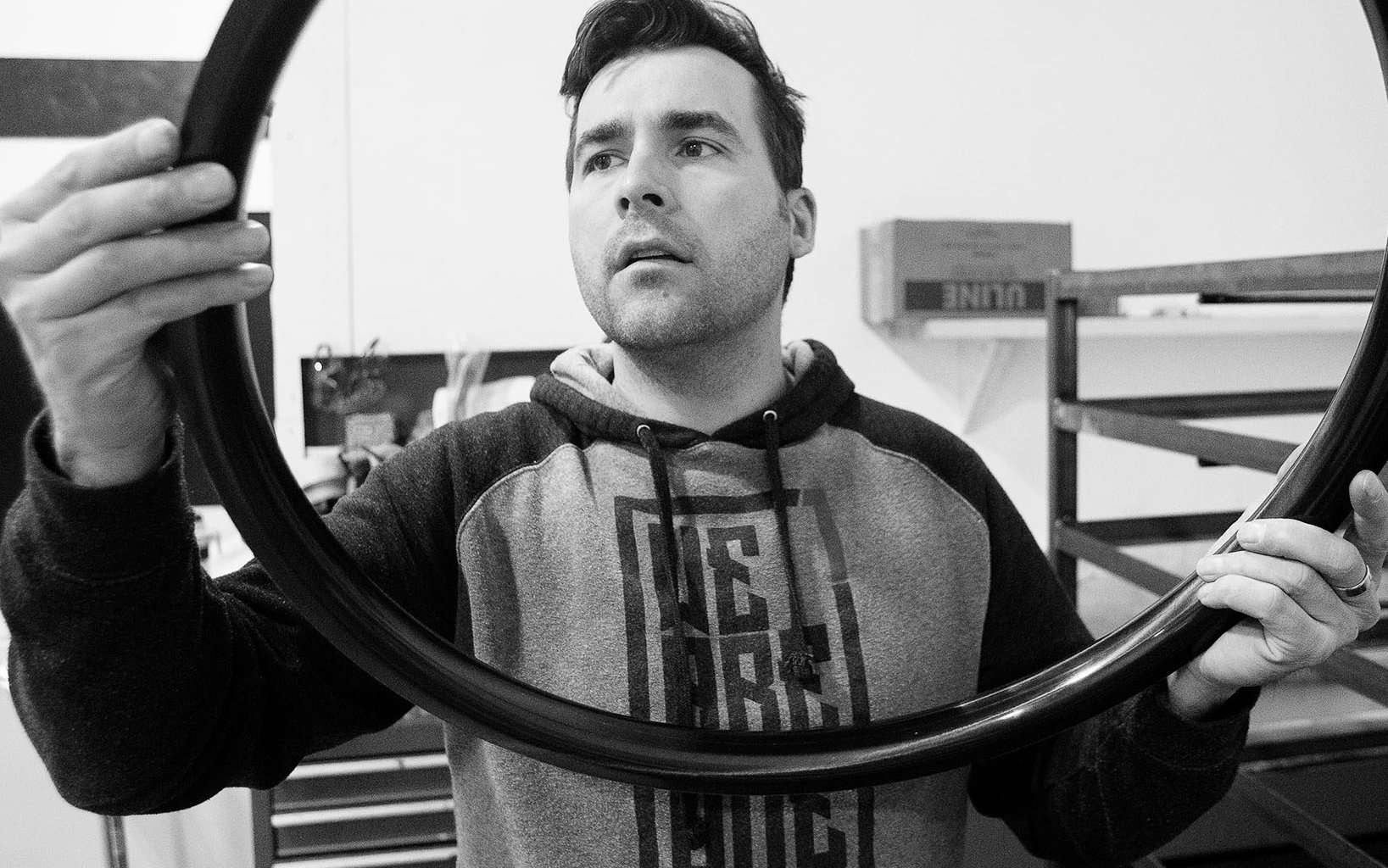 Industry Interview
WeAreOne Composites - Dustin Adams
Balls, audacity, confidence; generous helpings of each are required to be a pro DH rider. Figurative balls that is. Otherwise risking everything to get to the bottom first isn't likely for you. Next-level self confidence is a must; commit or eat shit as we used to say.
Dustin Adams was once Canada's most formidable downhill racer. He threw down with the top riders and managed some impressive results. In 2002 he was third overall in the NORBA rankings and finished 4th in a World Cup Round riding for Giant before budget cuts ended his career at his peak.
Dustin's audacity (and his figurative balls) have been on full display after deciding to start up a carbon rim and wheel manufacturing facility... in Kamloops B.C. I'll admit that I was pretty skeptical about this. In terms of quality and durability and manufacturing proficiency, how can a small startup compete with concerns like ENVE, Santa Cruz, SRAM and Mavic? How can WeAreOne, with a handful of Canadian employees, possibly produce a competitively priced product without large economies of scale and/or inexpensive Chinese labour?
My calculations failed to factor in a key element; Dustin Adams. After touring the small facility, along the Trans Canada Highway in Kamloops just across the CN rail line, I no longer have any doubts. Early reports on durability are excellent and you can pick up a set of WeAreOne Agent wheels for $1500 Canadian dollars (currently US $1225). There are less expensive wheels out there to be sure but you can also spend $2800 US ($3425 CDN) on a set of ENVEs.
Rather than try to explain what they are up to in my own words I decided to go to the man himself.
Cam McRae - After you retired from World Cup DH Racing the bike world didn't hear much from you for several years. Where did life take you after you stopped racing professionally?
Dustin Adams - It took me down many different roads, to be honest. At first, I went through the roughest patch in my entire life. Racing was who I was, who I wanted to be, and who I was known as. When it all disappeared, I had no identity. I struggled with depression for three years, dove deep into a bad spot and found myself in the oil fields of Alberta working. I jumped around from job to job for five years before I learned what I needed in my life. I found out that I was a self-starter, would work endlessly, and needed to create my path.
So, in 2009 I opened up a concrete countertop company that quickly morphed into a granite and marble countertop company. At the height, I had 23 employees and was running a fully automated countertop business and found myself too busy even to consider I had the past in Mountain Biking. It was the perfect patch to avoiding a poor situation. And in 2013 I sold that business, tired, with a broken back, and was thoroughly schooled on how hard business was. I ended up taking a year to travel the world with my young family and needed it badly. My wife, two-year-old, and four-year-old boys hit the road. And once again I needed to rediscover who I was.
Was the decision to move away from mountain biking for your career a conscious one? Were you tired of the scene?

I had been hit by a car in 2003 while training and badly injured my back and broke my wrist for the 3rd time. 2004 was contract year with Giant, and the industry was in a pretty big slump. Race teams were down sizing, and rides were shrinking or disappearing altogether. I had finished the 2004 season 3rd overall in the NORBA Series and a few top 10's at a couple of World Cup races. Giant did not entertain a renewal at all and didn't even offer a lesser contract than the previous two years. So I was cut from the team late in the year and had no options. I had a mortgage, bills, and life I needed to pay for. With no ride, a busted back, and body, a shitty taste in my mouth towards Giant, I said the hell with it and quit. One of the biggest regrets I have had to live with all my life.
What drew you back to the industry?
It is who I am. I have tried to push my love for the sport away. Rid of all my feelings towards the people who are involved in it. Sold all my bikes at one time. But no matter what I could not stop thinking about the sport. I found myself wondering how I could insert myself back into the sport I loved so much. When I was away on my trip with my family, we decided to move to Squamish when we returned, and my number one goal was to get a job in the industry.
What was your position at Nobl?

I was many things at NOBL. Part Owner, Operations Manager, Product Developer, Team Manager, Marketing Manager, Sales Manager, Demo Tour guy, racer and the list could go on and on. I developed the NOBL Hub with Onyx, negotiated the Canadian Distribution of spokes with Sapim Belgium, negotiated an automated wheel building line with Holland Mechanics, and was beginning to enter into the OEM conversation with some brands. It was a long year, and I accomplished a lot.
What was it about your experience at Nobl that made you want to do your own thing?

When I visited the factory, Light Bicycle, I was immediately over run with the manufacturing side in my previous business. I was shocked at some of the practices and wasted steps that were unnecessary to manufacture the product. We were working with Light Bicycle at the time, and I was shocked to learn that many of their OEM customers have never even been to the factory itself. All of these brands were relying solely on the trust in the factory and what landed at face value. The R&D was basic, and the engineering was very hard to improve on because the factory workers were set to produce volume and not a fine tuned layup. All I could think about when I was there was this could be done so much better, and to do so, we needed complete control over our manufacturing.

I still think people think I am joking when I tell them what we do. It is this perception that manufacturing composites in North America is not possible. But a HUGE portion of Aerospace composite work is done here.
Tell me a bit about WeAreOne and the philosophy behind the brand?

It is in our name. We are all one in this industry. Bike riders. I wanted to create a brand that was transparent and made all its customers, riders, and workers all feel like they were on the same level, and everyone knew what was going on with the product and the company. Our aim is to create "The Movement" of riders that support brands with the same philosophy in business and want to treat their customers the same way as we believe.
There are some other small entities like Nobl who market and design carbon rims, but even most of the large companies have their rims made in Asia. Did you consider going that route?

Absolutely. I considered it. Then I started to dive deep into the business model of a 3rd party sticker company/reseller. I went to Shanghai and toured a factory there that I had thought was a great possible partner. Timelines were all out of whack, they couldn't give me answers to the questions I asked, and I visited 2 others factories in Xiamen and Taiwan. Same result. I wasn't going to babysit a factory and didn't want to get a fixer to do the work. All I was going to end up with is a bunch of product I had no control over and using my customers as my test subjects backed by a big insurance policy. This model was not going to work for me and what I wanted to create.
What were some of the biggest hurdles you faced?

The largest one was getting people to take me seriously. I still think people think I am joking when I tell them what we do. It is this perception that manufacturing composites in North America is not possible. But a HUGE portion of Aerospace composite work is done here. Raw materials are superior and manufacturing components are cutting edge in comparison. So ya perception is a huge hurdle.
You managed to find the talent you needed close to home. Can you tell me about the team you have assembled and how that worked out?

Ya it was early in the summer I had made contact with an engineer who I was looking to recruit, and he turned me towards our engineer Fraser Andrew. Fraser had quit working for Rolls Royce, moved to Whistler to get into the bike business and had a great deal of composites engineering. He had a strong FEA (Fine Element Analysis) skillset and used it to begin our venture. His knowledge of test rigs, data analysis and capture, and mold process has been a huge help. Fran, as we call him, is a quick wee lad that makes us all pay on the up hills.
Gilles Corbeil is our head machinist. Gilles is from Manitoba and made a move to BC to ride and have the life he wanted for his family. He has had his Red Seal Machinist ticket for almost 15 years and was a mold making expert. Now he operates our Haas VM3 CNC Mill that makes all of Fraser's wild ideas. Or tells us "NO" and makes it better. He is a super fast rider and was once on the National XC team.
Shane Jensen and Wayne Parsons were my instrumental duo in building out the factory and getting it all set up. They head up our layup department where Fraser and myself have helped perfect the layup process and schedules with their attention to detail and hard work. Both of these guys have long years in mountain biking and have added a great amount of knowledge to the team.
How many designs did you go through before you got to a product you were happy with?

Well, I had a pretty good idea of what we needed to do to create a design that was not flawed and performed the way it should with my previous history. We took my data and Fraser plugged all the dimensions of the design, material data of our fibers and resins we were planning on using, and we used the strength of our FEA software to put us on the right path. Once we confirmed shape was ideal we then messed with a few layups that we needed to test and replicated and tested around 30 different schedules. All total we had used over 800 meters of Prepreg material before we were happy with our consistency and design of our layup.
How did that testing process go?

We would create a design with our software, and like what we saw, then we would cut, layup and learn that during the layup, it was not possible to do what we wanted. So we would adjust back and forth until we had a product we were confident that matched our FEA design. We would batch that out in 20's and test all the rims in both non- and destructive tests. Then compare the data. See where we needed to improve, what we could do differently in the process and if we needed to change sections of the rim to get the design to behave the way we wanted it to.
This is where we realized the strength of having our factory right here. We could change designs, layup, and test the first three samples in the same day. So development time had decreased dramatically.
Obviously, a carbon rim needs to be light and strong, and compliance has lately become the buzzword. How did you prioritize each?

We didn't have the luxury of manufacturing a complete line of 3-4 different widths and designs to come to market. So we had to pick our battle and segment and focus on making that rim the best rim for that segment. We chose our design for The Agent based on three things. Overall impact strength, lateral stiffness and radial ride feel. I think the buzzword "compliance" is something marketing guys use that have no understanding of how a rim behaves.
What sort of ride quality were you looking for?
We wanted The Agent to have immense impact absorption and not be overly harsh on the rider. We wanted the lateral stiffness to be high and not increase the radial stiffness as well. So shape and layup were key to achieving these in harmony.
Your process is quite different than the Asian manufacturers. What were some of the practices you saw there that you wanted to avoid or approach differently?

When I had my stone shop, we were trying to implement a LEAN Manufacturing environment where all the workers were competent at doing all the tasks and could fill in for one another at the drop of a hat. In Asia, this is the exact opposite. Labour is inexpensive, most of it is migrant, and they often throw bodies at problems before coming up with an actual solution. There are factories that have a very poor work environment, no PPE (personal protective equipment), improper ventilation, people dry sanding carbon fiber, the horrible chemical being used to melt EPS mandrels out of finished products...I have seen both sides, and none made me want to support it.
I've heard that the working conditions in some of the carbon manufacturing facilities are less than ideal. Did you encounter any issues?
There are all kinds of different businesses in the carbon bike market. Some are better, and some are not. The biggest thing we see in the carbon rim market specifically is 3rd party trading companies acting like manufacturers. This hides the actual manufacturer, and its practices, one layer deeper. So you never really know what they are like on the back end. These companies are selling directly to North America and getting customers to believe they are legit because of a fancy website and a few generic factory photos.
How do you deal with workplace hazards at WeAreOne?

We need to follow WCB and protect our employees. Everyone is briefed on MSDS, material handling practices and we supply PPE where necessary. Our process is based around no sanding, and the only dust that is created is during drilling. We have installed an industrial ventilation system to filter particulate and a vacuum system to rid of any air born dust that can be harmful. Right now we do not create or handle a lot of hazards in our process, and we designed it to be that way.
After having seen your operation I wouldn't hesitate to purchase your product, but before that, I was skeptical that you could build rims that compete with the large established players. What gave you the audacity to know you could produce a quality product at a competitive price here in Canada?
Experience. I knew that the fiber manufacturers here will not sell to China and that the raw product here is far superior. If anyone has ever made anything, they will understand that the better the raw good, the better the product. The business case was proven, the raw materials were available, the expertise was on board, and I had the experience needed to pull the trigger.
Your rims come out of the molds ready to be drilled without any finishing needed. Does anyone else do it this way?

Yes. I know of one other manufacturer that operates this way and suspect that one other does as well.
How does it work in the factories you have seen overseas?
I have seen many different kinds of processes in Asia. Pre-molded products, built in mold products, EPS pre-molded, woven, to name a few. The woven technology was very interesting.
What are the advantages of doing it this way?
Laying up in the finished mold allows us to debulk the prepreg and minimize any chance of imperfections. We can ensure that all of our layers are placed precisely and that our material does not flow or drift in the mold to places we do not want it to go. We have way better control over what the finished product will be.
How do you figure out a process that nobody else has been able to replicate?

Get your hands dirty and make it yourself.
You are in production now and selling rims. How has the response been?
At this moment we are two months into production, and we have been increasing capacity and learning our limitations on production. We are learning how many rims we can make in one shift. What we need to do to increase capacity and what we need to add more products to our offering. We are inching our way into the market and pushing sales to a manageable level to ensure we can give the customers the best possible experience without limiting quality.
So far there has been a good response from the retail shops, and we are growing that end. But there is some hesitation for sure being new to the block and doing something that has not been done in Canada before. We hope that our presence out in the riding communities and having our team riders prove these are the best rims on the market will begin to turn attention to our direction in due time.
Obviously, failures are going to happen with any product. Have you had any failures or other issues with production rims from sponsored riders or consumers?

This is a great question. For sure we have had some pre-production rims break during physical testing early on in the season. We used our team riders to race at a high level and see what no regard for equipment would look like. There were cracked rims, but no catastrophic failures..., i.e. five pieces of rims hanging from a hub. As we learned in physical testing what was happening with our riders' feedback, we were able to fine-tune and adjust for these and we have not yet had a rider crack one of our production rims (aside from Ben Wallace).
Now that you are up and running how are you feeling about the team you have put together and the product you have produced?
I am giddy like a kid in a candy store. There is so much I want to do, so much I want to make and so little time in a day. When I built up the first rim, we were confident in physically testing on a bike we had some many amazing moments. From the ease of tire installation to the pumping up of the first tire with no charger pump to trying to peel tires off at 15psi in the parking lot and not being able to burp them. It was all a pinch me kind of experience.
I think the biggest thing for me is that I know that we have one of the best rim products on the market. I have seen how it is made, what went into it, how it was engineered and tested, and how freaking strong they are. But I can only know that because of what I have seen in my past, the challenge is conveying that message to the consumers and earning their trust.
Now that you are up and running with the Agent are you going to expand your range?

Yes. We have just launched a DH specific rim called the Outlier. It is the same mold as we use for The Agent, but we have adjusted the layup to perform for DH and Park Rat riding. That will be available at Crankworx in a 27.5 rim-only format. We are milling our molds for our narrower-lighter All Mountain/XC rims as well and hope to have them ready by mid fall.
All up we plan on having five different rim offerings for 2017 and adding a Plus rim in 2018.
You are dealing with the most cynical consumer base mountain biking has ever seen. Many riders feel like the industry has sold them out by changing standards so rapidly in the past few years. Have you had to deal with any of that?

Absolutely. With the increased capability of FEA software, crazy hair-brained ideas can become a reality in short windows now. CNC and mold technology is rapidly improving, so development cycles have dwindled to nothing as well. I wish we would all agree to stick to a three-year product cycle like motorcycle manufacturers once did. Small refinements for three years and then change the game every 4th. But who am I....right?
Do you understand this cynicism?

Hey, I had to buy my first bike in 20 years two years ago. Absolutely I do. I thought this thing was a marvel and no way bikes could ever get better....well that bike is now obsolete, and I would struggle to offload it in the used market. It is completely understandable and the customer is becoming a one time customer for many companies.
What can you do to gain the trust of your customers?
Be as transparent as possible. Honesty in our practices, our products and how we go to market. There are SO many skeptics out there that want proof that your design is better and that you did your homework. I think with the speed at which changes have been made the market has grown not to believe a single word the marketing departments are saying. Long gone are the days of testing during the week and race to prove you're the best on the weekends. It is harder now to gain trust and have people believe what we are doing here than when I was in the same position at my last post.
Look, all we can do it be up front, get in front of as many people in person as we can and let the product do the talking. In the end, our product and policy will be the key.
Tell me about your warranty?

Our warranty is for 60 months, no questions asked. This is for impacts and breakages and covers the rim only. We do not cover wear parts, spokes, nipples, or labour. The hub warranty is covered by the manufacturer but serviced by us. We know that if our rims are built correctly into wheels and run at the correct tire pressures, they are the strongest on the market. And we want our customers to feel like we are not joking.
Is it for initial purchasers only or is it transferable?
Initial purchaser only.
What do you think is the biggest difference between your product and the rest of the market?

That we have created a company that is built around a specific process that ensures every rim is as perfect as possible. That we understand what makes a high-quality rim and what makes it behave the way we want it to. We can tell if we are making the best because our staff has the experience and knowledge to put our products through the paces they need to before we start production for the market. There is no compromise in our products and we are very proud of that.
---
Tim Coleman has been abusing a pair of WeAreOne wheels for us. Here are his thoughts thus far.
Some bike shops carry WeAreOne wheels or you can order directly from Kamloops. There is a lot of great info on the website - click here to check it out.