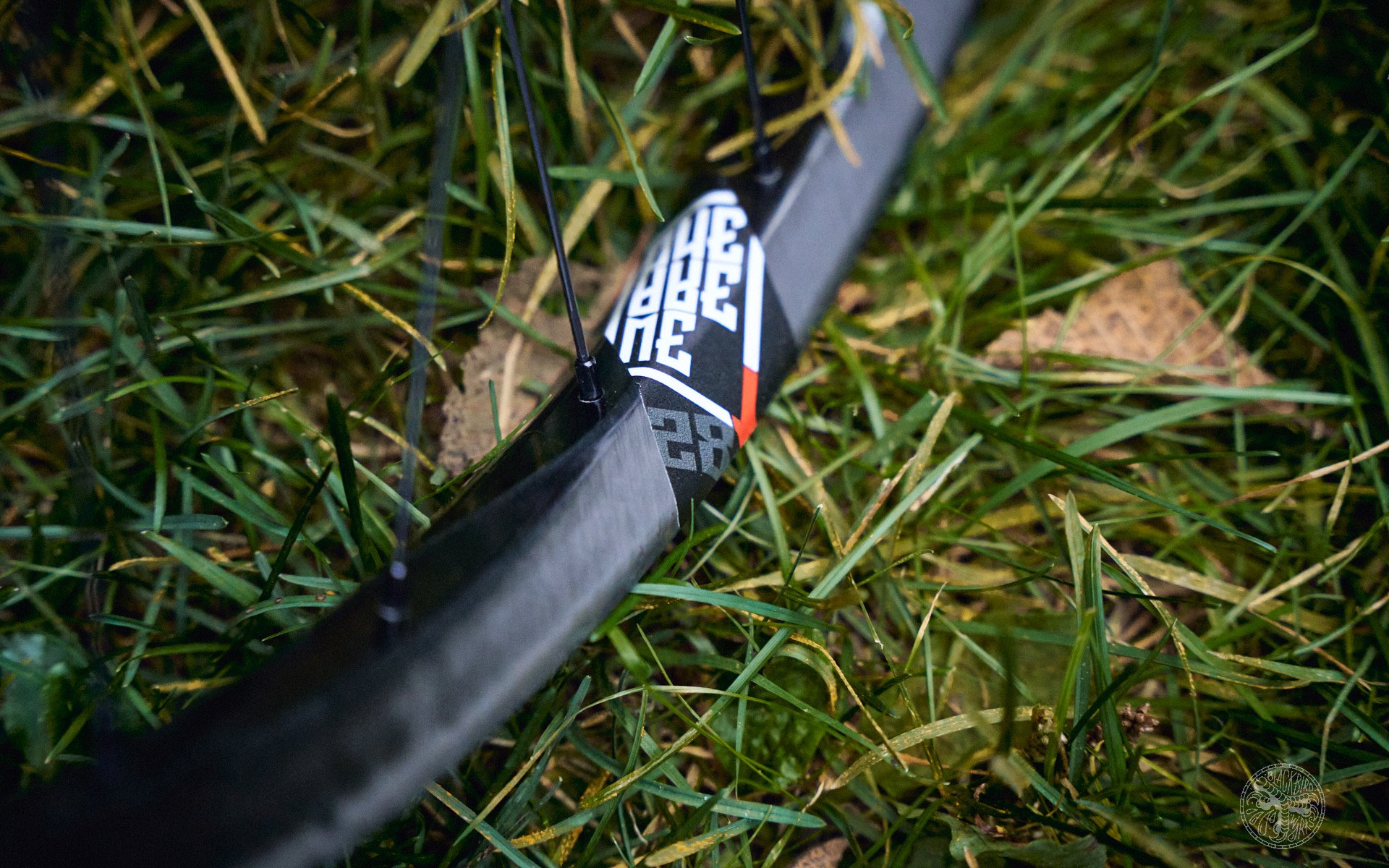 LONG TERM REVIEW
We Are One Convergence Wheelset
Made in Canada. For Canadians. And everyone else. Because we're nice like that.
It's been a long, cold winter, and while the weather hasn't exactly been conducive to bagging serious miles on a mountain bike, we North Vancouverites never really put the bikes away. What the winter has lacked in hours spent on the bike, it has made up for in utter punishment to the bike - and considering the frequency of crashes, botched lines and questionably low tire pressures that accompany winter riding, it's safe to say that I've been able to put We Are One's new Convergence wheels through the wringer.
In case you missed it, I had a quick first look at these wavy wonder hoops back in November when We Are One released the Convergence line to the world. Building on previous experience with their Revolution line, WAO developed the Convergence to realize further gains in durability, ride comfort and performance.
For a quick recap, the Convergence series features three tire bead widths: the 28mm Sector, the 30mm Triad, and the 33mm Fuse, and it's worth noting that all three widths are available in 29er size, while 27.5" is only available in the 30mm width. Complete wheelsets feature 28 spoke fronts and 32 spoke rears. While I really dig We Are One's branding and identity overall, I have to admit that the whole Sector / Triad / Fuse naming convention feels a bit cumbersome. I guess I'm just a numbers guy, and I appreciate any effort to avoid filling my head with extraneous information. Can I instantly tell you what bead width I prefer on a rim? Absolutely. Can I instantly recall whether that width corresponds to Sector or Triad or Daryl? Unlikely. We Are One got it so right with the naming of the Arrival 152 and Arrival 170, so I'm not sure what happened with the new rims. I'm willing to let the awkward names slide though, simply because they look so damn good. But as much as I'm a sucker for pretty bike bits, we all know that there's a lot more to a great wheelset than good looks - so let's dig into these 29er Triads* I've been rolling around on.
*(that's the 30mm bead in case you forgot already).
At the moment, the only standard Convergence build option from We Are One are rims laced to black Industry Nine Hydra hubs using black Sapim Race spokes and nipples. If you absolutely must have something different, WAO offers a custom wheel-building program that allows you a little more leeway in terms of rim, hub and spoke options. Of course, you can always order the rims alone and have your dream wheels built up however you want.
The I9 Hydra hubs found on the standard Convergence build are anything but standard. If ridiculously high freehub engagement is your thing, you've come to the right place. With an engagement step of 0.52°, only the fussiest of technical climbers will find something to complain about here, and off the top of my head, I only know of one hub that engages quicker, and that of course is the instantly engaging, sprag clutch-equipped Onyx Vesper (which is available through We Are One's custom wheel build program). The beautifully machined and anodized hubs complement the rim aesthetics, and whether you like it or not, the freehub body comes stock with that unmistakable I9 sound: loud, buzzy and expensive.
Detour ahead.
While I certainly wouldn't consider myself a fussy technical climber, I do have a bone to pick with the 0.52° engagement of the Hydra hub (WARNING: controversial discussion ahead!). There's been a lot of talk lately about the effects of chain tension on rear suspension (or lack thereof), and quite frankly, it's a horse that's been furiously flogged, with some very smart people on both sides of the debate. I myself fall into the camp that believes that there are fleeting moments where a typical (i.e.: not high-pivot, regular drivetrain) rear suspension system is negatively affected by chain tension. Steve from Vorsprung Suspension does an excellent job explaining the effect in this video - it's 14 minutes well spent, and will help you follow along for the next few paragraphs if it's a phenomenon you're unfamiliar with. Watch it, because I don't have the word count allowance to explain it to you.
The important thing to glean from Steve's video is that when the rear wheel is rotating quickly, chain tension is very unlikely to have any effect on the rear suspension, as the chain growth experienced by a bike sinking into its travel isn't able to "catch up" to the freehub body while coasting. On the other hand, a slowly rotating or locked-up wheel has a much higher likelihood of experiencing pedal kickback under suspension compression, as the growing chain has a better chance of engaging the freehub body, meaning your weight on the pedals will momentarily hinder your suspension from compressing freely. Where I start to disagree with Steve is on the actual amount of time our bikes spend in these low RPM scenarios.
In a perfect world, our tires maintain traction at all times, our wheels rotate in sync with the oncoming terrain, and the likelihood of chain tension affecting the suspension at any given moment is basically zero. But it's not a perfect world, and mountain biking is really just a game of how exciting things get when searching for that elusive traction. Particularly for those of us riding long travel bikes on steep, technical trails, I'm convinced that our rear wheels spend a lot more time locked up (or close to it) than we think, and it's these moments where chain tension can indeed affect the suspension. It's also these locked up moments where traction is of paramount importance. I obviously try my best to not lock up my 220mm CODE rotors, but when I do, the last thing I want is for 170mm of salvation to suddenly stiffen up and buck me offline when I'm already skidding or sliding at the edge of control. Pedal kickback is a traction killer. If you don't believe that our rear wheels spend that much time rotating slowly, if not completely locked-up, just have a look at the promo video for the very wheels I'm reviewing here:
There are a few expensive, heavy, and often complicated bolt-on gizmos out there that claim to reduce the effects of pedal kickback, but what if I told you there was a much simpler solution? You'll be disappointed to hear that the solution is low-tech, and not sexy. Hell, they're giving these things away with every bike these days. Of course, I'm talking about a low-engagement freehub body.
A freehub body with low engagement is less likely to cause pedal kickback while the suspension is compressing because there is more room to "float" between engagement points. All other things being equal, I can feel the difference in suspension performance between a very high engagement hub, and a low engagement hub. The effect is subtle, but it's there. I'm also convinced that being a flat pedal rider, I'm forced to be more keenly aware of what my suspension is or isn't doing properly.
With all that nonsense out of the way, you can start to understand why the truly slop-tastic 20° engagement on my DT 350 is the stuff of dreams for me. Of course, you're perfectly within your rights to think I'm wrong / crazy / stupid for my thoughts on freehub body engagement, and that's ok! Most riders aren't going to notice this minor effect anyway, and I'm the first to admit that a 0.52° engagement brings some obvious performance benefits while pedalling. Low engagement, high engagement... having choices is the best!
Now that I've thoroughly derailed this We Are One wheel review, you might wonder why I flew off the rails in the first place. Well, as you're about to find out, I couldn't really fault the Convergence rims for anything at all - and trust me, I tried to fault them. Being a mountain biker, I had to complain about something, and I sure would love to see the Convergence offered with some other standard hub options. Don't get me wrong, the Hydras are beautiful and sound way out of my tax bracket - I just wish they had 600 fewer points of engagement. I'm sure there are plenty of behind-the-scenes supply and SKU considerations that explain why WAO offers the Hydra as their lone standard option. If you're on board with the low-engagement movement, WAO does offer a custom build with the excellent Industry Nine 1/1 hubs. While not as bougie as the Hydra, they have been very reliable in my experience, and while 4° engagement isn't really that low, it's certainly lower than 0.52°.
Might be time to talk about the rims now.
Wheels (and rims in particular) are not the easiest things to review - you either have a miserable experience where rim issues can cause premature endings to rides, or a great experience in which case the rims fade into the background and you never need to give them a second thought. We've come a long way in the tech behind carbon fibre mountain bike rims, and gone are the days where we had to put up with the bone-jarring ride of warmed-over, fattened up road rims.
The Convergence wheels feel downright comfortable at all speeds, never feeling too stiff or fatiguing, but are among the most precise steering wheels I've ever experienced. One of the goals WAO set out to achieve was a more compliant ride compared to their Revolution line of rims. They accomplished this through a thinner radial cross section, as well as a different carbon layup. The result is a Triad rim that is claimed to be 28.8% less radially stiff than the equivalent Union. I've spent a fair amount of time on Unions, and while I had no real complaints, they were noticeably less compliant than other wheels I was riding at the time. The Unions were strong and precise, but after long hours in the saddle, I could definitively say they resulted in a bit more fatigue towards the end of the day.
The Triad rims are noticeably more comfortable after extended periods of riding, and I'd argue they might even hold a better line through variable trail conditions. In spite of the increased vertical compliance, I never felt like I was giving anything up when diving deep into berms at high speed. On sections of trail where other wheels tend to twist and squirm under heavy side loading, the Triads remain completely unfazed.
I reached out to Adam Marchand, an engineer at We Are One, and asked him to explain in layman's terms how they were able to make a rim that tracks so well, but remains comfortable to ride:
"Specifically with the Convergence, you're probably feeling the articulation of the spoke itself through the chunder. When you're plowing through a rock garden, the lateral stiffness of the rim allows the rim to squirm left and right to conform better to the trail, improving your grip but at the cost of cornering performance. Lateral stiffness is mostly dictated by the laminate itself, as changing the width to the rim impacts the feel of the tire compared to changing the cross section height to adjust radial stiffness. There is a fine balance to be struck here, as a laterally softer wheel will feel buttery smooth through rough chunder as the rim can move small amounts to get around obstacles, but will feel vague and inefficient through hard cornering. The Convergence takes this one step further by aligning the inside of the rim's surface to the exit angle of the spoke at each spoke hole. Because the entire nipple is in contact with the carbon inside of the rim as opposed to just a point, the nipple has a lot more freedom to move as the rim deforms through a rock garden, without needing to sacrifice lateral stiffness in corners. Of course, the radial stiffness does play into this as well by allowing the rim to compress and take up some of the harshness, but the "squirm" feel is dominated by the lateral rim stiffness."
Along with some other explanations from Adam, I've really come to believe that much of the magic of these rims lies in the design of the nipple bed. The fact that each nipple contacts the rim at an ideal 90° angle means that the lateral centre of the rim is securely locked in place for steering precision, while the carbon layup and thinner radial cross section allows the rim some compliance over chunder. As Adam stated, there's a fine balance to be struck here, and it feels to me like We Are One have nailed that balance.
The following video shows how the wavy cross section of the Convergence rim allows for an ideal 360° of contact for each nipple in the rim bed. Form follows function.
While we here at NSMB are huge fans of sticking chunks of foam inside our tires, I did spend my first few weeks with the Convergence sans inserts. A new set of Specialized Grid Gravity Butchers mounted and aired up easily, and while I wasn't foolish enough to dip into dangerously low tire pressure territory without inserts installed (even product reviewers dislike having to fix flats on the trail, and I'm one of those dummies who never packs a tube), the Triads were not treated gently. I've found that riding in the variable snow conditions we get on the coast can put weird forces on a wheel. Hard, crusty snow tends to grab your wheels and twist them in all kinds of unnatural ways, particularly when they sink down under a hard, frozen top layer. Broken spokes and wheels knocked way out of true are often the result of riding and crashing in the snow. 29er wheels compound the issue, as the forces encountered at the contact patch gain more leverage across the wheel build thanks to the larger radius of the wheel. I wish I had something exciting to report after months of this kind of abuse, but the Convergence wheels never skipped a beat, still straight as an arrow, and sporting all 60 original Sapim Race spokes, with no noticeable loss of tension. I think this outcome speaks to the quality of the wheel build from WAO as much as to the rim itself.
Notwithstanding my earlier rant, the Hydra hubs performed flawlessly throughout the review period as well. Interestingly, I realized that I was unconsciously changing my body position on the bike to help alleviate the pedal kickback during heavy braking. Historically, I've always tended to ride over the front end, as it keeps the front wheel tracking, while the rear end remains easy to unweight and throw around for course corrections. As 29er geometry seems to have settled down into a very stable and capable arrangement, I've strived to centre my weight "inside" the wheels more to take advantage of this stability. Old dogs, new tricks, amirite? With the high engagement Hydra hub, I found myself shifting back a bit, allowing my weight to plant the rear wheel more firmly into the terrain, reducing the likelihood of lock-up. It took me a while to realize I was making this adjustment to my body positioning, and I have to admit that I didn't immediately dislike it. While I still stand by my preference for low engagement freehub bodies, I feel like the minor suspension handicap has improved my riding position to better suit the long/low/slack 29er geometry that we're all still trying to figure out.
A good carbon wheelset always seems expensive at the outset, but if you're like me and accustomed to sending a small fortune worth of alloy rims to the recycling bin every season, carbon done right can make a lot of sense financially. We Are One seem to have done everything right with the Convergence - they are as comfortable to ride as any alloy rim I've tried in recent memory, but bring the precision and low maintenance of carbon. When you factor in the peace of mind in knowing that if you manage to break a rim while riding, We Are One will replace it no questions asked, 2,000 CAD starts to sound pretty reasonable. At the time of publication, WAO are even including a free set of Maxxis tires included with every Convergence wheelset. TWO Maxxis tires for FREE!? That's like a $700* value these days (asterisk for sarcasm -Ed)! If a $2,000 wheelset is hard for you to justify, WAO still offers their Revolution rims and wheelsets at a substantially lower price point. A Union wheelset built on Industry Nine 1/1 hubs can be had for 1,400 CAD. - an absurdly good value, all things considered.
We Are One leave very little to be desired in their new Convergence line. Would I like to see more standard hub options? Sure, but at the boutique end of carbon wheelsets, it's hard to swing a cat without hitting a Hydra hub, so We Are One is in good company. Here's hoping that the freehub engagement discussion leads to a fresh outlook on what constitutes "high performance" when it comes to hubs.
With durability and ride quality that easily keep up with the best of the best, it's ironic that these Canadian hoops are less expensive than many of their foreign-made counterparts. With the arrival of Convergence, I suspect the competition will all be sharpening their pencils for some time to come.
Convergence - Wheelset / Industry Nine Hydra hubs: 1,999 CAD / 1,799 USD
Convergence - Rim Only: 605 CAD / 475 USD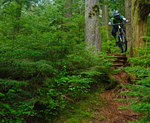 Ryan Walters
Age : 40
Height : 1803mm
Weight : 86kg
Ape Index : 1.03
Inseam : 787mm
Bar Width : 780mm
Preferred Reach : Pretty comfy at 487mm these days.