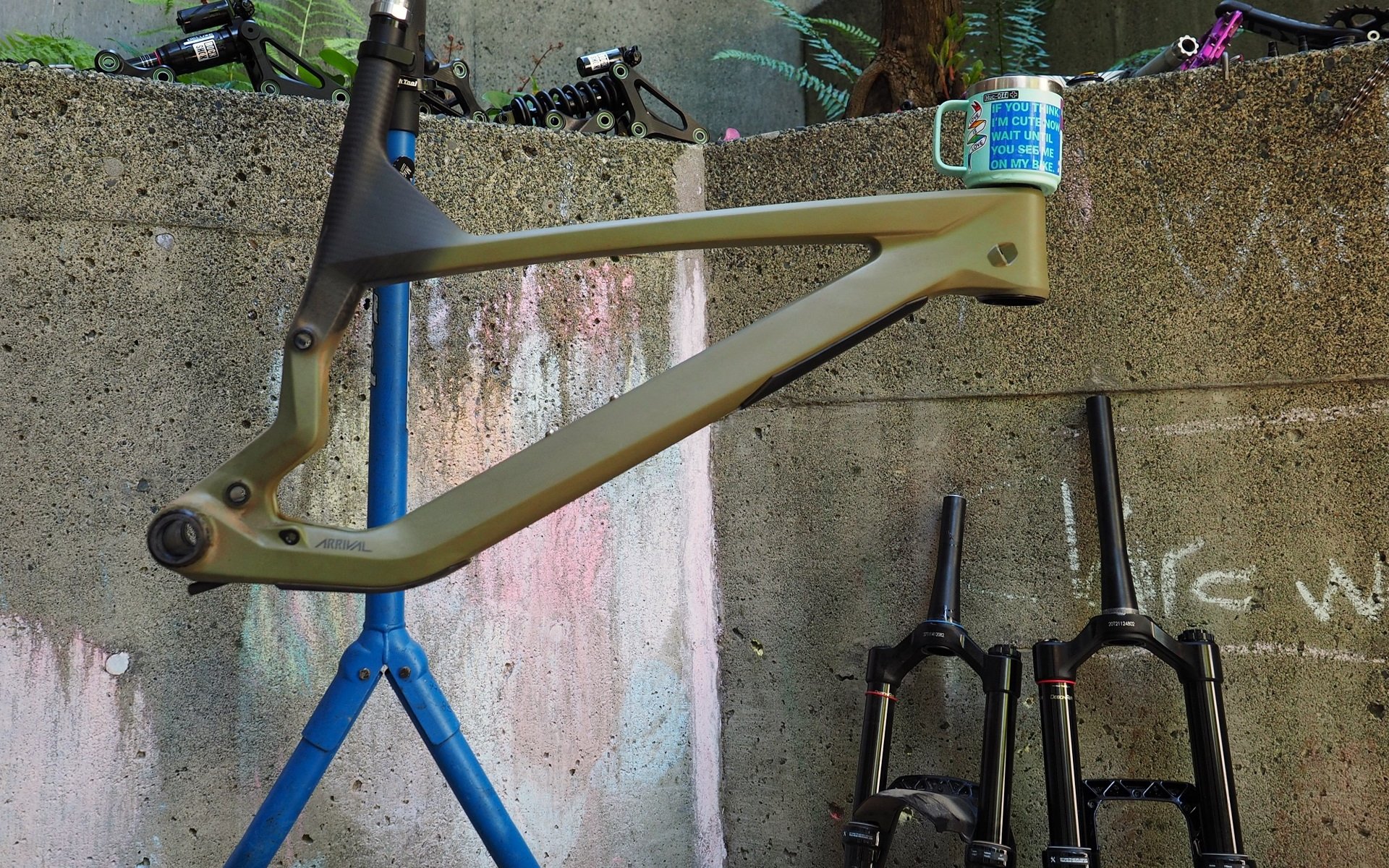 RELEASE | EDITORIAL
We Are One Arrival Updates: UDH & Mullet Inserts
Pulling Teeth
So long folks! I'm leaving the bicycle industry for a career in dentistry. Bespoke, min-max, old-timey retro-dentistry to be more specific. Just me, my Knipex parallel pliers, a complete Park Tool pick UP-SET, plus a couple of quad-packs of Beere Brewing's Mental Floss to get us both in the mood for me fettling your chompers. We can skip over the finer details for now; all you really need to know is it's cash only and my unmarked white van comes to you. For convenience.
What's really exciting about my new gig though is the fleet of Kamloopsian super-bikes that I'm going to be ripping around on. All with identical builds aside from forks, shocks, and rubber. Arrival 130 for XC and fast trail riding, Arrival 152 for faster trail riding, and Arrival 170 - mulleted of course - for Enduro riding. My AXS battery charging rack is going to be more impressive than a Powerwall.
Make that my SRAM Transmission battery charging rack, now that the Arrival frames are Universal Derailleur Hanger (UDH) compatible!
Alright, hold your molars! Don't report me to Oral Health B.C. just yet. It's just my attempt at a little ice-breaking. I always get a little jittery when I'm reviewing luxury-level mountain bicycles. I've seen photos of myself riding the We Are One Arrival and I know that I look like f*cking Red Green driving a Bugatti. Every time I'm working on the Kamloops-made carbon coup I have to fight the urge to cover it in Gorilla Tape just to Andrew it up a bit.*
*TBF, there's very little Gorilla Tape on this custom-painted, one-off, tailor-made-to-Andrew frame! ;) Ed.
How about you go ahead and take your teeth to someone who knows a cuspid from a canine,* we go halfers on the Beeres, and I'll just ride a single We Are One Arrival, but with three sets of links and a few different forks. The We Are One Arrival will even be previously used. By me.
*apparently these are the same thing?
When I returned this rig, in October 2022, I didn't expect to find myself throwing a leg over it again. The crazy-fast Arrival 152 simply wasn't a bike for me: "Pump the bike, it shoots forward. Land a little drop, and it rockets forward. Slam a corner, it teleports forward."
To confirm fully, I understand my discomfort is not down to the bike, but rather the skills and trail reading of the rider. I don't have a go-fast bone in my body.
"In its stock guise, the Arrival 152 is not a good plunking mountain bike. It doesn't do casual riding and if you try to force it, the experience isn't something you'd find me willing to fork out 10K CAD to ride. I hit my chainring countless times but that's not because the bottom bracket is too low, it's because I was going much too slow. I'm out there trying to slowly pop over rock features and the We Are One is screaming at me to just hover above the ground."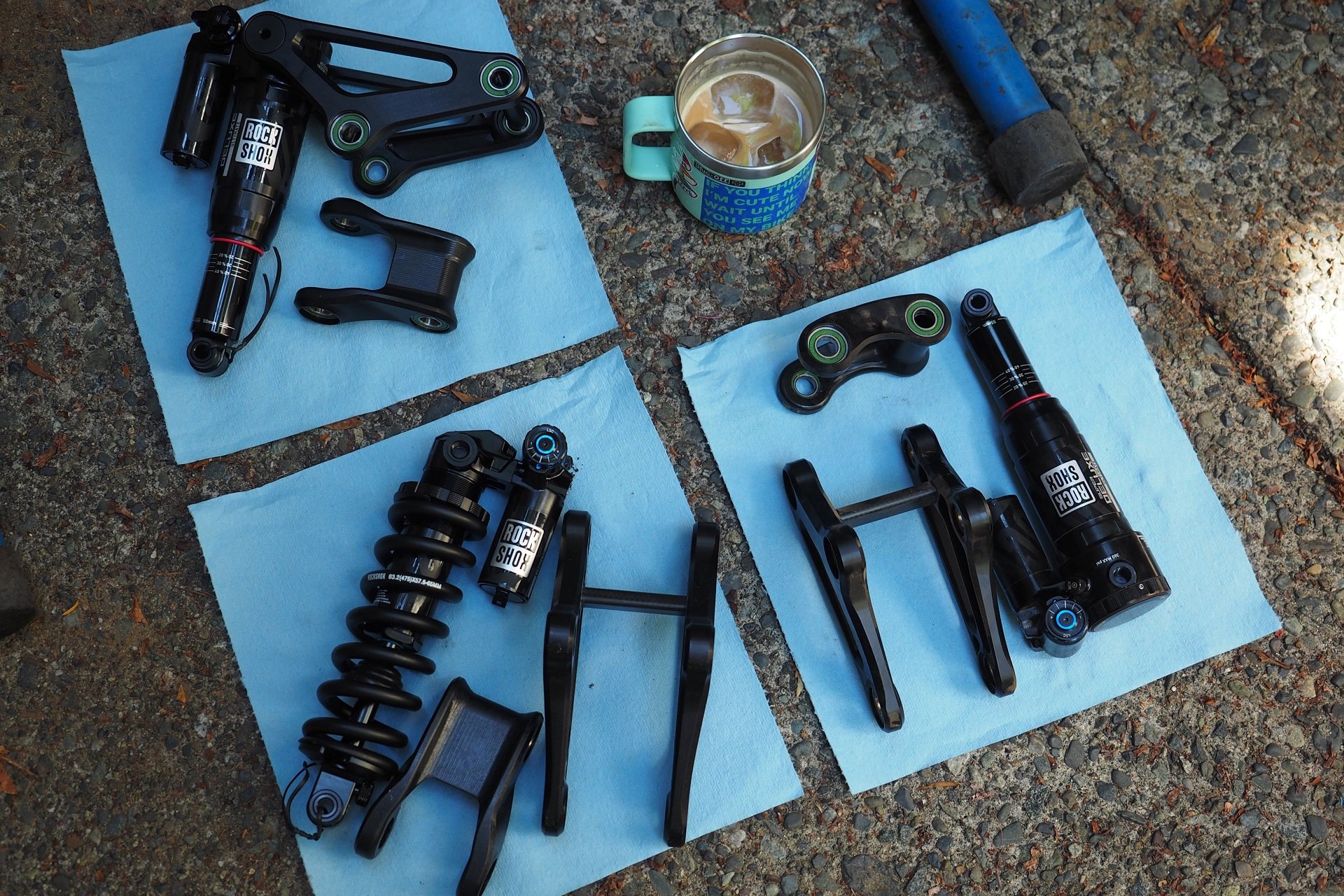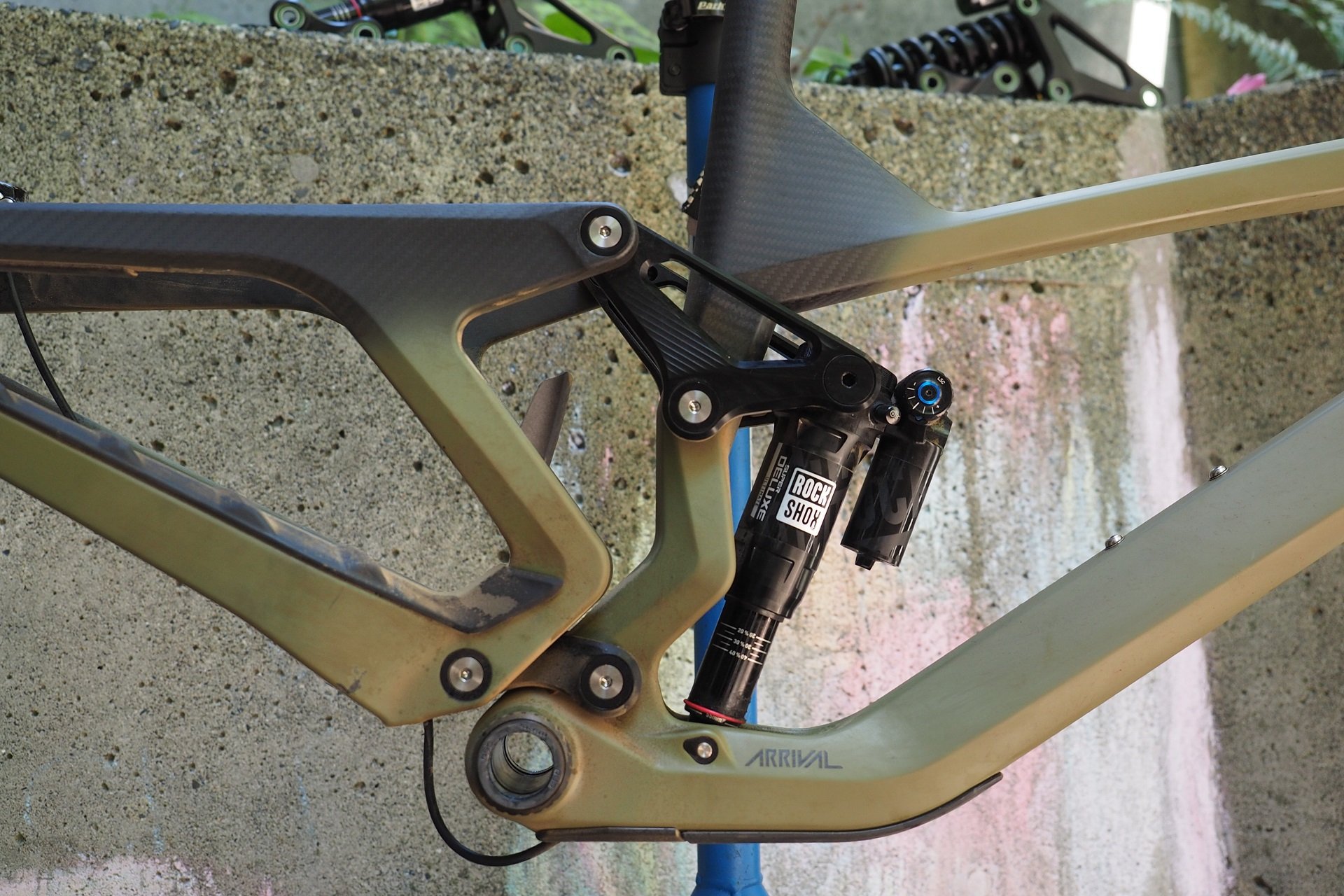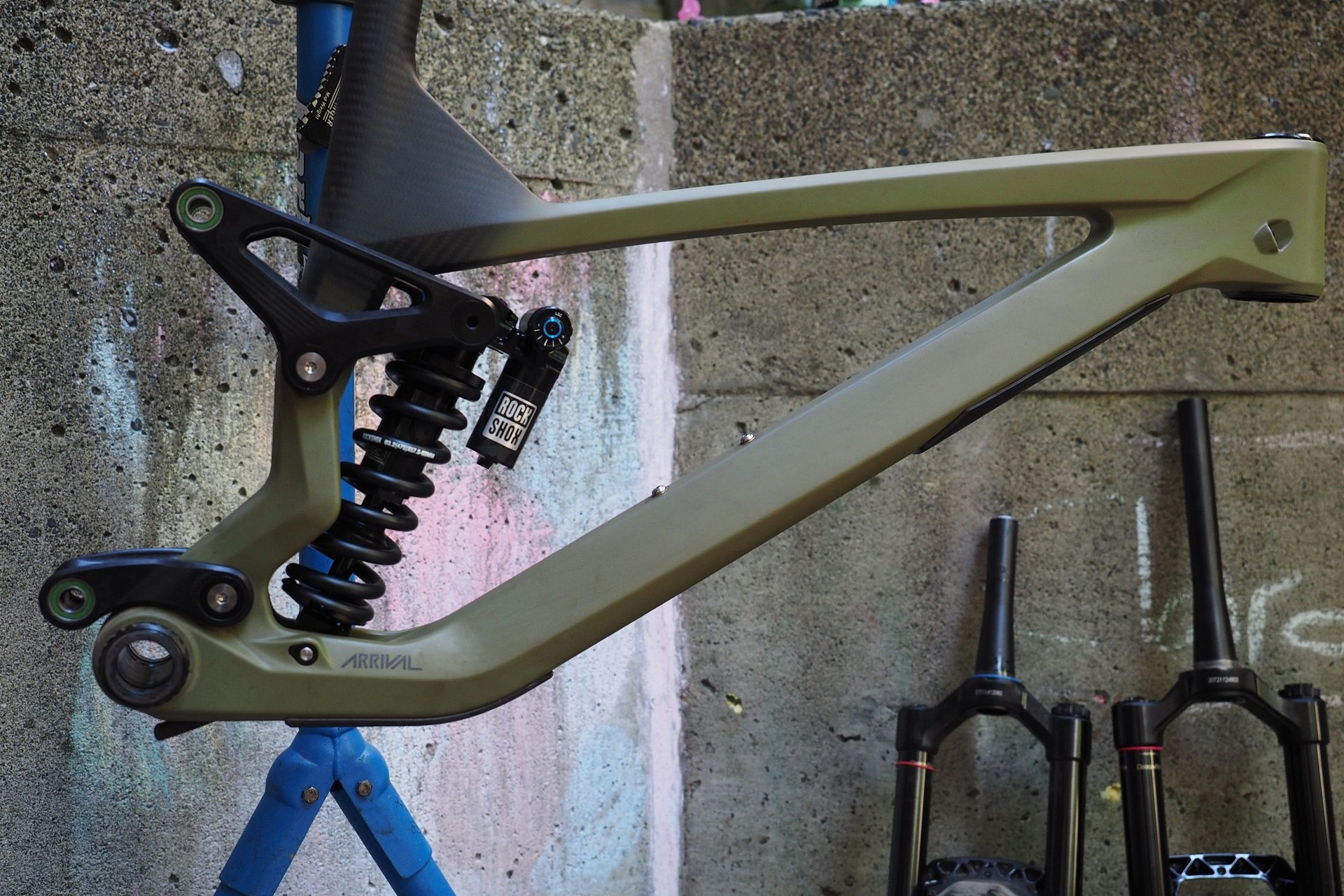 Mullet Flip-Chip
In addition to running the UDH, the updated Arrival rear end has a mullet flip-chip. This really pisses on my breakfast cereal. I'm 100% all-in on mullet bikes. I love that We Are One has made this change. Compared to a dual-29" setup I feel like I suddenly know how to corner and at 5'9" I sometimes appreciate the extra tire clearance for my bottom.
What's my issue then? I love an improved chainline as much - and probably more - than the next person, but Super Boost-157 (SB-157) means that my mullet wheelset doesn't fit. I had heard a rumour from multiple channels that We Are One was switching to Boost-148 with the move to UDH but that isn't the case.
Next Impressions
This is an opportunity for me to look at a couple of different animals - I mean, Arrivals - and talk about the relative value of a bike that can be built into three unique platforms by swapping links, a shock, and fork travel. It's here that I'll briefly lament RockShox's decision to can the 170mm Lyrik air-spring option for the 2023 model. Otherwise, I could have run all three builds with the same fork.
I currently have the bike built up as a 170/170 rig and my first impressions are that this suits me much better. From the first pedal stroke I could tell that the 170mm guise of the Arrival still has all the climbing chops I need but instead of riding on the edge of my credit limit, it now has the amazing forgiveness of a taxpayer-funded bailout loan.
I called that in my review of the Arrival 152 SP1:
"Or, you could just go to an Arrival 170 upfront and save yourself from being weighed and measured by your own bicycle."
I have to acknowledge an oversight. I failed to put a stopwatch on how long it has taken me to jump from one build to another. That's to drop the wheels, drop the fork, swap the (now) split crown race, and swap both links and the shock. It's definitely less than half an hour. I can probably do it in fifteen minutes if I'm not enjoying a beer or iced coffee at the same time. I will update this when I swap from the Arrival 170 setup to the 130.
I haven't ridden the Arrival 130mm yet, but I'm going to swap the links and toss on the 140mm Manitou Mattoc 34 I'm reviewing tout de suite. Despite having not ridden it yet, the magic combo for creating value in my mind is to ignore the existence of the Arrival 152 and instead have a kit to run the Arrival as both a 130 and a 170mm bike. Maybe with two sets of wheels, although swapping tires isn't too difficult.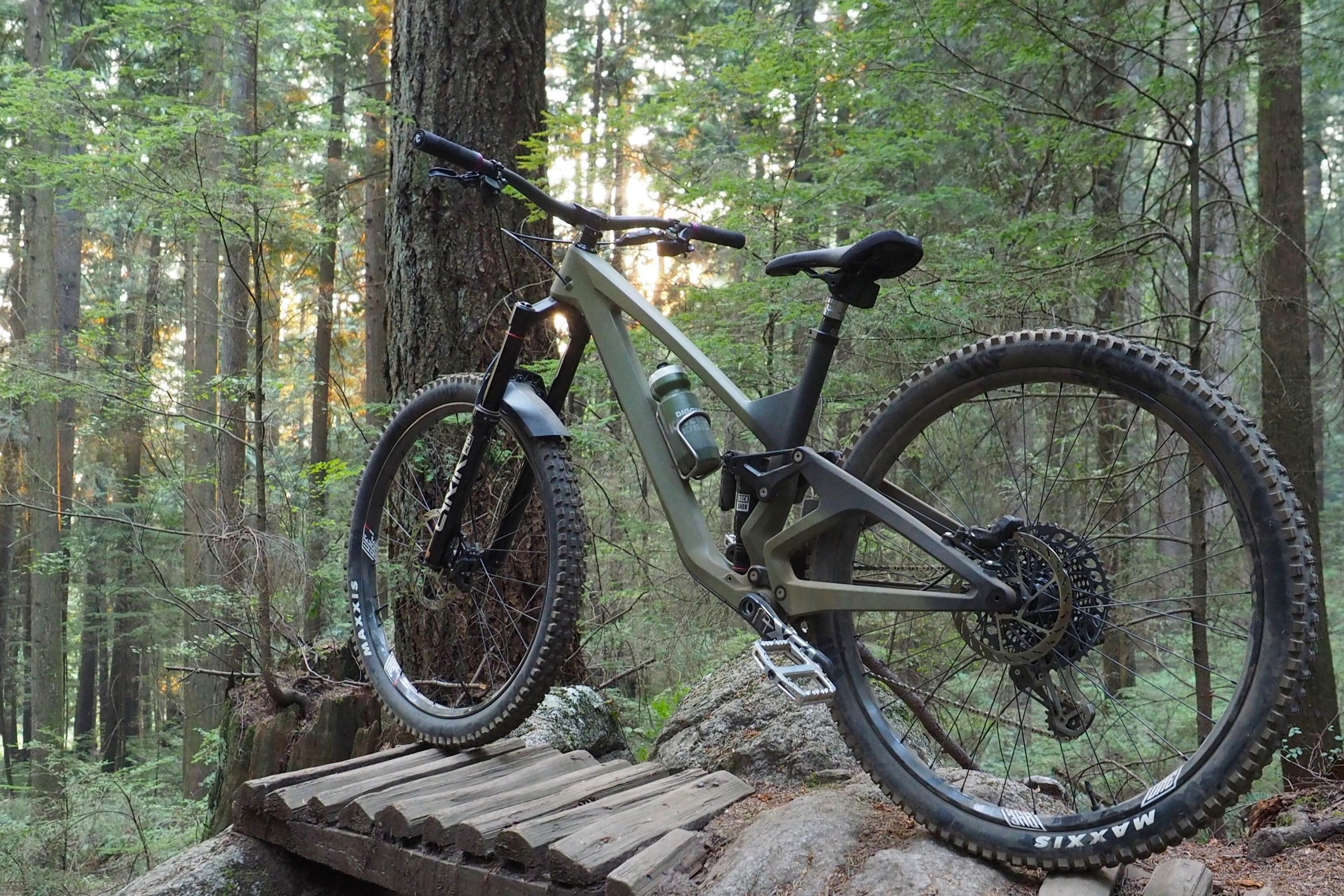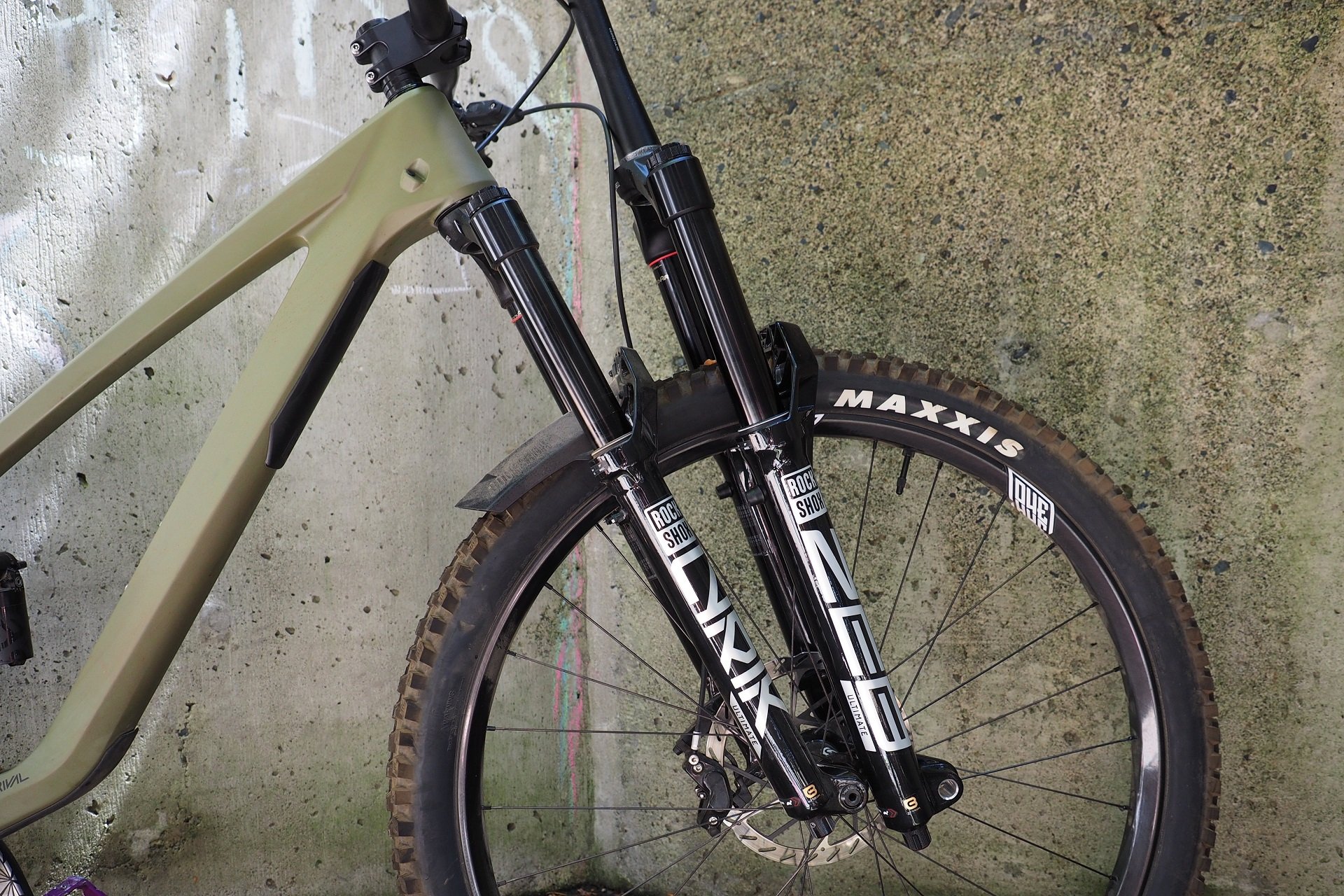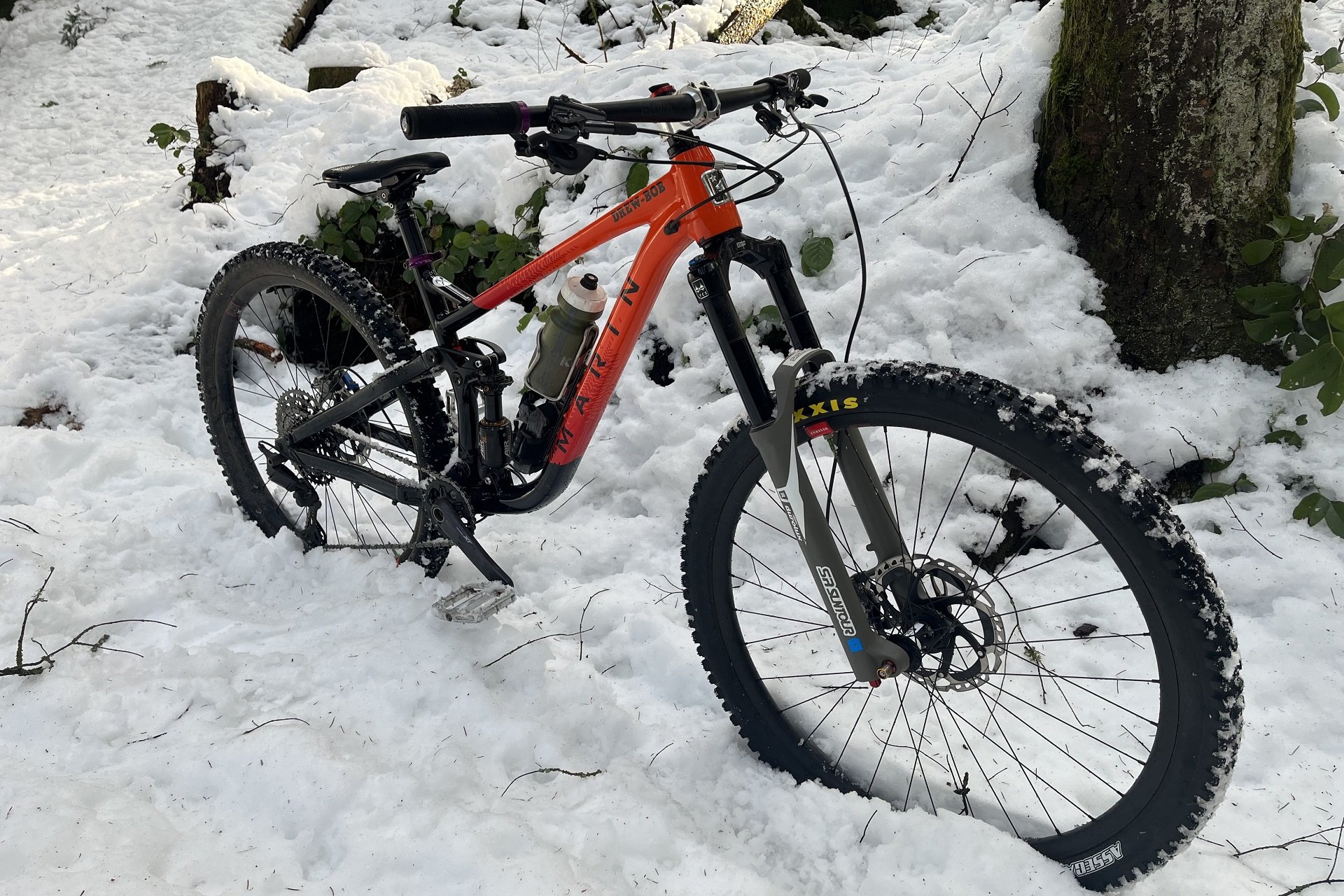 Speaking in the common tongue - AKA Maxxis rubber - I'm thinking of a Forekaster rear and DHF front tire on the Arrival 130 and then a DHRII rear and Assegai front for the Arrival 170. The Arrival 170 deserves a DoubleDown casing and/or a tire insert at least for the rear tire.
I'm not swimming in rubber so I'll be making do with the stock tires off the Arrival 152. That means EXO+ casings and MaxxTerra rubber with a 2.4" DHRII out back and a 2.5" Assegai up front. With the confidence boost from the 170mm travel setup, I burped the rear tire badly on my first ride.
I've since installed CushCore's new Trail insert just in the back. The Trail model is meant to act more progressively than the Pro inserts I'm used to and also weighs closer to CC's XC inserts. More on the Trail inserts soon.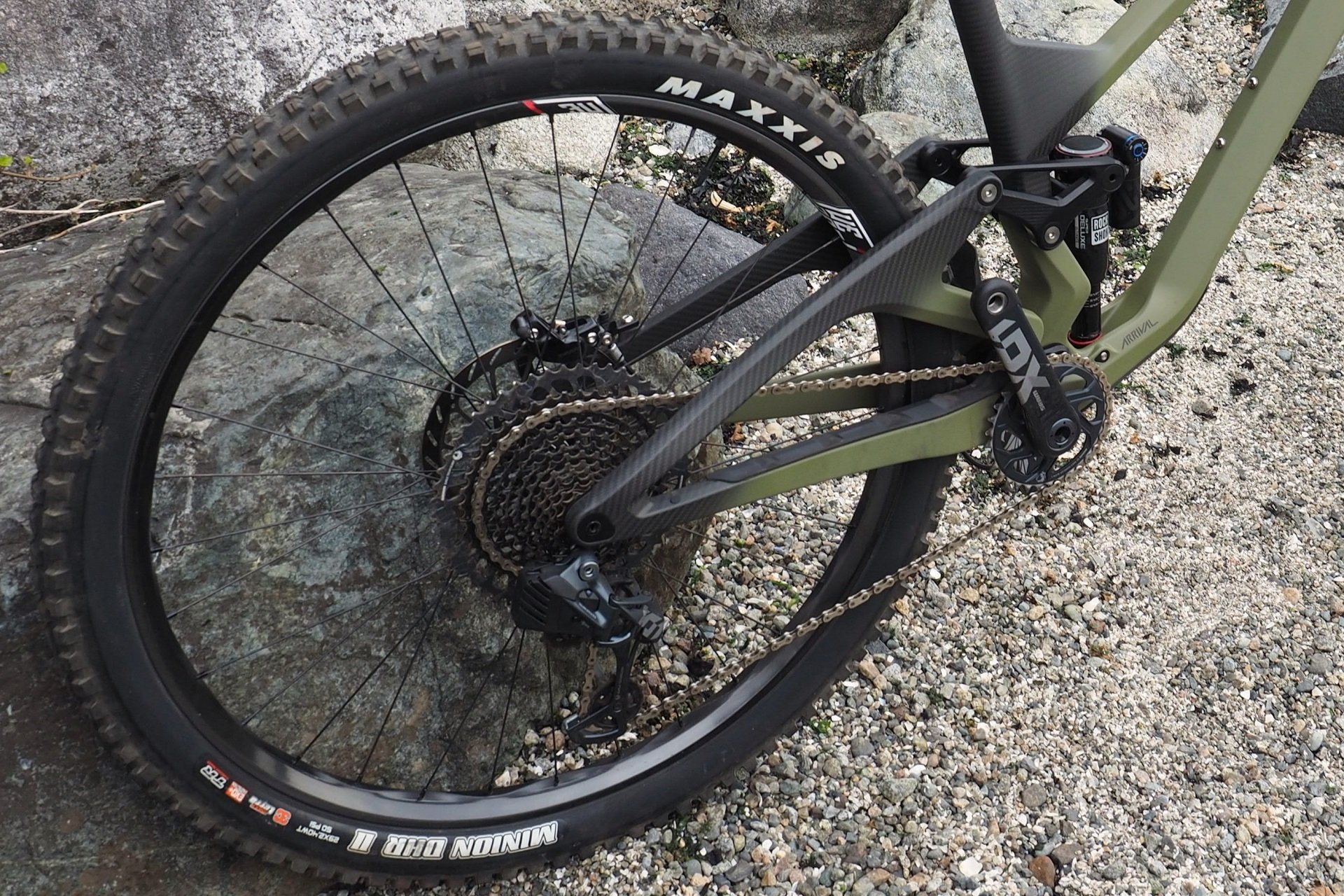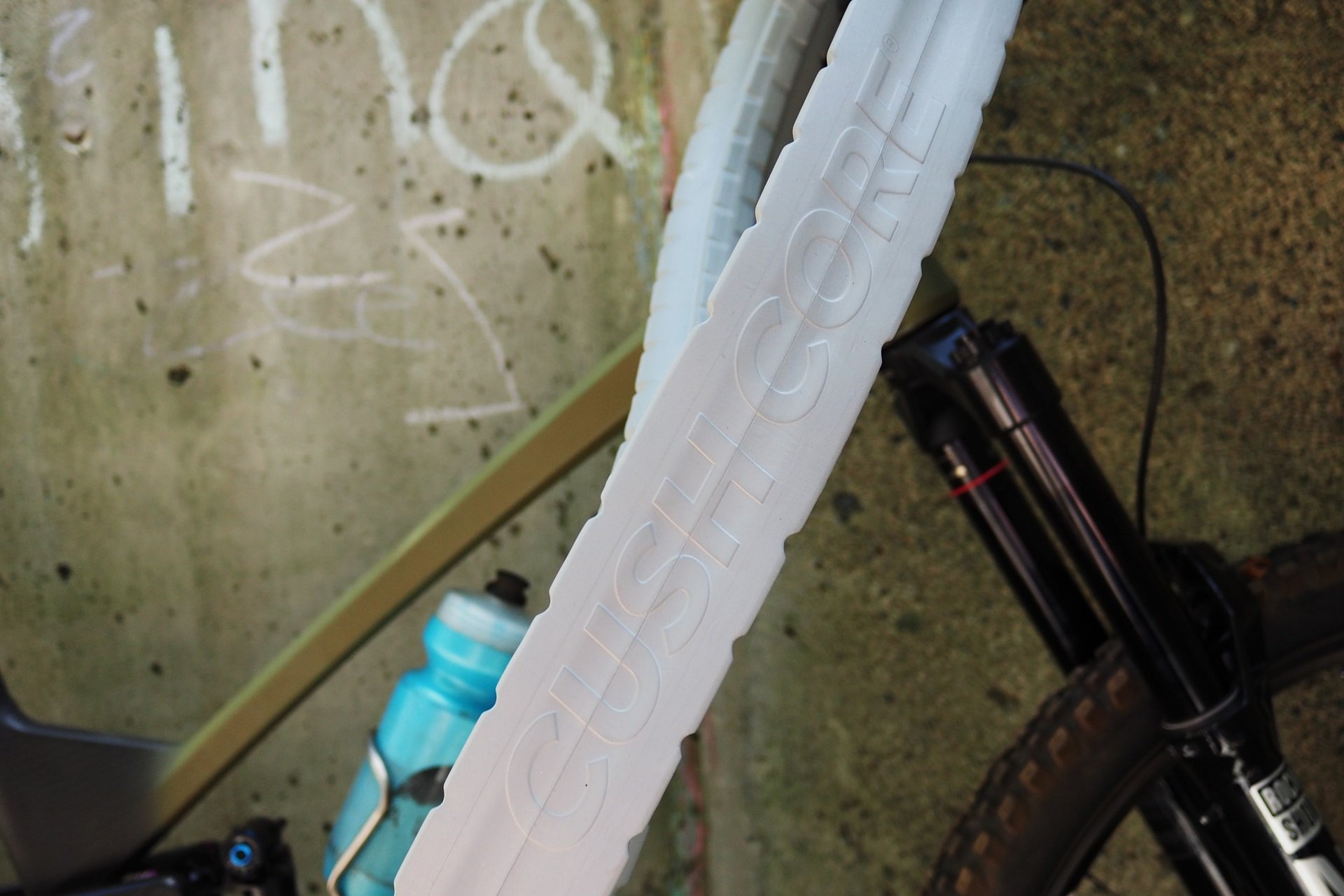 We Are One calls the Arrival 170 "a proven and unapologetic Enduro weapon that punches above its weight class." In their words, the Arrival 152 is "a non-compromising trail bike that provides the rider with confidence and inspires them to push the boundaries and explore new heights." About the Arrival 130 they say "If you're a rider looking fly up the climbs and demand a nimble, playful whip, enter here. [It's] designed for riders who value efficiency and want a bike that can handle ripping a descent."
It's pretty neat that all that separates these frames is a pair of aluminum links - also made in Kamloops - and a rear shock. Realistically even a rider who's handy at swapping air shafts is going to want two forks and maybe even two wheelsets. Still, considering price of superbikes these days, owning one Arrival that can easily be swapped between multiple use cases looks to be a much higher value than two or three different bikes. Especially with top-end T-Type drivetrains.
I'll be back to further this discussion once I have a suitable number of hours on both the 170 and 130 platforms, to add to my thoughts about the Arrival 152. In the meantime, you can order a fresh UDH/Mullet-compatible rear end and check out everything Arrival at We Are One Composites.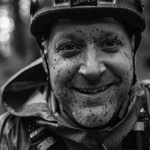 Andrew Major
Height - Steve Buscemi-ish
Wait - Patiently
Ape Index - T-Rex
Age - The same as DOS
Favourite Trail(s) every week - Pipeline (thank you Ken!) to Lower Crippler (thank you Andy!)
Favourite Song(s) this week - I'm Your Man. Nick Cave (covering Leonard Cohen)
Favourite Colour - Cosmic Lilac
Bar Width - It depends
Reach & Stack & ETT - It depends
Crank Length - 175mm except when it's 170mm
Wheel Size - Hot For Mullets