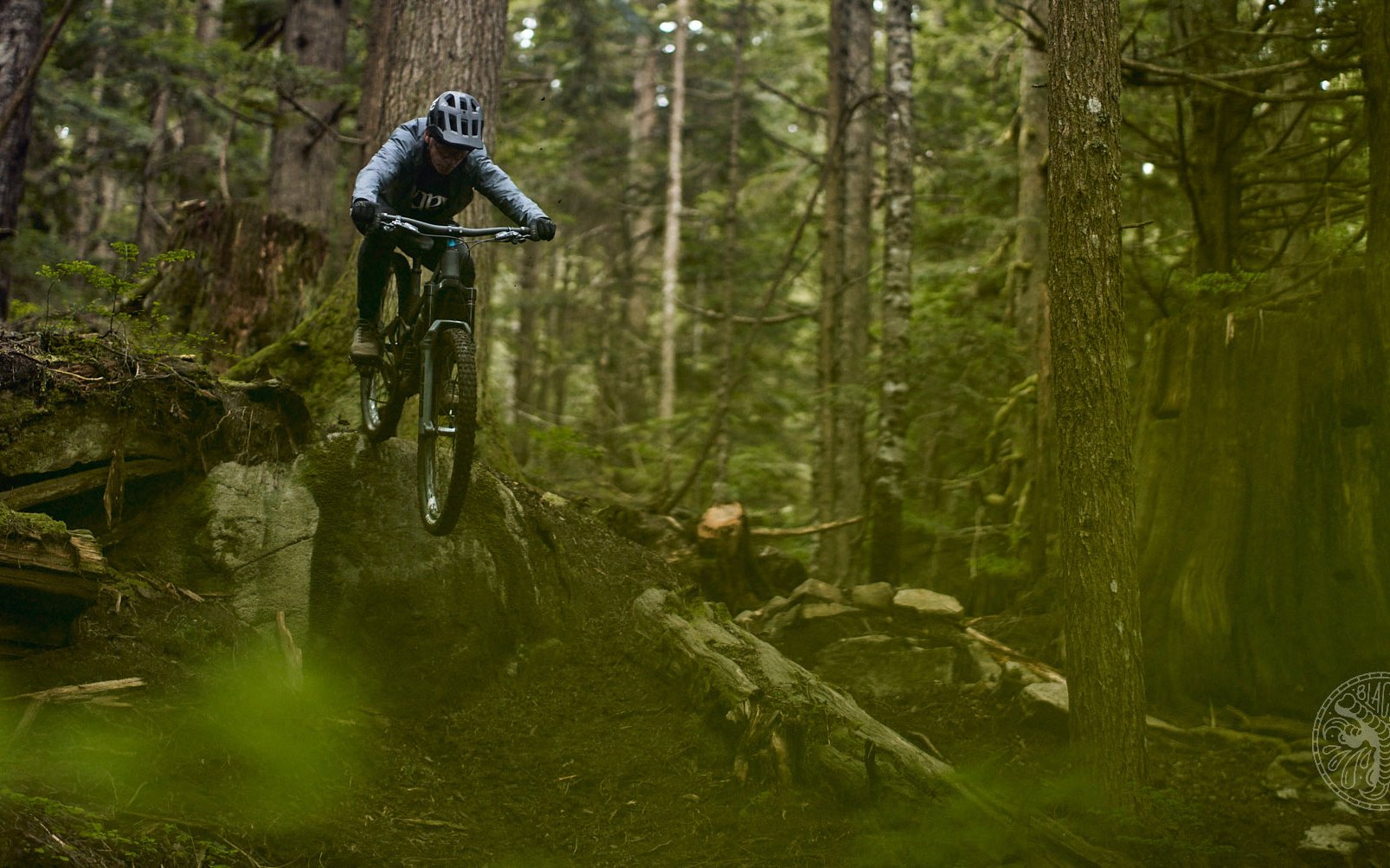 First Impressions Review
We Are One Arrival 170 w 2023 Rockshox Super Deluxe Ultimate Coil
I didn't plan this to be a review bike but I can't shut up about it. I had been waiting for a shock to use on a We Are One Arrival 152 as a new platform for review parts and the 170 mm version of the Arrival seemed off in the murky and distant future. And then Dustin Adams dropped a bomb at Sea Otter and said, "we should get you the 170 links." The excitement of hearing that, combined with too much cheap American beer, made me pee my pants a little. I enjoyed riding the shorter travel Arrival 152, and if I lived somewhere else it would be a great bike for me. But I don't live somewhere else and my goal all along was to get my tentacles around the bits for the We Are One Arrival 170.
As any mountain biker knows, the current supply chain is still missing several links and it was even worse in the early summer. What seemed like it would take days, took weeks and I missed the chance to test the new RockShox Super Deluxe Coil before it launched. And then it was attached to the We Are One Arrival 170 which WR1 asked me to keep (mostly) under wraps until yesterday.
The first question everyone seems to want answered is: does the 170 ride differently than the 152 or is it just the same bike with more travel? The answer is a resounding yes. The 152, with seemingly high anti-squat values and a recommended sag of only 20% is not the most forgiving machine on the market considering its generous rear travel. It climbs incredibly well and, under the right pilot, it can go downhill at an alarming rate, but it's not best suited to the most challenging technical terrain or your average EWS course. The 170 on the other hand is designed to sag at 30% and has a much more plush, stable and forgiving ride. It's the sort of bike that encourages you to go over your head a little at speed and reach for that gap. Despite its forgiving nature it also handles the slow and janky just fine and is maneuverable in tight and complex terrain.
My first few rides were slimy ones on MaxxTerra rubber but the bike managed to shine through the muck. The hesitancy I felt on certain moves on the 152 version was eradicated with two links and a longer stroke shock. This is a bike that is eager to get into the meat of its 18mm-longer travel.
I should correct that statement for the uninitiated. There isn't really a 170 version of the We Are One Arrival. There is one main triangle (per size) and one rear triangle. We Are One built a modular bike that can morph from the original 152 mm version into a 130 mm version with only a link swap, or to a 170 mm version by swapping both links and the rear shock.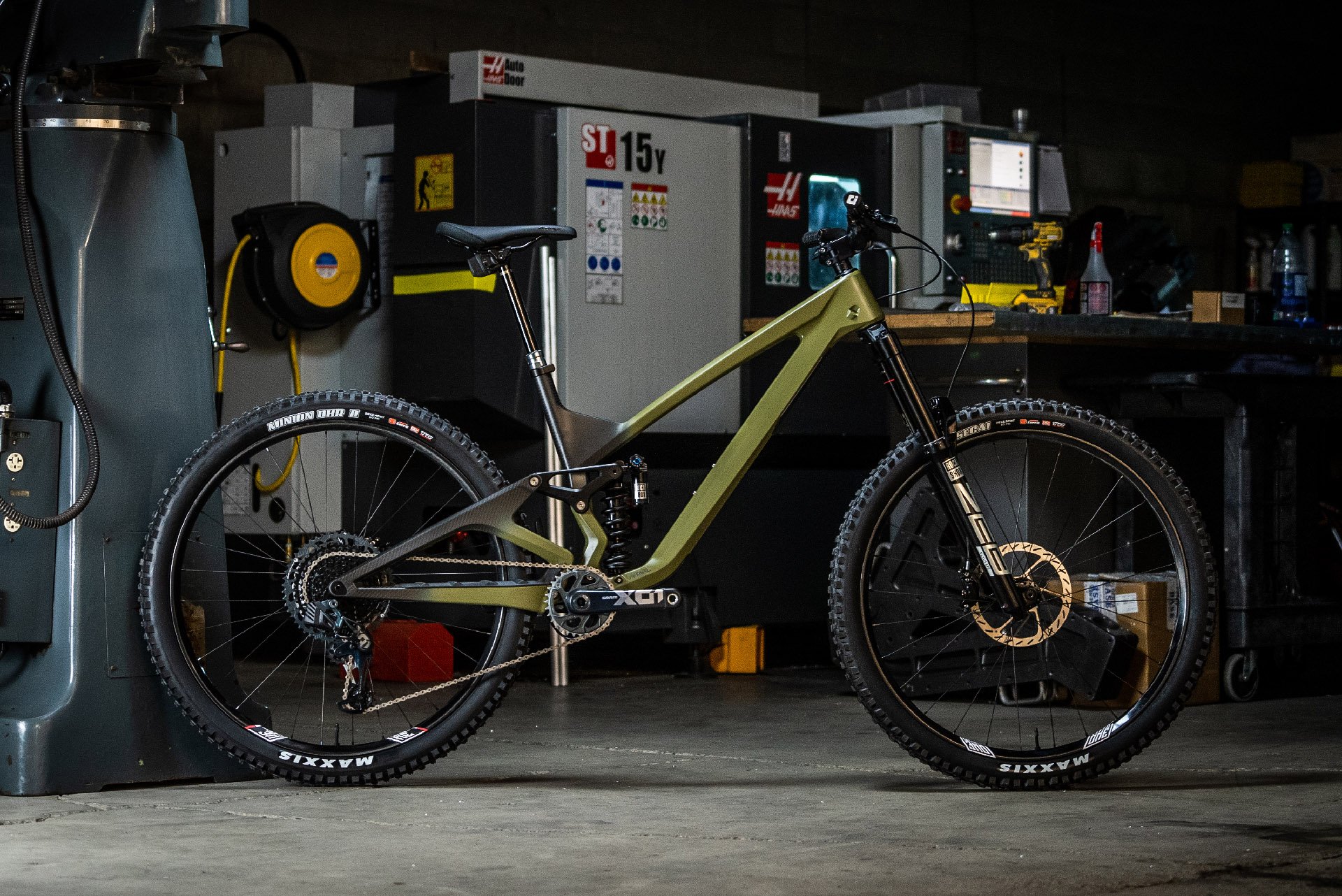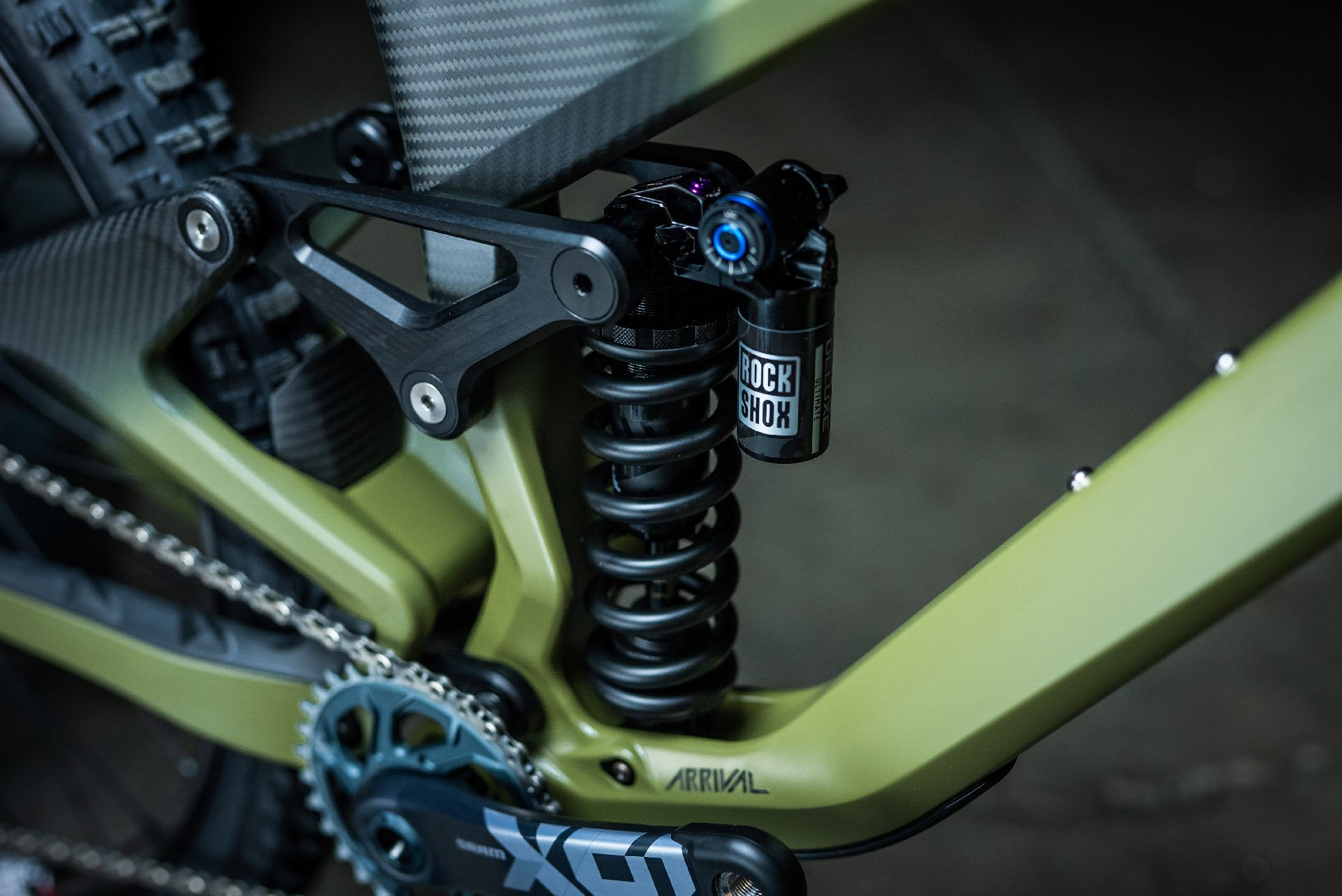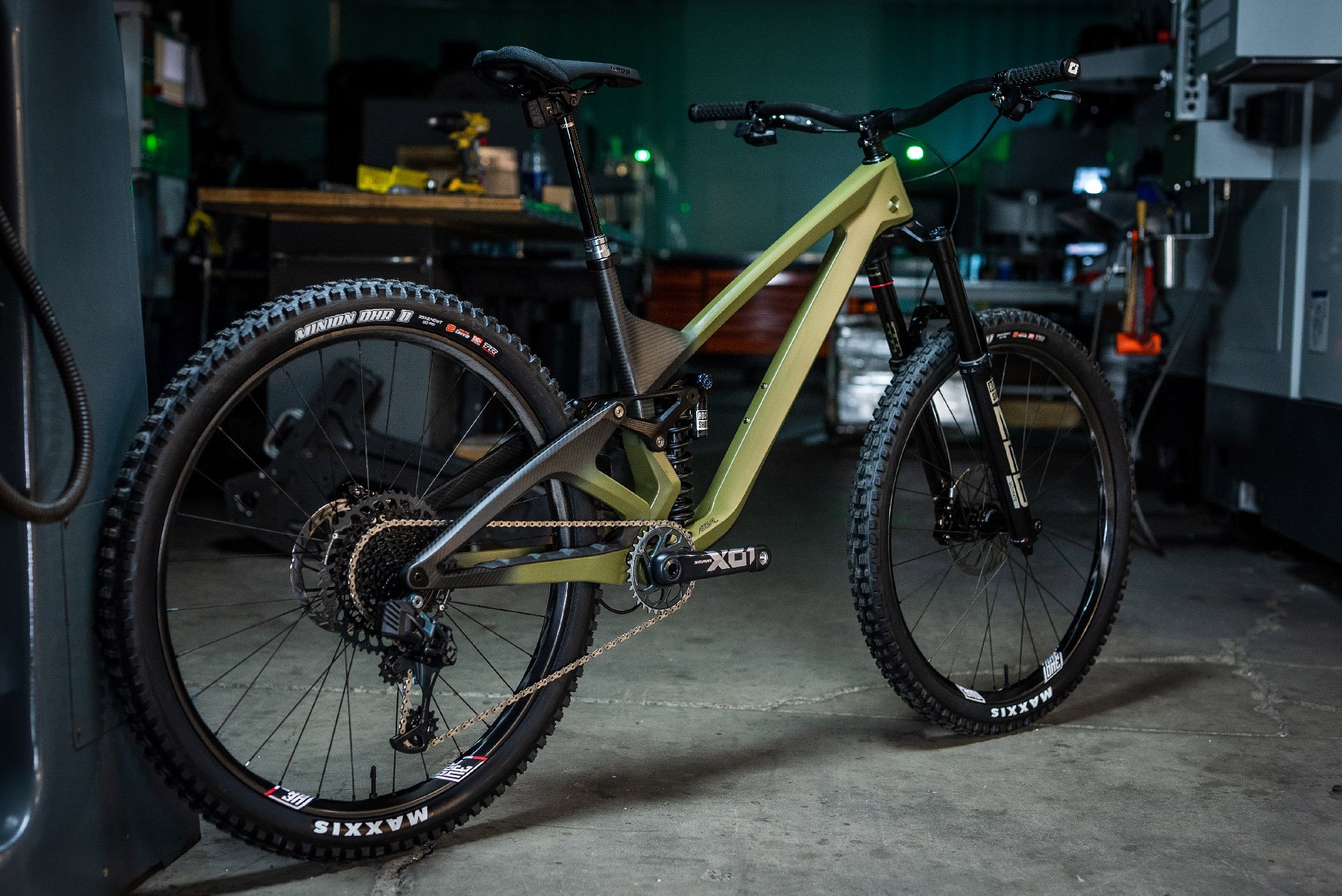 Following Trevor Hansen invariably leads to some of the toughest and steepest trails on the Shore, and the first lap, on the day I really started to get aquainted with the 170, was one of the two hardest trails I regularly ride. The Arrival 170 geometry was spot on and the bike was obviously an entirely different beast to its sibling. Despite these positive impressions, the bike went a little too deep into the meatiness on my first ride and I upped the spring rate from 400 to 450, just as I did with the EXT Storia I tested earlier. The increase in mid-stroke support was welcome but there was no loss in sensitivity. I may experiment with more compression and a higher hydraulic bottom out setting (more below) and the 400 lb shock just to confirm my spring rate but so far the 450 seems to be the ticket. But there still seemed to be something missing in higher speed rough sections, a challenging area for me to tune for, likely because that combination is rare here on the North Shore.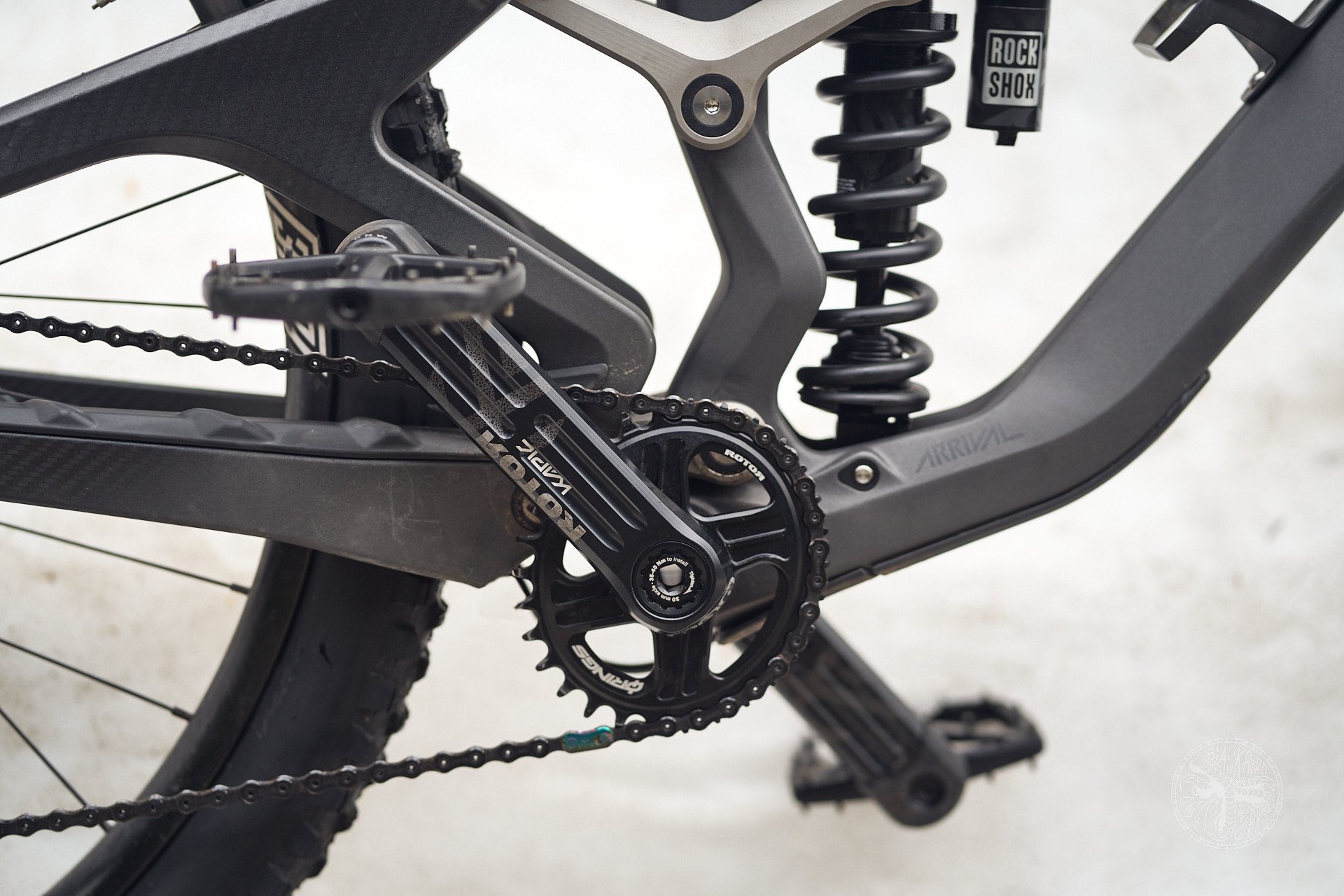 It took me several rides before I hit the sweet spot but on my fifth ride I found ludicrous mode with the Super Deluxe Ultimate Coil shock.* I guess you could say Mike Wallace helped me a little, by telling me exactly what to do.** I was feeling like the rear shock was stiffening on repeated impacts and pitching me forward. And yet it was so supple and smooth off the top that I was wondering if, after moving up from the 400-lb spring, which wasn't noticeably bottoming, I needed to go up from 450 to 500. In the end that wasn't necessary and the 450 was fine. As per Mike's advice, I sped up the rebound, much more in fact than I thought was prudent, and brought the bike to life in the rough and rapid sections I've been grappling with lately on multiple bikes. The bike went from feeling like it was getting hung up, to feeling like each impact launched the bike forward while filtering out unpleasant frequencies. Speeds I was struggling with earlier began to feel easy and I was able to charge into challenging (for me) sections with a bad attitude.
*ludicrous for me that is
**TBF he was just relaying info that his We Are One-sponsored, DH World Cup-experienced kid told him.
An interesting aspect of riding this bike is that I've had no idea what the geometry is, aside from a guess at the reach based on the 152. I could have taken some measurements but I didn't. One thing that tipped me off was riding the most challenging slab trail I've encountered in Whistler this summer. There were multiple rock faces that were longer, steeper and scarier than any I had attempted previously and on the Arrival 170 I felt remarkably calm and confident. Considering the circumstances that is. It makes sense that the 170mm fork will have tipped the headtube back a significant amount considering it gains 20mm of travel and likely a little axle-to-crown length on top of that, but the Arrival 152's head angle is already a pleasingly slack 64º according to WR1.* My suspicion was that it was right around 63º but the front end doesn't flop or feel sluggish in corners, either up or down. I've just received the geo chart and according to We Are One the HTA is actually 63.7º, which likely means the links compensate for the length of the fork somewhat, which makes sense since they are longer. This number makes more sense considering my impressions.
*Isn't that better than WAO?
TBH I haven't done many big climbs on the Arrival 170, but during the grunt up to the aforementioned slab adventure, the bike wasn't holding me back at all. I flipped the climb switch and the rear end became nice and firm for the mostly smooth double track lung buster, but I haven't found it troublesome wide open either. For me climb switches are only for road climbs, whether paved or gravel. This is partially due to the fact that I use some so rarely, I often leave them on for part of the descent, wondering what the hell is wrong. Still, on a bike with this much travel and significant heft (mine weighs about 36 lbs with inserts but it could easily be built lighter) the climb switch is welcome for someone like me who spends a lot of time out of the saddle.
Without any leverage curves, and having not ridden the bike with an air shock, I don't have a great feel for the progressivity of the ARVL in 170 guise. I have however had some success using the Super Deluxe Coil Ultimate's hydraulic bottom out adjustment (HBO) switch. I played around by first adding one click (of five) and kept going all the way up to four, but the bike felt most composed for me at 2 clicks. Above that it didn't feel quite as plush and seemed a little less bottomless. The HBO operates in the last 20% of travel by adjusting the rate of gas flow through a small cylinder within the chassis of the shock. The best news for many riders is that this technology opens the door for coil shocks on frames that are too linear for shocks without some extra ramp near the end of the stroke. Ideally this will give you the suppleness of a coil with the bottomless feel of an air shock.
A real strength of We Are One's component spec is the parts they make themselves. In my experience We Are One rims are as good as you can get, and my time on their Da Package Bar and Stem have left a similar impression. The rims ride firmly but without any harshness and they have been proven to be very durable. Likewise the bars have nice compliance and they have improved the ride of every bike I've mounted them on.
What is clear to me is that the designers, testers, and engineers hit the sweet spot with the shape of this bike. I find it hard to believe how closely related the 152 and 170 are considering how differently they ride. I've been dying to get some bike park time in because it feels like the perfect beast for lapping Whistler, Sun Peaks or Silver Star. Hopefully I'll sneak in a couple of Whistler days before the season is done.
After I spend more time on the mighty 170 I'll have more to say about the bike, and the 2023 RockShox Zeb Ultimate (which I have been wrestling with a little lately in terms of set up).
I always feel uncomfortable when I have nothing negative to say about a bike, but if there are any demons to be found here, they have yet to reveal themselves. For me the summer is when I ride the least and I look forward to digging deeper into this bike and learning more about it in the coming weeks so I can deliver some more detailed results.
We Are One Arrival 170 MSRP: SP 1: 11,899 CAD // SP2: 9,599 CAD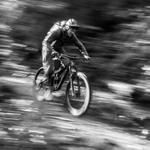 Cam McRae
Height - 6'/183cm (mostly legs)
Weight - 170lbs/77kg
Inseam - 34"/86cm
Ape Index - 0.986
Age - 56
Trail I've been stoked on lately - Boogieman
Bar Width - 760mm
Preferred Reach - 485-500mm (longer with 27.5 wheels than 29)