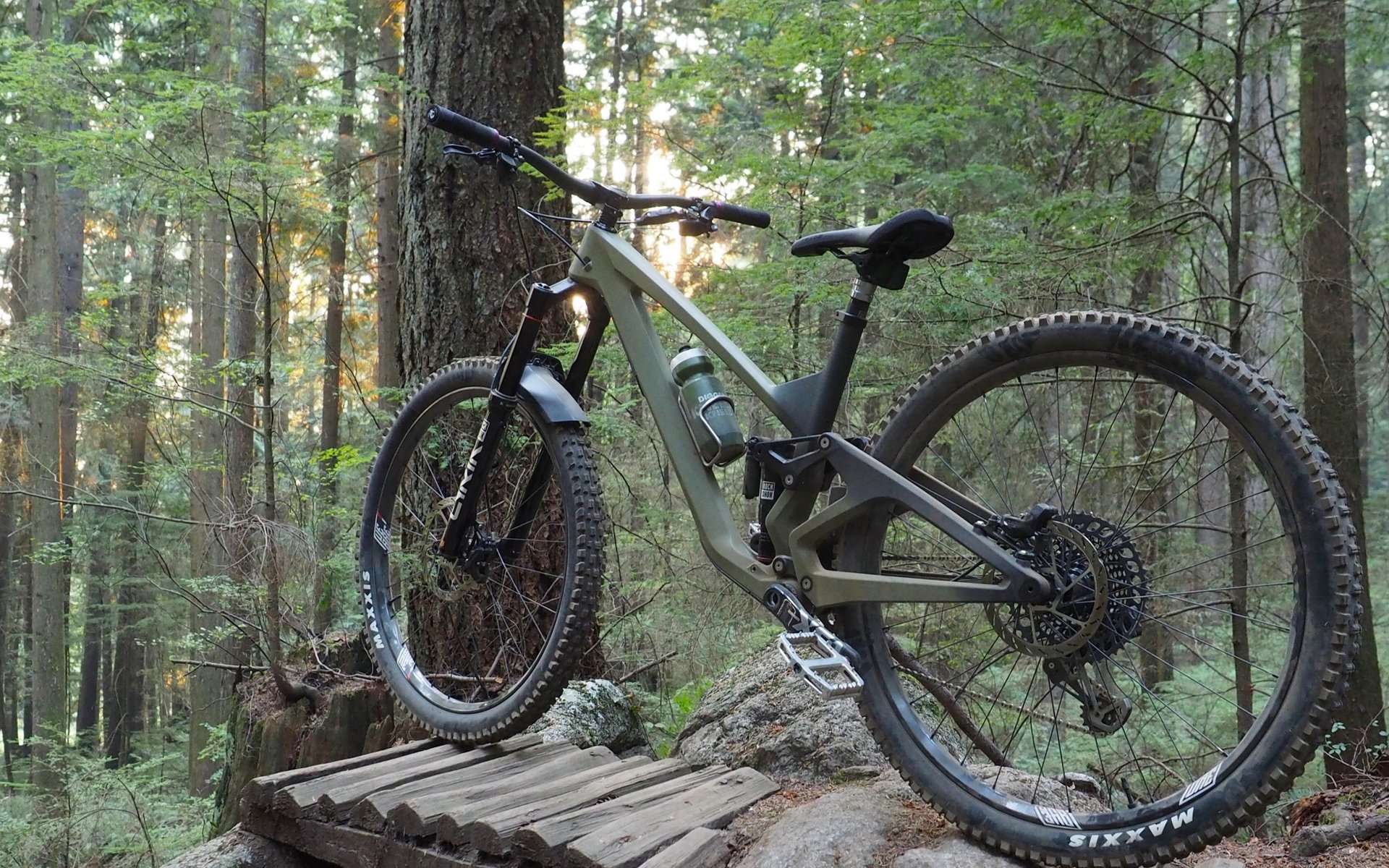 Short Term Review
We Are One Arrival 152 SP1
Full On
I'm gasping for air as I pull over to the side of the trail, reach for my water bottle, stumble, manage to not fall over, and then calm my breathing while I uncross my eyes. It's a unique experience. Not the gasping for air part. My conditioning isn't great and I'm too middle-aged to just fake it until I make it anymore when the Shore delivers a steep and sustained climb but in this story, I'm going downhill. The We Are One and I are out for a getting-to-know-you ride but it's going a little bit too Eddie Brock for my tastes. I have my hands on the bar and my fingers on the brake levers, but it feels like the Arrival is in control.
This feeling never goes away over my weeks on the Kamloopsian carbon rocket. On the right rides, it's a thoroughbred demanding every ounce of my attention as I ride familiar trails significantly faster than I have before. In these instances, I'm rewarded when I fully focus and find a way to accelerate my terrain processing. On the wrong trails, it's a stubborn jackass that fights my every input and leaves me feeling inept. Since many of my favourite loops include the 'wrong' trails, my true obsession with the Arrival is what I would change provided the right amount of time and treasure.
Before I dig in further I want to congratulate the folks at We Are One for making a mountain bike that is anything but boring. Words like neutral, forgiving, easy, and universal do not apply even if those are the characteristics that most of us need in a mountain bike at any price level. This is fine because there are plenty of those bikes on the market. The Arrival 152 is sleek, challenging, and demanding. You need to actively ride it or it's going to actively f*** up your ride, and maybe you at the same time. It's a bike for folks who are passionate about bikes and if you own one and want to loudly disagree with my assessment then know that I accept that.
When asked to compare the Arrival 152 to other bikes I've ridden the first rig that comes to mind is the 2018 Intense Carbine 29'er. There are obvious reasons like the dual-link suspension layout, the easily recognizable silhouettes, the similar travel, and the unapologetic focus on speed. But more specifically, both bikes scream to me that I should over-fork them by 10-20mm, and both machines are constantly creating forward momentum, even if sometimes you'd really rather they weren't. Jeff Steber of Intense and Dustin Adams of We Are One both share a passion for DH racing that's obvious in their rigs.
While Intense bikes have been made overseas since they went carbon, there's also a parallel between Jeff and Dustin's desire to have design and production in their hands. There have been persistent rumours about Intense onshoring, and in-housing, some frame production - whether using Revved Carbon like Guerilla Gravity or a more traditional carbon layup process only time will tell. I bring it up because I think what the Arrival, more than anything, is missing is a rivalry to drive progression. Another unapologetically fast small-batch North American-made carbon superbike from an owner-designer-manufacturer who is more concerned with whether they like how their bike rides than your opinion. Better, in some instances, to be interesting to a few folks than to be putting out a watered-down something for everyone.
Rim Notes
As I keep getting asked again and again, no, I do not know anything about We Are One's pending 'Convergence' rims that come as spec. on this bike. I've heard that they'll come in over the top of the current models on price, which will surprise no one, and also that at first they'll only be available built into complete wheels featuring Industry Nine's excellent highest-end hub the Hydra. They're also apparently more environmentally friendly to manufacture, more compliant, and sport less weight compared to the Union rims.
None of this is official. It may all be the opposite of true. Please, stop asking me. Keeping in mind that before the Arrival was released, there were two competing rumours that it was a high-single-pivot frame - a Kamloops-made Forbidden if you will - and a high-pivot Horst-link frame with an idler. This bike is neither of those machines by a long stretch.
Up, Up, Up
The Arrival pedals so well for a 6" travel bike, when seated, that I actually found there to be quite a learning curve. The design doesn't mind if you want to quickly spin along or push a harder gear or where you sit in recommended sag range, it just goes. That is until it's time to attack that one steep technical climb and I'd find myself jumping out of the saddle like I was riding the Lux or my hardtail, only to be reminded instantly that this is a 150mm Enduro machine. For what it is, the We Are One goes up impressively well in all circumstances, but the dual link design rewards seated pedaling foremost.
A couple of riders have told me that the Arrival is a "clipped-in rider's bike" and I can see where the sentiment comes from as both up and down I've had to be a bit more focused to keep my feet on the pedals compared to, for example, the much more forgiving Banshee Titan. Even so, all my rides on this bike have been using flat pedals - NSBillet's Daemon pedals specifically - so this is more a curiosity for consideration than a concern.
I hate being right, but when it came time to shift into low gears and spin up steep climbs the Arrival was so audibly superior to every other Eagle rig I've pedaled that it's impossible to be mad about the combination of Super Boost 157mm spacing and the narrower 52mm chainline from a Boost 148mm setup. Yes, we're being slowly boiled into Super Boost, and the water's really nice. Based on what I can hear and feel, I'm positive the chain and cassette will both significantly outlast the same units being put through the 55mm chainline Boost 148mm setups on other bikes being sold this year.
Plunk To Kathunk
In its stock guise, the Arrival 152 is not a good plunking mountain bike. It doesn't do casual riding and if you try to force it, the experience isn't something you'd find me willing to fork out 10K CAD to ride. I hit my chainring countless times but that's not because the bottom bracket is too low, it's because I was going much too slow. I'm out there trying to slowly pop over rock features and the We Are One is screaming at me to just hover above the ground.
Like the Intense Carbine, everything I do on this bike creates momentum. Pump the bike, it shoots forward. Land a little drop, and it rockets forward. Slam a corner, it teleports forward. It's fun in a slightly frantic sort of way on trails that are open enough to take advantage of it. Severed Dick was my go-to on the Arrival 152 and it's just a dreaded series of kathunk-kathunk-kathunk moments on trails where my skillset and risk tolerance had me fighting the bike to slow down.
Examples of three trails I love on Mt Fromme are Karen's Boundary, Pipeline, and Lower Crippler, and this bike wasn't really fun on any of them. Riding mountain bikes on trails you love is always fun, but it's never good when you're daydreaming about all the other bikes you'd rather be on in the middle of your ride.
I was fully prepared to write this off as a combination of my inability to process the trail fast enough to take advantage of a bike like this, and also the compromised setup from optimizing a stock bike versus a frame-up build like the Banshee, but I've talked to enough Arrival owners that I know I'm not alone here. Everyone I've talked to whose been on the Arrival on the North Shore for a while loves their bike and also falls into one of two categories. They're either a really, really fast rider or they've set theirs up with a boutique coil shock (PUSH or EXT), over-forked it by at least 10mm, and are currently waiting for the 170mm linkage they ordered.
Even as dry and dusty and Kamloops-like as our trails have been lately, there are still elements of being optimized for cruising around at the speed of sound on the fastest trails that don't translate directly to our janky local terrain.
Stacking Up
The folks at We Are One are not alone in their philosophy about stack height. Many other companies also point out that it's easier to get a bar higher from a low Stack height than it is to get your bar lower from a tall one. Me? I'd take the 130mm headtube on a large Banshee Titan over the 100mm on this large We Are One Arrival every minute, of every hour, of every day. I ran the stem as high as it would go with the steerer cut and I was in the ballpark of what works for me when combined with the lower-rise, 27.5mm, option of their house-made Da Package bar. I would have loved to have a bit more adjustment though to be certain my fit was optimized for me. A taller bar would have made the difference here.
I think the complimentary term is 'precise' but either way, the 27.5mm Da Package bar is not as compliant as I'd suspected based on other riders' experiences. I've heard it compared favourably with the OneUp Composite bar but I'll go on record as saying that my experience has the OneUp bar being more compliant to an extent that I suspect most riders would notice it over a long outing - in the realm of an SQlab 30x or 31.8 Renthal aluminum bar. This could clearly be down to a number of factors including my hearing voices, but it's something I'm interested in corroborating with other riders who've ridden both bars with the same setup otherwise.
Coil-Over | Over-Fork
It's really too bad that the MY23 Lyrik can't be bumped up to 170mm travel like the previous generation, because the Arrival 152, at least with this pilot, is screaming to be over-forked. It would raise the Stack, raise the bottom bracket, and slacken out that 77° effective seat tube angle. Maybe I'm being too optimistic, but I'm imagining a bike that is still fast as hell but just a little more forgiving for a pilot that's not.
At the same time, I'm not looking for any more stiffness from the front end than I'm getting from Da Package, the Arrival frame, the carbon hoops, and the Lyrik Ultimate, so I'd rather save weight, and money, by bumping up this 35mm chassis rather than running a 38mm Zeb. I know We Are One has gone to the full-SRAM program for drivetrain, brakes, and suspension this year but I'd love to see a special edition that sports the Magura brake spec from last year with a less mainstream suspension spec, maybe an Ohlins or DVO package.
In addition to over-forking the Arrival, I'd love to try a coil-over shock on the rear. One trip around a flat gravel parking lot on my friend Andy's bike - sporting a 170mm Ohlins fork and PUSH coil shock - and I knew that the experience I'm writing about here is Arrival-lite. With the EXO+ tires, no inserts, carbon wheels, XO1 drivetrain, carbon cranks, Da Package, and the RockShox Super Deluxe air shock and Lyrik fork it is light in terms of weight but I'm talking about a performance perspective. The bike rips downhill but I could afford to give up more than a little bit of the max speed for some extra margin of error, a confidence boost on janky trails, and some increased traction at slower speeds.
I'm not expecting the coil shock to fundamentally change the bike - the Arrival isn't going to become the Titan - just to dull the edges enough that I can have more fun with it on more trails.
The Creakening
On my first ride on this Arrival, there developed an awful multi-stage creak somewhere in the linkage area. It was so bad I wouldn't ride the bike again before resolving it. Chasing creaks when it's dry and dusty is hard enough but then add in the way that sound travels in carbon frames and the crick-crick-CRACK could have come down to anything. I put in over two hours of my time greasing bolts and shafts, taking measurements, re-packing bearings, swapping the upper link with another one that we had, and in a final act of desperation I actually pulled out my press tool to be certain all the bearings were seated.
I've problem-solved a fair few creaks working in shops and this was one of the more violent ones. Nothing I tried made an iota of difference so I sent a video of it to We Are One and they decided to get the bike back to sort it out. According to We Are One, to my embarrassment as someone who gets paid in a shop to resolve such issues, it ended up being a very quick and simple fix: "the air can needed 1/16 turn with a strap wrench."
This is something I've only heard of in rare cases with Fox Float DHX2 shocks where the inner can is not tight from the factory, and even then the creaking is not as intense as what I experienced. Further proof that there's always something new to learn about fixing bicycles. If your RockShox Super Deluxe equipped bike is creaking, let out the O² and give the air can a good grunt with a strap wrench to make certain it's tight before you try anything else.
Gripping Asides
If there was an opportunity to do a long-long term review of the Arrival the first thing I'd be swapping out is the front tire. I actually don't understand why Maxxis bothers with a MaxxTerra compound version of the Assegai; either you want full traction on the way down - MaxxGrip Assegai - or your more well-rounded rig is going to be better served with a DHR2 or DHF. I think a pair of 2.4" DHR2 MaxxTerra EXO+ tires would be the perfect blend of rolling and braking for all-day loops with steep, fast, and loose sections but a DHF would be fine too. For winter on the North Shore, a more tacky rubber option, even in a lighter casing, would be optimal. It hasn't rained a drop over this short-term test so the MaxxTerra Assegai has been good, but I've ridden enough tires to know what's coming.
Also as an aside, the near-instant (0.52°) engagement of the Hydra rear hub is lovely when hitting technical uphill sections in or out of the saddle. I'd have been happy with the Industry Nine 1/1 that comes on the lower-end Arrival build, and I'm aware the wheelset on this rig costs more than the other bike I've been reviewing, but fast engaging hubs are my favourite weakness for luxury on the trail. The Hydra is also loud enough to alert other trail users - and bears - to your presence without having the annoying rin-tin-tin of the old Industry Nine Torch hubs unless you lubed them just so. I find the super-fast engagement also really helps with pedal strikes. I can climb technical trails with almost zero contact despite the low bottom bracket setup.
One more gripping gripe I have, or maybe it's just a PSA, is to give your lock-on handles a proper twist when installing them on the Kamloops-made Da Package bar. I had a couple of different pairs of single-clamp locking grips that even if tightened way past torque would slip on this carbon steer stick, which does measure perfectly to spec. The grips in question were no issue with the aluminum bars I've tried them with.
I had no problems with dual-clamp ODI grips, including the stock SDG option, as well as the Ergon and Wolf Tooth grips I rode for this review since the stock SDG units didn't work well for me. Spinning grips are bad, and it's something I come across with alarming frequency in the shop, so there's a general PSA factor here as well but generally, in those cases, the grips just need to be tightened more. That wasn't the case here.
Shifted
You've read plenty about AXS shifting at this point, and no, I'm still not over the economics of it, especially of replacing a rear derailleur that has a misadventure. But something remarkable has happened all the same. Where the last AXS bike I spent time on, only a year ago, garnered many questions about the wireless shifting system from other riders, it's so mainstream now that I didn't have one person ask about it. That is the pace of change in the world of mountain bike technology.
Expect a few frames to be wireless-specific next year - i.e. no routing for shifting - although, yes, you can always stick on your own cable guides. Note that doesn't mean SRAM-specific as Shimano should have their new Di2 systems out by then and there are perpetual rumours that FSA will still be bringing their WE wireless shifting to mountain bikes. Also in the rumour mill is a wireless electronic version of Campagnolo's Ekar groupset, which is a shifter away from being a mountain bike drivetrain as is thanks to the clutch derailleur and 13-speed 10-44t cassette.
Time & Treasure
As it sits now, this machine taunts me. I enjoy riding it on specific trails and it absolutely pushes me to be the best, fastest, version of myself as it rockets out of corners, and out of landings, and every time I pump it a little bit, and is always ready for take-off. I'm certain it's a treat to ride on the fast trails around Kamloops and as I understand it Dustin installed a 180mm fork on an Arrival 170mm, raced it in a number of DH events, and declared it ridiculously fast. I believe it.
The thing is, my favourite trails aren't particularly fast, and neither am I. Is this bike simply wasted on me? Probably. Justifiable though the price may be, right from my first look I've noted that 11,500 CAD is a heck of a lot of money for a mountain bicycle and now I'm talking about spending even more on upgrades. At the same time, as long as I focus 100% on riding, I do have some amazing moments on the Arrival that make me think that if the option for a long-term review existed with a coil shock, longer fork, sticky front tire, and taller riser bar - basically what my friend Andy is riding - that my conclusions on who this bike is for would be much more universal.
I'm at the point now where I have to put my imagination aside and wrap up this experience. I know it sounds negative but I'm really not sorry to see this bike go home. Who needs the constant reminder that they aren't fast at riding bikes? Certainly not me. At the same time, I understand why there are so many riders out there who also aren't fast (sorry) who've bought the We Are One and have spent money chasing a more all-around experience with a coil shock, taller fork, and higher bar. It's a bike that it's very easy to be passionate about.
So go ahead, fall in love, and find out if you have the skills to control the Arrival or if it's going to control you. It's made in Kamloops, BC, and it has a great story. Just be warned that as much as 11,500 CAD sounds like a lot of money, if you don't have the skills and sense of speed to truly own this bike as it comes you are going to find yourself spending serious coin to claim victory. Or, you could just go to an Arrival 170 upfront and save yourself from being weighed and measured by your own bicycle.
Frame or complete, for all things Arrival check out We Are One.