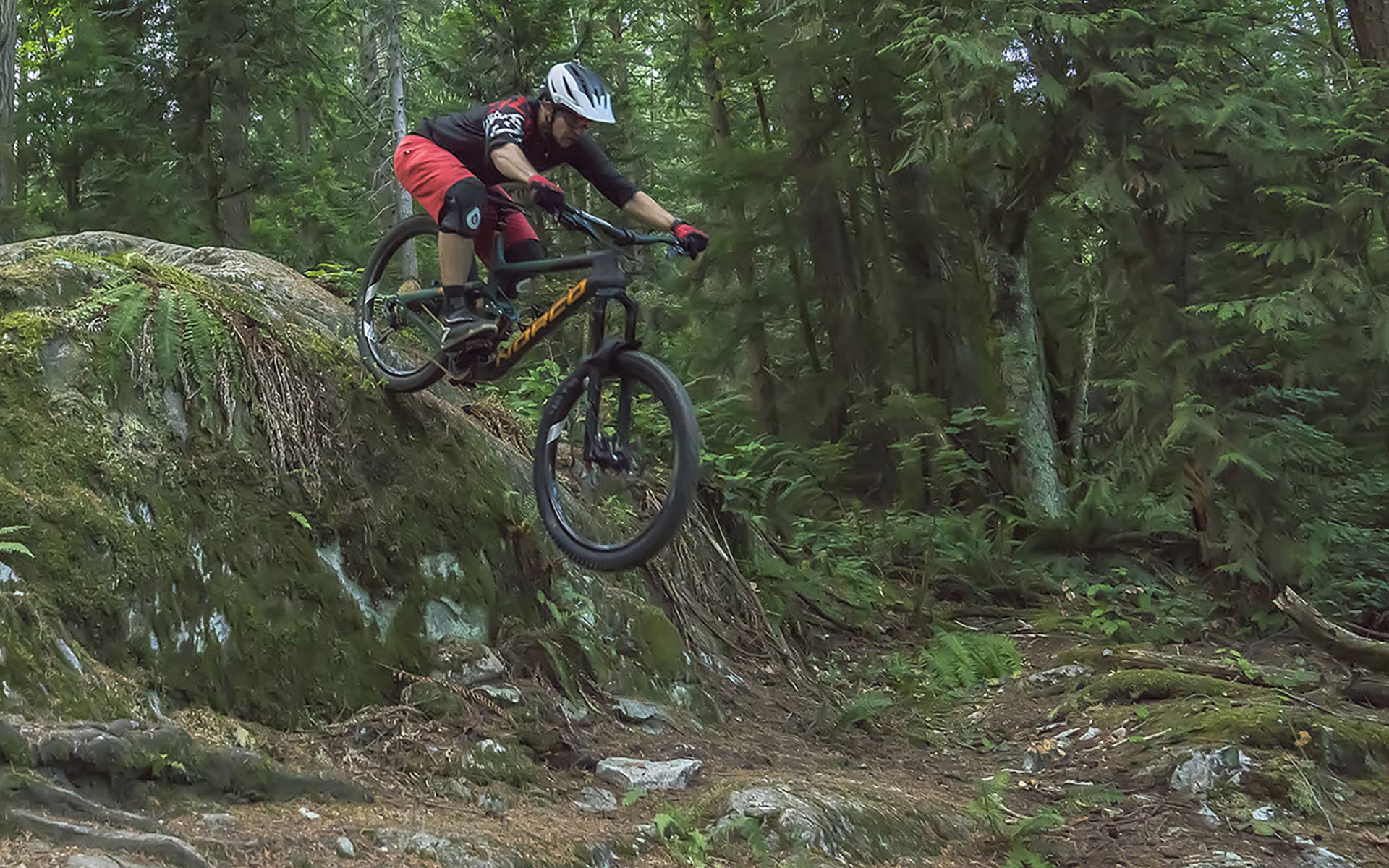 Mid Term Review
We Are One Agent Wheelset
We Are One launched a first wheelset earlier this year, and I wrote a First Look article, which you can see here. Since then I've been bashing about on the Agent wheelset bolted up to my Norco Range. Most of the riding has been up and down the Whistler to Vancouver corridor, including racing the infamous Whistler EWS this year and a ton of days in the Whistler Bike Park. So how did they hold up?
One of the first things you'll encounter with the We Are One Agent wheelset is how easy these are to mount and inflate tires. The internal rim shape is near perfect. Installing tires is easy, and the rim channel is well judged making tubeless inflation with a floor pump trivial. For me this is worth the price of admission alone. I HATE those late nights, sweat pouring off my brow, sealant sprayed all over, "WHY WON'T YOU INFLATE YOU BASTARD TIRE!?!?" None of that with the Agent. The Project 321 hubs were flawless too. I actually didn't perform a spot of maintenance over the entire review period. I mean I didn't even so much as look at a spoke key. The bearings are smooth as silk, with no play. Even though the bearing preloads are adjustable, I haven't touched the preloads since receiving the wheels from We Are One.
There has been a lot of talk of pinch flats and carbon wheels lately. I chose to run the tire pressures I've always run in the tires I've always used; 22-23 psig in the front Schwalbe Super Gravity Magic Mary, and 27-28 psig in the rear WTB Tough Casing tires. With these tire pressures I'd go through 2-3 alloy rims a season. Over the review period I had many rim strikes, but no flats, and no rim damage. The rim design of the We Are One Agent seems to reduce the contact pressure of acute rim strikes which in turn reduces the chance of splitting the tire casing relative to many other carbon rims. 
Out on the trail I appreciated how laterally stiff the We Are One Agent wheels are. The wheels offered pinpoint precision that tracked off camber sections flawlessly with minimal deflection. We Are One claims a lot of time was spent working on spoke tension to achieve a mix of vertical compliance and lateral stiffness. Boost spacing helps here as well with increased spoke angle. The result is the We Are One wheels rode softer and more compliant than I was expecting from the shape and lateral stiffness of the wheel. The Agents never felt harsh, even on the roughest of trails. 
The hubs were excellent, and they roll incredibly quickly. I've always run chunky tires on my trail bike (if the shoe fits?), and I noticed I'd always roll slower than my buddies down pavement. With the We Are One wheels it seems no one can keep up, with the same tires. I'm not sure what's going here, but so much so that a few folks have commented. While the 218 point engagement of the Project 321 hub was nice, I personally don't find a huge advantage with the increased engagement. I know loads of folks who LOVE high engagement hubs, so I get that it's a major feature for many, just not this simpleton. 
During the Whistler EWS I had a strange issue. A stick got caught between the cassette and the spokes, which locked the cassette to the wheel. I had to ride out the stage like I was riding a fixed gear MTB. I couldn't pull the stick out at the bottom. In a mild panic, due to tight transition times, I pulled the wheel off the bike. Without any tools I was able to remove the axle spacer, separate the cassette and freehub from the hub, remove the offending stick, and easily reassemble the wheel. The magnetic pawls made reassembly of the wheel easy. I share this anecdote to demonstrate how easy these hubs are to service, which I haven't had to do yet. 
After 900 km of riding, with zero maintenance, the We Are One Agent wheels remain near friction-less with no play in the hubs.
The as tested Agent wheelset is $2,175 CDN, and We Are One has since released a cheaper $1,500 CDN wheelset with the same rims on Hope hubs. My alloy wheelset of choice was a DT EX471 on DT Swiss hubs, which cost roughly $750 CDN to build up. Add in that I would go through 2-3 rims a year, at $130 a rim, plus $100 for spokes and labour to rebuild, and that's $575 a year in rims. By my math, my return on investment is plus / minus 2 years depending on Hope or Project 321 hubs. We Are One offers a 5 year no questions asked warranty on the Agent rim. Factor in $575 a year for 5 years, and the We Are One Agent wheelset is starting to make a lot of sense to me.
The Agent is a superb rim offering perfect sizing, high strength, low weight, and reasonable pricing. The fit and finish of the wheels is excellent, and in my opinion on a par if not better than other carbon rims I've seen. With We Are One's raw naked carbon there is no hiding flaws, their craftsmanship clearly on display. One might think this is miraculous, a too good to be true story. While I'm not downplaying We Are One's achievement, I don't think this is lucky or miraculous. We Are One have ensured quality product by taking the more expensive, more painful, less traveled path of taking all manufacturing and processing in house. The team has developed what appears to be a great product, and they have ensured they could do it consistently. (for more on the process click here for an interview with found Dustin Adams)
The Agent wheelset isn't cheap at $1,500 or $2,175 CDN (depending on hub selection), but I think they offer excellent value for money. I can justify the purchase price by no longer needing 2 replacement alloy rims a year over the 5 year warranty period. Add in the performance advantage of the lighter and stronger wheels, and I think the We Are One Agent wheelset is a competitive package.  There is a tangible performance advantage, reduced rotational weight, and for me these should be cheaper than running alloy rims over the next few years. I like them so much they're going to have to pry them out of my hands when they want them back. Actually I'm hoping to keep testing these through Vancouver's notoriously wet and sloppy winter on our rough and unforgiving trails. I'll keep you updated. 
For more head to weareonecomposites.com