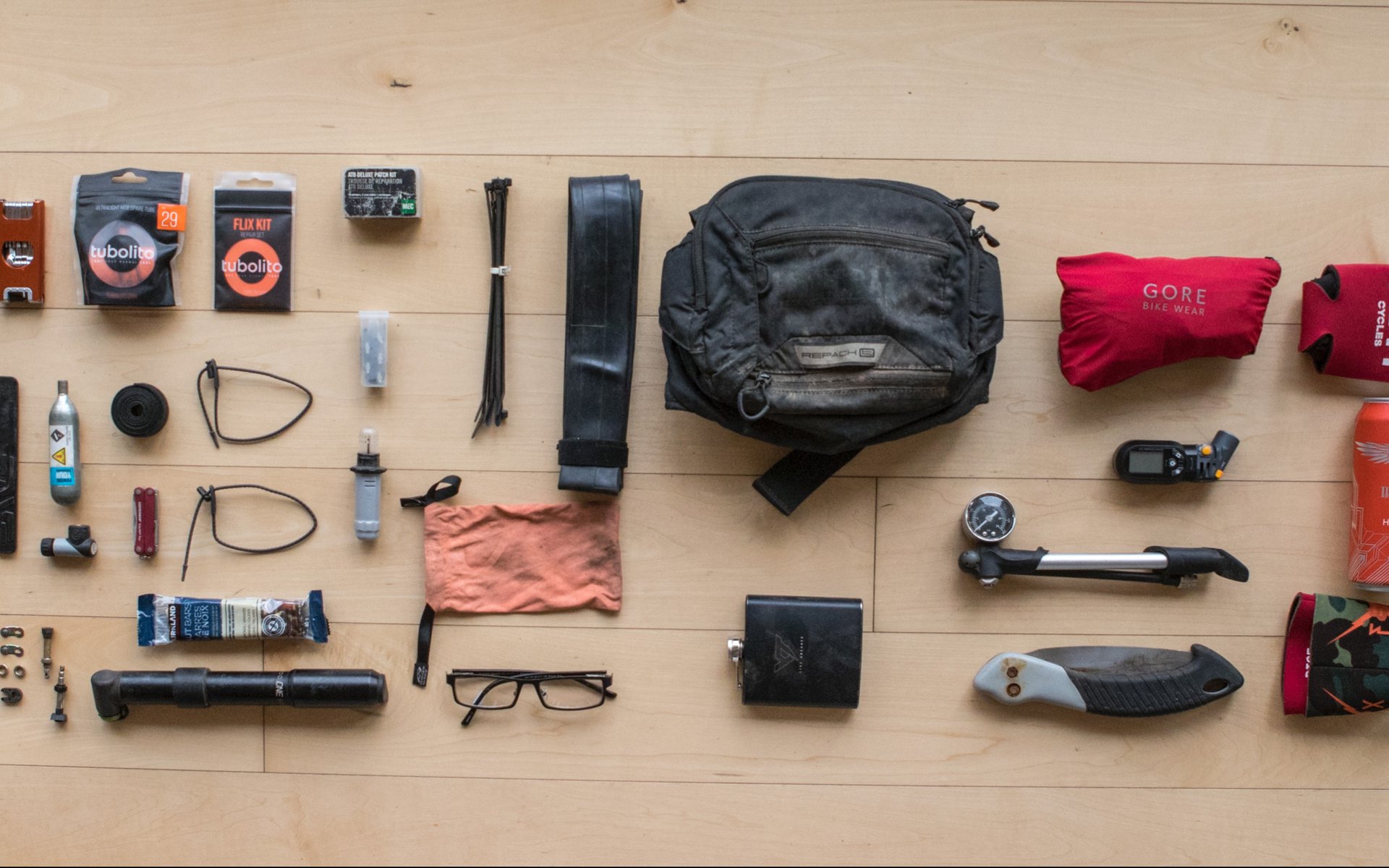 WHATCHA PACKIN'?
Whatcha Packin' - Cam McRae's on Ride Carry
One of the best mechanics I know rides with nothing at all to prepare for a breakdown. Not a tube, not a muti-tool, not a pump. I rode with him recently and he did bring a water bottle. Others ride with several different derailleur hangers, multiple tubes, spoke wrenches, a first aid kit, spare brake hose and a bleed kit, emergency blankets, and a bento box and chop sticks for a mid ride sushi snack. I used to be the guy who carried just about everything, back in the days when things broke much more often. A taco'ed wheel or broken hanger or derailleur used to be a weekly occurrence on group rides, but I can't remember the last time I witnessed any of those mishaps. Even flats are becoming more rare with tubeless, inserts, sealant and improved tire casings.
I used to carry a large pack of some description, usually with a 3 litre bladder, and nothing on my bike, not even a water bottle. These days I strap a tube on my personal bike, and put everything else in a fanny pack, which means efficiency is key.
We've had a bunch of different bum bags roll through but I haven't had one come close to the comfort and utility of the Camelbak Repack LR 4. Every pack maker should have a look, because the sleeve on the right hand side and the zippered pocket on the right are like free space, and they can both be accessed without pack removal. the retention system has secondary cinches so you can get it to the perfect tension every time, and it rarely needs to be readjusted. You can check my full review of the Repack here.
I've laid out all the things I might take on a given ride, but there are always tradeoffs. If I'm on a group ride and I'm packing a beer and a shock pump, I'll make sure one of my buddies has a tire pump and leave that behind. I don't need a tube on my personal bike because I have one strapped on with a Mutherload Frame Strap from Backcountry research. I could strap my tool and a cartridge on there as well, but I switch bikes too often for that.
Riding in the age of COVID-19, I've been wanting to extend my time in the forest, so I've been doing a little trail building and bringing along a saw on occasion, and often stopping for a beer once the climbing is done. A tallboy makes sense if you're going to that effort. I use a custom four koozie system for maximum insulation. You can't put on on and then the other so you need to stuff one inside the other first and then slide them on either side of the can. I offset the slits at the bottom so there is no exposed can, and even after a 90 minute climb to the trailhead I've got a cold beer. When I'm in the process of setting up a bike I often bring a shock pump, but it's not an every day carry for me.
This was a good exercise in re-evaluating my prep. There weren't many surprises, but I had three valve stems left over from previous flats, and a bundle of zip ties that were redundant because of a couple of new things I'm trying.
Matador Reties are reusable loop closures that are cinched with a spring toggle. They will go as small as 1" or as large as 12", or double that if you combine a pair. I have also just started carrying five feet of 3/4" width double sided velcro strap, which I think will be very useful despite being the size of two Oreo cookies and weighing only a few grams. I cut a section long enough to be used as a sling, it could strap just about anything to you or your bike, make a solid tourniquet, and maybe even hold a broken frame together.
Multi tools are very hit and miss for me, but I've been very pleased with the Crankbrothers F15 LE. It has everything I need, including an 8mm for pedals and a chain breaker, the magnetic case can be used as a handle for extra leverage, and the quality is excellent. I've had this one in my pack for most of the winter and there are no signs of rust or corrosion. Of course if you are going to pick one of these up, you should probably get the Stevie Smith Memorial Edition.
If I know I'm going to need to swap some components are make a lot of adjustments, I throw in the Topeak Ratchet Rocket Lite DX tool. The bits swap quickly and easily and the ratcheting mechanism makes quick work for bar or saddle swaps or cockpit adjustments. It also includes a set of tire levers, which I haven't yet tried.
I carry a cartridge for emergencies, but I don't really like using them. First off, if you screw up or if your tire doesn't seat well you've got nothing, and secondly you've got to toss them when you are done to the best of my knowledge. The best mini pump I've ever used is the OneUp EDC pump. At just 156 grams, it pushes great volume, seals against the elements, and the pump head doubles as CO2 inflator. You can also stash an EDC tool inside along with a small cartridge.
I have decided to give Tubolito another try. I was carrying the small, 45 gram version, the S-Tubo, last fall and I flatted. When I stuck the tube in it began to leak right away and was soon flat. I found a couple of pinholes in the tube which may have been the result of something still sticking through the tire, but I never checked. Now you can get adhesive patches so I'm giving them another try and ditching the heavy conventional tube. Even regular tubes can weigh as much as 300 grams. Even the heavier Tubolito weighs just 85 grams in 29.
Rather than bacon strips or anchovies, I've been carrying the Stan's Dart tool. I've witnessed it being used successfully, but the one time I tried it, there was no love. In fact I stuck in two of the little refill spiders, that are each worth more than a cheap tube, at 20 USD for five, but they failed to seal my puncture.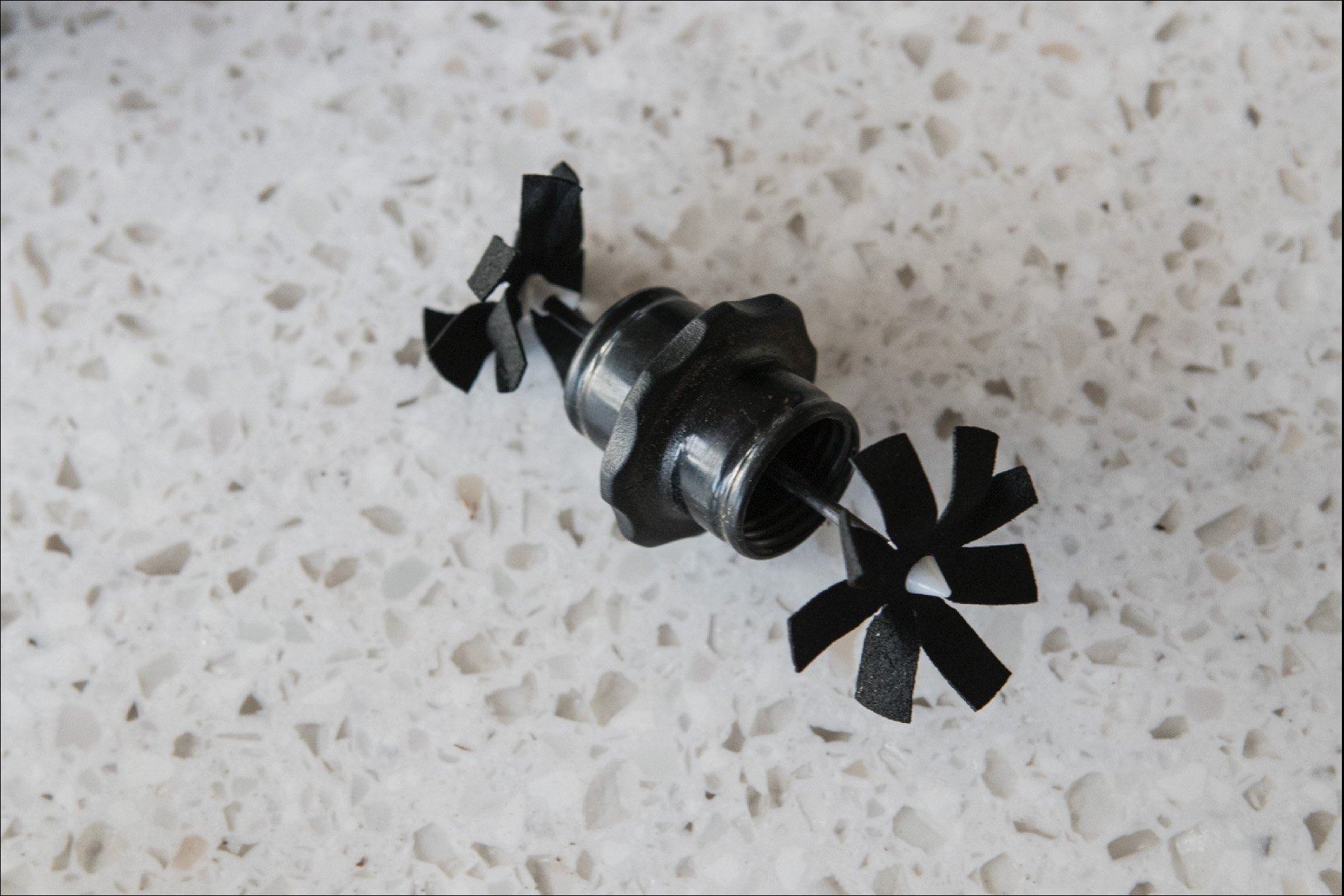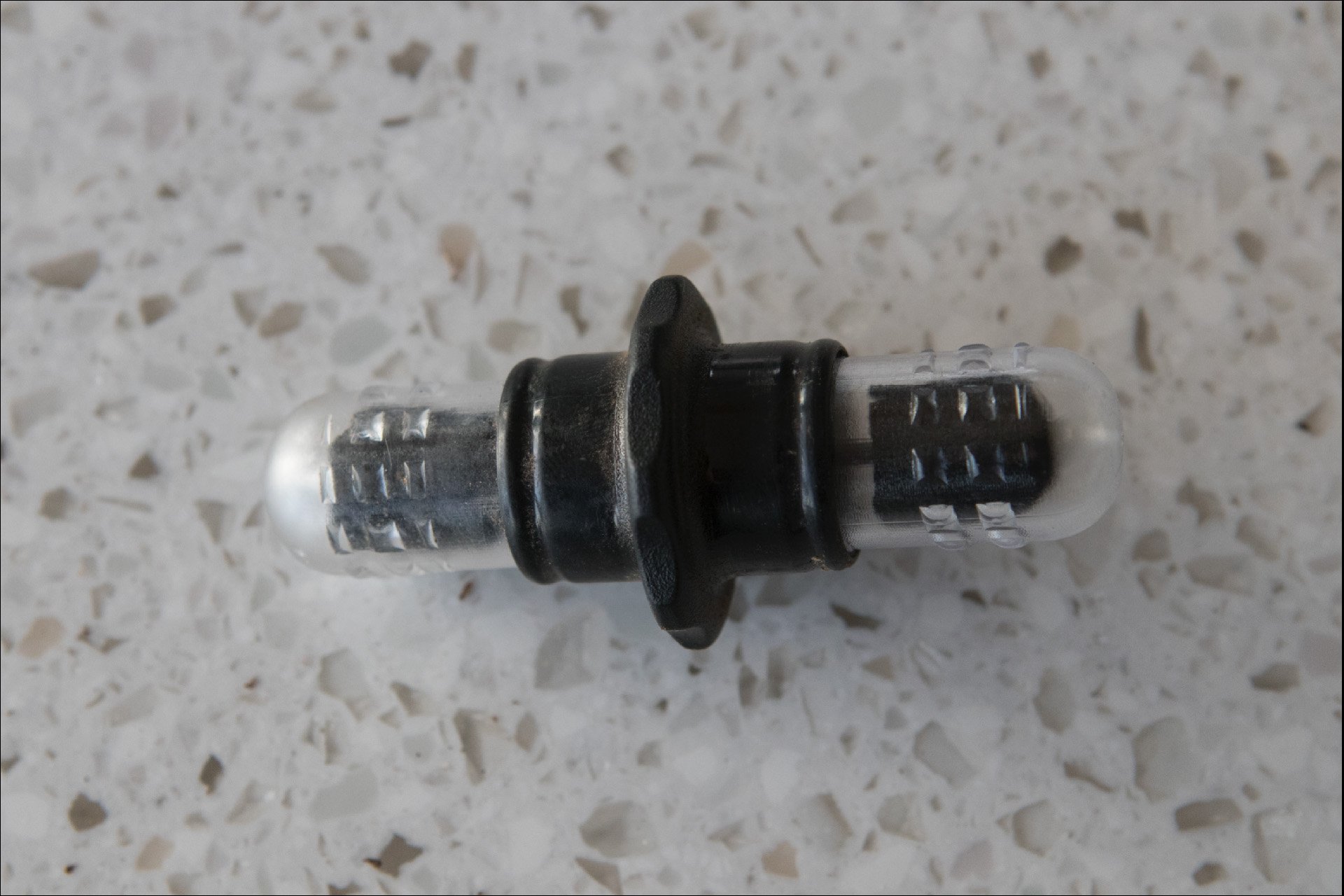 I don't wear my eye glasses riding, but if I have to do some finicky repairs, I need some corrective lenses for sure so I've got a cheap pair of readers in there. I also have a cartridge and an inflator, because I sometimes leave the pump at home. And that's pretty much everything. I always learn something about what's missing or redundant when I write on this topic, so feel free to enlighten me below.
Cam's Every Ride Carry List - where to buy
Camelbak Repack LR 4 Hip Pack - $80 USD
GORE C3 Windstopper Classic (the Rescue Windstopper is discontinued) - $149 USD
OneUp EDC Pump - $55-59 USD
Topeak Ratchet Rocket Lite DX Tool - $34.95 (currently on sale for $26) // Topeak Smart Gauge D2 - $34.95 US (also on sale for $26)
Crankbrothers F15 multi-tool - $56 USD
Matador Re-Ties - $8.25 (4-pack)
Tubolito S-Tubo 29" MTB tube - $37.90
Leatherman Squirt PS4 Multi-tool - $39.95 US
Stan's DART tool - $25 US
*Buying something from one of the links above (or something else from one of these shops) will benefit NSMB without additional cost to you. We won't link to it if we don't recommend it.