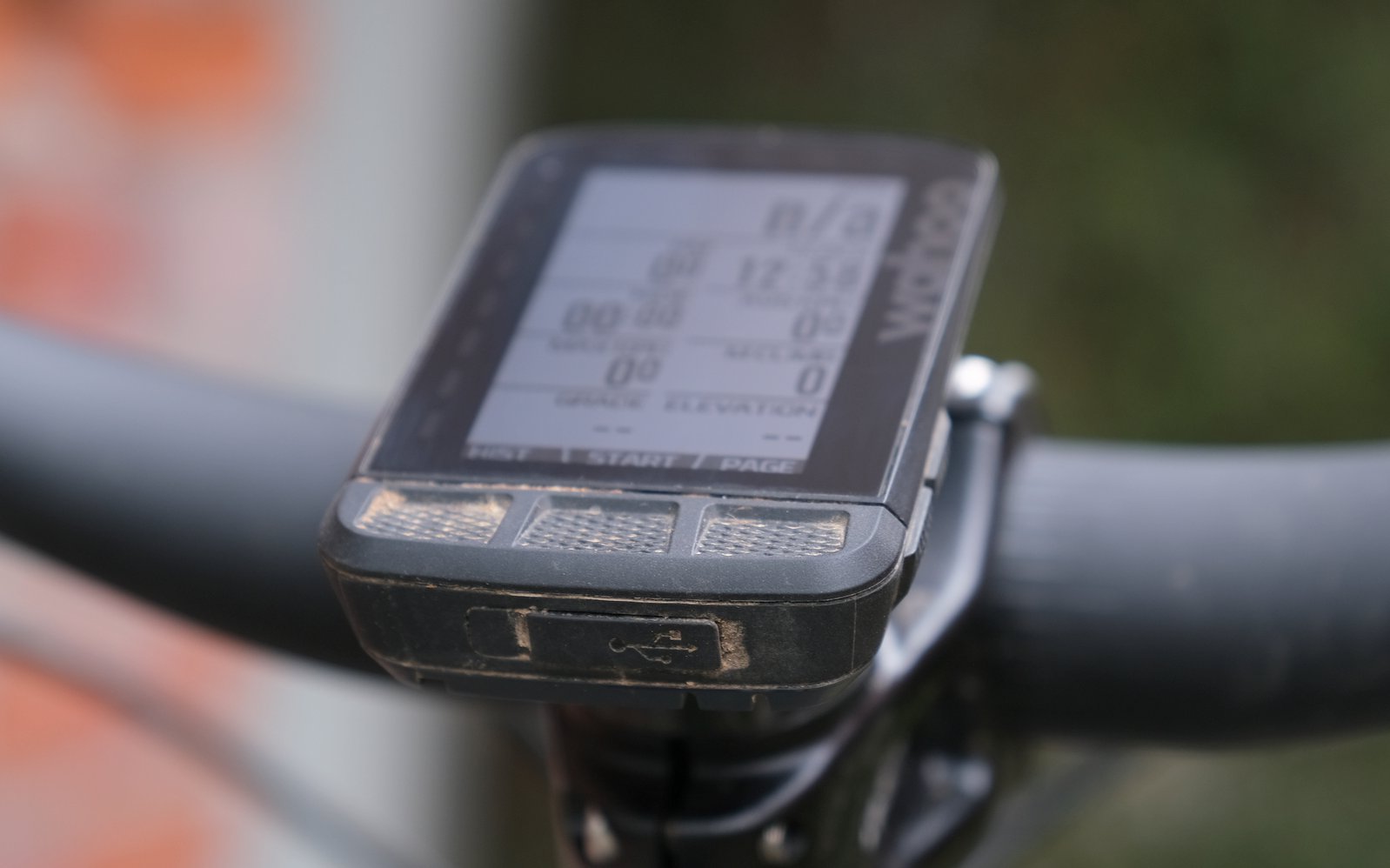 Review
Wahoo Element Roam GPS Bike Computer
Before we get started, I'm going to talk about what this review isn't. This isn't a deep dive into the technical capabilities of this device. This isn't an in depth comparison between this device and other, similar ones. There are other resources that do that, and I'm not going to pretend to be an expert on GPS bicycle computers.
This review starts with a story. Earlier this year (yikes…last year!), I found myself riding solo from one tip of the (lower) Sunshine Coast to the other. Halfway through Day 1 I found myself over prepared in some areas (way too much food) and under in many others. I distinctly remember the point on the morning of my departure where I decided to throw a couple of extra granola bars in my bag, yet decided that I wasn't straying too far from civilization so I could probably get away without my USB charger. Who needs to charge their phone when they're only going to be riding for 5 or 6 hours?
9 hours later, with my phone dying and my legs dying and my frustration with the Trailforks app reaching a boiling point, I realized that a phone in your pocket is absolutely no way to embark on anything that requires any sort of accuracy in navigation. Indeed, it was only by stumbling upon three other gents in a similar state of disrepair that I was able to salvage the last portion of my ride. One of them had this magical device strapped to his handlebars that barked out turn-by-turn directions, so I tucked in on their wheels and promised myself that I would never place myself in that position again, especially when there might be real consequences to losing my way. Enter this device (recognizing that no electronic device should be your lone navigational tool for high consequence situations).
My GPS Experience
Some say hoarder, others say collector. One of the collections I like to keep is a log of the rides that I take. Not in the Strava type sense, where I keep track of how quickly I did things. More in the…shit…I don't even know? I guess I just like to see where I've ridden and how different trails interact with one another. Yes, it's possible to find a map of most bike trails that one would ride, but I enjoy the experience of throwing my 15-year-old Garmin GPS into my pocket at the start of the ride, and then seeing what that tells me by the end.
This is not a perfect device (my 15-year-old Garmin, that is). Figuring out where you are on that ridiculously small screen (especially considering the size of the device) is not easy. The software is difficult to use and you have to scour the Internet for basemaps (or, I don't know, pay money for them or something) to make it functional.
But it works. And as long as I keep a copy of the DVD that holds the Garmin software, it will continue to work. And this is the starting point for what I want from a GPS device on my bicycle.
Overview
We talked about how we're not going to go all that far technically on this thing, but I don't want you to feel totally cheated. Here's a summary of the features this unit provides, taken at random from this page here:
- ANT+ and Bluetooth support for all the bits you could ever hope to connect
- Automatic and wireless connectivity for updates, routes, workout uploads etc.
- USB rechargeable battery (via a rubber covered door at the bottom of the device)
- 2.7" Gorilla Glass screen with full colour display
- Estimated "up to" 17 hour battery life – Honestly, this seems pessimistic in my experience
Beyond that, it does most of the things you would expect from a modern cycle computer/GPS device (speedometer, cadence, route tacking/following, etc. etc. etc.).
Dimensionally, imagine a credit card that is the thickness of a deck of cards, and you'd be pretty close. It has a power button on the side, and 3 buttons along the bottom of the screen. Scrolling through the various menus is fairly intuitive, with a minimal depth of menus. Everything is clean, basic and simple.
The final thing to note is the mount on the bottom, which looks exactly like a Garmin mount, and I'm told is identical save for the fact that it's rotated 90 degrees. I wound up buying a K-edge stem mount for its universality, and I imagine this could work with any Garmin or Wahoo device, just by rotating it.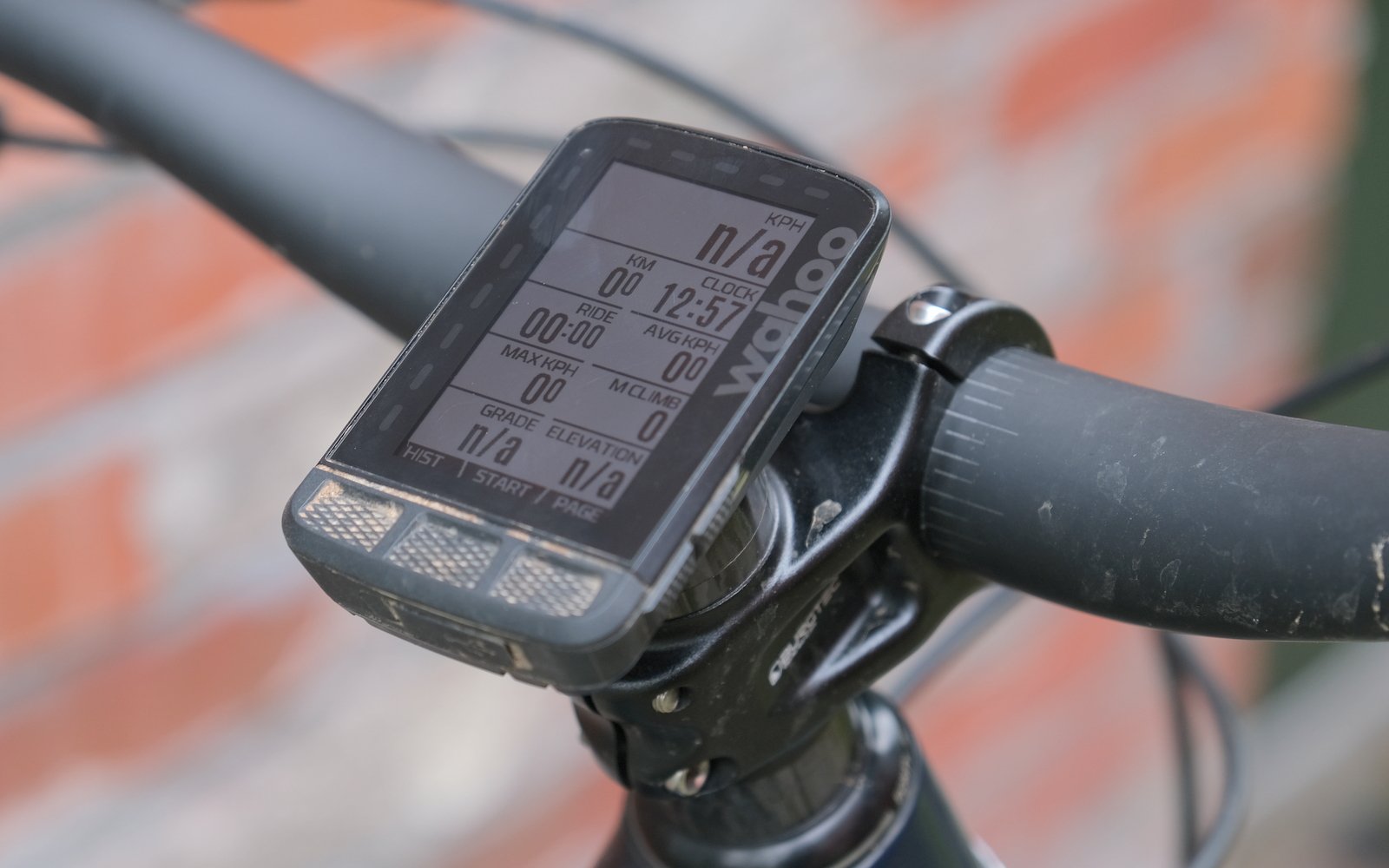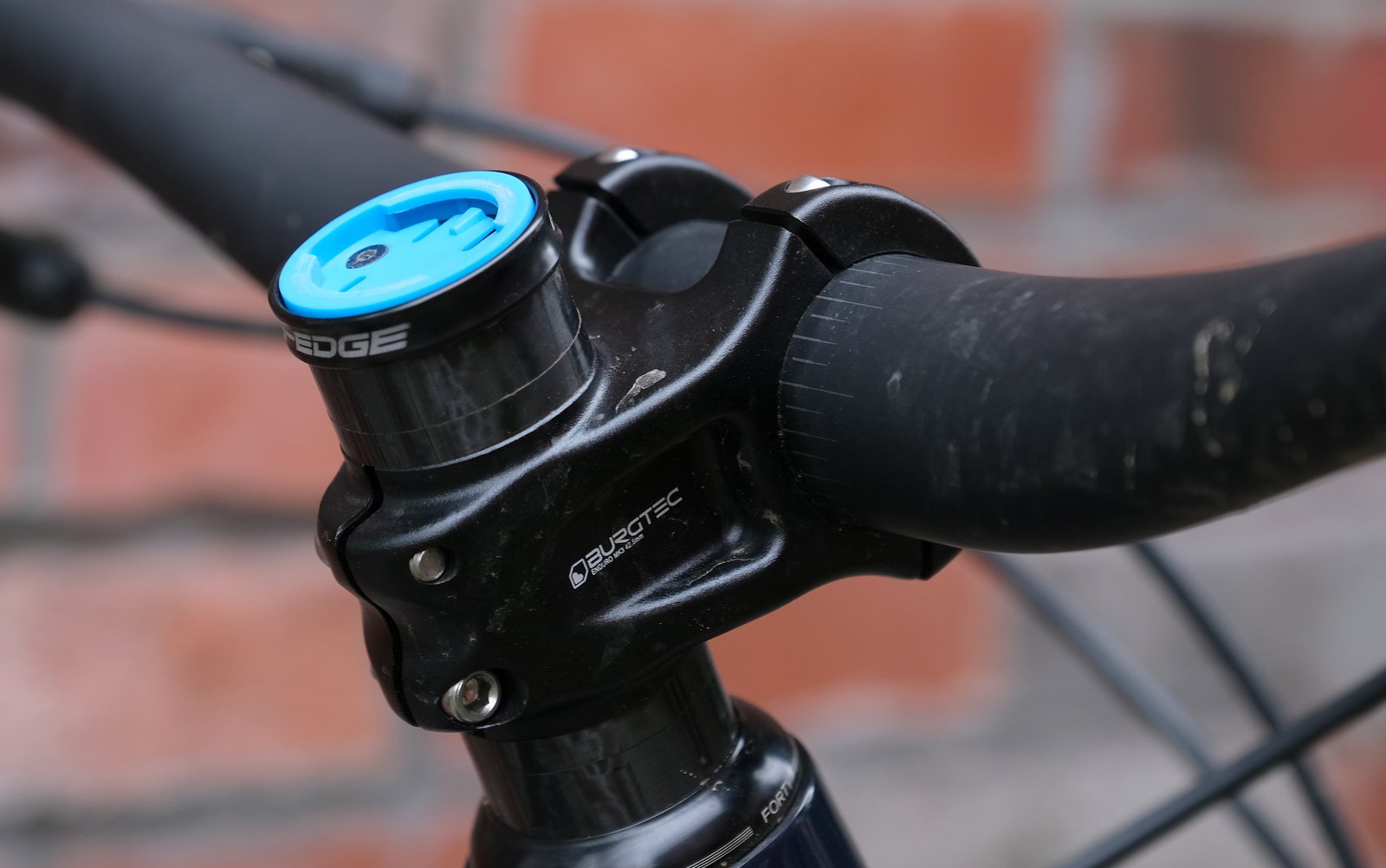 Initial Set-up
Set up is super simple. Download the App, create your free Wahoo account, pair the device to your phone, follow the instructions on your phone and off you go (after strapping it to your bike with the included 31.8mm out-in-front or strap on stem mounts). It's all about as simple and painless as one could hope from a modern device. Neither the Wahoo account, nor the phone connection/app are required, but without them you lose much functionality.
Pulling or sending data to the device is ever-so-slightly more challenging. There is the ability to send data back and forth from the device via the app/e-mail, but it's a bit cumbersome. You'll probably find it easiest to manage your data using any of the supported 3rd party apps (Strava, Ride With GPS, TrainingPeaks, Komoot, etc.) as this does everything automatically.
I had a conversation a few months ago about the technical proficiency of kids these days. Their point was that kids grew up immersed in technology so would thus achieve a mastery that we never could. My point was that everything works so easily these days, can you really claim to be a master of technology when nothing requires even the barest of frustrations? This device certainly won't save our children from their future.
Base Maps
Wahoo includes base maps that cover what seems like every point on this earth. Further, they include free updates! Once you get into the mountains, trail coverage is fair. It's probably not going to tell you anything that you didn't already know about your local trails, but that's probably for the best. Geographical data is pretty sparse, and there is no support for 3rd Party Base Maps if you need more than what is offered. If you really need to figure out where you are, or what that trail over there is called, it's not the best for that. This was the first lesson, for me, about this being more of a cycle computer than a fully functional GPS device.
App Connectivity
At first I was bothered that I needed to use some other app to make full use of this device. Why do I need to do all that if I just want to grab the data from the ride I just completed? Can't I just grab a cord and plug it in to my computer and not have people peeping my ride? But by succumbing to the technology, my life became much easier.
Without any sort of rigorous selection process, I chose Ride With GPS as my base of operations. Linking with the device is easy, and once linked, most things happen automatically. The device will upload your workout/route automatically once you finish (if you choose), and it's pretty easy to get used to this happening vs. hooking things up with cables to your computer. In fact, 6 months into this process I haven't looked back and the rigmarole of transferring from my old Garmin seems archaic in comparison.
It does make me wonder what is happening with all of that data, though. Wahoo swore to me that they don't do anything with your data, and I suppose I trust them. But what about Ride With GPS and Strava and the like? Do I trust them? I'm not so sure. Are they peering over my shoulder on that ride that I don't want anybody to know about? Yes, you can turn off the data share and e-mail the file directly to yourself, skipping any 3rd party route spying that may be happening. But then I don't know what to do with those *.fit files, so I need a 3rd party app to convert it to *.gpx, so I'm always at somebody's mercy.
What I did grow to love was the Ride With GPS route building tool. That thing is fun! I've already built routes out for my next 3 or 4 trips, to the point where it's bordering on delusion. And then you just click send, and there it is on your device! Magical.
It also makes me feel pretty great when I get that little e-mail in my inbox telling me I just set a personal best down some trail, and I only have to shave 30 seconds off my time to match that set by some other delusional 40 something man.
GPS Accuracy
This feels like an important topic for a GPS device, but it's not that simple. I mean, of course you want your device to be as accurate as possible. But how accurate are the trail maps incorporated into the base map? And how accurate was the Ride With GPS map that you used to create your route that you then sent to your device? And then how accurate is your device on top of that? And if the device is telling you that you're 50 meters from where you know you are, which one is wrong?
So with all of those layers of potential inaccuracy, stacked one upon the other, it's impossible to say exactly how accurate the Roam is. Overall, I'd say not too bad, but in certain circumstances it can be a bit frustrating.
Most noticeable is the speedometer function, which some of the time appears to me more of a guess than anything. Staring at the speedo while climbing can bring along small bouts of depression, as you swear that you are moving but that little thing on your bars tells you that you aren't. And then it springs to life and apparently you're flying along at 30 km/hour. Before you're not, again. Who needs a speedometer, anyhow?
Next, while you can't entirely trust the maps that the device is built upon, you'd at least expect for it to follow along with them consistently, but when I followed the same trail back out there were often large gaps between the two tracks this created. Inaccuracy was never egregious. For most situations, anything within a few meters is good enough, but it does lead to some frustration at times, and it makes certain tools (like the speedo) less than useful. As well, forget about tucking this device into your pocket. It needs to be mounted out in the open to work properly. I had some crazy results when I tucked it into my pocket.
Trip Tracking
We touched on this a bit in the App Connectivity section. For tracking rides and spitting out data, this device (and the 3rd party service necessary to track all of these things) is amazing. It's so great to just turn the device on at the start of your ride, hit start and then turn it off at the end and then watch everything just magically happen. I really never thought I would care all that much about my ride stats, but as soon as you start seeing e-mails with your segment details rolling in, it's easy to become addicted.
This has been the biggest revelation for me and has changed the way that I ride, and test. It would honestly bother me a bit if I found myself at the start of a ride without this device. How am I going to know if I beat my time on that one segment?
I've also started to do a tonne of back-to-back-to-back rides on the same route, switching out bikes, looking to see where one excels over the other. It's one thing to think you're climbing really fast, but it's quite another to compare directly to the time that you did on another bike the previous day. As I mentioned before, I've long had the ability to track where I'm going, but the immediacy and the easy comparisons of Ride With GPS have really changed the way I look at data. Shit…I'm starting to think about things like heart rate monitors and power meters. I'm not ready for Strava though.
Route Following
Overall, following a route on this device is easy. Simply send a route to the device from the App/Website of your choice, find it on the route menu, press start and you're on your way. Once following a route, the device is easy to follow and gives lots of notice of upcoming forks and tonnes of feedback if you get off track. Loading a route through RideWithGPS would even give me turn-by-turn navigation with trail names! Crazy stuff.
My only challenges came when I would either get off route, or if I was looking to get off route. Once off route, the device does a really great job of telling you that you've done so, with lots of flashing and angry beeps. However, if you decide to ignore these warnings and keep pushing forward, it's not always obvious how to get back on route. This is where device accuracy comes into play. Say you're off route and you come to an unexpected trailhead. If the GPS thinks you're 20 m from that trailhead, it doesn't really give you much information as to where to go. This can also be a bit of a problem if the trail you're standing in front of is a bit overgrown and the device tells you that you still have 20 m to go. You're pretty sure that you're looking at where you need to go, but you'll convince yourself that you should go and take a look anyhow.
The other challenge with route following is that there often isn't enough information on the unit to complete the picture. For example, it doesn't provide you with trail names, so if you want to figure out if that squiggly line that you're looking at is the trail that you're looking for (and it's not on your route), you'll need a more detailed map to figure that out. Using the device as an actual map isn't really possible.
This might sound a bit negative, but it is all manageable. Following routes is simple and straight forward. It gives you a lot of feedback, and if you're off in the boonies without many trail options, it all makes a lot of sense. It's a great device to use to follow a fixed route, but not so much as a tool if you are looking to randomly explore. Perhaps one shouldn't expect so much out of such a small device, but poking around in detailed trail maps on your phone is possible with Trailforks, so why not here?
Safety
There is one feature on this device that I think needs to be called out, all on its own. Via the app, you have the ability to send out a tracking link via text message. This gives the ability for people to follow along on your ride and know your location if things go to hell. I found myself using this feature quite often, and I started bringing this unit along whenever I rode or hiked solo, just for that feature. This does require a working/connected phone to function, so it's not a totally foolproof emergency tool.
Conclusions
My final thought on this device is that I'm really happy that I made the decision to update my ways. This is a great device that is easy to use. Yes, it has limitations that you should be aware of, especially if you're far from home doing interesting things. For me, it's now coming along on almost every ride, largely just for the combination of detailed route tracking, ride data (via Ride with GPS) and as a passive safety device. For longer rides, either day long adventures or bikepacking trips, it's exactly what I need to not get into the situation that I found myself in on the Sunshine Coast. Having a device that I know is not going to die (honestly, the battery seems to last a really long time – I've probably only charged it a few times since I've gotten it) and that is actively telling me where I need to go is a giant boost of confidence.
The Wahoo Element Roam is available for CAD$549.99 or US$$379.99.