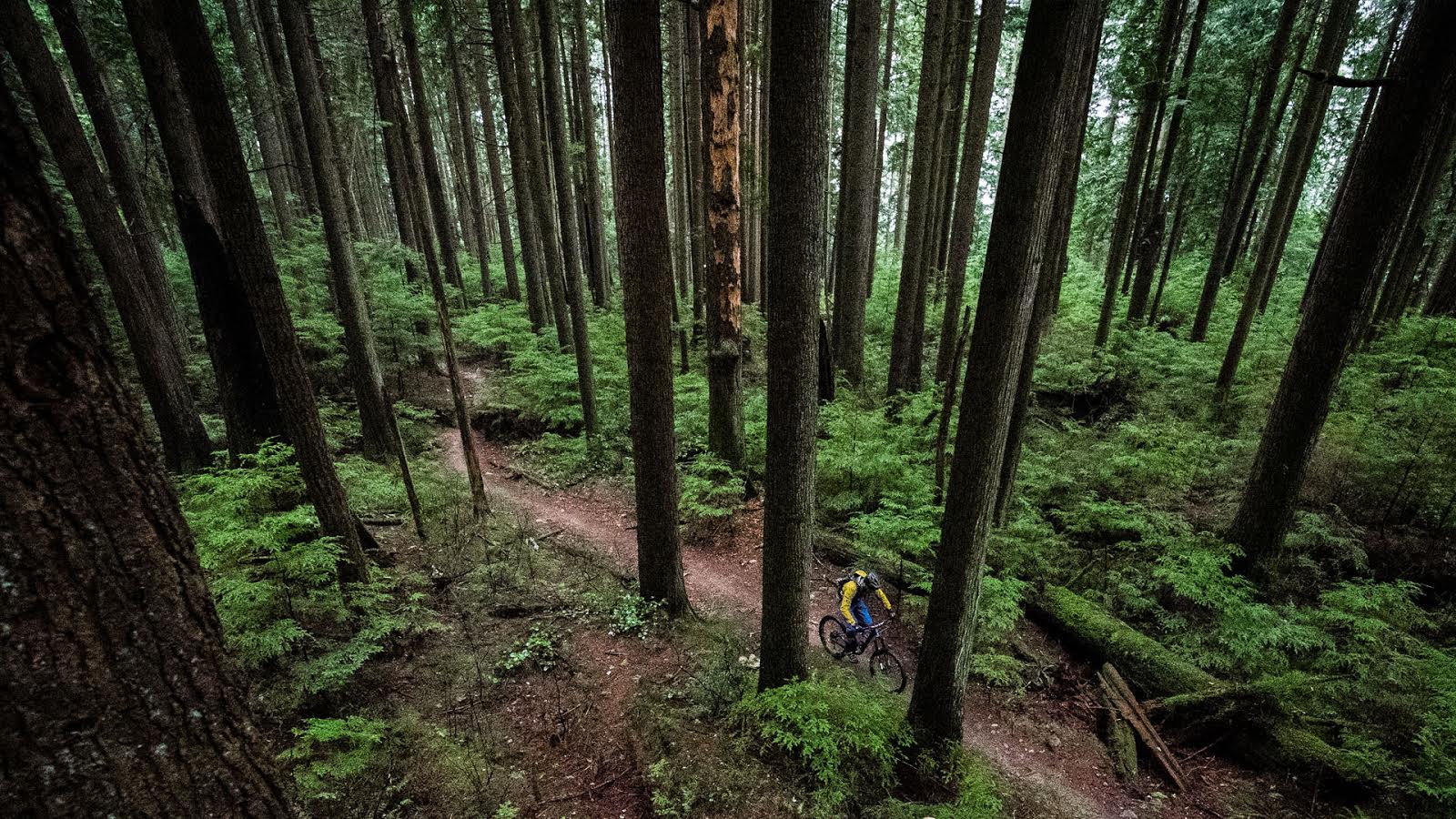 Wade Simmons Circa 2000
I sat down for an interview with Wade Simmons when nsmb.com was in its infancy, in June of 2000. Wade didn't know me and nsmb hardly existed, but he was gracious enough to sit down for a long interview with a complete rookie. And I was thrilled. This was in June of 2000, when we had just done a soft launch of the site. Here's what I recorded on a cassette tape, before Rampage, before  Crankworx, before Slopestyle and right around the time Kranked 3 and NWD 1 were released.
---
Wade Simmons is the best mountain biker in the world. We could narrow it down and call him the best freerider or technical rider perhaps but that would be diluting the truth: No one rides a bike down a mountain better than Wade. That may be a contraversial opinion but to me it is a no brainer. The most difficult trails in the world are right here. Yes there are other places with scary riding but really this is the Bonzai Pipeline of the mountain bike world and Wade makes it look easy. When you watch a video there is no need to catch the downtube sticker on his Rocky or see his mug – his style is unmistakably graceful and fluid. Ask anyone who knows about Wade's riding and they will give you one word: SMOOTH. He lands huge airs without a bar kissing neck snap, nails transitions and lines others wouldn't consider at mach speed, rides urban or a set of doubles like a BMX star – and he does it all with the humble sincerity  of an original 6 hockey star.
Wade Simmons doesn't live in a 17 room mansion. He doesn't have a fleet of classic cars or a home on the riviera. But he is that calibre of athlete. Pro BMXers make great cash these days and Tony Hawk – perhaps the greatest skateboarder ever – cruises around in a Lexus. Pro Snowboarders buy their first houses when they still have braces on their teeth and Craig Kelly never needs to work again.
If Wade were at the same level in most other sports he would be living a life of recognition, priviledge and cash. When confronted with this realization Wade shrugs, smiles and essentially tells you he has it all – the freedom to do what he loves.
I had the pleasure of a rambling conversation with Wade over pints of Shaftebury on the eve of his departure for Europe to ride and promote as a Fro rider. This is the first of 3 excerpts from our conversation.
Cam McRae (in 2000)
NSMB – You could probably live outside of the city in your line of work.
Wade – I enjoy Vancouver – it's the best of both worlds; you can ride year round, you're an hour and a half away from the best snowboarding – it's like this is the epicentre
NSMB – Where are you from
Wade – I did 9 years in Victoria- Well I was born in New Westminster, my Mum and Dad had a farm in Langley, my Dad was working for Sears at the time then he got transferred to Victoria and then moved to Kamloops and did 8 years there and then moved to Vancouver in '91
 NSMB – so you went to high school in Kamloops?
Wade – Yeah – so that's kind of where I grew up. Even though I spent more years in Victoria a lot of my influential times were growin' up in Kamloops
NSMB – So that's where you go to see the old buddies
Wade – Yeah – old buddies and I have a brother up there with a family – niece and nephew
NSMB – So where were you when you started – you started with BMX didn't you?
Wade – I started racing BMX when I was about 6 and Kamloops had a really healthy BMX population at that time – that's when BMX was quite large in the 80's like mid to late 80's – when the whole BMX thing was charging – it had it's full momentum and in 1985 Whistler had the world championships- and I was 11 at that time and I represented Canada – it was all right – it was great. I actually crashed in the "world" championships but the same weekend they had what they called a Canada Cup with the same riders and I was 5th in that. Who knows how I would have done in the worlds.
NSMB – That must have been a blast.
Wade – It was pretty good – it was enjoyable and the funny thing is you know – the Rocky Mountain "Fro" Riders – Richie Schley who's a member of the Froriders – he was kind of a BMX mentor for me and there's a whole group of riders who spawned out of the BMX genre in Kamloops and now we're mountain bikers making a living out of it.
NSMB – And Brett Tippie is from that as well?
Wade – Not so much Tippie – he's from Kamloops but he wasn't from the BMX era.
NSMB – So do you think that's the way to go to learn to be a good mountain biker is to BMX first?
Wade – Oh yeah – of course – it's essential skills – plus a BMX bike is much more twitchy than a mountain bike so if you can master that – you know it's like comparing cars. If you jump in a Porsche that's like a BMX – an SUV would be a mountain bike – so you've got this zippy little thing that's hard to drive and then you get into an SUV and it's like "what can I run over."
NSMB – so do you think even after someone's been mountain biking for a long time they could learn alot from picking up a BMX?
Wade -Definitely – If you were to take 5 people and watch them ride you could pick out who came from a BMX background- because the riders who are just coming into it are learning on these full-suspension bikes and they don't quite have the finesse that is required to ride a BMX because they are rigid as hell- there's no screwing up on a BMX. You have no 6 inches of rear end travel to suck up the backside of a jump you didn't make – it just makes you more dialed.
NSMB – Do you still have a BMX?
Wade – I don't ride BMX now no – not anymore – too many bikes – I'd love to but I have a full suspension bike and a hard tail bike – I go do BMX stuff like fool around on the track and stuff but I've adapted to a mountain bike now. I have friends who have them and I hop on them and have fun.
NSMB – So do you ever do other kinds of rides – jump on a hardtail and go for an epic now and again.
Wade – Oh yeah. I enjoy doing epics. I try to get out and do at least 5 or 6 epics every summer – I consider an epic like a 5 to 8 hour ride. There's many around Vancouver. Disneyland for example is an epic if you ride it and not take a helicopter up. There's one out in the valley – mount Thurston – You ride up and go across the ridge that's an epic and there's a couple up at Whistler – like what's off the back side of Whistler there – The Khyber Pass Then there's the Chilcotin area like Spruce Lake, Braelorne area. I've done it a few times in a helicopter but I've also ridden it a few times and it's an epic 8 hr – about 120k loop. Crack of dawn you wake up brew the coffee. Usually what we do is go up with a couple of old School guys from Deep Cove – Rabbit from the Cove he's the one who showed it to me the first time – Brent Postle – he's a lifer courier downtown – all the old school lifer courier guys are into the epics. W- It usually involves vitamins of some kind.
NSMB – That helps you get 120 K down. So tell me what you would say to someone who wasn't a rider if they asked you what you do? What would you tell them?
Wade – What do I do? I enjoy life to the fullest that I can. You know I am a simple man – like if I have whatever gets me by and I'm happy – I have no drive to be a millionaire – It would be nice to buy a house and lead a good lifestyle that way- you know hopefully biking can take me to that but if it doesn't – basically I'm a bike addict and this is where it has taken me. I've gone along with the flow and just steered down the river a little bit but always with the flow. This is my passion and I'm just starting to understand now how it could be a job or a living. Number one I am a bike addict. I enjoy the woods I enjoy getting out and riding. You know when you're out there shooting you're 20 minutes from the city but you'd never know it. And the thing about it is about 80% of the population don't know anything about it. We do rides up Seymour and Cypress and ride by Alpine lakes at 2,000 feet and then you drop right into Deep Cove. You know 45 minutes of single track and 3,000 vertical feet and no-one knows about this.
So when you ask me that question "What do I do for a living", you know when Mastercard calls or the Government I say I'm a professional athlete. But I'm not professional in the sense that I'm going to the Olympics or anything like that. It's more of a lifestyle profession.
NSMB – What do you think about adding competition to – we'll call it Freeriding.
Wade – Well it may be neccessary for the masses to understand it – for the sponsors and the spectators because that kind of legitimizes it. It puts something solid behind it.
 NSMB – and ranks everybody?
Wade – Exactly whereas you know someone says "he's the best freerider" but by whose criteria? So people are going to have to have competitions to prove that. As long as the competitions are fun and it doesn't get out of control I think it's great.
NSMB – So you'd do it?
Wade – Yeah I'd do it. But it's kind of a strange animal because it would have to incorporate a whole bunch of disciplines cause that's what freeriding is like. I go downtown urbaning on my full suspension bike or we did some filming of some airs the other day – I'll go chuck off some 12 foot airs. We're not like vert riders like BMXers like "let's go hit the vert ramps" or something like that. I like to do a bit of everything.
NSMB – I guess that would be really hard to incorporate in a competition – they were talking about doing one in Whistler.
Wade – It's going to happen this year – Paddy K is the guy who's organizing it and I feel like a tool cause I should know what name he's using for it  (referring to the very first Joyride – Ed) – but anyhow in September they want to do something like that. They're going to have a dual downhill format, and a time trial with obstacles and sections you have to clean and a short course cross country but really technical and a big set of doubles and big air and the combined score is going to determine the best all around free rider.
NSMB – How do you think that's going to change what you do? Are freeriders going to start to get more recognition?
Wade – It might bring in more sponsors – more money. It's been kind-of stand offish the whole freerider thing. It's huge over in Europe but Canadians are much more laid back than Americans and the Americans are holding back about grabbing the whole freerider thing. I don't know why – maybe it's land issues and the whole renegade factor. They seem so caught up in like stock car racing you know what I mean?
NSMB – Have any European sponsors come to talk to you? Because it does seem much bigger over there.
Wade – Well I'm meeting Richie Schley tomorrow in Frankfurt and he says it's out of control. He walks around and there's tons of people following him. He was in Italy at the Lake Garda German mountain bike fest and it's huge – like 30,000 people. Americans are so caught up with style like the who's who – maybe because it's such a young society whereas Europe's been around forever – I think they don't give a shit so much. They just party they rip it up and they're genuinely keen whereas Americans hold off from their keenness because they don't want to look like they're geeks, being too keen into something. There's more celebration over there for being who you are whereas in the States there's more of a proving ground. You've got to prove you're no. 1 of the dual downhill before you're somebody.
NSMB – It seems like even the downhillers are having a hard time making a living and they have the recognition of being ranked in competition. Andrew Shandro was saying he's the only downhiller making a full time living in Canada this year.
Wade – Well that's Canada. There's alot of people in the states making alot of money – but in Canada it's slim pickings. There are payoffs to living so close to the states but there are also negative aspects – think about this: We're the Rocky Mountain Froriders You know – how are we going to sell the states on buying in to us? What do they want with a bunch of crazy canucks jumping off cliffs you know? Do you think they're going to welcome us into their economic sphere? They're going to say "why can't we get a couple of guys to do the same thing. That's why it's a hard sell to them.
 NSMB – I don't think they can get a couple of guys to do the same thing. If you look at other videos I don't think there are other guys riding the way you do. I think that if they were really paying attention they'd be able to see the difference.
Wade – I think there are other guys capable of taking it to the same level it's just that this is what we do so we're on the upper end of it. All the downhill racers are talented people – basically it's what you practice. The reason I am good at doing this kind of riding is because it's what I do all the time. I was good at downhill when I was focussing on that. A few years back whenever I raced a national championship I was in the top 5. But I never really trained or focussed on it the way I do freeriding. And I am sure the top American riders could ride the kind of stuff we do it's just not their focus.
NSMB – So do you think the North Shore gives you your edge?
Wade – Definitely. It's constantly challenging. I've ridden lots in the states and you master a trail on the first ride. Taking the trail to the hardest it can go – you know? But on the shore you're constanly being challenged. There's always variations in lines and different lines in succession – that's what makes the difference.
Well that was about one pint into the interview. In excerpt 2, coming soon on NSMB.com, Wade talks about fear, filming and the changing face of mountain biking.
---
The playing field has shifted but Wade is still the same guy. If you've got tales tell of early Wade do it below.