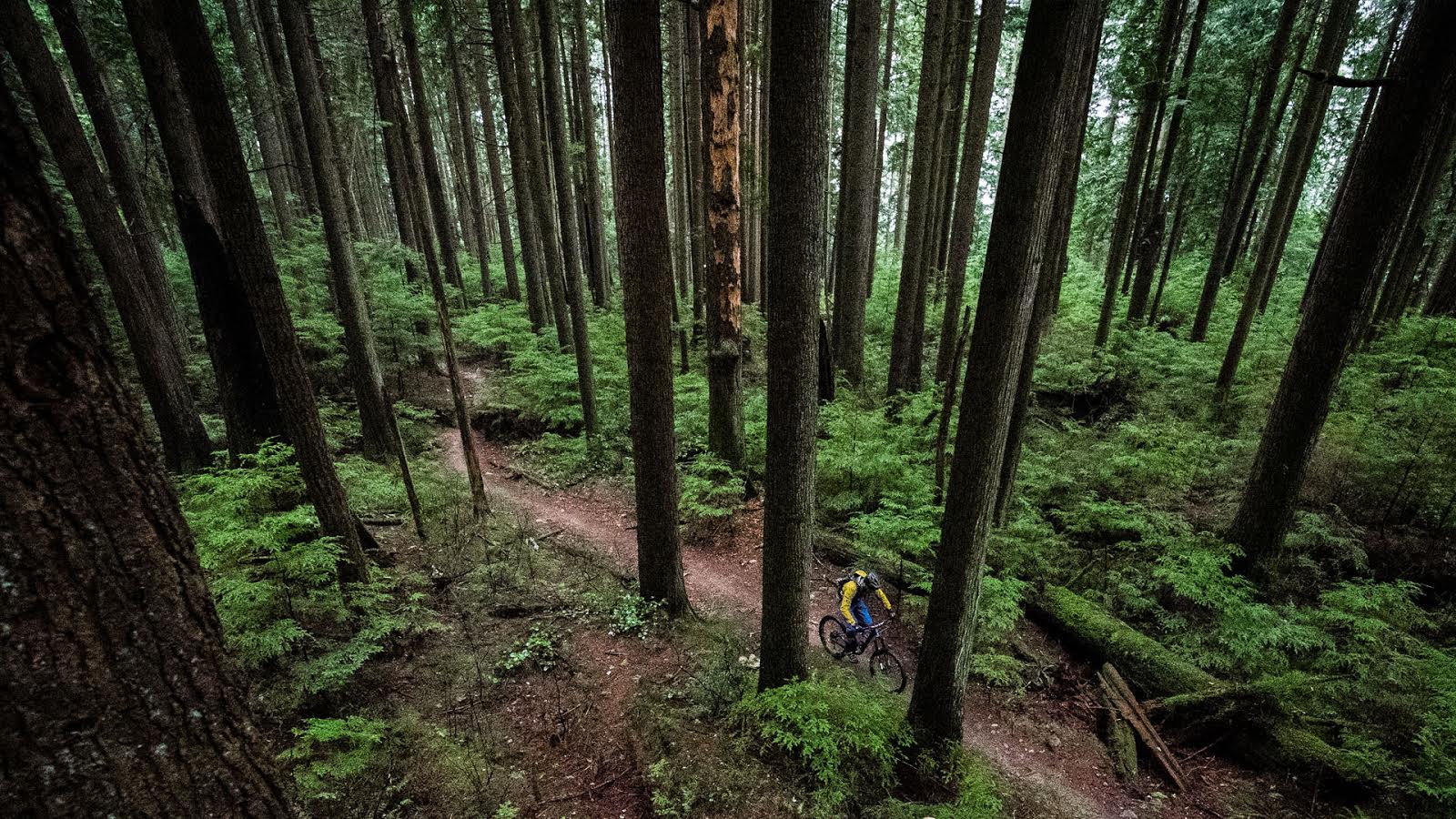 Wade Simmons Circa 2000 – Part II
Last week we dug up our first interview ever, and the response was overwhelming: we'd have to dig up the next piece of the story. Part II is longer than Part I, so sit back and relax for the long haul. We've set the time machine for the year 2000.
---
I have to say that I thought there would be a small outcry. Local riders probably wouldn't argue too much about me naming Wade top dog – especially those interested in our site. The funny thing is we have been getting traffic from all over the world – France, Austria, the U.S. and even places like Brazil and Singapore. I did receive 2 dissenting messages. One sang the praises of Nicolas Vouilloz; the other talked about the lack of international downhilling or dual slalom hardware on Wade's mantlepiece. Otherwise it seemed like everyone found it pretty easy to swallow. I think this illustrates where mountain biking is going. Snowboarders wouldn't hesitate to nominate the best rider form the the non competitive ranks. We mtb'ers are a goal oriented bunch: show me results and I will tell you who's best. This is slowly changing as the popularity of videos continues to increase and the stars become more about personality, commitment and brilliance and less about podium finishes.
I had the pleasure of tagging along with Wade and Ken Maude on a photo shoot on the Groovula – a trail with some massive moves. Wade was not wearing a full face and had no pads on. He was heading to the Dentist after the shoot (do the Fros have a dental plan?) and all he had to do was take off his gloves and helmet. I didn't see him out of control for a moment. When you nail virtually every line and stick every landing why waste time padding up? Wade is now home from his European vacation and charging already. Jorli Ricker (local filmmaker working on his second 16mm show, SHIFT II) built some massive gaps for him to punish and I am sure the Digger will put him to work for North Shore Extreme IV due out in September. Here it is folks; part II of the Wade Simmons interview…
Wade – I remember reading an article that said even the bad Canucks are good. These Americans were describing riding on the Shore and this guy from Toronto caught up to them on the uphill and they were like "where are ya going" and he said 7th secret and the Americans were like "oh good someone we can ride with finally" because this guy was from Toronto and boom – 5 minutes into the trail he was gone. But I don't want to take anything away from the Americans you know – like take Dangerous Dan who's on the forefront of being one of the gnarliest shore riders and you take him to a BMX track – he's out of his element. You know, give him a set of doubles and you know he could jump them but not at the level of a decent BMXer.
NSMB – It's a niche for sure and if you only do that then that's all you're going to be good at. But it seems like the Shore is expanding now too.
Wade – It's definitely starting to evolve.
NSMB – Have you ever been anywhere where the riding is as challenging as it is here?
Wade – Physically challenging – I haven't been anywhere where the trails have been as challenging as here. You know I am sure in Washington or Oregon – the Pacific Northwest has the same geography: roots and rocks, steep and wet. There are going to be difficult trails down there – but all in all for a popular riding area I haven't experienced anything that's like here.
NSMB – What are some of the places where you have enjoyed riding?
Wade – I've been to Vermont, Mount Snow area where there's really fun twisty single track. Out in New England I've heard there are some really great trails. I've ridden in Nova Scotia and it's probably the same down the coast and it's similar to here there's lot's of granite roots, mud – technical trails but the thing they lack is mountains so you throw that in with the sustained vertical we have here and you'd have similar trails.
NSMB – What about other places in the world?
Wade – Moab's great. I've always loved Moab. California's a hoot for like super hard packed high speed.
NSMB – What about Europe?
Wade – Yeah. Europe's great. I've done the most riding in Italy around the Lake Garda area and I found it similar to Whistler – really rocky terrain. Lots of steep stuff.
We're kind of blessed here because we have such an expanse of land and such a small population that trailbuilders can build wherever – whereas in Europe it's frowned upon – if you start ripping a trail through the woods it could be someone's backyard. The same in the states too except for Alaska. But you can't beat BC for variety. Just look at the corridor between Vancouver and Pemberton. You've got the North Shore in Vancouver you go to Squamish and it's a little different – a little drier but the same sort of roots and rocks and steepness. You go to Whistler where you've got the high alpine stuff – more shale and loose rock and then you go to Pemberton and it's dry – it's on the leeward side up there – it's like Kamloops riding. Within a 2hr drive you've got everything.
NSMB – What about the Kootenays?
Wade – The Kootenays would be like Squamish – that kind of terrain.
NSMB – But they're building more stunts aren't they?
Wade – Yeah they're starting to get into the stunts. It's just the base. You know what makes Vancouver so good is that you've got the riding base – you've got people who are willing to go out and build. Whereas Rossland which was labelled the mountain bike capital of BC at one time – those are all kind of old hiking trails and some mountain bike trails but say there are 20 hard cores there who are always kind of maintaining and building – maybe there are only 10 who actually live in Rossland whereas in Vancouver you've got tons. Nelson is a bit bigger and you can tell by the amount of trails there – the mountain bike oriented trails – the building and stuff going on.
NSMB – Have you done a bunch of interviews – like in Europe do you do interviews?
Wade – You were always being entertained by media people.
NSMB – Where are you flying to tomorrow?
Wade – Frankfurt – no stopover – 9hrs
NSMB – And then where do you head?
Wade – No idea.
NSMB – Is there a manager who goes with you guys?
Wade – No – there's a fellow named Dirk Jans who owns a company called Bike Action who are the distributors of Rocky in Europe and Rocky is very popular in Europe. Our man here, Mike Caroll and Dirk Jans make plans together – Dirk takes care of most of the inbound expenses whereas Rocky Canada they pay for the flight and all that. Whenever we hang out with Dirk he's always buying us dinner and takes care of the hotels but there's always other stuff so we have a budget to pay for the odd room or rental car.
NSMB – I was remembering the Turkey scene in Kranked III and it looks like you guys are having a lot of fun – is it a blast when you travel to go filming with Kranked or whoever?
Wade – It is. It's a great time – it's fun. I mean you want to be good and look good on film – you want people to go "wow" so there's that feeling like "shit I gotta do something big, throw some stuff down" or whatever but it's always fun just hanging out with the guys, joking.
NSMB – So when you go filming is riding only for work or do you go out and just have some fun sometimes.
Wade – No it's mainly work – Christian anyway he's a bit crackin' the whip – but you know he gets the work done. We were 10 days in Turkey and we had 2 days off to ourselves which isn't a lot and one day was ate up kind-of scouting. We rented motorbikes and that was one of the most fun days there just scouting, looking around up these dirt roads and stuff. But other than that we were up – like it's quite hot there in the day even though we were there – were we there in the Spring or the Fall – I can't remember now – I think it was the Spring – and it's kind-of desert like right. So the evenings are cool but midday like noon is hot as hell so we'd get up, crack of dawn get the morning light, shoot from about – like we'd be waking up at like 6 am to get the morning light – shoot till about 11 cause it's not the best light when it's high in the sky anyways and then we'd take the afternoon off which usually entailed driving to a new location and getting some food and then we'd shoot again from 3 until sundown – so it was long days. Like we were on our bikes from basically 6 till sundown which was 7:30
NSMB – Who does the nasty crash? Was it Richie?
Wade – Where it looks like he knocks himself out?
NSMB – Yeah.
Wade – Well of course – who does all the nasty crashes?
NSMB – Brett?
Wade – Brett yeah (laughs)
NSMB -That was a bad crash.
Wade – You could tell his bell had been rung pretty good.
NSMB – He was alright though?
Wade – I think he had a slight concussion. But he's a tough bugger that guy.
NSMB – So you don't seem to crash very much.
Wade – I don't like crashing. I mean you go down – but when you're at this level you don't really crash that much. Everything I do is generally pretty calculated.
NSMB – But there are lots of guys who are attempting similar stuff who take lots of tumbles.
Wade – I went through that – you go through stages where you start breaking parts – you know your eyes are bigger than your stomach sort of thing – you know you bite off more than you can chew – go for a big wheelie drop and you just don't have the finesse yet and you start breaking bottom brackets, bending bars. Now I'm pretty smooth – I'm not such a great tester anymore – I'm not putting things through the integrity tests like I used to. I'm not naive and stupid like I was. I'm not going to huck myself off a 15 foot wheelie drop to flat just to prove I can do it.
NSMB – So how do the rest of us get to be smooth?
Wade – Just time in the saddle – riding in every situation you know – experience – being a veteran.
NSMB – How old are you?
Wade – I'm 26.
NSMB – You've been around awhile – I would have thought you were older.
Wade – Well I've kind of done it all. I've competed at trials – I used to go over to Hornby  – I had a 26″ trials bike set up. I enjoy all aspects – because riding the Shore is all that right? It's downhill racing high speed, it's slow mo trials you know it's balancing on beams. I used to like cross country racing until it got too competitive. When I was in sport that was a good distance you know cause you could hammer it out for an hour and a half but once I got bumped up to expert – to have as much fun as I was having in Sport to be up with the boys the training was punishing. I wasn't into it.
NSMB – My wife's taken up racing and I can't ride with her anymore now that I'm on a big pig.
Wade – That's the same with my girlfriend – you know the 9 mile climb on the Test of Metal course – you do 9 mile bridge – well I took my RM7 on that and she was making me pay – Yeah fatigue you know? But it's good to hurt like that.
NSMB – What about pedals – it seemed like you were riding clipless for a long time -and now…
Wade – Yeah – now I'm 100 percent flats all the time now and I'll tell you why – on clipless you can't move your feet around so I found when I was coming off big drops I was jamming my ankle cause I couldn't move my foot forward onto the axle. Say your pedal axle is under your toes there's a lot of leverage on your ankle right – so what you can do with a platform pedal is slide your foot forward so the force is going down straight through your leg rather than like levering through your ankle. I had a couple of bad ankle injuries so I switched to flats and stuck with it and I raced dual slalom with flats and I come from a BMX background so I found the transition pretty easy. They're definitely punishing though – I don't find them bad on the flat when I'm going for a road ride but when you get a slight uphill and it's really rocky and you need to kind of drag your bike with you – you're out the back – because you got that one power stroke – if you spin out you're done.
NSMB – I rode up to the 19th hole with a bunch of pro racer hot shots the other day and I was 25 minutes back.
Wade – But you dropped them on the downhill right?
NSMB – The downhill was fine. Do you know Amber Chorney?
Wade – Actually I met her sister today out at Rocky.
NSMB – Oh yeah – she's Rocky sponsored isn't she? Well Amber is a hot technical rider – like she rode all of the 19th hole – and there are tons of…
Wade – Steeps…
NSMB – and tons of the other riders – the guys especially – walked most of it – she was just totally dialing it.
Wade – There's a few girls that have that in 'em you know.
NSMB – and who are they?
Wade – Well Karys is a good rider  – I don't know it's letting go of the fear and harnessing the momentum and I just find – I don't know why it seems to be harder for women to go with the momentum and not panic and hit the brakes – that's what you gotta learn to do – you gotta crash a few times right and realize it really doesn't hurt that much. You can kind of control your crashes – you do get the ones where you bang yourself pretty good – but I mean the downhillers – the female downhillers in the last couple years have made leaps and bounds like Barb and Andrea and Damiaan. Even alot of the girls – I don't know – I guess there is a girls ride every week – they meet at the On Top bike shop – there's a lot of just North Shore girls who enjoy putting the pads on.
NSMB – Do you have some favourite trails?
Wade – I do – in BC here?
NSMB – Yeah.
Wade – What's my favourite trail? One would think that I like circus type trail but that isn't my favourite trail at all – like the Uvula – what the Uvula is now – that's really fun. I like trails that have flow where you can really carry your momentum – like the Big Eye – there are sections of that where you're just maching – If I was to describe it it would be undulating – up and down and side to side zigzagging in and out, holes, airs, I like to transfer – you know you come down in and transfer into another transition. That's what my bike is basically designed for – my bike's not designed for the circus stuff – the high technical bridges – it's like riding a couch. Seymour's got some fun stuff – like the hangman – You know the hangman it's a new school trail but it doesn't have a lot of skinny bridges – there's alot of cascading. You're waterfalling down the mountain. Really good steeps but not stupid steeps like you drop into this chute and it's like blow it out through the bottom. You drop in and there are kind of islands of satety and then you cascade down.
NSMB – How much time do you get to just ride.
Wade – Too much filming – I'm tired. It seems like I don't get any time. And I kind of get burnt out to tell you the truth – you know why I get burnt out – because I want to bring something new to a movie right instead of "film me on this" doin the same stuff. I don't… every time I watch myself I want to see something new – I don't want to grow stagnant – and that's why I find it really difficult just because you know there are so many people out there that need footage – and I don't want my footage in one movie to look like my footage in the other movie- you know I want to do one thing for one guy and dial up something different for another. But I find it really difficult.
NSMB – It sounds like Digger's (Todd Fiander of the North Shore Extreme Series) got some ideas – Ken (Maude) was saying he was going to get both of you guys with helmet cams flowing an entire trail.
Wade – You have to do something different – people get bored with rehashing the same stuff. Of course the Wheelie drops will get bigger and all that but – people are going to have to be really inventive to keep it exciting.
NSMB – Do you ever think about that if you were a different type of athlete – say even if you were a professional snowboarder – that making a living would be a piece of cake – considering the level you perform at.
Wade – Are you saying that we as mountain bikers have a hard time?
NSMB – Well not necessarily a hard time – but there are lots of British Columbia snowboarders – even 20 year olds – buying houses and getting big cash.
Wade – You know what my philosophy on that is? It's that it's a much trendier sport – I mean if you look now mountain biking is starting to become cool with the kids – we're basically a fringe culture and when people think of mountain biking they think of Paola Pezzo and spandex – the masses that is. They think of Mum and Dad taking out their bikes on the seawall right and I think what makes the sport trendy is something that the adults can't do. In skateboarding and snowboarding what they're doing is so hip and cool because it's "extreme" to use that word – right it's something that older people can enjoy but not to the level that the pros are doing it and I think that biking has been associated too much with cross country racing or a certain style of clothing.
You don't see packs of kids hanging out on mountain bikes like you do with skateboards but it's starting to happen now and I think that has delayed the growth of mountain biking in financial terms for pro riders because it hasn't had the same sort of cult status through kids eyes. If the kids think it's cool the parents are going to buy into it and up until 5 years ago mountain biking was a cross country sport and what kid is going to look up to some spandex geek who's an iron lung?
NSMB – It seems like Kranked and NSX are helping make Mountain biking cool and even the show at John Henry (The Bicycle Man) on the weekend there were tons of kids there who were just psyched – you were signing autographs.
Wade – It's great isn't it? See that's what it needs – kids seeing that it is pretty cool – it's not about going down to the family bike store and riding with your father on the seawall – there's a cool factor too. But I think that I might be too late by the time corporations get into it and see that this is a marketing tool and put money into it I could be out of my prime – you know? But whatever. Look at (pro skateboarder) Tony Hawk.
NSMB – Well from my perspective it seems like you just keep improving – you haven't slowed down at all. It seems like there are lot's of young kids coming up and charging but you are still there.
Wade – I'm not falling off the horse yet – my skills are improving and I still want to learn new things. The one thing I feel like I'm missing a little of is the craziness – I'm a little wiser now – I don't have the safety net of Mum and Dad to fall back on if something does happen but that doesn't hold me back – well maybe it holds me back – uh you know from doing…. you know what I am trying to say?
NSMB – You don't take massive leaps – you take incremental steps.
Wade – Exactly.
NSMB – So what scares you on the Shore?
Wade – Uhmm … like as in on a trail … like what moves? You know what scares me? High skinny bridges you know because there is no margin for error if you slip off – a few of the uphill logs on circus – basically you've got to be so focussed and so confident that you can do it that you just put your head down and do it. If there's any thought of failing you're going for a 10 foot spill into hell's domain. I've taken some good crashes off there. They're going to hurt.
Nothing really "scares" me – that's a hard word. I find stuff difficult – I don't really get scared. If I don't feel up to something that day I might not do it but I don't really allow myself to get scared. If I am going to feel that I shut it down before I feel that.
NSMB – So you don't approach something and then not do it – you either charge in or don't do it at all.
Wade – If I feel confident – if I have the energy then I'm going to do it but if for some reason something's not clicking with me that day then. Like yesterday – You know the Wild Cherry? Well there's that steep rock line to the left or you can take the other line to the right. Well I had forgotten my gloves and I was a bit hesitant on it but I did it finally – it's really rutted out now – it's quite gnarly. I don't have any problem backing down – I can come back and do it another day. I don't get bummed out like "it beat me" I don't look at it that way. I have no problem backing down from stuff.
NSMB – What about the line up high with the root half way down.
Wade – The first steep drop in – that's pretty fun. That's the kind I just point it down and hang on.
NSMB – I haven't done that yet – I' ve been looking at it. Did you see the remains of the Cherry Bomb?
Wade – It's gone – but I was looking at that rock. It looks rideable if you clean out the bottom. I think you could roll it right out – it's on about a 60 degrees right to the bottom. If you made a nice tranny right to the bottom you could do it. It would be like dropping into a 12 foot high skateboard bowl. There's a bit of a hump 3/4 of the way down.
You know I lied before – I do get scared. I get scared watching people.
NSMB – Guys going above themselves?
Wade – Exactly – You can just tell that they're not confident but they want to do it – that's why I don't like going out filming with guys – I prefer to be by myself or with one more guy but when you start to get a few guys out there and you're matching line for line.
NSMB – It becomes a big pissing contest?
Wade – Yeah and I get scared because I don't want to see the carnage right because that puts bad memories into me and I don't want to see how they hurt themselves – I want nothing to do with that. For instance if some guys going to do something big and there's that minute of silence and everyone's thinking "should I say something" you know. And here I am sitting on a log and you're waiting for the impending doom.
NSMB – I remember thinking that. I was out filming with a guy who's a really good rider but more of a trials rider and he was looking at some stuff and I almost wanted to say don't do it. He backed down anyway but…
Wade – You can sense that eh? Almost smell it in the air. But you know what people push themselves right – are we the ones to say no don't do it?
NSMB – And you can feed off that. I ride with 2 groups one better than the other and when the less skilled guys are pushing beyond themselves it totally charges me up.
Wade – But at that level it's scary. More so even with Urban – if you bounce off concrete it's nowhere near as forgiving as the Shore – so I get scared when guys want to huck off roofs and things like that.
---
This blast from the past is not quite over yet. Some very interesting insights from Wade at 26… what stood out for you in this section of the interview?