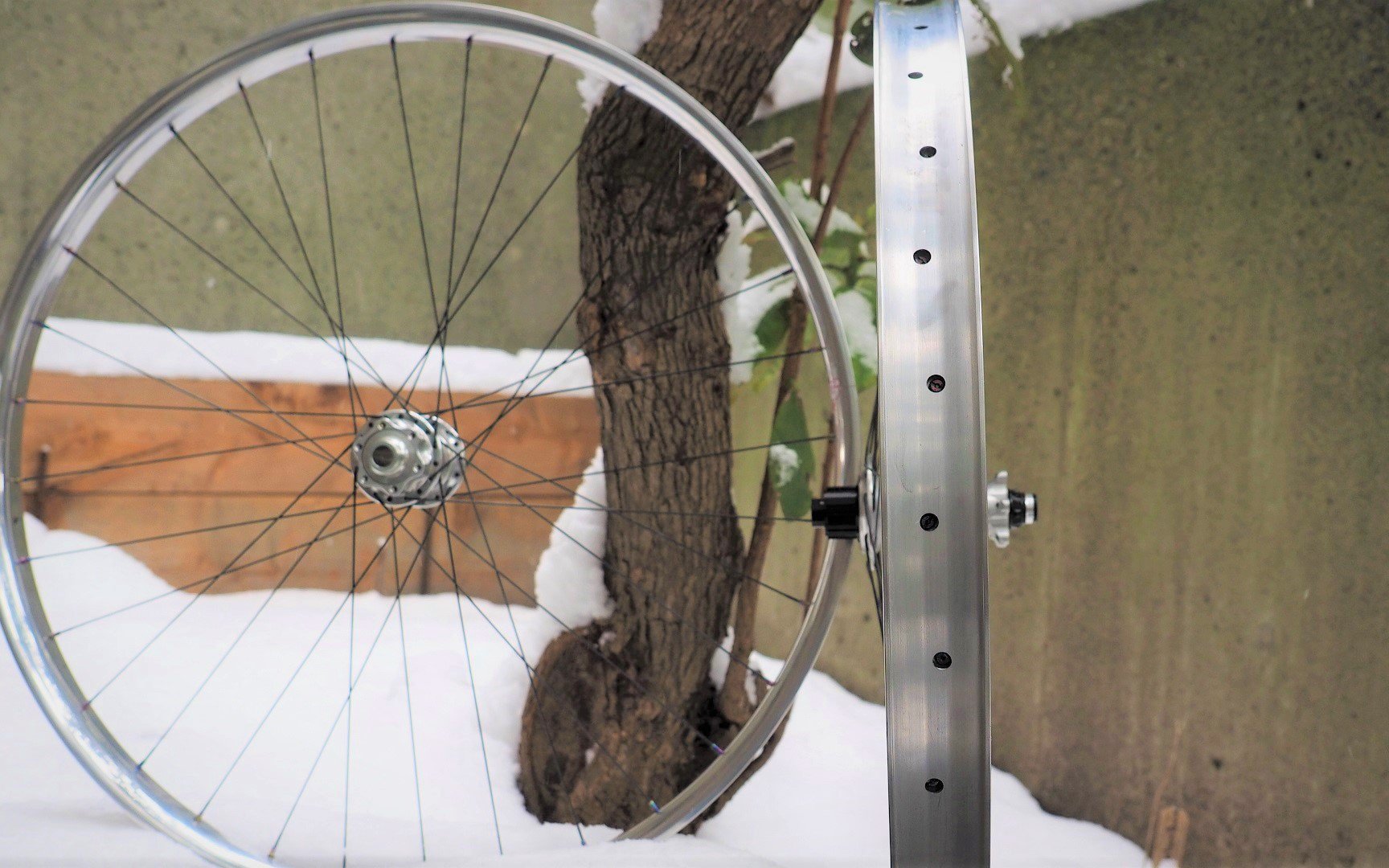 REVIEW
Velocity USA Dually 29" Rims
Polished
I feel terrible for these gorgeous Velocity USA Dually rims. My friend Dumpster Bear laced them up for me at a weird time in my life and the polished i39 hoops have seen the brunt of some brutally bashtastic mountain biking. It's been hack-and-smash riding for a few months.
After years of mountain biking at about the same level, I've suddenly found myself progressing this year in terms of both the speed I'm going and the terrain I'm tackling. From the last time I really progressed - years ago - I vaguely remember a periodic inability to gauge speed and I've been punching my wheels into all the bad rocks.
The rims have taken almost all of it in stride. I have a small dent in the front rim that was the impetus for running an insert,* and I'm shocked the divot isn't larger. The rear is still in perfect shape despite more than a few 'light' bottom outs.
Even un-laced the Dually rims are stiff for aluminum but more compliant than any carbon rim I've tried to compress pre-build. I think it's a good balance of buzzwords and I have a hard time imagining anyone out for a ride thinking that their wheels are too stiff or too flexy. If anything, they're perfectly un-remarkable in that regard.
*I'm now running a Huck Norris up front and no insert in the rear.
Velocity USA
There are some really good aluminum rims on the market these days. I've been really happy with the latest Stan's and Race Face rims, both of which sneak in for 1/3 fewer dollars than the Dually's 150 USD for anodized black. It may be a surprise, given my love of min-maxing, but I can make a strong enough value case for the Dually that we just bought a set for my wife's bike. Beyond that I like supporting small businesses and I'm not overly carbon-interested.*
Velocity originated in Australia, moved production to the USA in 2012, and for the last three years they've been manufacturing out of their facility in Grand Rapids, Michigan.
*If the good folks at We Are One made an i40 29'er rim I'm not sure I could resist their small business story
They're seeking to make durable performance rims with a high degree of customization. They make a plethora of models, including the more regular width Blunt series, in a range of drilling and they offer custom anodized and polished rims for an up-charge.
I also truly appreciate their little details. Rolled rims overlap with an extrusion that's chemically welded in place so the joint and surrounding area aren't a weak point in the rim. Spoke holes are drilled at a ~4° angle with a left and right flange bias so as to create less stress on the spoke-nipple interface. I love the solid bead hook.
I realize many riders love hookless rims but I think that, like pressfit, hookless rims are an example of something that came about because of carbon manufacturing and then was forced on aluminum products. Either way, I love the bead hook. I like the way the tire seats - pawp, pawp, pawp, pawp - and tubeless setup, which can be a chore with wide rims, was no issue.
"You Rang?"
Back to that progression I've been experiencing. My buddy Bri was chasing me down Executioner one fine day when I totally misjudged my speed, ended up in the air, and came crashing down into a rock garden hard enough that I barely managed to keep my hands on the bar.* The sound as I touched down was a clamorous rock-metal-meeting as the cheeky so-and-so behind me yells out: "YOU RANG?"
Well crap. There was a decent amount of Stan's sealant outside the tire and a pile of pressure was dropped but air was still holding and it was no issue to pump it back up to pressure, which is when I noticed the dent. It's not big enough to bother pulling out but it's still an irksome reminder to this day.
I followed the example of any rim company wanting to claim zero-failures in the EWS and stuck an insert in the front wheel and haven't looked back. I've smoked the rear rim countless times and it's still perfect. I just haven't found the right super-sharp-edged rock I guess.
*Yes, I've heard of suspension forks. Have you ridden a modern rigid bike‽
For all the reasons I've noted, my next set of rims will be the Velocity Dually, or a Dually front with a Blunt 35 rear. They'll be for a different bike project, so I'm thinking anodized pink just to be different. Small company, nice folks, good products, bead hooks, solid durability, made in North America - I'm sold.
For the uber-rim-destroyer the price may be a bit steep, but then they're likely looking at a carbon rim with a lifetime warranty like the WR1. For the weight weenie, a carbon PLUS rims may also appeal - the 675 grams don't bother me.
The Velocity Dually rims come in 26", 27" and 29" diameters all with the same 45mm outer width, 39mm inner width, and 18mm height. Anodized black rims are 150 USD each and add +30 USD for polished or a custom anodized colour of your choice. Available drilled for 28h, 32h, and 36h for all sizes. For more information check them out at Velocity USA.