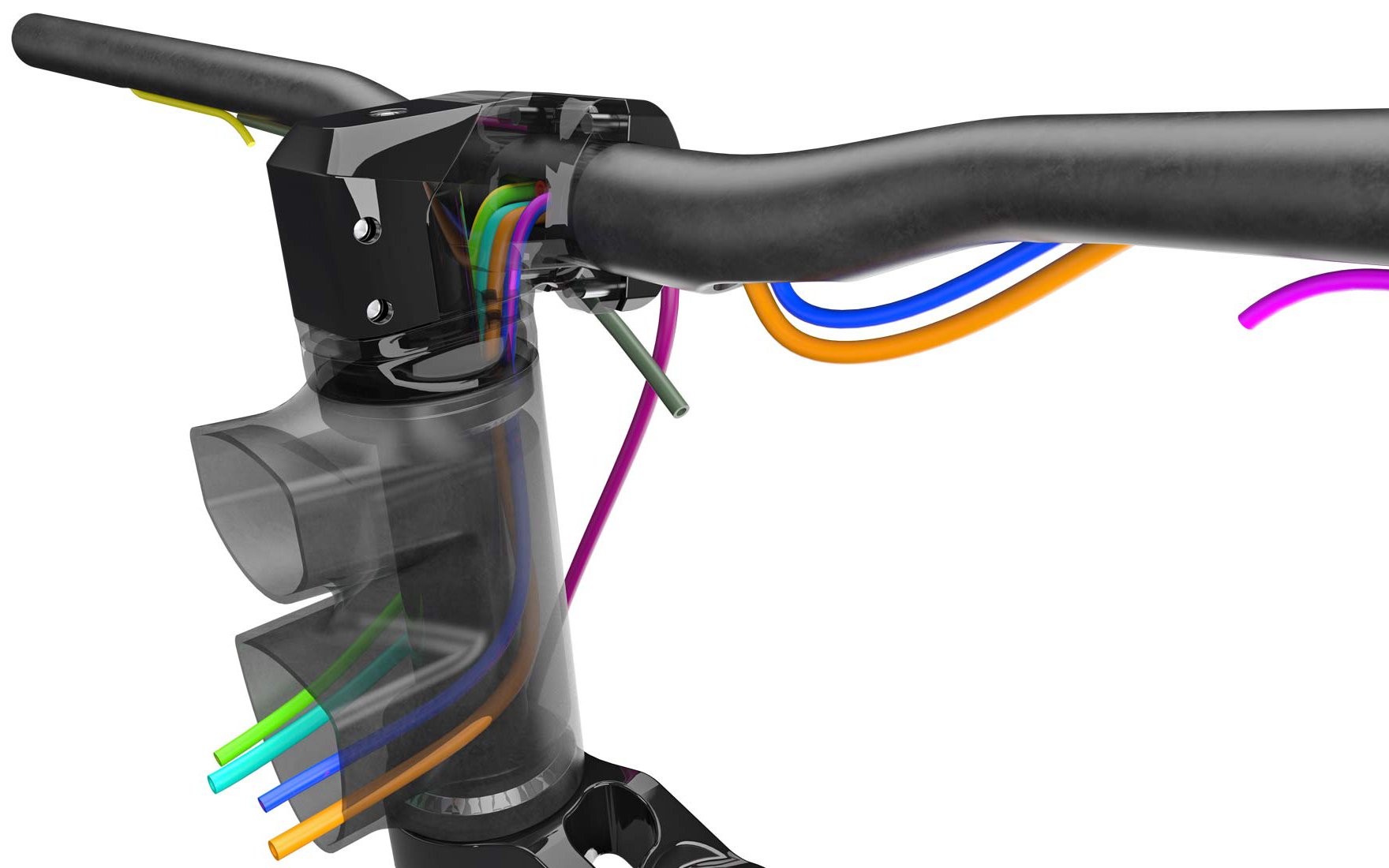 Beggars Would Ride
Vanity's Pricetag
The announcement heralding Transition's new Repeater e-bike made me sad. Seeing what I consider to be one of the more true-to-self core brands succumb to the inevitable survival pressures that dictate terms here in consumerville was a tough pill to swallow. But I understood the "why" of it. However, choosing to spec headsets with holes drilled in them, a decision made by a company based in Bellingham, for cryin' out loud, that's what really broke my heart.
It's just a headset, right? No need to get worked up over a headset. I mean, nobody really ever gets headset spec right anyway. It's one of the most consistently egregious areas of cost cutting when it comes to bike spec. There is probably some secret Product Manager training module that dedicates an entire chapter on how to subtly down-spec the headset while drawing attention to the rear derailleur. "Ohhh, sweet, XT. This bike's awesome."
Only that's not the case with the Repeater. The Acros ICR unit on that bike is not a cheap headset. Probably a ZS56 or similar, angular contact bearings pressed into cups, replacements listed on the Acros website for about 100 euro. About 100 euro, and there are holes drilled in the cap on the top of the headset. The holes are there so that the rear brake hose and rear derailleur cable and I guess dropper cable can all get fed through the headset, snake around the steerer tube and find their way down the downtube and out the back of the bike.
Aesthetically, this looks real sharp.
Practically speaking, this is a can of worms.
Internal cable routing has been the bane of bike mechanics' collective existence ever since it was decided to hide the brake cables on road bikes by redesigning perfectly functional brake levers and concealing the brake and shift wires under a layer of bar tape. Cockpits were suddenly cleaner looking, the new bikes sold like hot cakes, and handlebar tape manufacturers saw their sales skyrocket overnight now that people had to rewrap their bars every time they swapped out any components. Aero cable routing on road handlebars is probably the real reason Sean Kelly decided to hang up his cleats. Aero cables or clipless pedals, had to be one of those…
Anyway, mountain bikers didn't really have to worry about any of this. Which was a good thing, because mountain bikes generally need to be worked on a fair bit. Things break, things get dirty, shit happens. And being able to quickly swap out some "compromised" handlebars or slap new cable and housing on a gritty shifting rear derailleur is a beautiful thing. Or was a beautiful thing.
The past decade saw the wholesale internalization of cable routing on mountain bikes. At first, there was much gnashing of teeth as mechanics stuffed pipe insulation into downtubes to quell rattling cables, or fished elaborate zip-tie bundles of cable through frames while praying they wouldn't ever have to unfish those same cable bundles. I recall one particular test bike that had the internal cables entering through the head tube badge, where they then rubbed against the fork steerer until either the cable abraded through its housing (oh, wait, is that a hydraulic line? Awesome!), or the cables left a nice score mark/stress riser on the steerer itself, and then clanged around maddeningly all the way down the big, resonant downtube. No biggie. It's just the fork. Not a critical component at all. Anyway, manufacturers got up to speed and for the most part devised pretty impressive internal cable sleeves that were molded into the carbon fiber frames, making the whole cable/hose replacement ordeal much less of an ordeal. But still, compared to swapping external cables or brake lines, the task remains a pain in the ass. Anyone who says otherwise doesn't work on their own bikes.
But this is where we are at now. And the reason cables are hidden away inside the frames is because this is what consumers want. Put two bikes on the showroom floor next to each other, identical in spec and geo and price and color, one with internal cable routing, one with the cables out there for the whole world to see ("Marge, that bike has naked cabling! Cover the kids eyes!"), and it is a safe bet that the majority of tire kickers will choose the bike with hidden cables. If we had never gone down this route in the first place, consumers would be none the wiser, and we would still have easy to work on bikes, and Sean Kelly would still be racing. But noooo. That's now how this story goes.
So, tough pills to swallow. Internal cabling, and Transition making e-bikes. Tough, but still digestible. However, we are now standing at either the dawn of a whole new stylistic era or the edge of a cliff where practicality is about to plummet into the abyss and never claw its way out. The two bellwethers of this new change are intergrated bar/stems with internal cabling and headsets with holes drilled in them. They go together like, ummm, Scott bikes and multiple lockouts.
Integrated bar/stems have been around for a very, very long time. Once upon a time the hip upgrade to your primordial mountain bike was a bullmoose bar, which consisted of a couple pieces of steel welded to a quill stem at one end and welded to a handlebar at the other. No idea what this had to do with the male of the moose species, but there we were. Bar rotation, bar sweep, stem length; you took what you were given. Slowly, options worked their way into the conversation. Quill stems thankfully faded to be replaced by threadless headsets and stems, and some wonderful person realized that detachable faceplates on stems made everything much easier to work on, and for the past couple decades cockpit adjustment and customization has been a straightforward and refreshingly pleasant affair. I do still lust after a modern interpretation of that really sweet titanium bullmoose bar that DeKerf was making for a hot second in the late 90s, though...
That lust for a shiny, impractical, less adjustable piece of kit is part of the problem. It's not just me. I know I'm irrational and prone to making questionable purchasing choices. But I also willingly enter into those poor decisions aware of the self-sabotage I am setting myself up for, regardless of whether they involve functionally inferior but beautiful titanium bar/stems or Italian motorcycles. I'm aware of the compromises, and can see the problems coming a mile away, and I still make these not terribly smart choices. And I am just one of a huge number people who are guided by lust instead of lucid rationale when it comes to buying things with wheels.
Lookit this Scott. No visible cables. No visible shock. Damn that is a fine looking bike. I want one. Even though it is gonna suck to work on. Even though you can't rotate the bars just so, and can't swap the stem without spending hundreds and hundreds of dollars and several hours, and yes, bleeding your rear brake. Because every stem swap should involve a rear brake bleed, right?
I've gotta draw the line somewhere, though. And for me that line is at headsets with holes in the top of them, right where water gets in. In the brochures for these headsets, the pictures have lots of water on the bikes modeled. This, I guess, implies that these are impervious to the elements, and that everything is sealed up and it'll all be fine. Call me a skeptic here, but I doubt that things will be fine. Is this a way to sidestep drilling holes in the downtube, which would save some money at the manufacturing end, or is this the next expression of the "make it invisible" aesthetic?
Once upon a time, back in the quill stem days, I worked at a shop that sold a lot of Bontragers. We used to build them up with Chris King headsets, because if you were spending all that money on a Bontrager you'd better put a damn good headset on it. And we had this one customer who was a glutton for punishment, who rode his Bontrager on a trainer all winter long. He was a man of a certain age, that is to say middle-aged, that is to say about a decade younger than I am now. He kept coming in and complaining about how his headsets were always failing. And they were. The bearings routinely looked like they'd been used on the outside of a submarine. He had three top nuts (for you youngsters, that's how you used to snug down the adjustment on a threaded headset) crack in the course of a calendar year. "Just riding along." In his basement. Sweating profusely. Galvanic corrosion. We developed a hypothesis about these failures, and dubbed it "corrosive middle aged guy syndrome," whereby the sweat pouring down onto the headset during a winter of intense self-flagellation was proving too much for even Chris King's admirably sealed headsets.
So maybe I'm carrying around some baggage from the past on this one. But like I said, I gotta take a stand somewhere. Much as I think all that invisible cabling sure does look sexy, I just can't bring myself to look at it as a step forward. Much as I think that new Scott is drop dead gorgeous, that the new Transition Repeater looks like a whole mess of fun, looking at those cockpits makes me clench my jaw and mutter darkly to myself. And it doesn't even rain very much where I live…