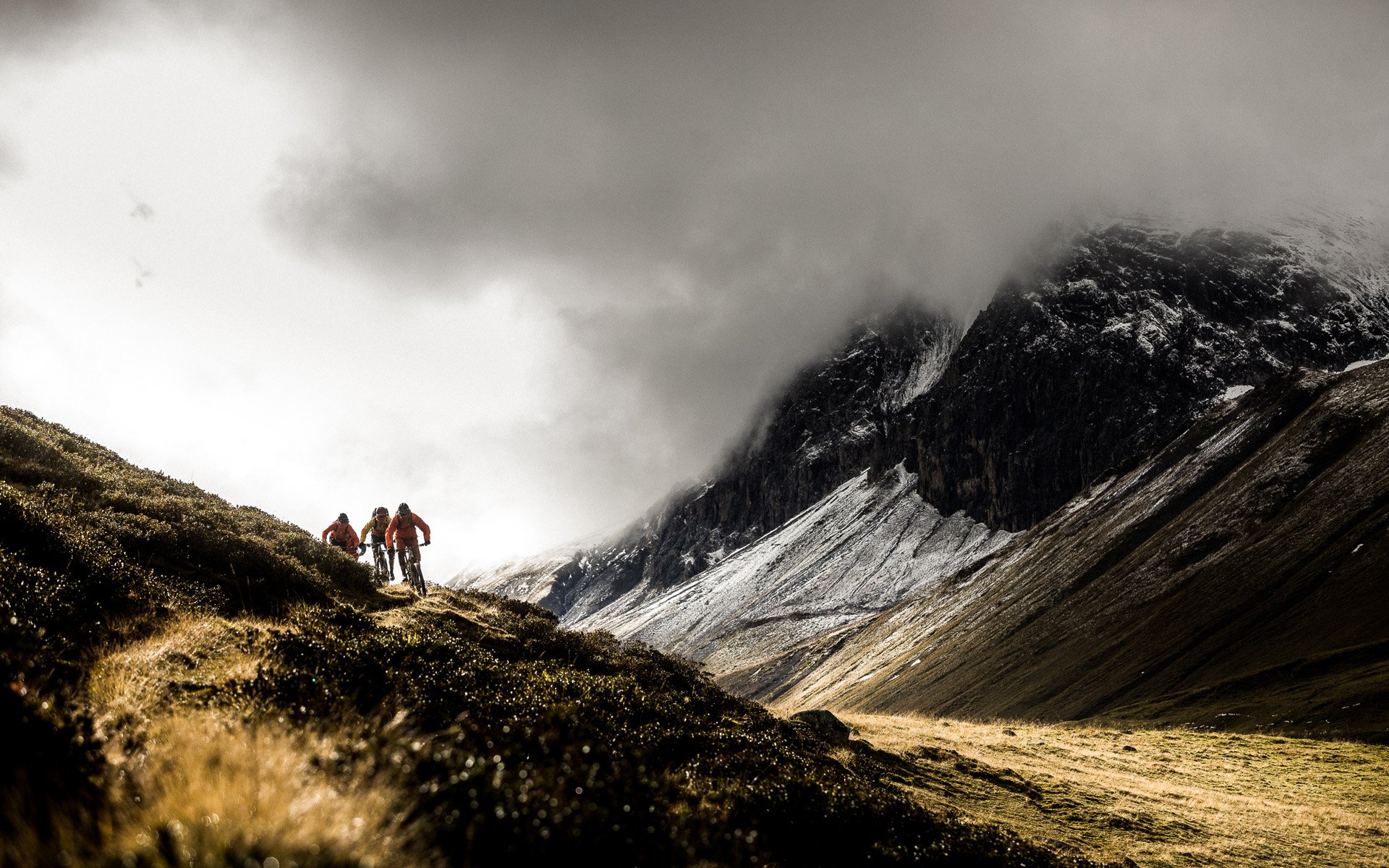 Riding and Adventure in Switzerland
Vanderham Rides the Swiss Alps
The layers of fable like mountain peaks stretch off into eternity, doing their best to puncture the deep grey skies above them. It's late summer but no one told the Alps. We're high above Lenzerheide on the start of our week long Trans-Graubünden route, ultimately reaching over the border into neighbouring Italy. Utilising local H+I guide Dave Spielmann's extensive knowledge, we were joined by Thomas Vanderham on a planned Swiss singletrack assault assembled back in May of last year when he was over in Scotland to ride in a Shimano video. 
By utilising the extensive web of Swiss lifts and efficient transport links we managed to place a positive emphasis on the downs, helping us to squeeze every vertical meter we could out of our route. The starting point was the World Cup venue of Lenzerheide where we vetoed the bike park, instead opting for the 'off-piste' option on the other side of the hill taking us on a thin strand of trail past glacial green lakes and towering peaks into Arosa to savour the local rösti. After a shot of espresso to kickstart the legs again we descend back to Lenzerheide in a deluge of rain which turned to white later in the evening… 
We were somewhat resigned to our fate waking up the following morning. A tentative peek out the window revealed a Christmas card landscape, there wouldn't be any riding today. Scratching our heads for options we ultimately settled upon heading to Davos by loading the bikes onto the PostBus and engaging tourist mode.
By the next day we were all itching to ride and thankfully the snow played ball to a certain extent. It had now retreated to the mountains tops where we were headed but the trails by-and-large should be clear - we were just guaranteed to get our feet wet! 
We headed high out of Davos and, sure enough, we were soon parting the slush. Thankfully it abated when we began to plunge in altitude back towards the valley floor. We do two loops in the Davos valley, encountering a variety of various terrains to keep the riding fresh. Everything from wide-open flowing singletrack right down to tight and techy twists through the BC style forests above town. Our afternoon consisted of ascending the opposite side of the valley and crossing down into the Sertig valley on the 'IMBA Epic Trail' which had been much hyped by Dave and Euan. It certainly didn't disappoint, being one of those trails that makes you feel like a hero even if your riding is more pedestrian than pinned.  We had hoped for a descent into Sertig under golden evening rays but the Swiss weather gods had other plans with the grey rolling in once again.
With a shot of espresso to burn through the worst of last night's wine, we once again find ourselves looking out the window at a rather low looking snow line… It didn't look like it was going to hang around though with rain putting a decent stint in to eradicate it. After a beeline into the trees, we made our way onto the remainder of the 'IMBA Epic Trail' passing through meltwater streams and between rustic alpine huts. Onto the Albula Pass, we descend towards the overnight stop in Bever through a snow flurry and intense bursts of light through a cracked black sky. A sauna and dram of whisky after dinner shook off the lingering cold from the day.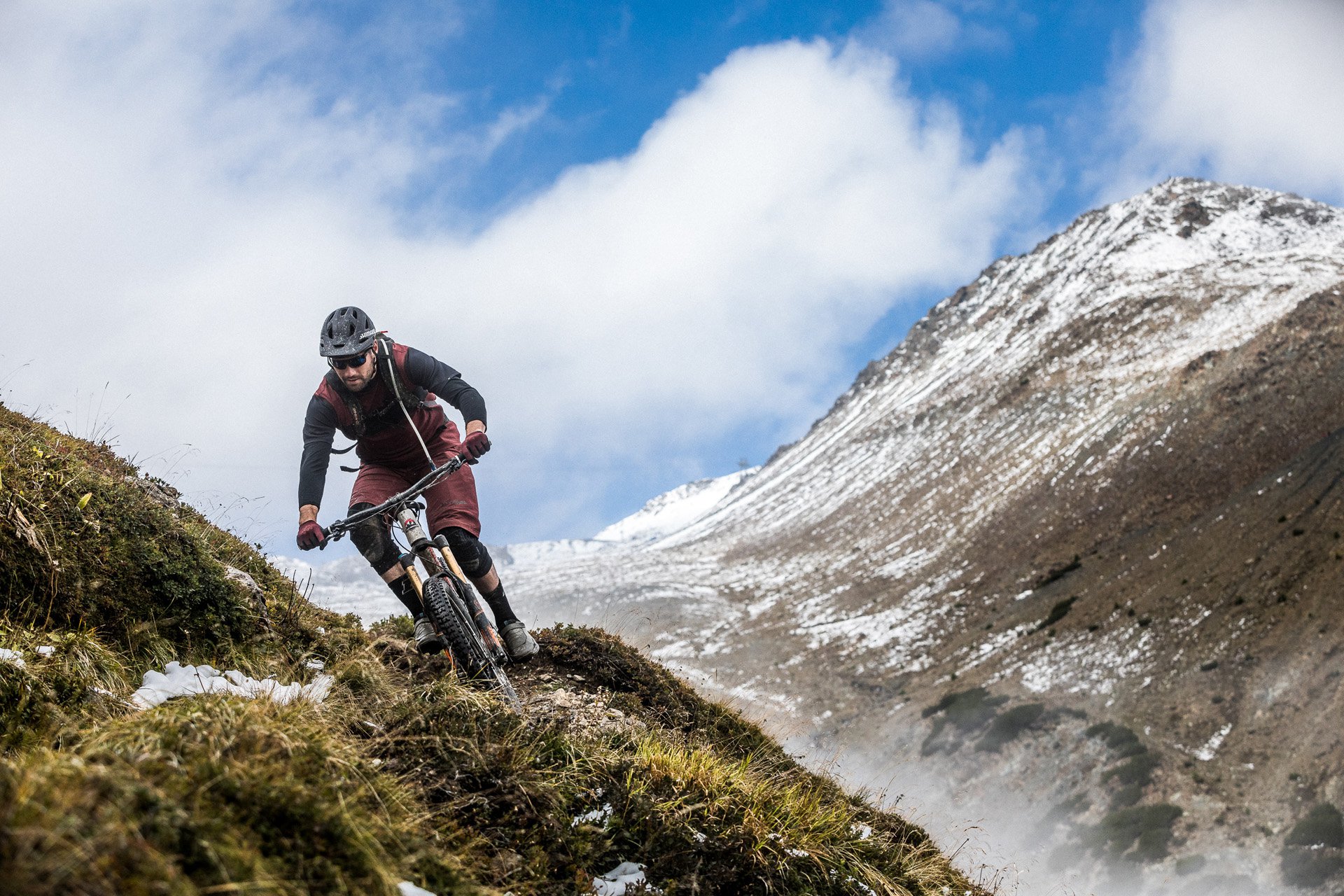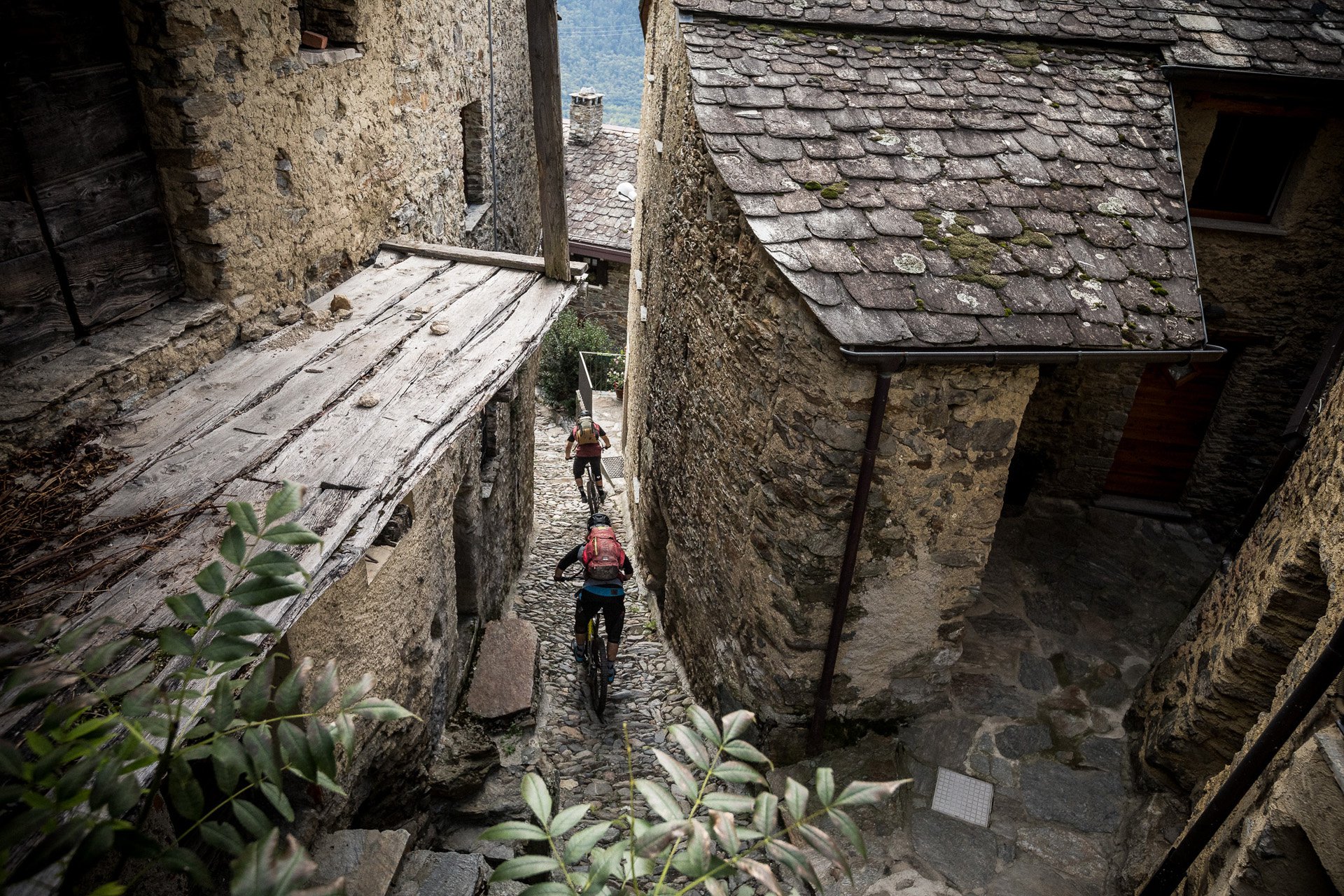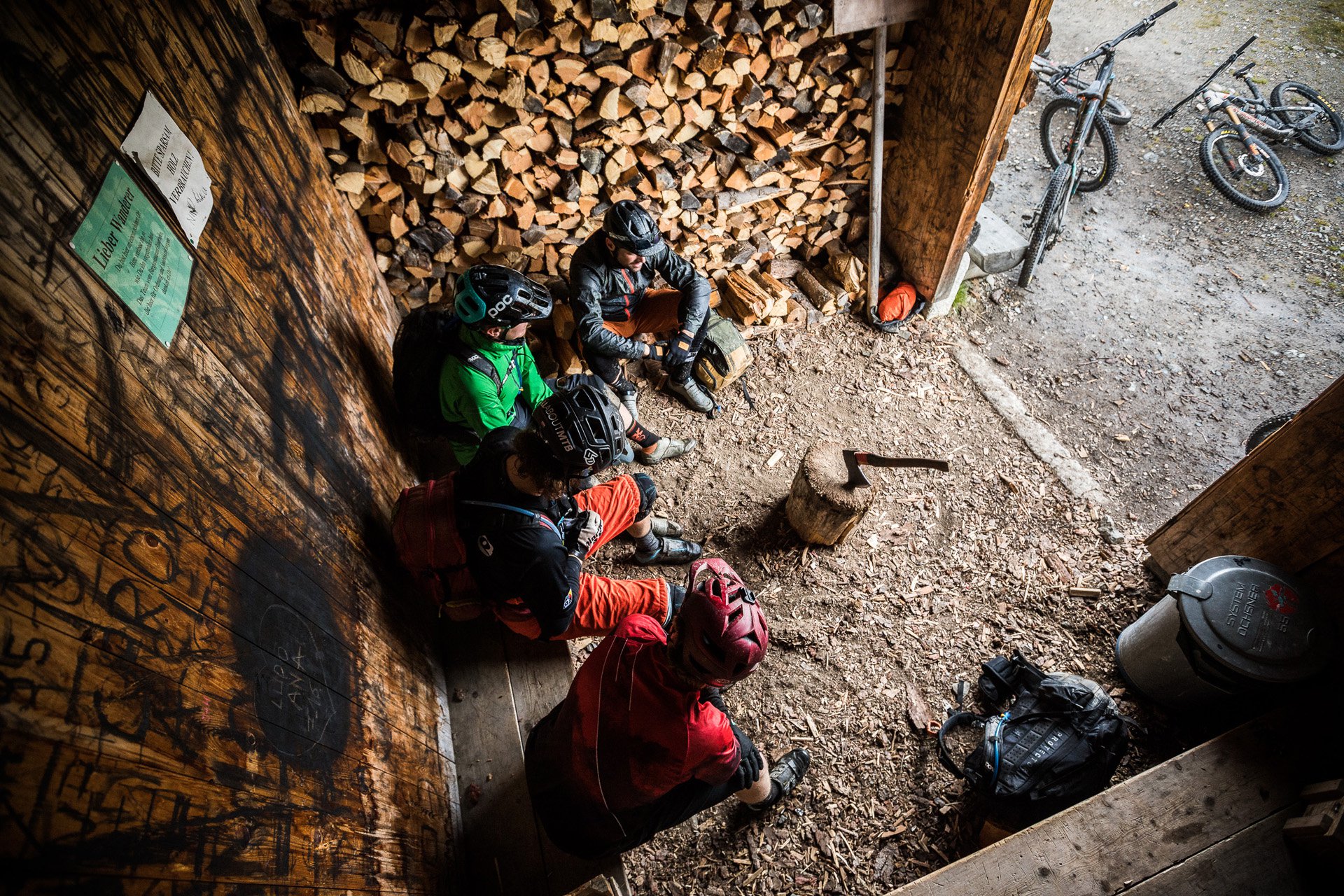 Thankfully on the fifth day we were rewarded with a crisp, cold, but bluebird day once the lingering mist had burnt off. We had an early start to make the train that would take us to the top of the Bernina Pass which is one of the most relaxing and scenic shuttles I've experienced so far… The glacial green Lago Bianco signalled our stop as the Bernina Express skirted round its shores. After a short burst of climbing we can now look into the upcoming valleys leading us towards the Italian border. A series of classic rocky alpine switchbacks leads us onto a plateau surrounded by rugged peaks, where the resulting trail becomes fast and more flowing with sporadic flat out, teeth-rattling washboard rock gardens. We load up on lunch in Poschiavo where the Italian influence is all too obvious after gorging ourselves on four rounds of various tasty pasta offerings… We needed it, with a hefty climb to our evening accommodation in the mountain refuge at San Romerio. A couple hours of gurning and gritted teeth uphill suffering we bombed the last stretch of downhill under the rays of setting sun before it crept into the next valley. The night was spent stargazing with beer in hand as the lights of Tirano, Italy shone bright at the end of the valley.
The following morning all the boys were pretty set on the idea of smashing down to Tirano for a midday pizza and with all the hard work done the previous day it wouldn't be too strenuous a morning. Rolling over the border to Italy the change of terrain really becomes obvious. From the rocky, almost moon-like rocks at the top of Lenzerheide, we were now passing through green farmland, over ancient cobbles, and between orderly rows of vineyards. For one final Swiss swan song we boarded the Bernina Express once again to retrace our steps back into Switzerland, before ripping each others' legs off as we dashed down into Pontresina where reality was waiting in the form of an airport transfer the next day. Albeit not before a night of eating, drinking, and laughing… Mainly at each other, truth be told.

Over the week we'd been able to link up a big riding area thanks to the punctual and extensive transport system and mountain lifts which make uncovering some of, not only Switzerland's, but the Alps' premium trail riding. The Trans-Graubünden rewarded us with an eclectic mix of terrain as we indirectly headed south to Italy, the riding was top drawer and with hospitality and scenery to match. If you're headed to the Alps next summer then Graubünden should be on your hot list.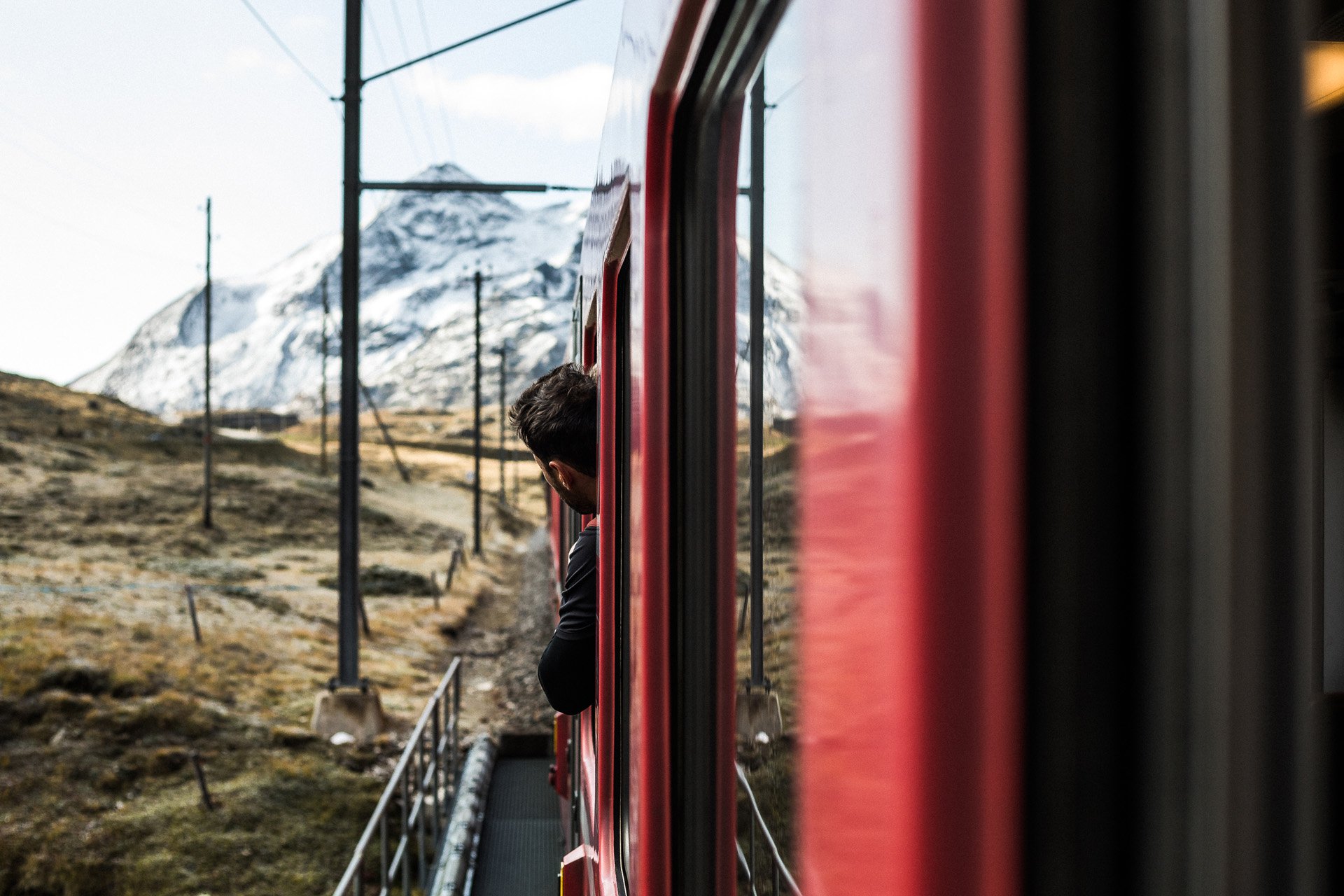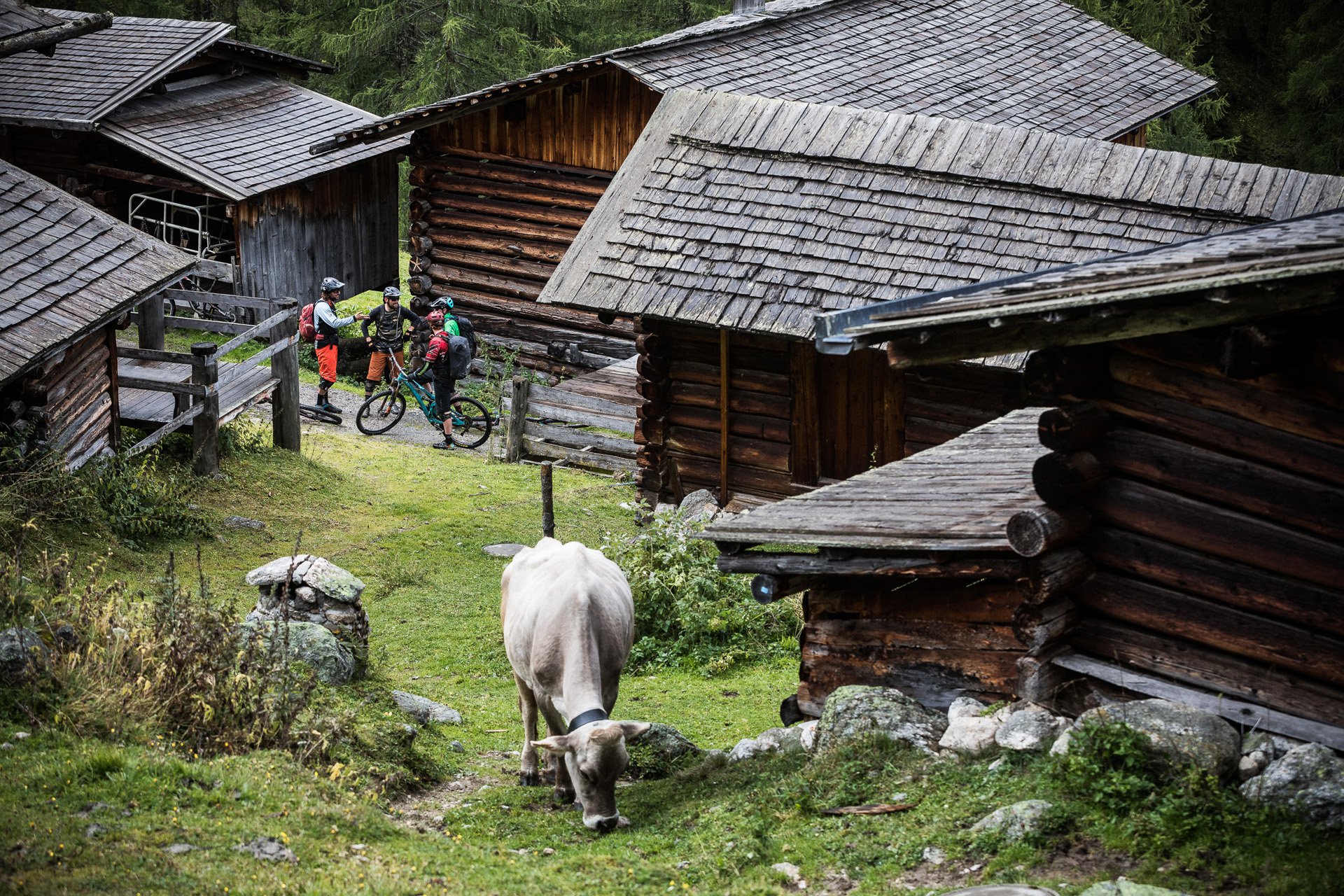 ---
Ross traveled to Switzerland with H+I Adventures to experience their latest mountain bike adventure, a week-long Trans-Graubünden epic. There are three departures set for summer 2018, with prices starting at US$3,600 per person, all ground costs included.
For more information and booking visit 
www.mountainbikeworldwide.com/bike-tours/switzerland
.
H+I Adventures specialize in guided mountain bike adventures around the world, with Switzerland being the 13th destination in the company's portfolio, alongside Chile + Patagonia, Scotland, Slovenia, Spain, Canada, New Zealand, Nepal, Namibia, Ecuador, Croatia, and Norway.