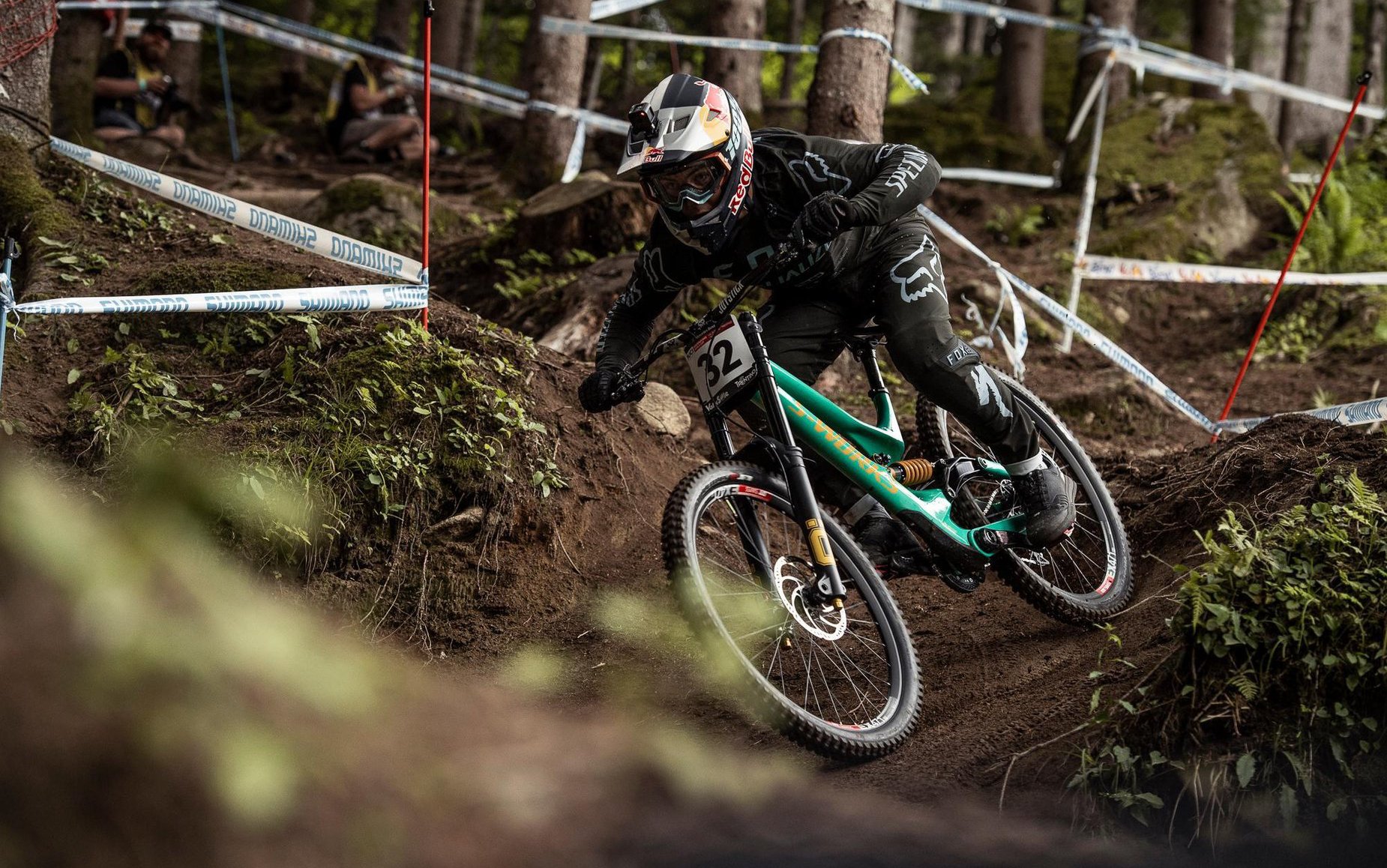 Race Results & Video
Val di Sole World Cup DH Qualifying Results & Top Runs
The "valley of the sun" has for the first time in many racers experience seen little of the golden orb. Track conditions have been variable over the course of practice and qualifying. More rain fell when it counted and has shaken up the results. At this point, it's hard to say who had the better conditions, though it does look as though both Iles and Pierron posted the quickest times in the wet. 
Aaron Gwin took a tumble in morning practice and has hurt his slowly healing thumb – he didn't drop in for qualifying but as a protected rider, has the opportunity to try and race. 
Top 5 Elite Men Qualifiers
Amaury Pierron – 4:07.250
Finn Iles – 4:10.682
Hugo Frixtalon – 4:15.582
Danny Hart – 4:17.581
 Luca Shaw – 4:17.846
Full Results: Elite Men's Qualifying
Elite Women
Current World Cup leader, Myriam Nicole, was forced to sit out qualifying after a crash in practice. It sounds as though she will miss the race as well, leaving the women's race wide open. Rachel Atherton qualified sixth with a crash affected run to the finish. Slovenia's Monika Hrastnik qualified first, besting the times of Tahnée Seagrave and Emilie Siegenthaler. All three top qualifiers had to battle wet conditions. 
Top 5 Elite Women Qualifiers
Monika Hrastnik – 5:07.552
Tahnée Seagrave – 5:17.281
Emilie Siegenthaler – 5:17.619
Tracey Hannah – 5:18.365
Mariana Salazar – 5:19.646
Full Results: Elite Women's Qualifying

Junior Men
The Junior Men's race saw French junior, Thibaut Daprela take the top spot, with the current series leader, Australian, Kye A'Hern, finishing well down the sheet in 24th. 
Top 3 Junior Men
Thibaut Daprela –3:58.952
Giacomo Masiero – 3:59.514
Joseph Foresta – 4:02.989
Full Results: Junior Men's Qualifying

Junior Women
In the junior women's race it was the unstoppable Valentina Holle making short work of the field. The juniors had better conditions – both men and women – with the top times besting their piers in the elite ranks. America's Anna Newkirk posted a second place qualifier, 14+ seconds behind Hölle. 
Top 3 Junior Women
Valentina Hölle –4:48.096
Anna Newkirk – 5:02.896
Mille Johnset – 5:10.374
Full Results: Junior Women's Qualifying