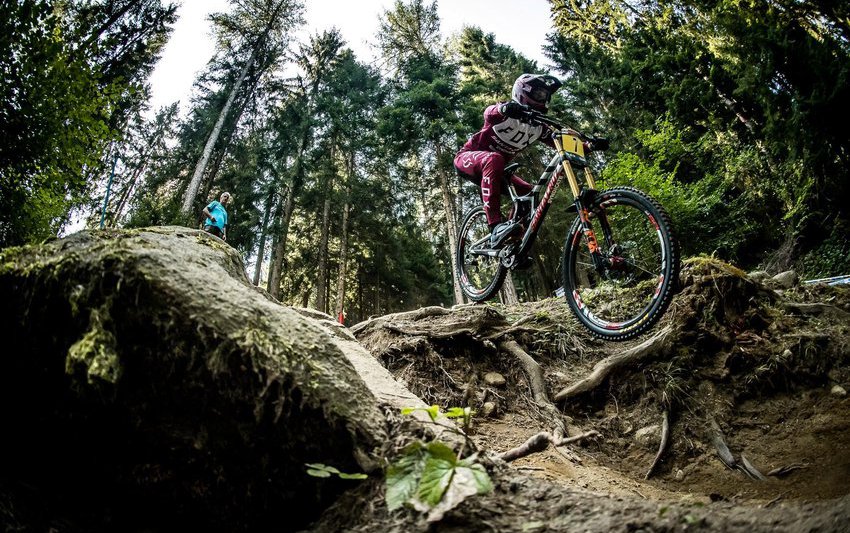 RACE RESULTS
Val di Sole - Final Results
What. A. Race. Aaron Gwin, last man down the mountain takes the win by finishing 1.4 seconds ahead of Frenchman Amaury Pierron in second, and 2 seconds up on Loic Bruni in third place. By grabbing the win in Val di Sole, Gwin secured the overall UCI DH World Cup title. He now has 19 World Cup wins and has tied Nicolas Vouilloz for overall titles with five apiece. 
Greg Minnaar suffered an absolute heartbreaker of a run, with his rear tire letting go halfway down the course, ending his hopes of the overall title. Ever the class act, Minnaar rode it out, eventually carrying his disabled bike across the finish line. 
Troy Brosnan also had a hell of a run, grabbing second overall in the standings, while teammate (and Canadian ripper) Mark Wallace finished the season in eighth after a 7th place in the race. 
The Elite Women's field was no less dramatic, with Tahnee Seagrave absolutely crushing the course, finishing 3 seconds up on Myriam Nicole and 3.8 up on Tracey Hannah. Unfortunately, it wouldn't be enough to put her over the top in the overall standing, and Myriam Nicole would walk away with the title of UCI DH World Cup Champion. 
Finn Iles had the overall win wrapped up coming into Val di Sole, but that didn't stop him from putting down a blistering run, finishing his season with a big exclamation mark.