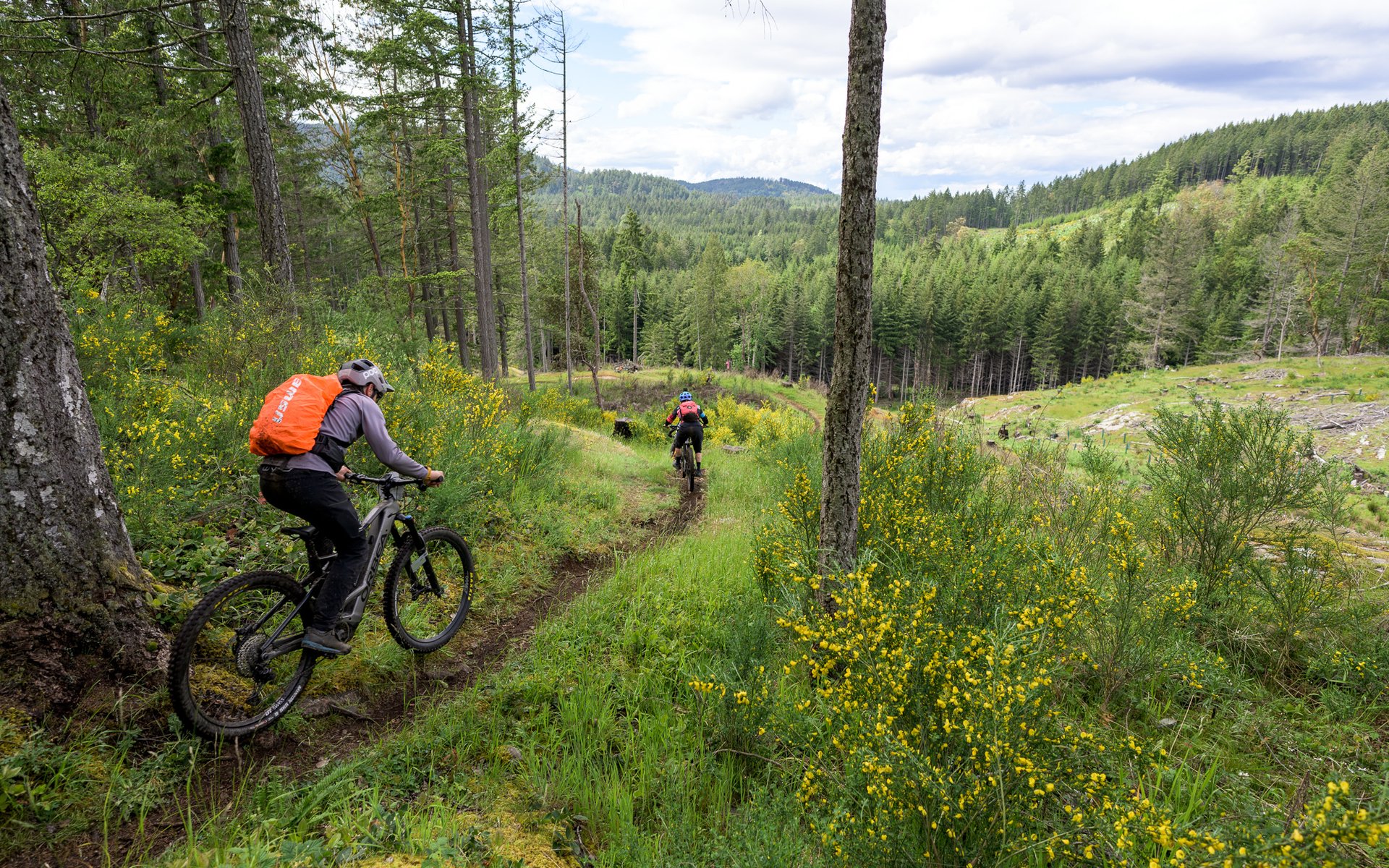 Review
USWE Shred 16L MTB Daypack
Backpacks have become a rarity lately, with all the integrated frame storage options we have at our disposal. For people without the gaping hole with an acronym for a name on their frames, the hip pack seems to be the go-to modestly priced receptacle. I am often one of those people, storing the essentials in the frame of my personal Orbea Rallon and both the Santa Cruz Hightower and 5010 I have on test.
But there is usually more than just a tube and a tool that comes along for the ride. It has been a busy summer for me travelling a bunch and riding different bikes in different parts of the continent. Even though the essentials are stashed in each frame in the form of tube, tool and plugs, there are millions of reasons to carry a daypack for the photography and trail building I do often, even in my local woods.
I committed to the USWE [ you – swii ] SHRED 16L Pack for the majority of these rides and have developed a good idea of where this Swedish creation works and where it falls short. It seems like USWE packs were originally designed for moto use by the very people who invented the modern 3-point seatbelts in cars: the Swedes.
Their patented "No Dancing Monkey" harness and strap system is the heart of USWE pack designs.
There is nothing fundamentally wrong with the widely-used backpack strap system unless a company totally botches it. Evoc, Osprey, Dakine, Camelbak, and Shimoda all have excellent systems that work with a wide range of body types and activities. USWE realised what makes all these packs work for action: the chest strap.
Try riding with your pack on a physically demanding trail with the chest strap undone and you'll quickly realise how unstable they will feel around the shoulders. The straps will slowly make their way off your shoulders on every movement, forcing you to clench your shoulders forward in a futile effort to keep the straps on.
USWE's No Dancing Monkey is a harness system that uses the chest buckle as the focal point. With the help of the lumbar/waist buckle, you can create a pack that becomes a part of your back contour rather than hanging off your shoulders. Basically, it sucks the pack into your center of mass.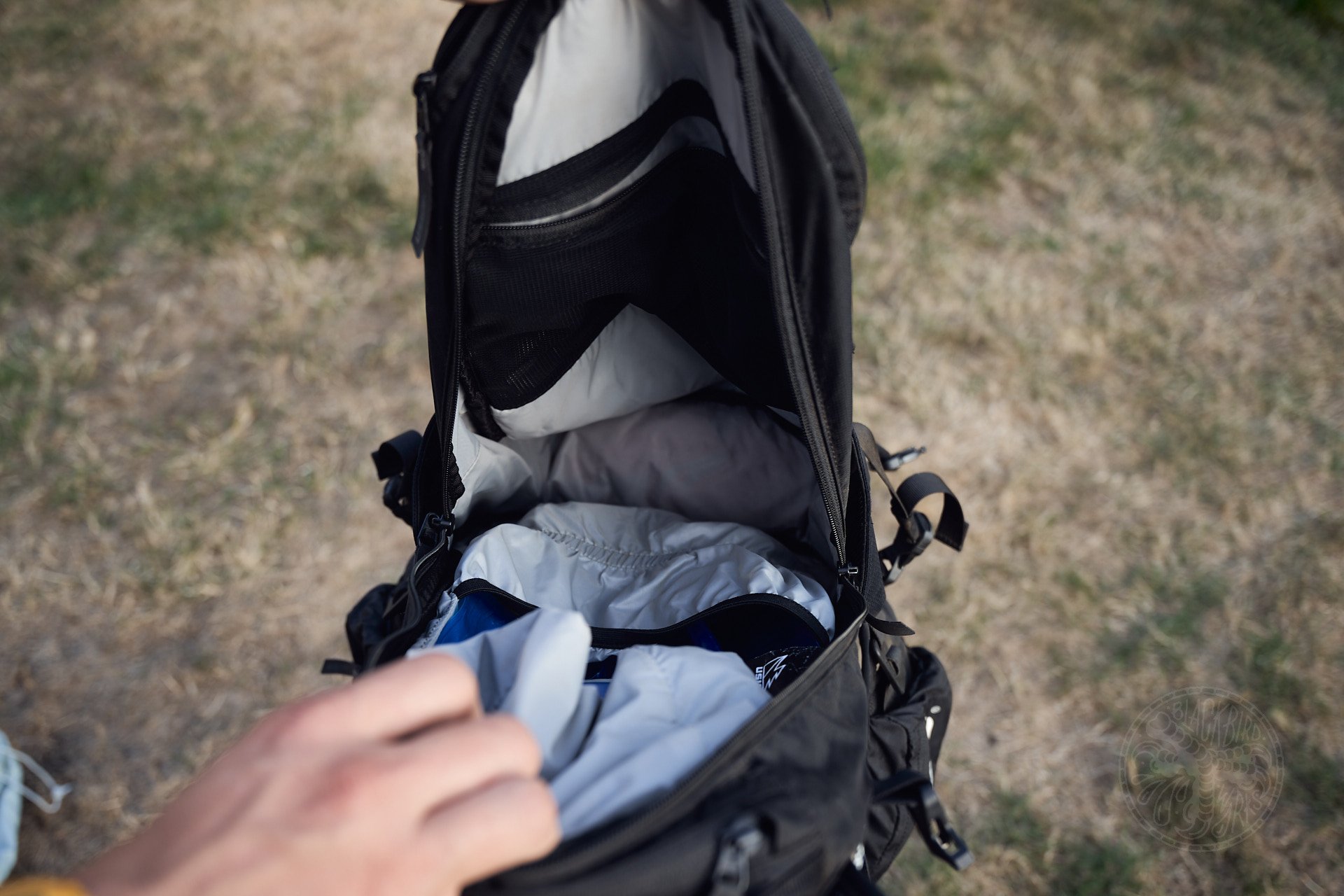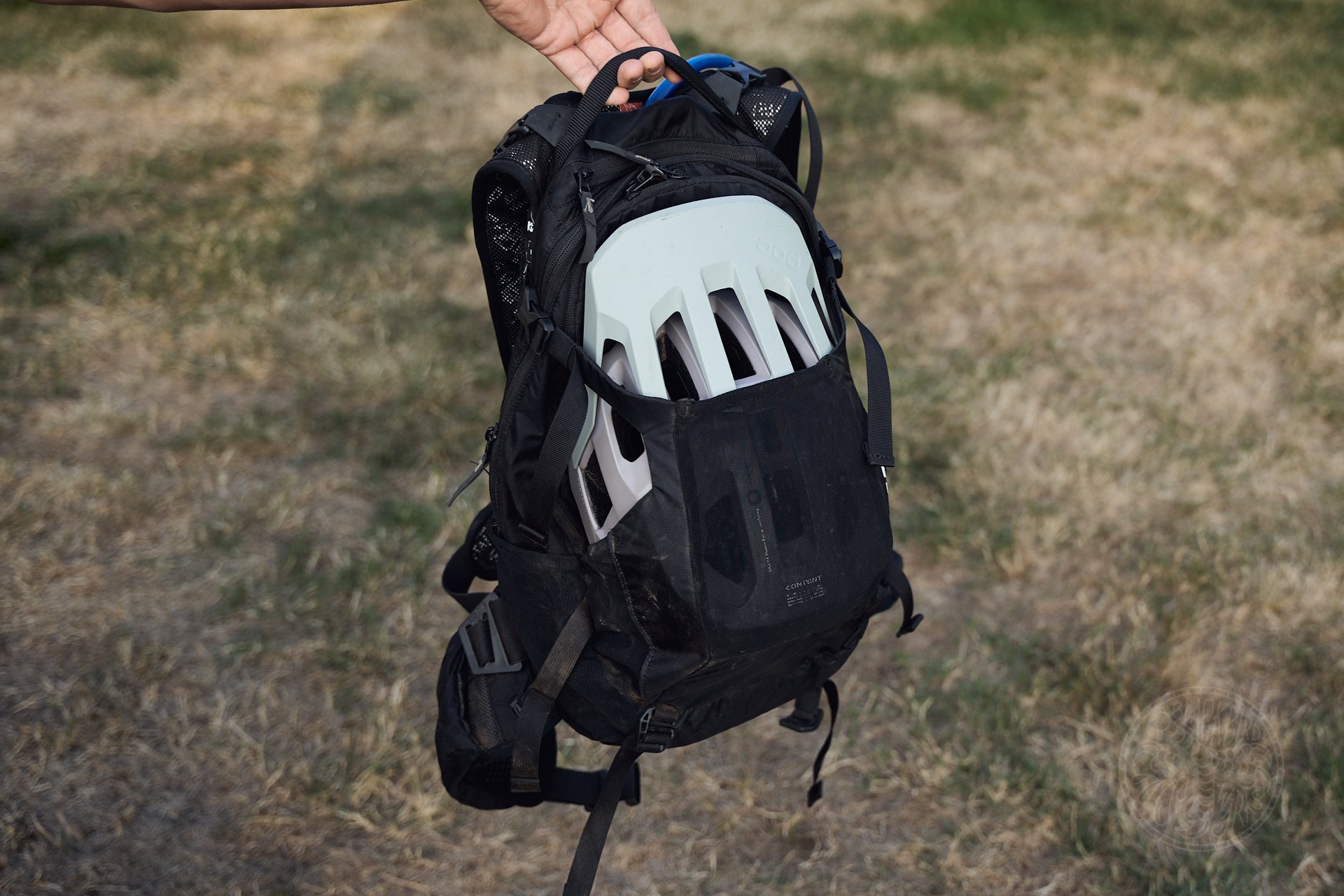 FEATURES
There are a lot of nooks and crannies all over this 16L daypack. Like the gigantic belt pockets and cavernous goggle pouch, there are enough places to cram all your gear. In fact, 16L is probably too much volume for short rides. I had 3 major events that I brought this bag to over the summer and It was generally the right choice.
Staring at the pack from the top, there are 3 zippers greeting you. The one closest to your back is the goggle pocket. Large enough to swallow your hand whole, it is my go to pocket for quick access items like glasses and packaged snacks. I have also shoved clean gloves in there many times and there is always more room left. One day I hope to find the capacity of this pocket.
In front of that zipper is your main compartment. The zippers unzip ¾ of the way down the sides of the pack and expose a big opening large enough for any hydration bladder you can fit and another mesh pocket for loose items. I haven't found an immediate use for this mesh pocket but it would be ideal for spare gloves and other smaller items you don't want lost in the bottom of the pit.
The infamous goggle pocket that I love so much unfortunately backs right into the main compartment, meaning the more you pack your goggle pouch, the less space and access you will have to your main compartment. Not a deal breaker for many, but as someone who has to dig out a sizable camera multiple times a ride, I find it slightly annoying. This is not a photographer's pack so I will forgive this small nuisance.
In front of the main compartment you have the tool section where multiple mesh and elastic pockets keep your pump, spares and first-aid kit neatly separated. Unlike many other packs in the market, the capacity of this compartment does not seem to be hindered by the contents of the main one. The soft, expandable fabric allows for stretch and capacity expansion. I kept a Lezyne pump, spare parts and a first aid kit in this zone. I also chucked a spare lens in there more than once and the mesh pockets did a great job holding them tightly in place.
What I really came to like were the waist pockets. Equally spacious on both sides, I tossed keys and wallet in one, a small multitool and other randoms in the other. No zippers accidentally opened and I was content with the security of my belongings.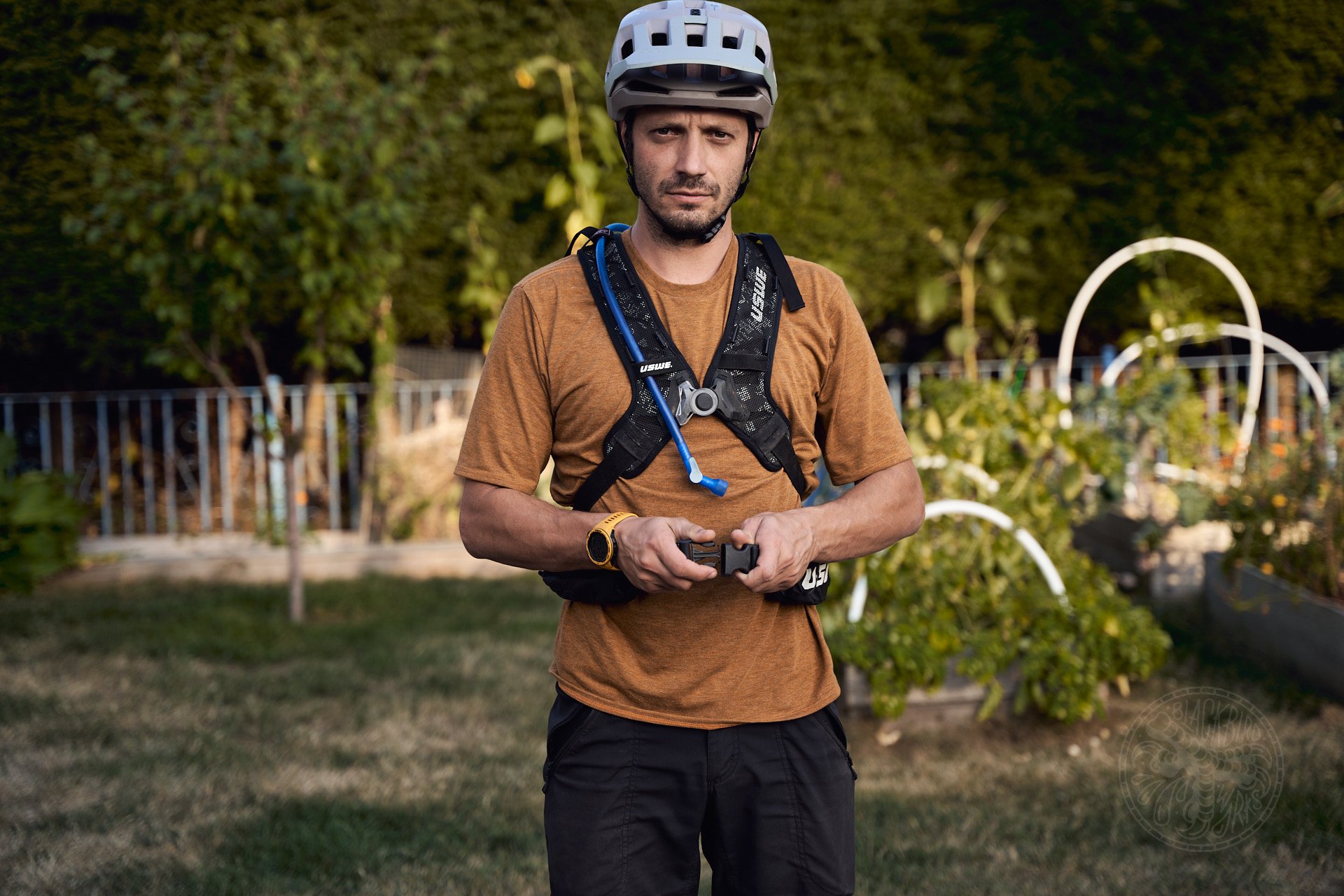 FIT
At 5'9" with a proportional torso, I set the pack to the 3rd position without much info on how I should be measuring my fit. After a few weeks of use, I decided to dig a little deeper to see if USWE had a guide for setting the torso height and found a couple of videos but not much else. If you are tall, try settings from 5 to 10 and if you are not, try from 1 to 5. I don't think you will do terribly wrong either way but the comfort will speak for itself pretty quickly.
After shouldering the pack and buckling the chest, you pull the waist belt out and away from your hips and stretch it. This will pull the chest harness snugly into place and allow you to have the snuggest fit possible. There is plenty of extra strap for bigger bellies or going over a thick coat.
Once on my back, I found the Shred 16 to be more comfortable than any of my Evoc packs, though I do love the stiffer back plate of Evoc packs as I tend to fill my bags with sharp edged objects like cameras, Bigboy saws and chainsaw batteries. The isolation from these objects is key when hurtling down the hill. The USWE approach is more form fitting and less about back protection. The overall soft construction of the pack may not be for everyone. It makes standing the pack up a little more of a challenge and all that contact with your back makes it warmer than others.
In the heat of the summer, I really felt the presence of the Shred 16 on my back confirmed with the massive sweat patch. This is not a ventilated pack like some of the others out there. This seems to be less of an issue with the moto crowd or people in cooler climates. I think it will be great in the winter but I disliked the heat generated on my back on a couple of big alpine missions this summer. I found myself unbuckling the front and letting air in between me and the pack to find some relief.
I also have been more out of shape than ever this summer following international travel and a steady diet of feta and olives in Turkey for a month followed by the damn Covid slap for a couple of weeks. It has been a sweatier than usual comeback to form for this chubster. Confirmed by not being able to fit into a pair of dress pants for a friend's wedding.
My fatness aside, this form-fitting pack does not breathe as well as my Evoc Stage12 but offers increased versatility.
One thing that bothers me about most current packs is the absence of weather protection built into the fabric. Instead they use rain covers, which are inconvenient, limit access to the internals and look dorky. I would love a pack I can hose down at the end of a muddy ride and hang dry overnight. Include the raincover for emergencies but please make bags out of waterproof material. So far nobody is listening, although my Shimoda Photo pack is pretty close.
I am also undecided about the helmet carry straps passing over the main zipper. These make getting big items out tricky unless you undo the clips. Minor but still worth a mention.
The USWE Shred 16 with its contemporary graphics earned its keep in my arsenal of packs. Ask a photographer and you'll hear there are no perfect packs. That is true and it is also how the industry stays alive. If you can manage your pack inventory in your house, you can get a pretty good routine going for the ride you are about to embark on.
249 CAD is steep for a pack with no included hydration bladder (but it's currently on sale at Competitive for 119 USD). I use a Camelbak 3L bladder successfully. USWE will sell you a 3L bladder for 49 CAD.