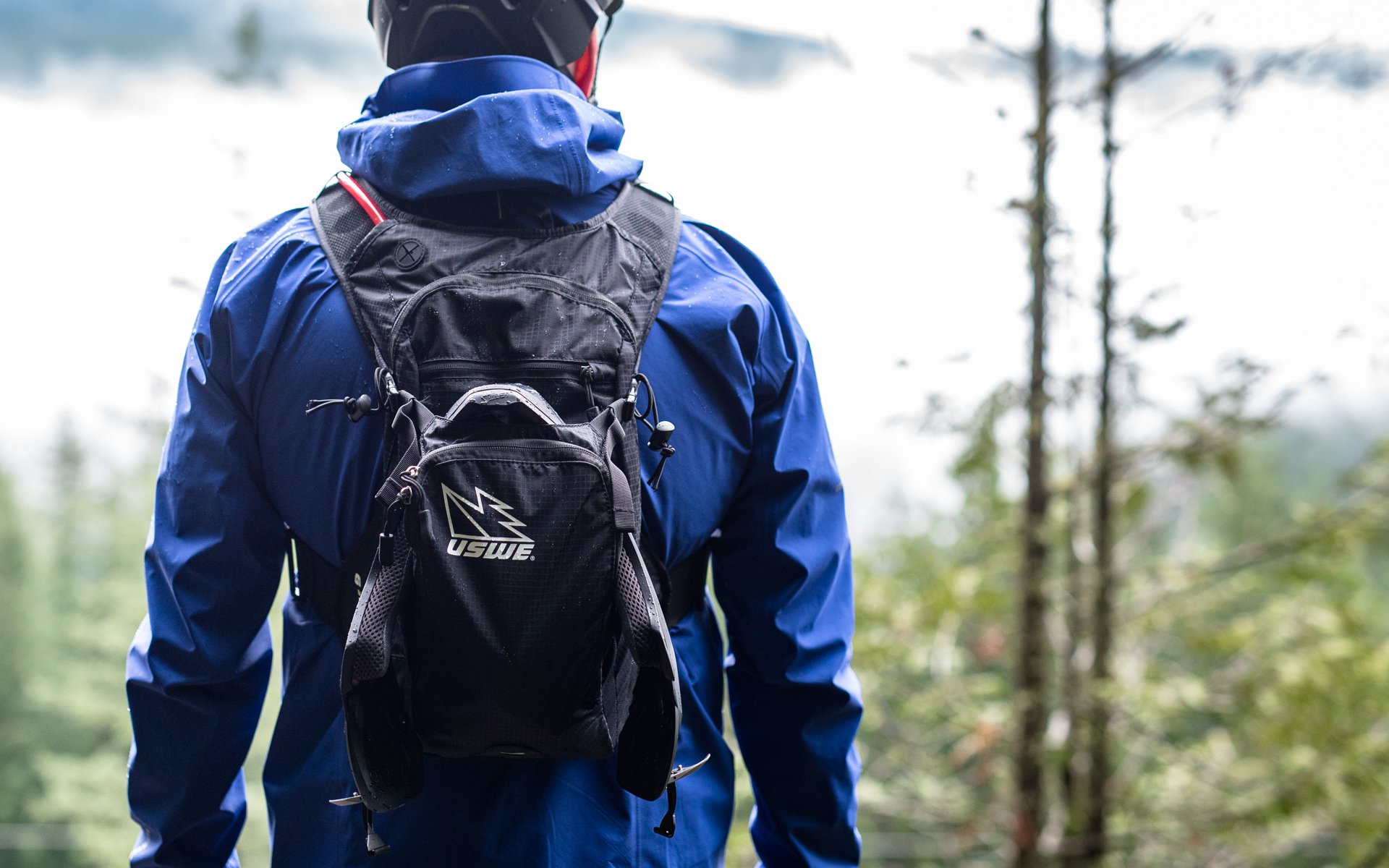 2 Minute Reviews
USWE Airborne 9 Hydration Pack
No Dancing Monkey
"There's no waist belt?"
Yes, I know. Hear me out.
"But there's no waist belt?"
Argh. Open a beer. Let's talk about USWE [you-swee] packs for a moment. Imagine you're being hugged from behind by a Koala. The Koala is Swedish so he says something like "dunder succé" instead of "crikey" but otherwise it's the same animal. It has a firm grip on your shoulders and its legs articulate around your chest.
No matter what you try to shake the cuddly little beastie it stays put effortlessly. It's not as hot as the sack of crap you're used to carrying around and no matter how squirrely things get on the bike it's cool, calm, and composed.
I'm usually highly suspicious of unique products, especially ones invented by folks that openly admit to having "absolutely zero experience in designing" whatever it is they're selling.
But, in the case of USWE, the pack came with high praises from the folks at NRG Enterprises in Nelson. They bikepack in the Selkirk mountains on single speeds and enter 50km triple crown rides with 2,600m of climbing on Fat Bikes and DH rigs and in my years selling bikes they've never steered me wrong so I rode on with an open mind.
For my first ride, I chucked in all the gear I normally carry, hopped on my single speed and went out for a few hours of Shore-XC riding.
The USWE is the most adjustable pack I've used with independent adjustments above my shoulders and under my armpits. The top straps are rigid like a regular pack while the bottom straps are stretchy to accommodate movement. It's often the case that products with more adjustment take longer to dial in but it took all of five minutes to get this pack to the settings I've been using since.
Different & Good
Love riding without a pack? That's great - it doesn't work for me and my stuff. Some of the hip packs out there are getting comically large but even so, I want water, tools, an extra layer, etc. Oh, and I'm going to ride a bike where I'm standing on the pedals for 95% of my ride so it has to stay put while descending and be comfortable for that frothing at the mouth cranking on the handlebar 1FG riding I like.
USWE delivers. The patented No Dancing Monkey chassis absolutely keeps my load in place in any conditions. The weight sits a bit high compared to lumbar style packs I've worn so anytime I'm doing up the zippers and my Airborne 9 feels stuffed I know I need to reconsider what I'm carrying - or switch to my larger ACRE Hauser.
When I'm carrying my big camera or breaking in a bike and need a shock pump, I leave the USWE at home. For all other rides, the Airborne 9 has become my go-to pack even though I've had to accessorize with a couple of dry bags inside to manage the local weather.
In addition to actually living up to the marketing behind it - the pack stays put when riding down aggressive trails - it's extraordinarily comfortable as long as it isn't overloaded. Manufacturing quality is also very high as I'd expect from a 165 USD pack.
Looking for a pack that stays in place hammering up or down technical trails?
Check out the USWE Airborne 9 here.