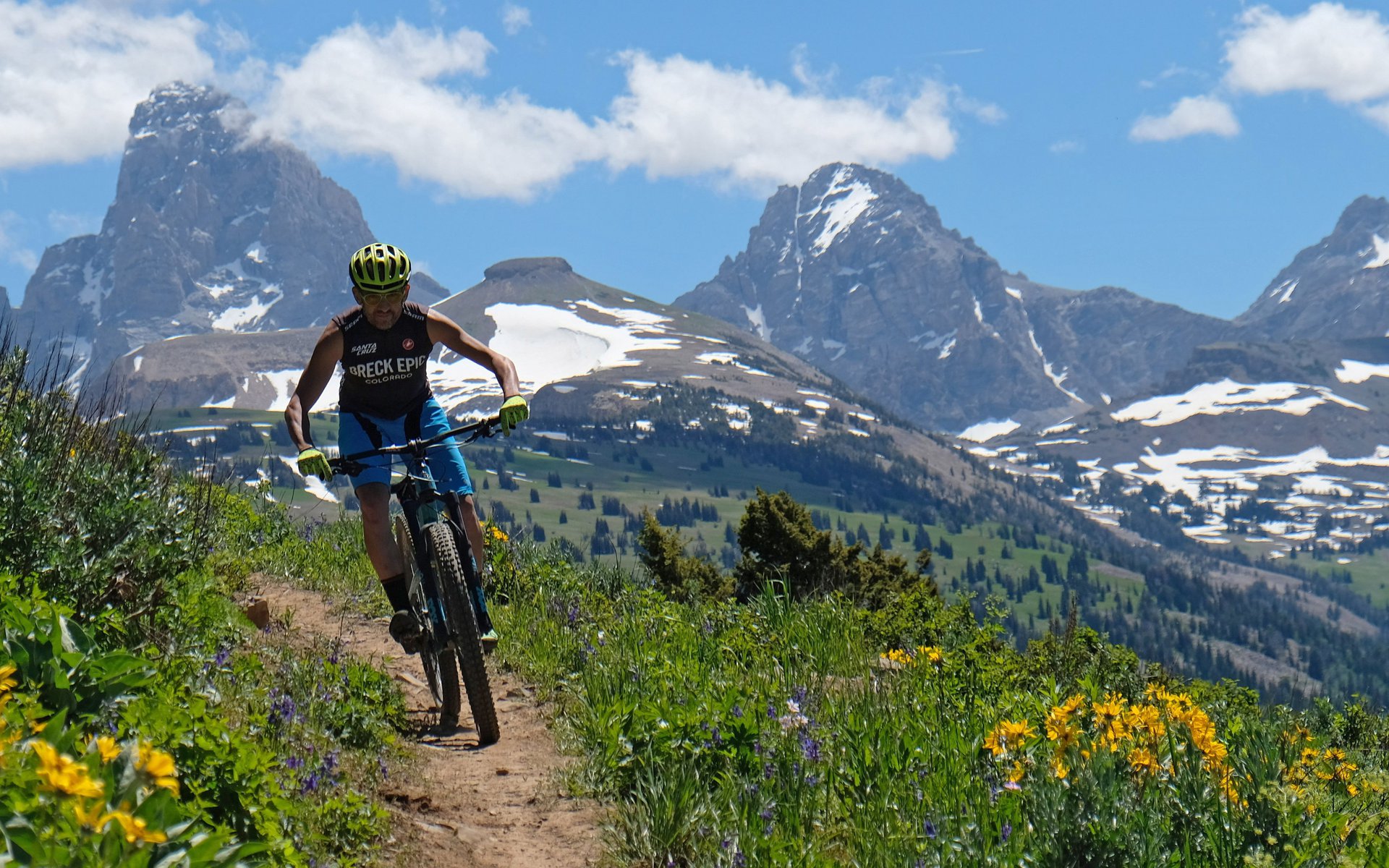 Faking it as a real journalist in Grand Targhee
Uncle Dave's trip to Wyoming
Junkets are a proud tradition of within the mountain bike journalism community. Whistler for 3 days for a bike launch? Sure. Colorado for 5 days of testing out the latest gruppo? Of course. South America for a two week session focussed on a new grip compound? Why not? There's a lesson buried here somewhere on the requirements for grabbing the attention of us media hacks.
But what happens when the junket is the product? What happens when the wining and the dining and the bike riding are the actual point of the whole enterprise, rather than just an opinion swaying perk? Well that's just good old-fashioned "consumer testing" in my books. And I damn well owe it to you, dear readers, to let you know if Grand Targhee, on the slopes of the Teton mountains of Wyoming, is worth your hard-earned vacation dollars. One could argue that I would be doing the world a disservice had I not accepted this beer-fuelled, all expenses paid bike riding trip. I'm just here to serve.
Arrival
Most trips to Grand Targhee will start with a flight in to Jackson, Wyoming. As best as I can figure, Jackson is where libertarian billionaires go to play cowboy, and where RV drivers turn pro after perfecting their art over a summer of holding up traffic in the Okanagan. It's beautiful, crowded, charming and expensive. I assume. I mean, I didn't get out of the car and we pretty much got the hell right out of there. This isn't to imply that Jackson is "bad". I'm just suggesting that the place that looks like Whistler and Banff got together and tried to make a real go of it probably doesn't need my help bringing in more visitors.
So off we go, up on over the ridge from Wyoming into Idaho. Along the way, a constantly changing display of scenes floats on by. It's like the Eastern half of British Columbia and the Western half of Alberta got squished into one 100 mile corridor. You've got the grasslands of Kamloops, followed quickly by the intermediate forests of the Shuswap and then bam, you're into the Rockies before quickly descending onto the Alberta plains. It's a comical amount of terrain jammed into one smallish location, and you'll find yourself playing the "where have I seen this terrain before?" game a lot over the next few days.
The Village
After meandering about on the Idaho plains for a half hour or so, you hang a right in Driggs and take a short, 12 mile jaunt back up into the mountains. Grand Targhee is the quiet little brother to showy Jackson Hole. It's smaller, cheaper and more-or-less a ghost town compared to the flashy behemoth over the ridge. There are 3 or 4 different centrally managed lodges for you to stay in, a couple of restaurants for you to eat in, and a few tiny stores to drop your souvenir dollars. It's the kind of place where you don't bother arranging for a meeting place because you know you'll wind up bumping into whomever you're looking for. For example, when I first arrived, I ate dinner on the opposite side of the restaurant from my hosts, and then I popped over for an after dinner beer after I got around to checking my e-mail. It's that kind of place. "Village" is probably a touch too aggressive of a label. Picture something like Apex near Penticton, for those versed in BC ski hill geography.
So, yes, the resort is a bit smaller than expected. But it doesn't really matter because there's a big-assed mountain looming up in the background, and a whole bunch of lifts poking off in most directions and who the hell needs more than that? Excessive amenities are just going to add to your lift ticket price.
Yet there are amenities. Like me, you'll probably arrive at the resort around dinnertime (because it will take you most of a day to get there) and you'll wander in to one of the restaurants and you'll discover that they take their portion sizes seriously here. If you order the ribs you'll lose your plate under a mountain of meat. If you order the nachos you'll soon regret it and feel fairly sorry for your roommates over the next few days. About the only portion that seems in line with expectations is the salad. It almost seems like some kind of purposeful discouragement.
And the beer lists are great too. There's a whole host of Idaho and Wyoming beers on tap that you've probably never heard of and you can keep yourself busy for quite a few nights sampling your way down the line of taps.*
The buildings themselves are nothing overly fancy. Most of the interiors have a kind of Star Wars cantina meets gunsmoke meets Swiss ski lodge vibe to them. They're clean, comfortable and simple and I can't believe you really need anything more than that for your ski/bike holiday.
First impressions proved to be quite favourable, indeed.
Day 1
The first day started early but it didn't really need to. We wandered over to the coffee shop, scored some breakfast burritos and a decent latte and then went to source some bikes. "Would you like a Hightower or an SB5.5?"  Ummm...I'll take the Yeti please. Honestly, leave your bike at home, because for $89 per day you can ride something that looks a lot nicer than whatever you have hiding in your garage, and won't be subject to any possible airline damage.
Bikes scored, we hit the lifts for some laps. We started on the lower lift which is primarily intermediate terrain. There's some fun flowy stuff that winds around with a few jumps here and there. And there's some fall line stuff that lets you test your brakes a tiny little bit. It's a fun place to spin some quick laps and shake the cobwebs out.
After that, we headed to the top of the mountain, for our first real glimpse of Wyoming. Pretty quickly things open right up, and it's mountains, mountains, plains and more mountains. The views are, dare I say, endless.**
The trails from the top are a bit more old-school than what we hit in the morning. With that much vertical, it's tough to keep things buffed out too well for too long. Things are rough and fast and filled with rocks and your hands will quickly hate you. Trail bikes are doable, but at times I wondered if they'd let me trade off for one of their Maidens for a lap or two. After a few laps of that, it was time to stuff our faces with another gigantic lunch.
After lunch we were promised those dreaded words...XC ride. And indeed, with my burger laying heavy, we started pedalling for the top of the mountain. One point in Grand Targhee's favour is that they know the meaning of the term "switchback." No climb is too steep, and descents go on for far longer than their vertical would suggest. Dare I say I started to enjoy myself on this XC ride? Things felt good and I started thinking about the beverages that were promised to round out the day. One more quick loop, you say?
Why do people always insist on jamming in too much of a good thing?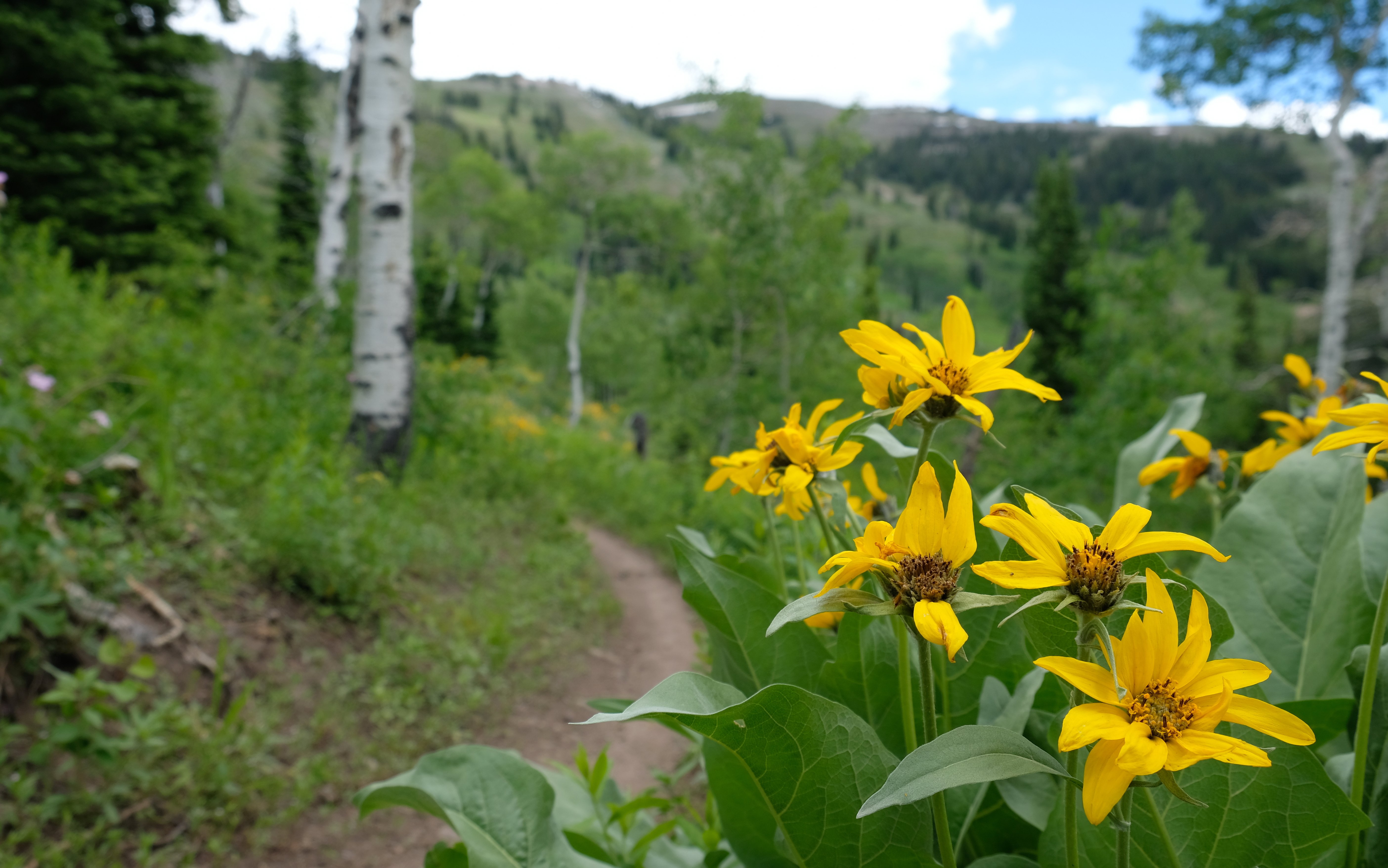 Day 2
So the first day was perfectly serviceable. A fine day, really. I mean, we pedalled up hills a bit too much, but I understand their need to show us everything that is on offer. This is fine.
The second day. Oh good lord. The second day was the day of vacation advertisements. The second day left me wondering what is wrong with these Wyoming people that they would expose us to the first day knowing full well that the second day existed. It's like a Michelin starred chef decided to whet your appetite with scraps from his compost bucket. Perhaps familiarity breeds confusion?
The second day needs to be the focus of the Grand Targhee Bike Park. They need to take that second day, package it up real nice, shave a bit off the back side, and sell the shit out of it. Any other decision is crazy.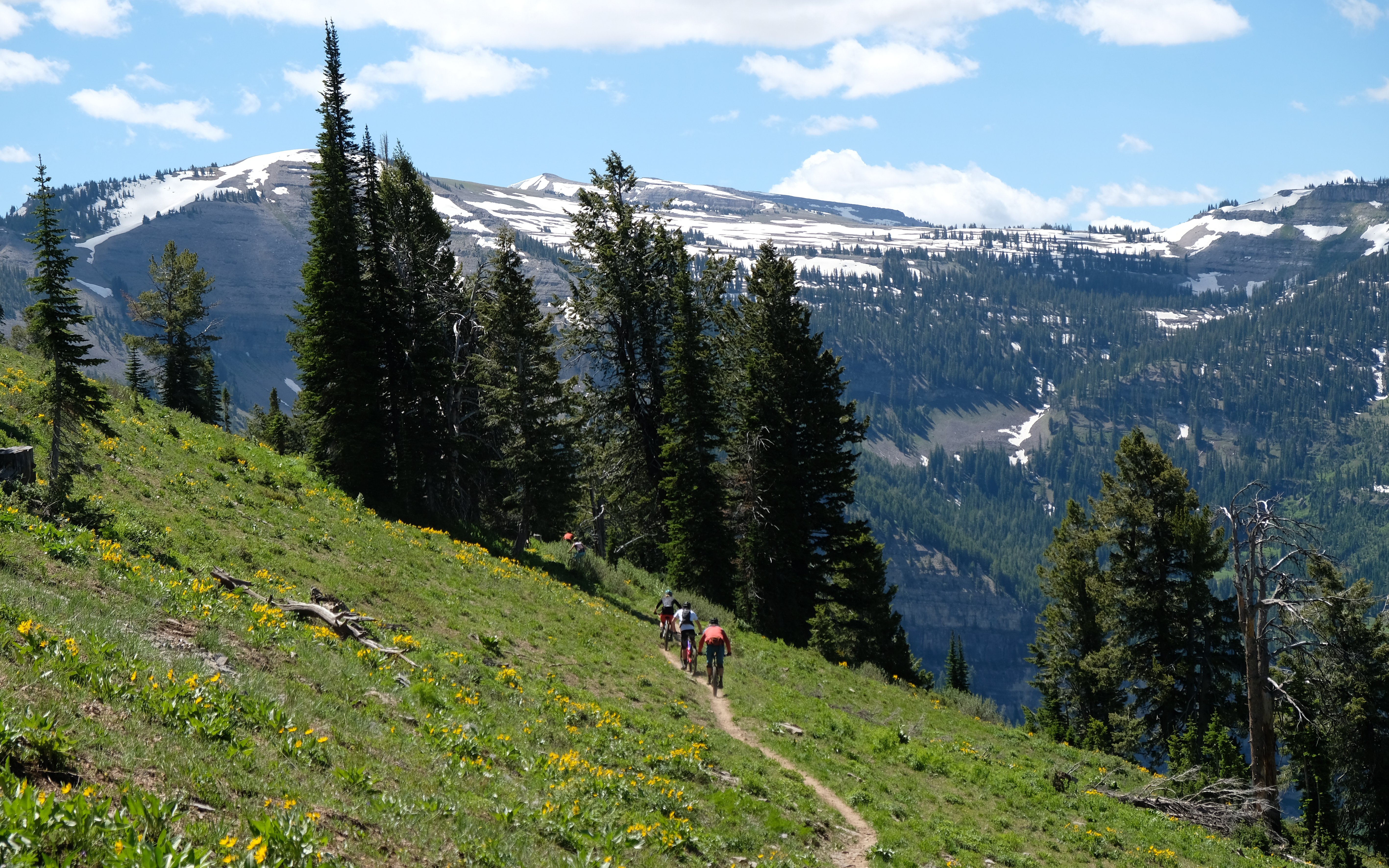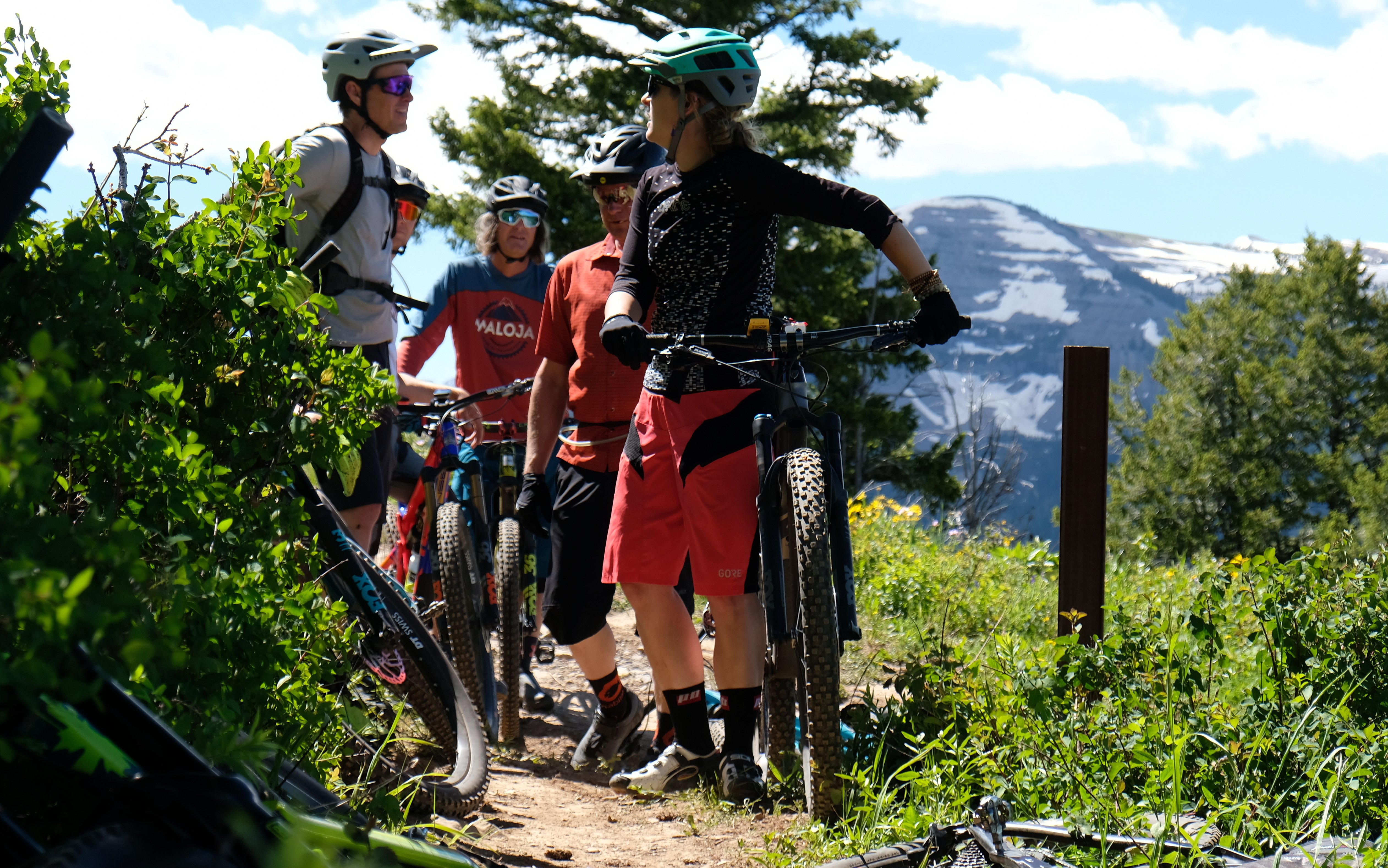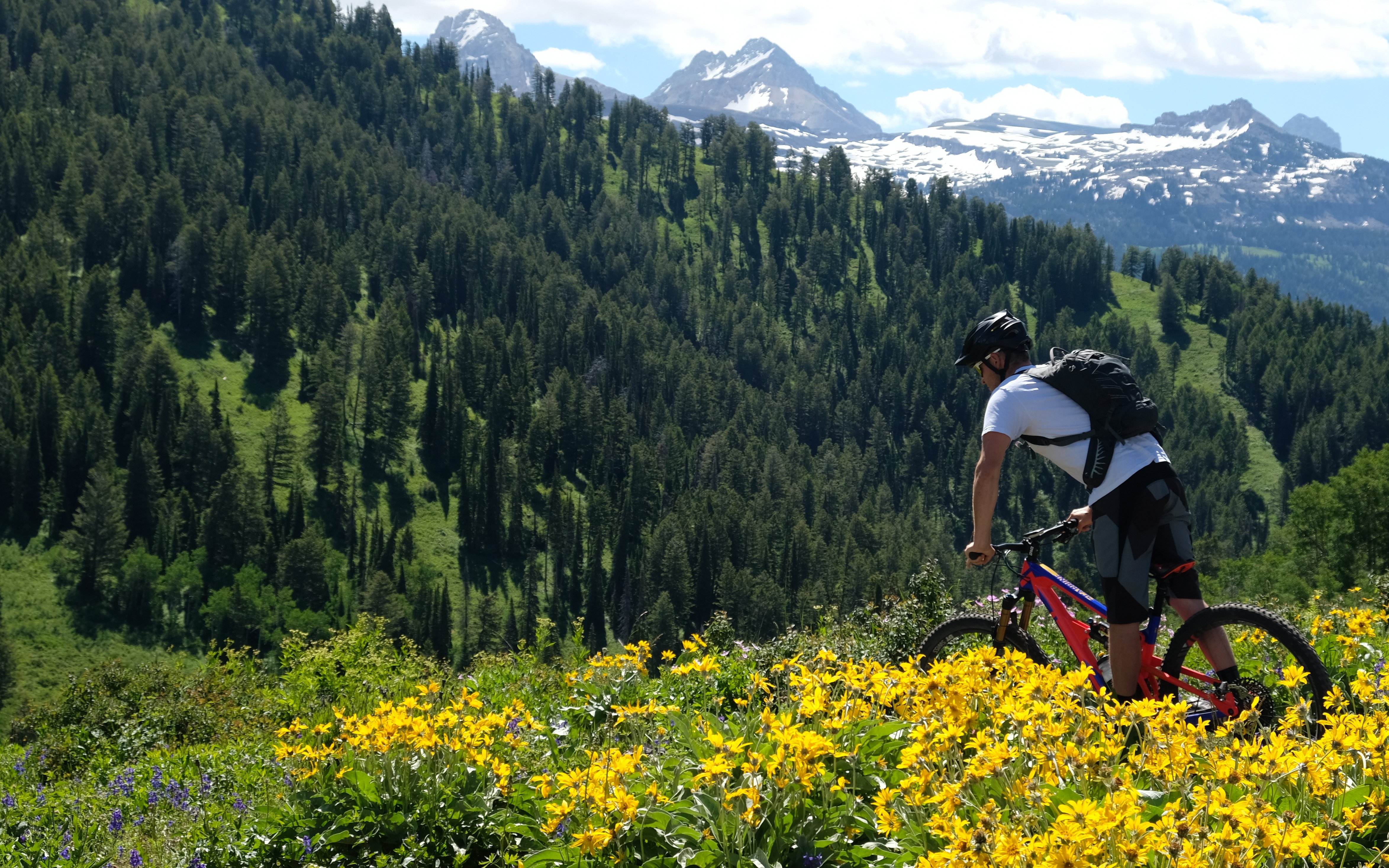 Like any good day, it starts with a breakfast burrito and a latte. And then a healthy dose of difficulty gets piled on, right at the beginning. "Shouldn't be more than 45 minutes to the top" was what they said. I mean, sure, that's probably possible. For people who enjoy climbing their bikes. And live at altitude. And who aren't coming off a torn calf muscle. Really though, I relished having so many convenient excuses, even though my 15-year-ago self in mid-season form would have struggled and suffered just as much. I'm actually impressed with myself over how little I ended up complaining.
As we climbed though, trails snaked off all over the place. It was like Julie Andrews, running through giant, green, grass fields which are only momentarily punctuated by brown, snake-like ribbons of trail, rampaging wild flowers and spandex clad Wyomanites. We climbed and we climbed and we climbed and we climbed some more. And then we climbed a bit more because there was a view.
As far as views are concerned, this one was pretty good. We hung around for a while waiting for the clouds to blow off, and then it was time.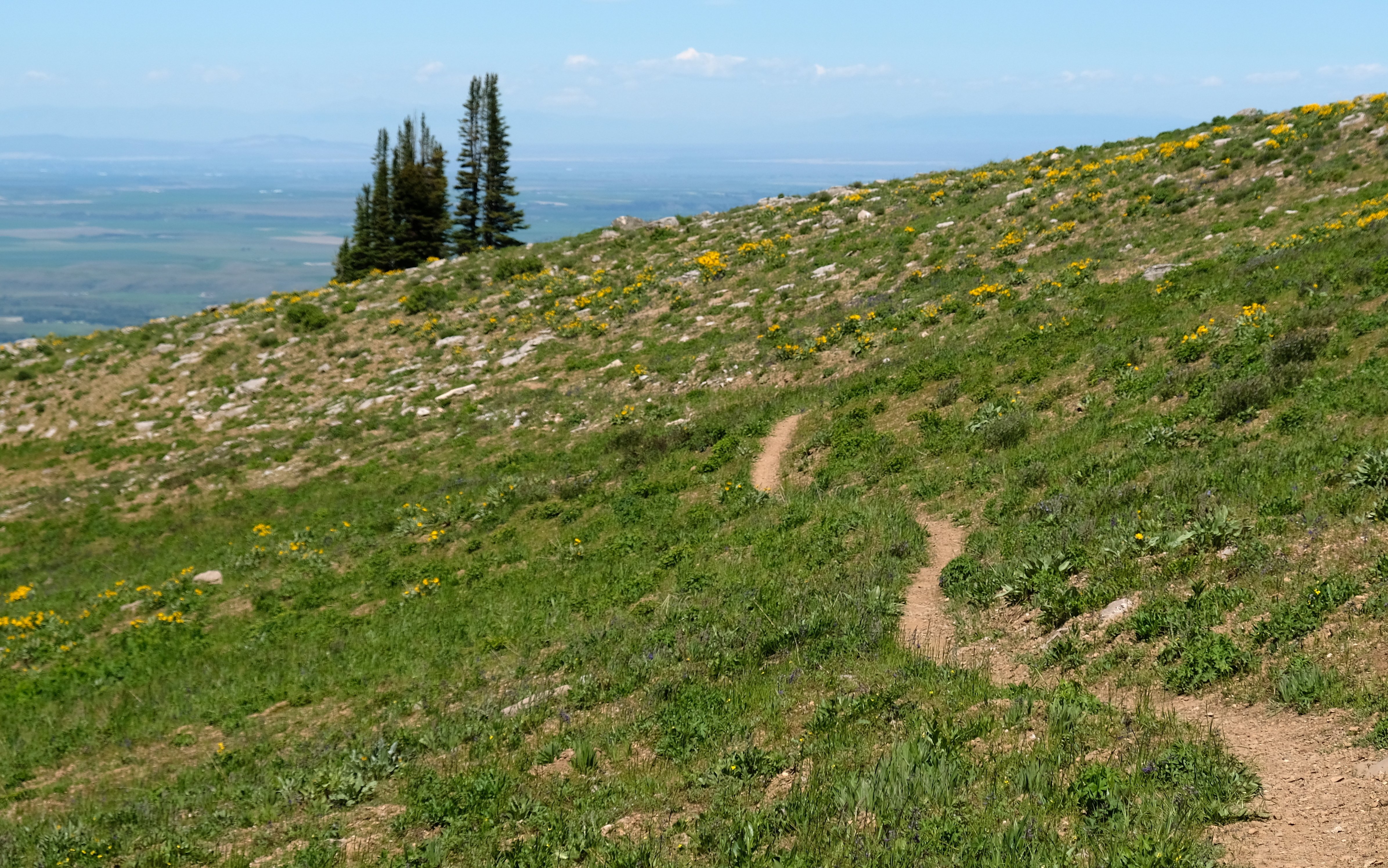 I mentioned the switchbacks, right? What followed was a masterclass in switchback artistry. Our guide lead us out and every 4th or 5th switchback I expected him to be standing there waiting. But it just went on and on and on. Switchback after switchback. Right turn, left turn, right turn, left turn. On and on and on to the point where you figured you probably should stop just for the purpose of dragging things out a bit longer but they've already gone on for so long you may as well just keep going. Amazing. By the bottom, your switchback game is on point.
Our group collected itself, and then it was time to go down again. The next descent was less grand, but still seemed to go on for quite a ways. 10 minutes later we collected ourselves again, and then repeated the whole thing one more time. It felt comical that so much descending could come from one little climb. I mean...the climb wasn't that bad, really.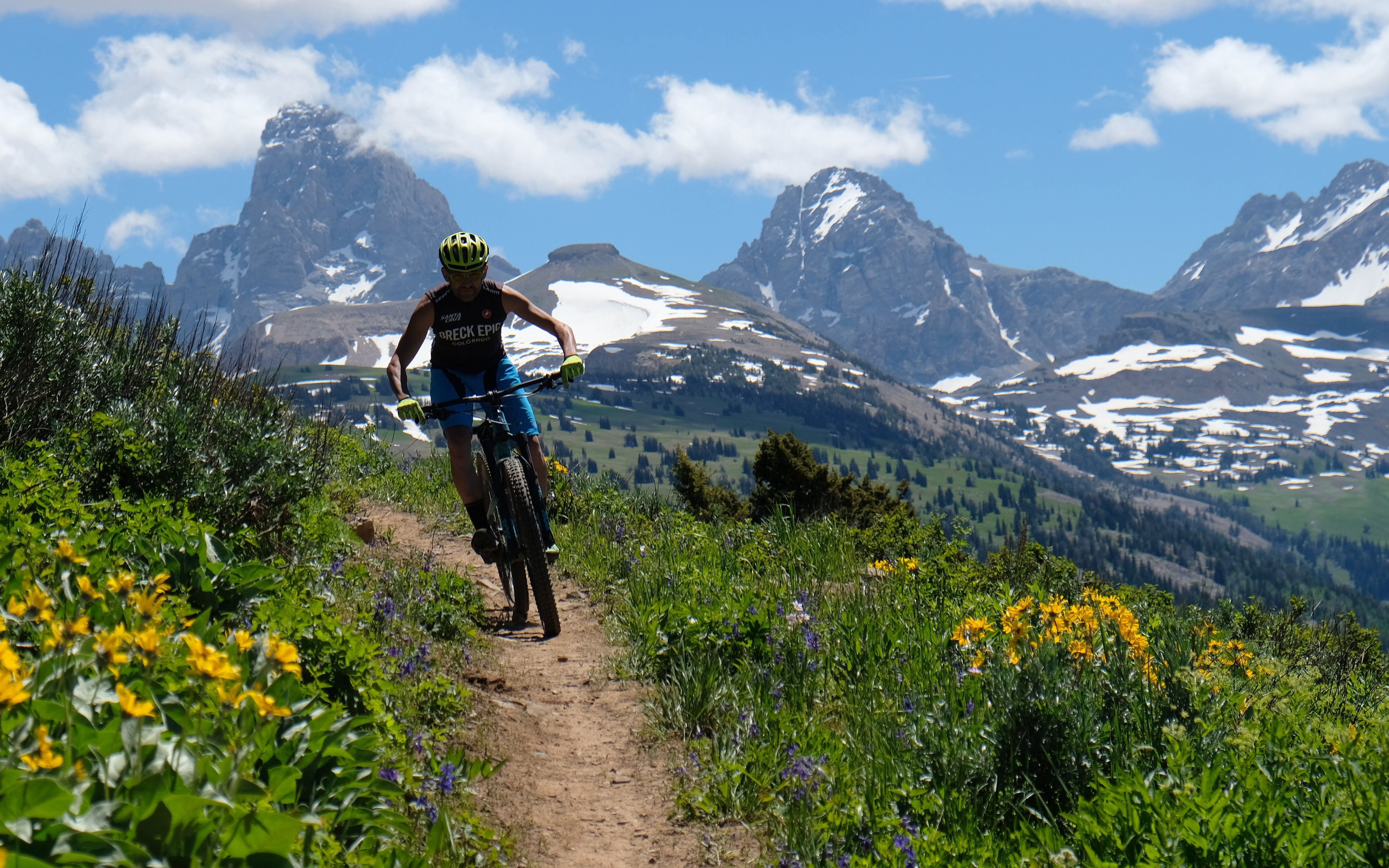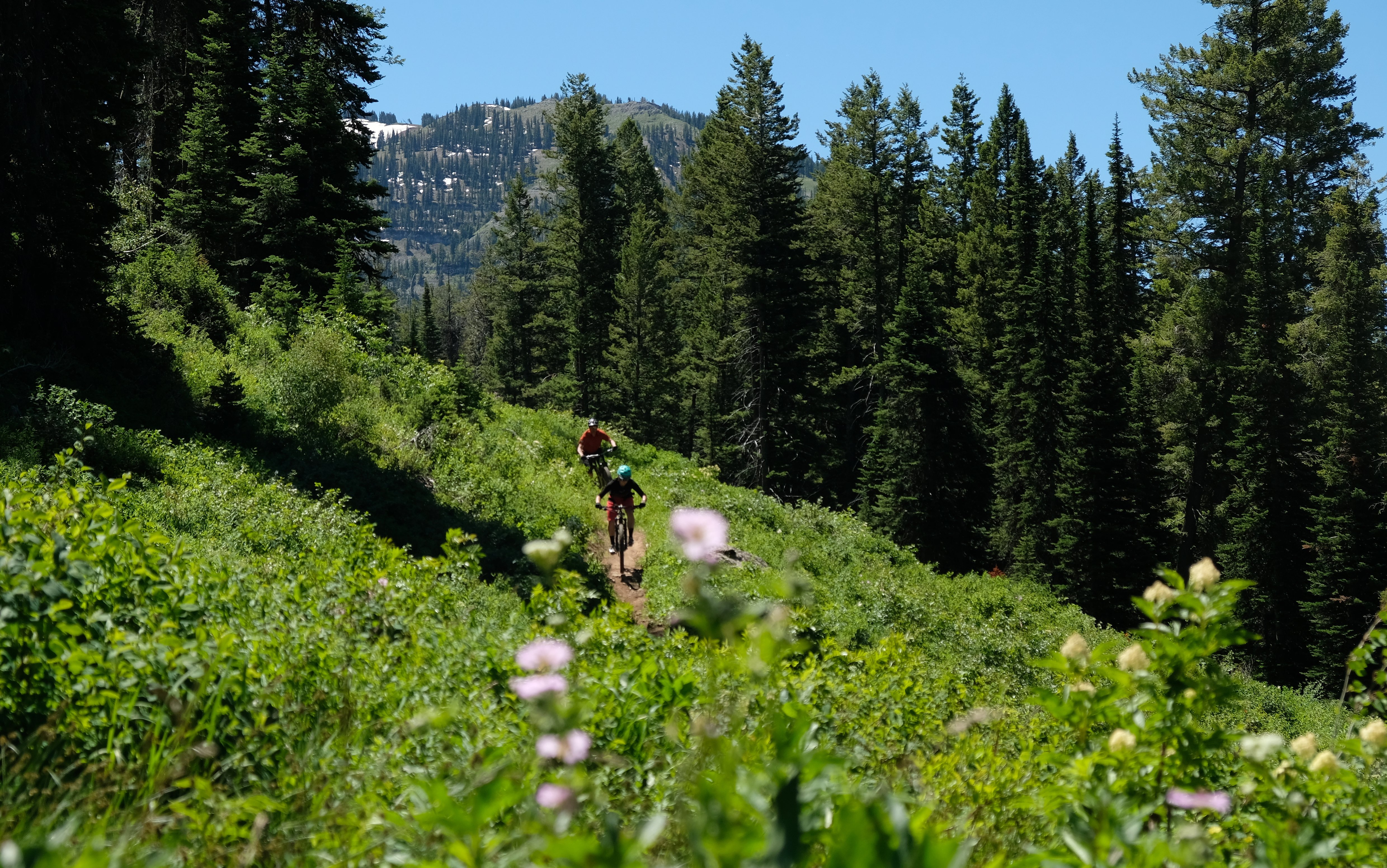 Once we finally reached the bottom, the Grand Targhee Director of Marketing was waiting for us in a jacked up Sprinter van with a cooler full of ice cold Pepsi (you may have to pay extra for this service). And then we drove down to Forage in Driggs where there was homemade iced tea, more beers, and fancy hamburgers waiting (Burratta? Roasted yellow tomatoes? Some kind of cured meat? Please.). And I probably couldn't have been any more happy at that point.
But then, of course, the other people want to ride bikes some more.
In my perfect day...in the one that the Grand Targhee Marketing Department bundles up and sells to you for a few hundred dollars...the riding stops here. We move on to one of the rivers that meanders through the farmlands. We dive in and splash around. The cooler of beer comes out and we soak our hands and talk about how great the ride was. After a few hours of that, we head on over to Tatanka Tavern and have wood-fired pizzas while struggling to pick a beer off the large list streaming across the big screens. Then we pile back in the jacked up Sprinter Van, and catch the sunset while quietly driving back up the mountain.
I mean, most of that happened. Just sub in a drive to a totally different set of trails and a hot assed ride through the desert for the beer soaked river swim. I get it...I mean, five years from now I'll probably fondly remember experiencing this set of trails, deep in the woods/desert of Idaho (honestly, it was positively Shuswappy...less the lake). The trails were fun. I was toasted, fried and boiled. I longed for a river swim, but I know that is my issue to deal with. We're really just quibbling over the final polish here at this point.
It was a fine, fine day.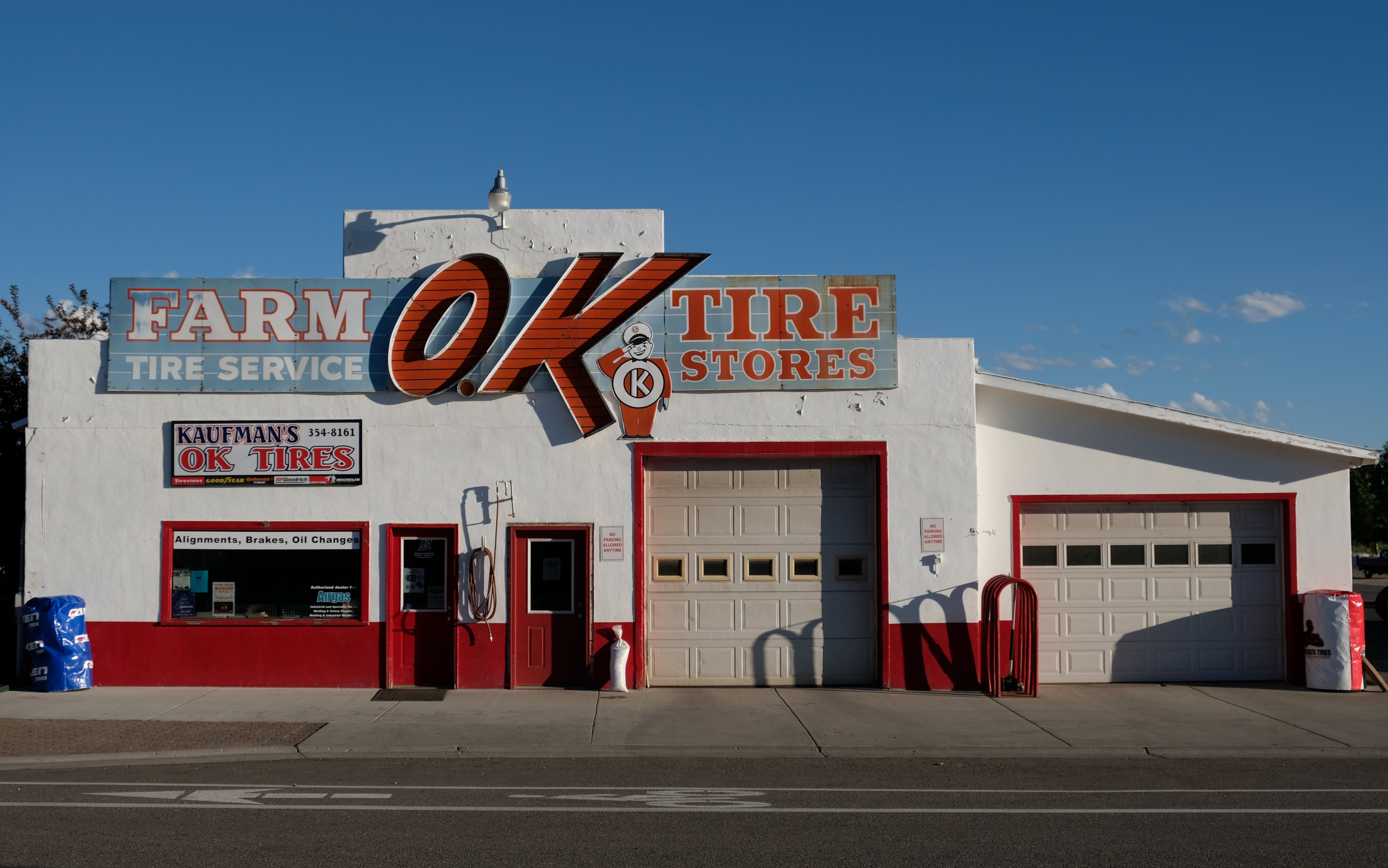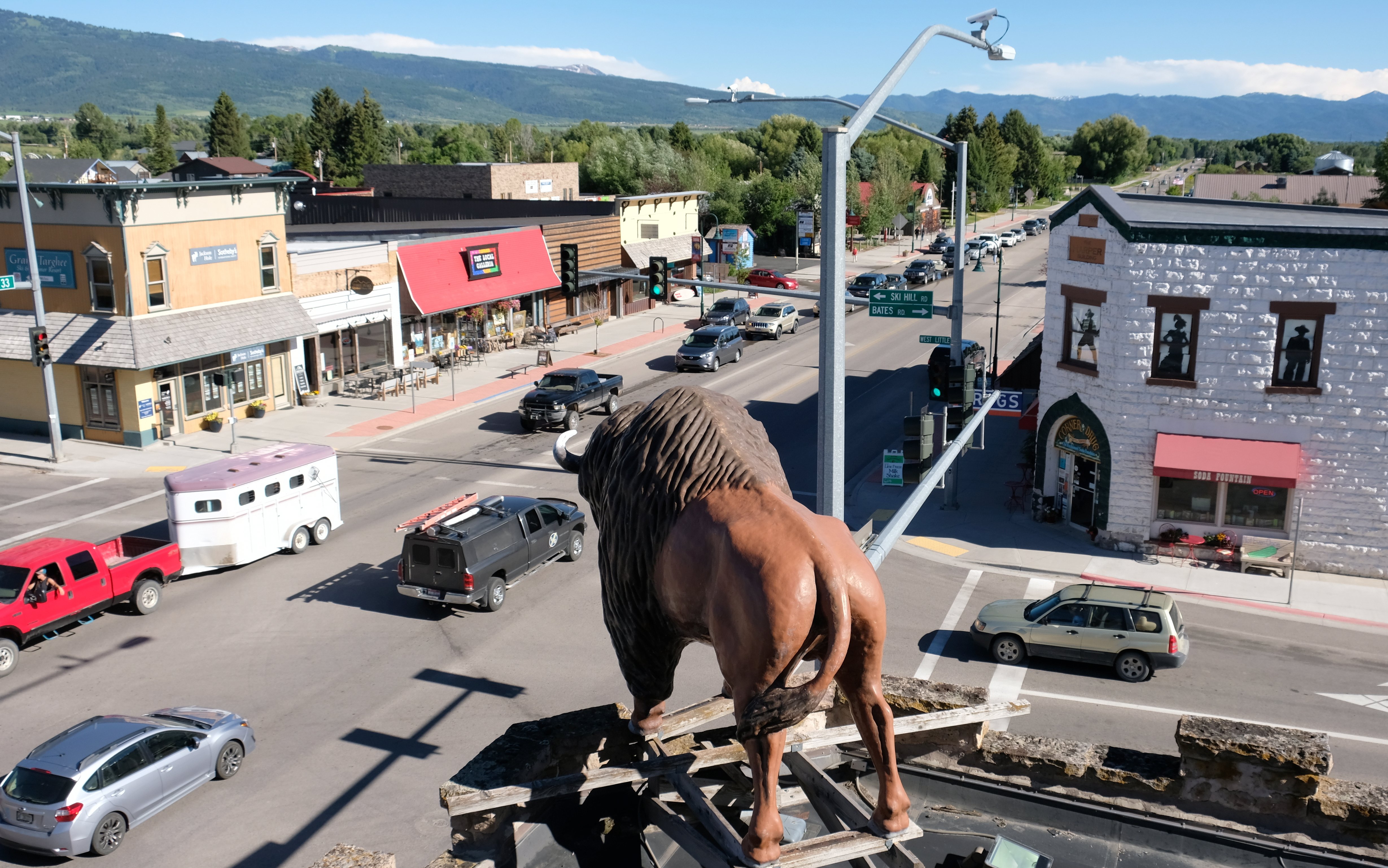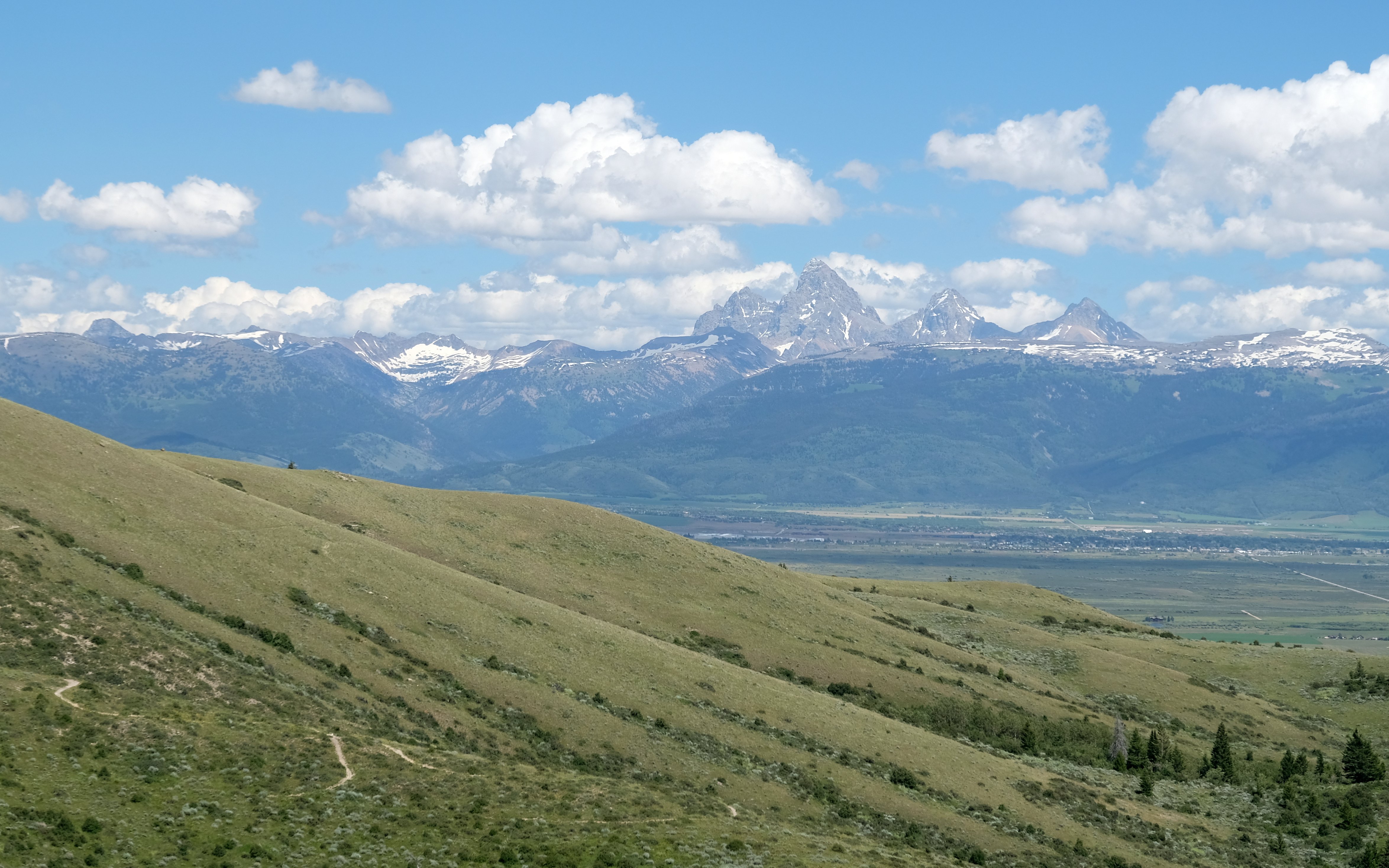 Conclusions
Should you go to Grand Targhee? I mean, why not? There's lots of places to go in life, but this one has many of the things that we like to travel for. It has beautiful scenery. Lots of mountain bike trails. The prices are relatively reasonable, depending on what you compare them to. You could go and have a very fine time of it.
But if you can figure out a way to scratch below the surface a tiny bit and see what the locals see, it should quickly rise up your list of things to do. Had this trip been done on my own nickel, with the airfare, transportation, accommodation, big-assed meals, bike rental and whatnot, I would easily have been into it for $1500. Figure out a way to bribe some locals into showing you what they showed me and that becomes a steal.
Sorry,
Uncle Dave
*Yet everybody drinks PBR.

**The views are not really endless.
---
Details - All prices US
Bike Rentals - $89 per day for a nice all mountain ride. $99 for a more gravity oriented steed. They're all in great shape...not your typical bike park beaters.
Lift Tickets -  Full day lift tickets are $39. All the XC stuff, including the Day 2 trails, are free of charge.
Lodging - My non-scientific study showed prices staring at $120 per night - and that's an August weekend.  It would be interesting to explore what is available in Driggs as well.
Flights - Direct flights to Jackson are available from Denver, Los Angeles, San Francisco, Salt Lake City, Seattle, Phoenix, Houston, Dallas, Atlanta, Chicago and Minneapolis. Direct flights to Idaho Falls are available from Denver, Phoenix, Los Angeles and Salt Lake City. They seem to be pretty reasonable from any of those places.