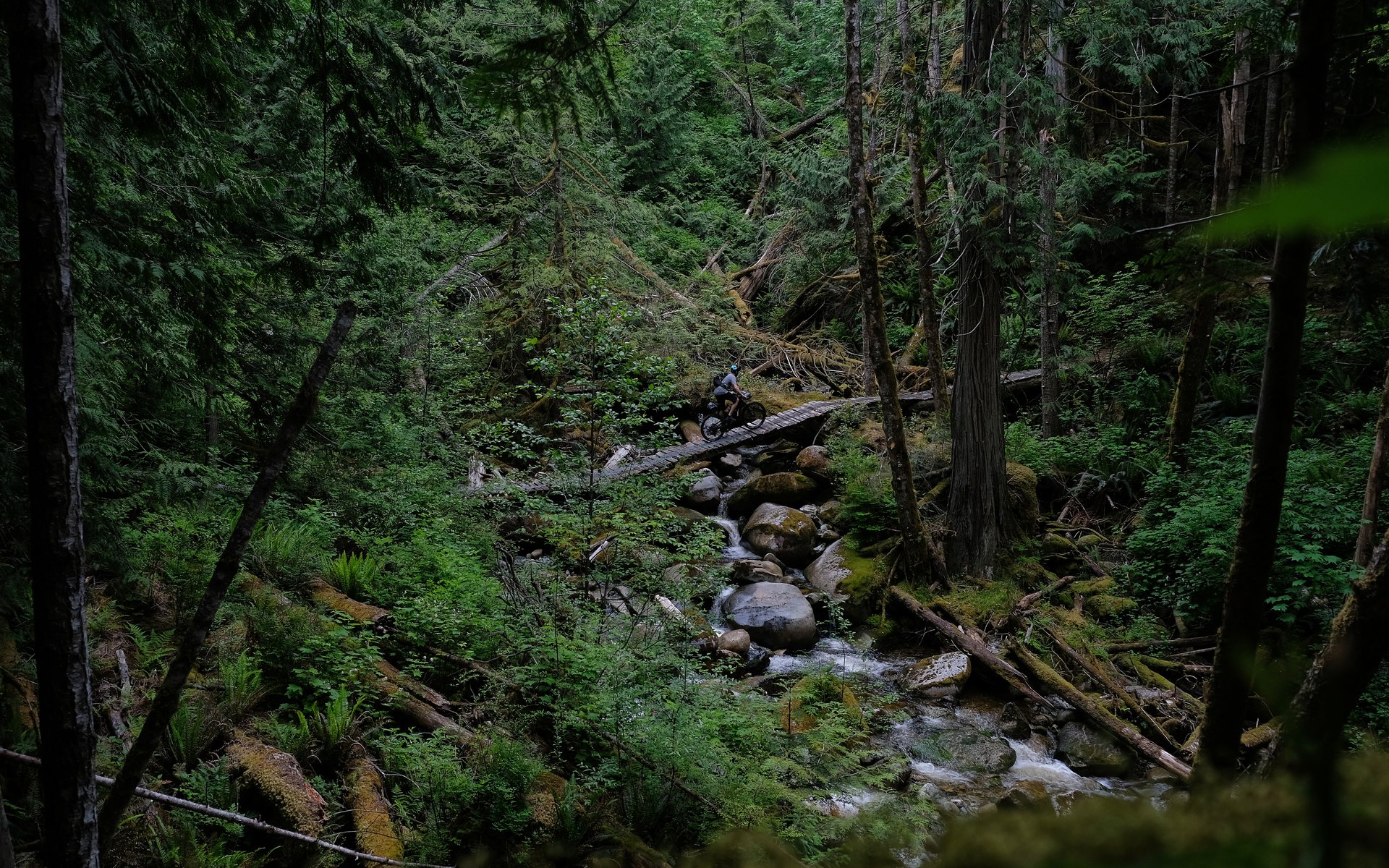 Maybe part 5? I lost track.
Uncle Dave's Guide to Bikepacking - Part 4
So, it's been quite some time since we've approached this topic of bikepacking. The original intention of the series is pretty much out the window, and the timeline has been blasted to shit. Rather than finishing this up as a nice, tidy little package, we're going to slowly peter out with a handful of articles talking about a few of the things I've been using. This one focuses on Big Agnes. They were kind enough to send me some gear to check out as I dove into bikepacking, and I liked the stuff so much I bought my own doublewide tent pad. I've since bought a couple of their camp chairs, as well.
Bikepacking is nothing if it isn't a series of decisions. Where to go, how to do it, what to bring and how to pack it. You can spend an awful lot of time on the "what to bring" portion of this conundrum. Everything becomes a compromise of cost, weight and comfort.
"Hard man" probably isn't the first phrase people would use to describe me, so fairly early in the process I decided that my bikepacking was going to involve sleeping in comfort. Comfort in the camping sense of the word. I wanted four (thin, fabric) walls surrounding me. I wanted a nice (flexible, slippery) pad underneath me. I wanted a (tiny, squeaky) pillow underneath my head. And I wanted a (skinny, crinkly) sleeping bag surrounding my body. Even before I got started this meant that my kit was going to be far from the lightest or smallest.
The Tiger Wall UL2 is a pretty fabulous little tent. I didn't always feel that way about it, but we got there eventually.
First of all, I've talked about this already, but I can't stress enough how amazing it was that Big Agnes decided to bulk up the stuff sack, slap some straps onto it and call it a bikepacking bag. The added grams are worth the options that this gives you. It's really easy to find a spot to strap this tent on most frames, freeing up room in your bikepacking bags. And if you're not into it and want to save some grams, you can leave it at home or plonk down 20 bucks for a simpler stuff sack.
The other bikepacking specific feature to this tent is the shorter tent poles. Big Agnes doubled the number of sections and halved the length of the collapsed poles, which makes it far easier to pack the poles away on a bicycle (or at the bottom of a backpack). All of this adds up to a 1.33 kg (plus 227g for the ground sheet) package that fits into a 13"x6.5" cylinder.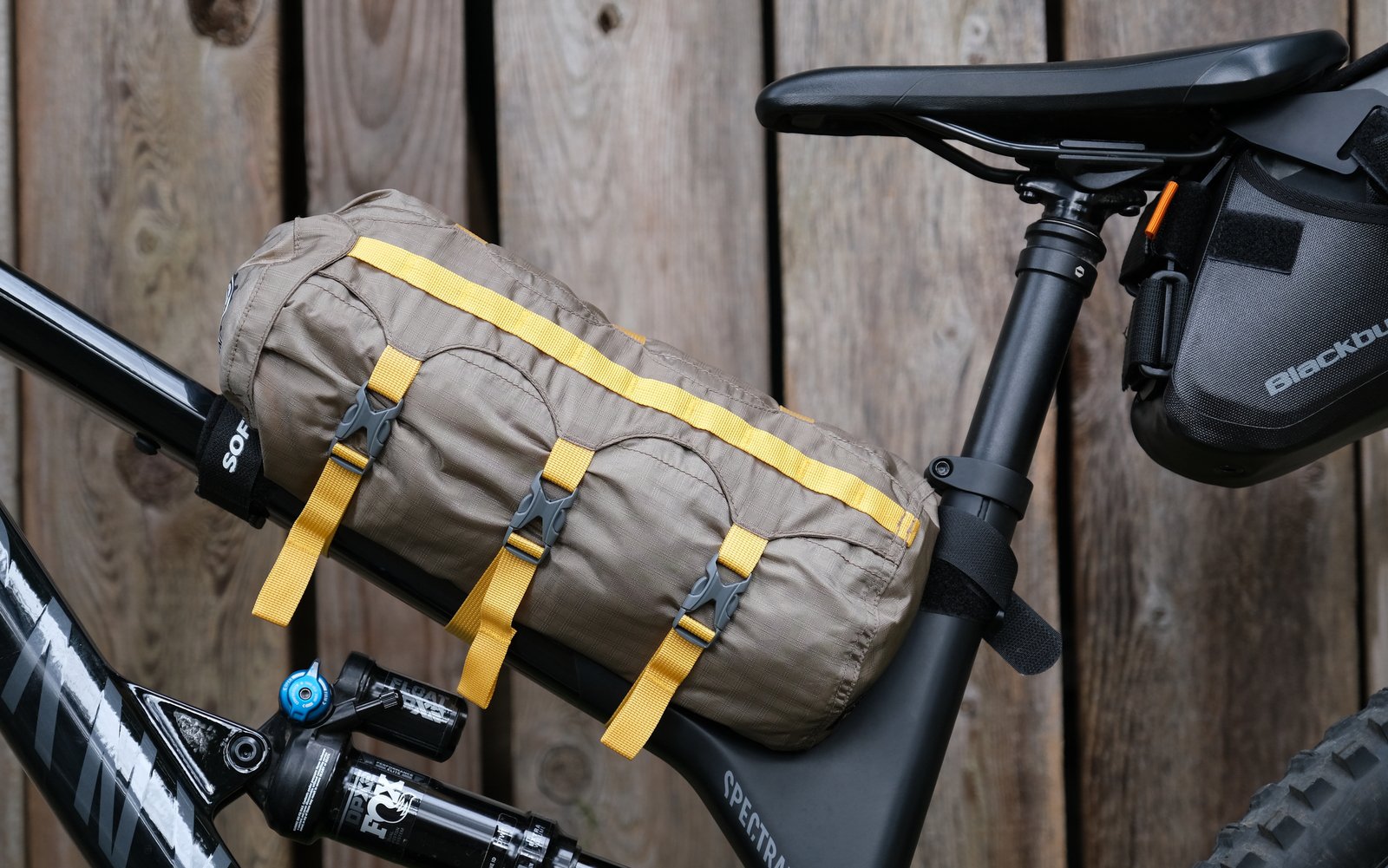 Big Agnes has a full range of tents with similar attributes. There's the fully freestanding Copper Spur. There's the semi-freestanding Fly Creek (pretty much a Tiger Wall with only one entrance), and then there's also the Wyoming Trail (which is fully freestanding and packs a vestibule large enough to house your bicycles). I was on the fence between the Copper Spur and the Tiger Wall, and wound up with the Tiger Wall in a compromise to keep weight and cost down.
The big compromise is the "semi-freestanding" part. I'm pretty sure this is the first tent that I've owned that has required stakes to function. This felt like a minor compromise to save weight, as I don't think I've ever pitched a tent without using at least a few stakes.
The first few nights that I pitched this tent I cursed my decision making. I always finished the process with a functional tent, but I never finished thinking "that was easy!" I even read the instructions, which support my typical method of getting the thing all constructed and then figuring out a way to hammer it into the ground. This does not work very well with the Tiger Wall. After a truly frustrating evening, I took a bit of time and played around in my front yard until I honed in on a method that worked pretty well. See photos for details.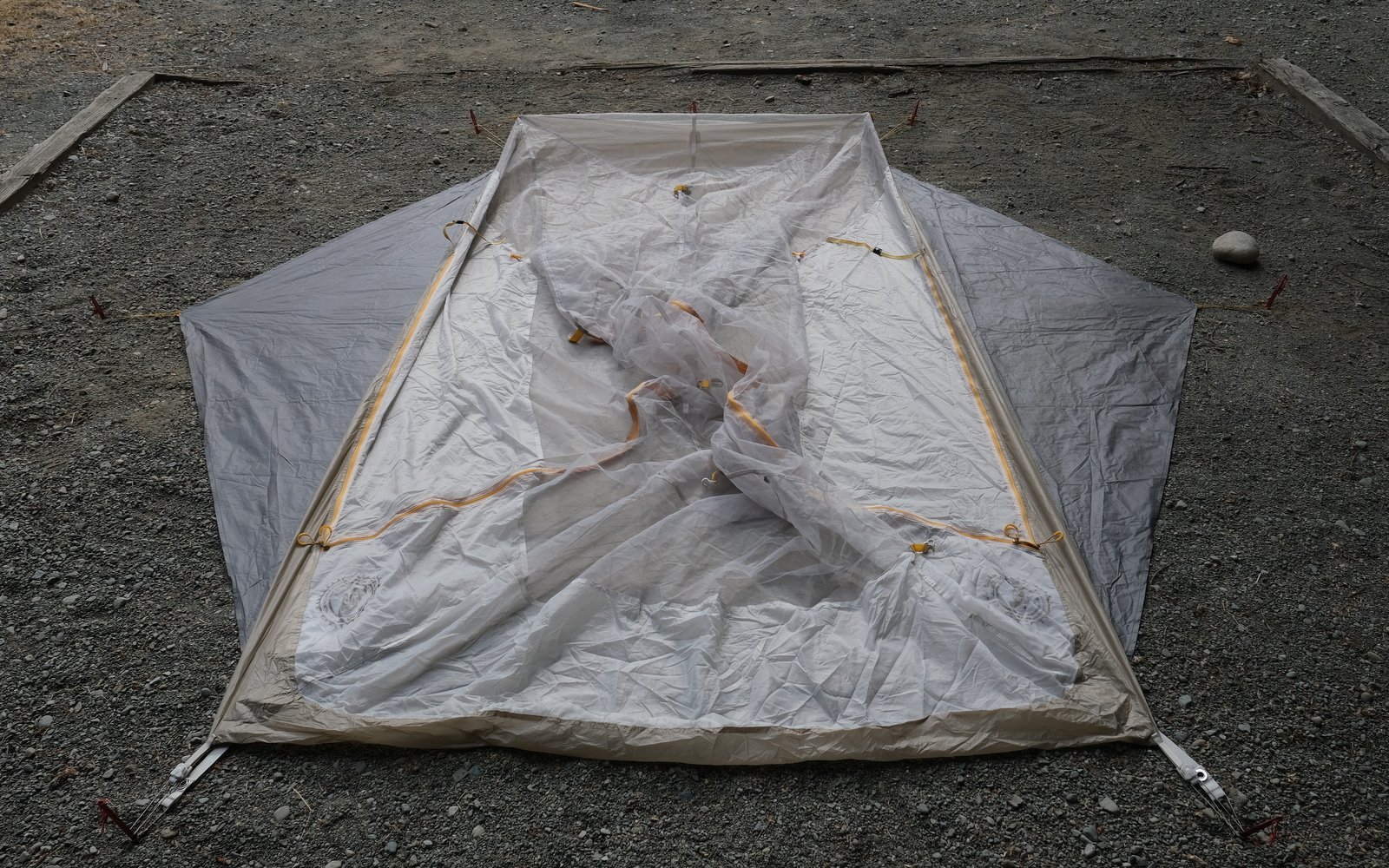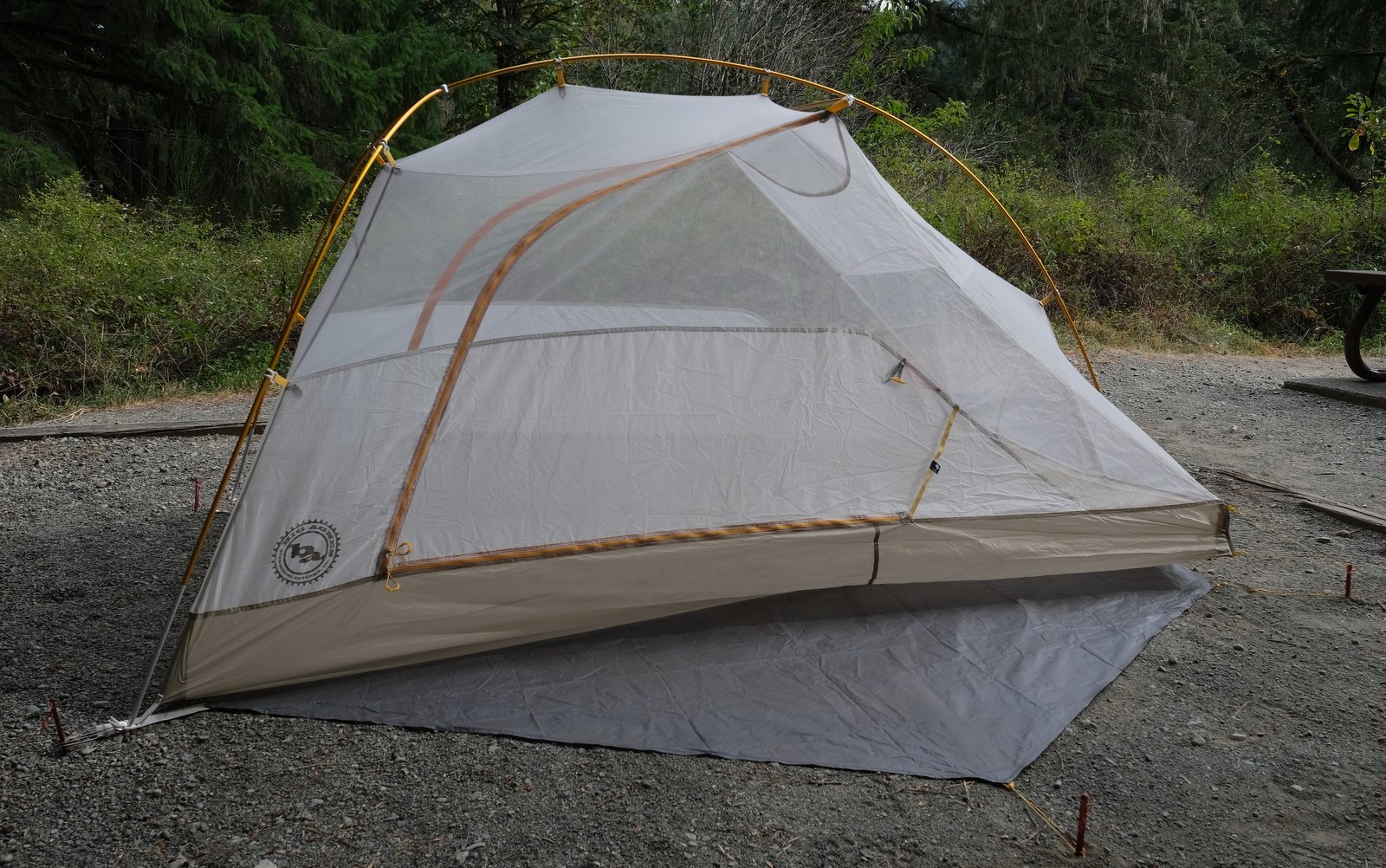 Follow this process, and you're laughing. Do something else and you'll chase your tent around in circles, and wind up with your groundsheet scrunched underneath like a dirty pair of underwear. If you're installing without the ground sheet, skip to step 3 and start by staking out the 4 corners of your tent, then move on to the poles.
Once set up, this tent is great. There are two smallish vestibules on each side where you can stow your gear (it won't fit inside if there are two of you) and the two entrances make getting in and out a snap. It's not massive, but two of us (and a small dog) slept inside with minimal crowding. Not a lot of moving, but minimal crowding.
The tent itself stands up to shocking conditions, considering how light and compact it is. We spent one night in winds so strong, it was basically bending the tent in half. One might argue that perhaps a tent shouldn't deflect so much in the wind (it looked like that infamous video of a pilot going through centrifuge testing) but I put most of the blame on my choice of location. I spent most of the night expecting to hear tearing sounds, or at the very least having to lash a broken cord or search for missing stake. When morning came it was surprising to me that all of the stakes held and the tent was intact.
The strangest part of all of this was surprising. This tent has a lot of mesh. With all of that wind blowing through, it was acting like a sieve, and we were coated with a layer of fine dirt in the morning. All of this mesh means that the tent is extraordinarily breathable, with very little condensation buildup. But that also means some of your heat is getting out and cold air is coming in. I wouldn't push this tent too far into the 3 season shoulders.
I do have a gripe with the stakes. You can't read a review of this tent without somebody complaining about a bent stake. You'll think they're all being a little bit dramatic until you bend your first stake while scrambling to get set up before dark.
At US$450, this is not a cheap tent, but it is light enough for me, well thought out (both the tent and the bags) and comfortable for two. My patented installation method above does work, but I wish Big Agnes included better instructions for installing both with and without the ground sheet (their tent setup instruction area is sorely lacking). Taking things even further, I wish they would design in some better integration between the ground sheet and tent. They've put a lot of effort into designing the ground sheet such that you can pitch a stripped down version of the tent without the tent. For me, the appeal of this is limited, and I'd much rather just have a ground sheet that was super easy to integrate into the bottom of the tent. As it sits, there's not much to gain with the proper groundsheet over just going with a random hunk of Tyvek.
The Tiger Wall is a comfortable tent once set up, but the tent pad may be an integral part of this. This pad is a roughly double wide air mattress that is sized almost perfectly for the footprint of a Big Agnes 2 person tent. Whether Copper Spur, Tiger Wall or Fly Creek, the tent pad will fill your tent wall to wall. There's much, more to it than that, though.
Sleeping on this thing is a dream. Well, as much of a dream as you can get from an air mattress designed for backpacking. You're still going to thread that needle between too soft and you're bouncing off the rocks below, and too hard such that your extremities go numb. The good thing is that once you find your sweet spot, this pad holds air really well, so you should find that you have the same amount of air in the morning as you did the night before.
The pad itself does an amazing job of isolating movement. I am a pain in the ass to sleep beside as I move all over the place while I attempt to get comfortable. I've had air mattresses where this very nearly causes my sleeping companion to bounce off the other side and onto the floor. This mattress is really well baffled and eliminates this problem. It was very much appreciated how well this pad did at isolating my partner from my movements, and it was commented upon several times over the next few days.
The pad is insulated with Primaloft and comes with an R4 rating, which puts it into the "3 season" category. If Big Agnes offered a lighter, cheaper option with less insulation, I think that would be very tempting. But at the same time, sleeping on an un-insulated mattress on the cold ground is a guarantee of a miserable night, so a bit of insulation isn't the worst thing in the world.
The size and weight (and cost) is noticeable though. If you were to buy two 20"x78" Rapide SL pads, they would weigh 595g each, and the rolled size would be 5"x8". The Tent Pad though, weighs 1.33 kg, and has a rolled size of 6"x13". You're going to have a much easier time packing those two smaller pads. It absolutely dwarfs the older 25x78" Big Agnes AXL pad that I have. If it weren't so large, I'd be tempted to haul this sucker along for solo outings.
The pad costs US$300. I know that this is a lot of money. Honestly though, I've bought a lot of air mattresses in my lifetime. Going for the cheaper option seldom pays off in the long run, both in durability and comfort. I can't speak to durability yet, but for comfort, I honestly don't think I could expect more out of a 4.25" thick sleeping pad.
Sleeping Bags
I'm not going to talk a lot about sleeping bags. My only suggestion is to bring one along that is the lightest that you think you will need. I have two different bags that I've been using, and they're both way too warm. I'd really like to get my hands on a Big Agnes Lost Dog 45. There's a sleeve on the bottom of this bag that integrates directly with a rectangular sleeping pad, which I like the sounds of (no more sliding off the top of a slippery air mattress). There's no insulation on the bottom, which results in a fairly light bag (880g for a synthetic fill bag is pretty good) that is relatively inexpensive (US$170) and small (6.5"x6.5" compressed for a long). Whatever you choose, just go as light as you think you can and throw on an extra pair of socks if you get cold.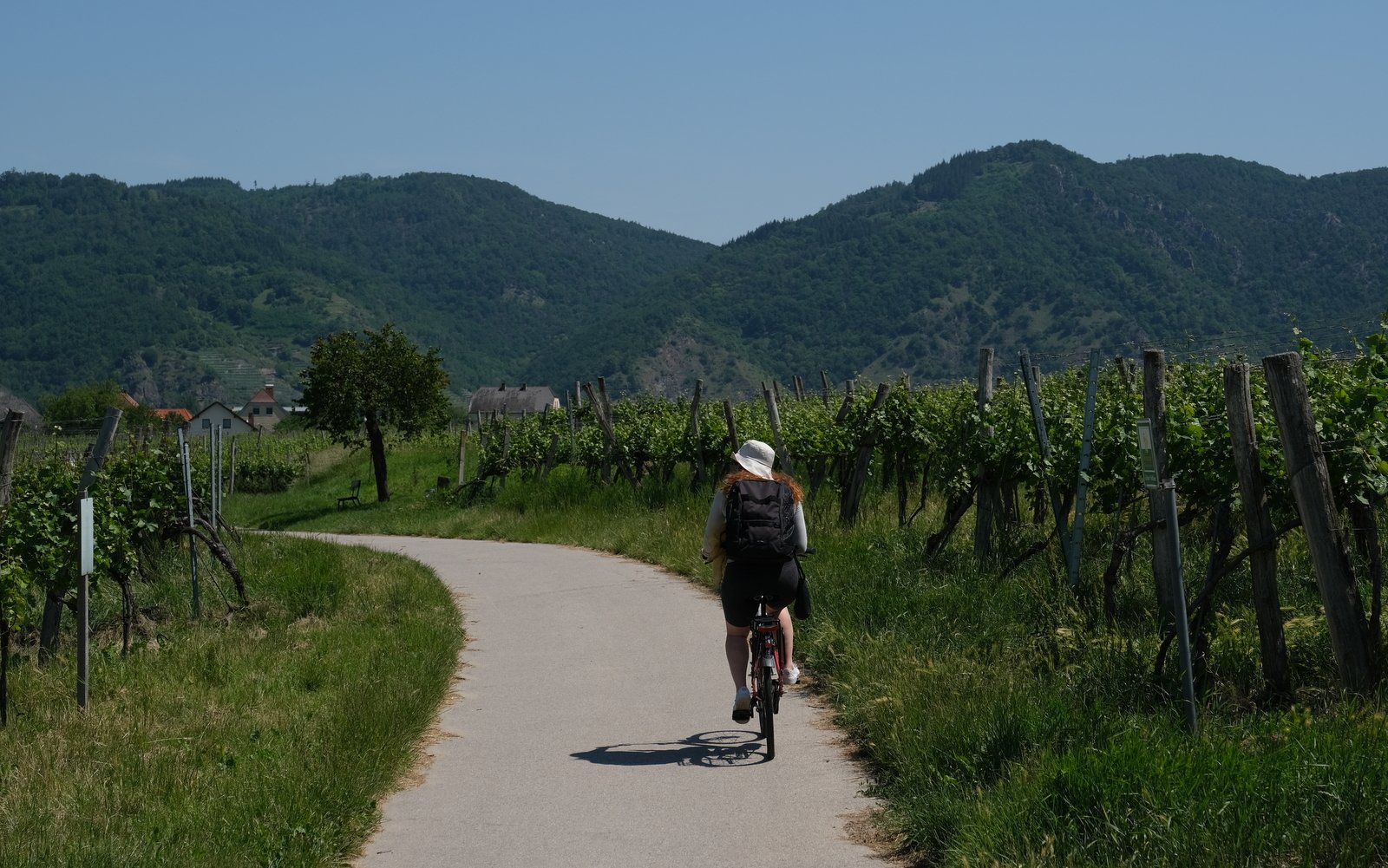 In Conclusion
When I started thinking about this whole bikepacking thing, I had a very romantic picture in mind. Something along the lines of setting off into the wilderness for several days to experience endless lengths of amazing singletrack. What I didn't expect was for that to not really happen, and for me to be totally okay with it.
Somewhere along the line on this project, my relationship with my bicycle changed. I've always considered myself a "cyclist", that is somebody who rides bicycles. I was open to all types of bicycles, but at the same time I had a fairly limited set of interests. Seeing some poor guy on a touring bicycle slogging along some roadway, loaded down with 50 lbs. of panniers, didn't really seem all that appealing to me.
But as I dove into this project, my range of experiences expanded. Some of those included hauling really expensive camping equipment on a bicycle, but many didn't. I started riding my bike for longer. I started searching for interesting routes, not all of them involving singletrack. I started appreciating the things that I could see on a bicycle, not just the things that I could do. Also, once I had all of this lightweight camping gear, I started disappearing into the woods more often…sometimes with that gear, but often without. Just the sheer possibility of it all opened me up to new opportunities.
In a few ways, this project feels like a bit of a failure, if I judge it by my initial expectations. I haven't yet had that once-in-a-lifetime, multi-day, singletrack experience. It's probably coming, but I'm less worried about it. In its stead I've replaced it with around a dozen "lesser" experiences. I've done a few day rides that pushed my boundaries. I've hopped on a city bike and pedaled for a few days alongside a European river. I've hiked into some pretty spectacular locations. And I've even strapped camping gear to my bike a few times. As is often the case, sometimes you set out for a specific destination and wind up somewhere else. It's not better and it's not worse, it's just different.