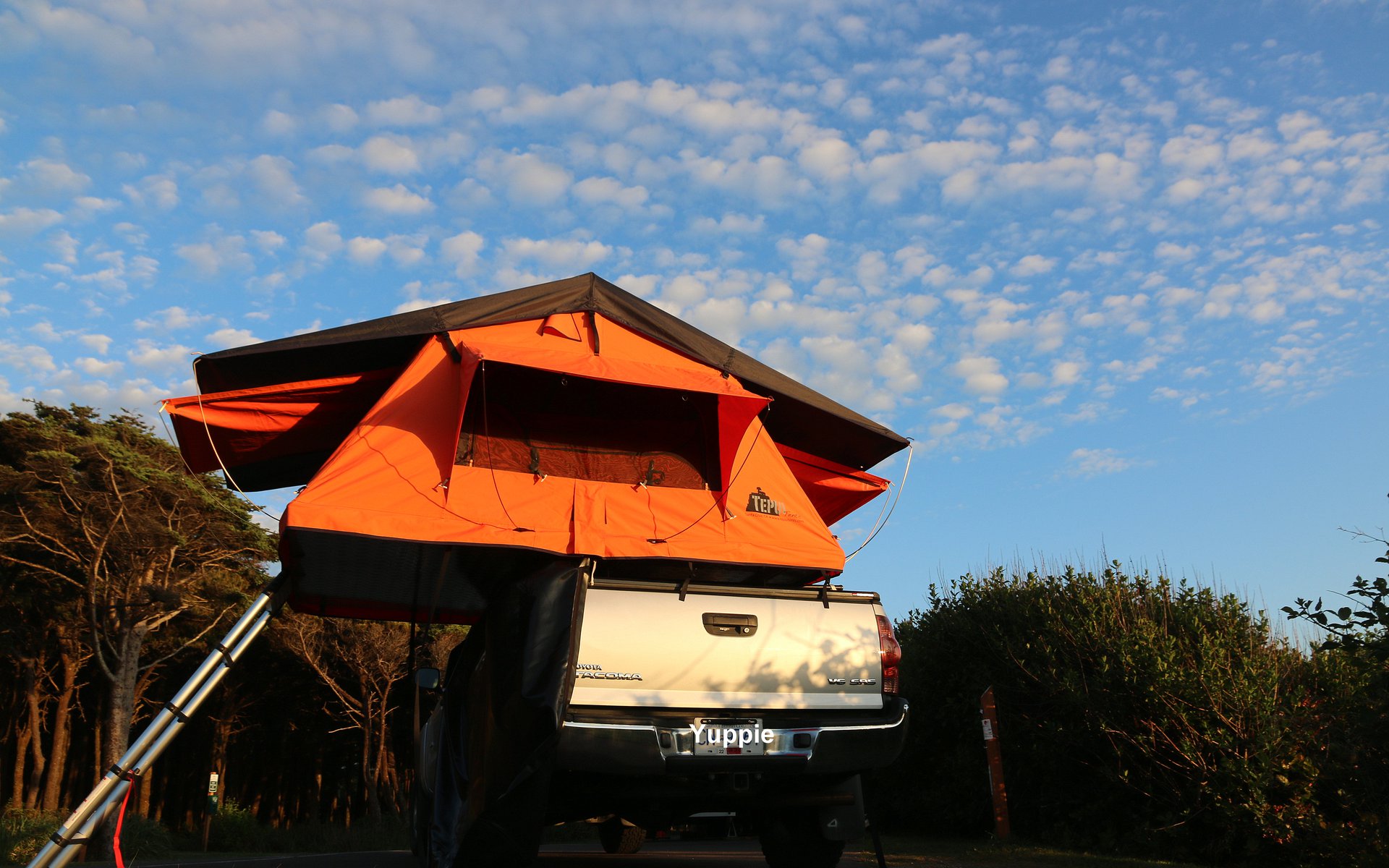 ASK UNCLE DAVE
Uncle Dave's Guide to Roof Top Tents
I was lucky enough to grow up with a family cabin on Shuswap Lake. It's one of those places where you have to stand on one leg, flip a light switch and jiggle the handle just so, in order to make the toilet flush (and if it's yellow let it mellow is taken very seriously, indeed). As a result, we never rented it out.
Except for once every few years when we'd be going away on vacation and one of my Dad's coworkers would bother him relentlessly until he caved in and agreed to rent it to them. "Rent" being the closest approximation available for the situation. Money never changed hands. They'd always just sort of give us some bit of recreational apparatus that they never used and that was taking up space in their backyard. A sailboat. A windsurfer. And, most famously, a tent trailer.
This tent trailer was an amazing piece of recreational vehicle. We towed it with a station wagon straight out of National Lampoon's. We jammed it full of camping gear and fireworks and actually thought we were pretty bad-ass, not having to slum it with those regular people whose tents didn't come with trailers. With the tent up, it was a technicolor dreamcoat of colours, made of a material that laughed at the concept of "waterproof". With the tent down it looked like we'd just robbed a junkyard. But I loved it. I once got in a fight at a campground because some kid walked by and talked badly about it. There was absolutely no reason for me to feel this way about such a crappy thing.
I have a history with tents on top of things that move is what I'm getting at.
Why on Earth?
So that goes part of the way towards explaining this ambition. I feel like I must go further.
Roof Top Tents (RTT's for those in the know) seem to be all over the place amongst off-roading circles. Which makes sense. You're seldom going to come across a manicured campsite out in the boonies at the end of a 4x4 track, and you certainly don't want to be hauling a large trailer behind you down those roads. All things considered, strapping a tent to your roof is a really great idea.
We outdoorspeople* could probably learn from this. We always seem to be driving places with carloads/truckloads of gear. We're familiar with roof racks. We love paying lots of money for complicated gadgets. There are countless ways we can benefit from a shelter arrangement that frees up space inside our vehicles (by travelling on the outside) and allows us to comfortably sleep disconnected from the ground.  We should be all over anything that turns an un-occupied corner of a parking lot into luxury sleeping arrangements.
The Nuts and Bolts
Figuring out an RTT set-up makes building up a mid-90's DH bike look tame by comparison. It will stretch your math skills to the limit, worrying about compatibilities, load ratings, sizes and configurations. I eventually settled on an ancient pair of Yakima rain gutter mounted roof racks that I bought off Craigslist and an RTT from Tepui (multiple RTT's from Tepui, if we want to get specific). I also made use of the brilliant Summit mounting brackets that allow me to keep my tonneau cover in place with a rack over top, so that I can haul a tonne of gear without too much worry that it will get wet or stolen.
Here are a few things you should consider.
Manufacturers
Tepui and CVT are the two most common RTT's that you see in my parts. For locals, Tepui has distribution in Canada, so they are pretty easy to get a hold of. The offerings from Yakima are limited, but interesting, at a good price and probably with easy availability. Wild Coast Tents is a Canadian option worth checking out as well.
Tent Size
I went back and forth for months trying to decide on what size to purchase. I spent numerous hours in my bedroom with a tape measure (a few more than is usual). Most tents are the same length (48" closed, 96" open), so you're really only looking at which width suits you best. Most manufacturers sell 72" wide as a 4 person, 56" wide as a 3 person and 48" wide as a 2 person, but unless a large chunk of your party is growth stunted children, I would subtract at least one person from that count. Honestly, I think you're crazy if you go narrower than 56" for two people.
Material
The majority of these things seem to be a poly/cotton blend - essentially canvas with some synthetics woven throughout as a rip-stop. There are some full synthetic options though, which are a bit lighter and cheaper. This link is as good a breakdown as any.
Covers all seem to be a heavy duty coated nylon affair and seem to be the place you're most likely to see some wear. After not too long on mine, the straps started to wear through, tears on some of the corners and zippers hanging on for dear life. The good thing is they're replaceable and easily available from most of the manufacturers for a hundred bucks or so.
Roof Racks
Your average Thule or Yakima is going to struggle under the weight of the larger Roof Top Tents. Yakima limits out at 165 pounds of dynamic load, for example. They'll deal okay with 150 pounds of tent plus a few hundred pounds of stationary adult, but a 200+ pound tent is probably going to cause a few things to bend once your vehicle gets up to speed. Rhino is one manufacturer that makes heavier duty racks at a reasonable price that will attach to most things.
Other Things to Consider
With your racks sorted, your size figured out and your vendor chosen, you're almost there. Vestibule?  Changing room?  Should you fork out for the ruggedized option?  Is an anti-condensation mat necessary? What about integrated lighting? Like any burgeoning outdoor segment, RTT's are filling up with choices. Wonderful, paralyzing choices that will suck away gobs of money.
How does it actually work in practice
I knew we had something special when we rolled in to our campsite on Night #1 of our RTT ownership. We parked across from one of those motorhomes that shames you with its opulence. It had a chandelier!  We spilled out of the truck and started setting up the tent. A few minutes later the motorhome owners, gin and tonics in hand, sauntered over, forming up into the world's smallest spectator gallery.
"I told him it was going to be amazing!  You were just going to hop out of that truck and have it set up in no time. Amazing!"
This from the owners of the quarter million dollar dream house on wheels. Later that night they fed us drinks while we hid out from the mosquitos. I sat on their leather recliner, topped up my drink with ice from their wet bar, and they continued to tell us how amazing our tent was. 
And it never stops. You can be deep into a logging road, miles from the nearest main road, unfolding the tent in pitch blackness, and it's not unlikely that somebody will pop out of the woods, point and yell "what the heck is that!"
The thing creates attention. No. It demands attention. Which is usually a problem for me, but in the case of the tent, when that awe comes from yuppie campers with more money than outdoor cred**, it feels pretty great.
I mean, you're still a car camper, so don't get too ahead of yourself. But you're so much smarter than that guy digging trenches around his Coleman. You're set-up in 10 minutes. Your bed is flat, relatively soft and stands no chance of deflation. Rain is a pleasant sound that serenades you off to dreamland rather than a weekend ruining menace. Well, you still are out there in it cooking your dinner like an idiot, but that's kind of the point, isn't it?
Should you do it?
Of course you should do it. You're in this deep, already. You have thousands and thousands of dollars worth of bikes and no spare space to store anything, as it is. What's another couple grand? Just shove some of that 26" shit aside and jam this in the corner when you're not using it. I guarantee once you spend this much money on a tent, you're going to force yourself to take at least one, maybe two, more camping trips each season. I love the damn thing, even though it's a bit of a hassle and makes me feel like a dick sometimes.
Sorry,
Uncle Dave
*You know...loosely speaking.
**I mean...I'm not suggesting that I don't fall into that category.
Uncle Dave's Music Club
Would adding links to music take away even more credibility from what is already a pretty half-assed review? Will the effort required detract from the overall theme of laziness? Well...
Chuck Berry. I'm not going to get into a whole thing about how sad it is that one of the pioneers of Rock'n Roll was denied his rightful place in history. But in the wake of his death, the CBC played this song that I'd never heard, and it blew my mind. Can you imagine what it would have been like to hear this song for the first time back in 1955? Oh my god. It would have melted brains. Blown minds. Soiled underwear. Have a listen yourself.
Uncle Dave just might go back to answering questions if you have fuel to ignite his clean burning, high octane grey matter. Otherwise he'll do just as he pleases. Send your questions to Uncle Dave.