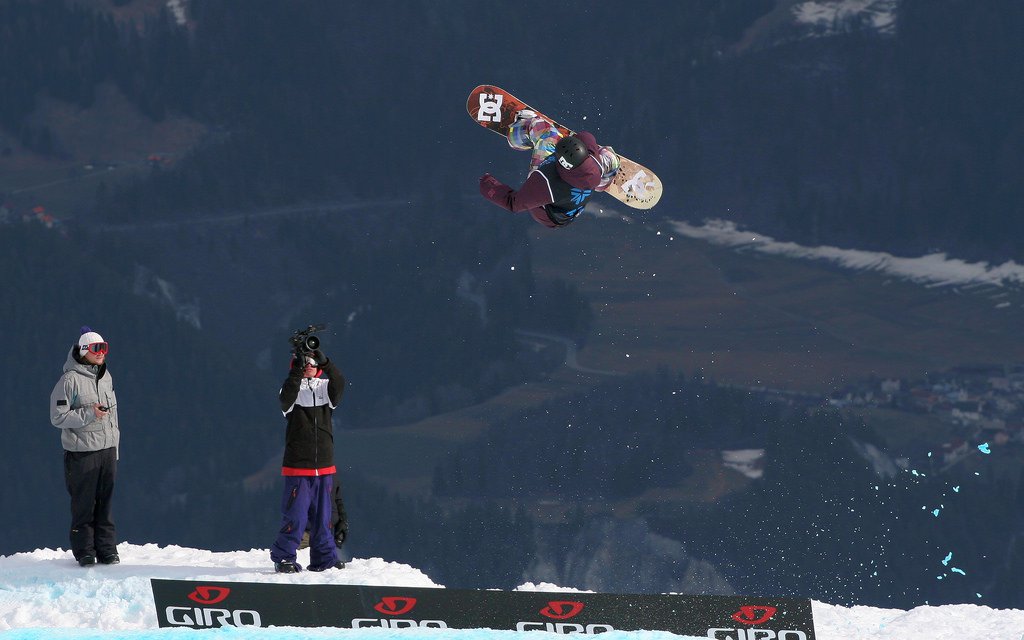 Ask Uncle Dave
Uncle Dave Talks About The Olympics Or Something
I can imagine that this is what it feels like every time an honest-to-goodness punk from the 70's hears a fresh Green Day ballad on the radio. He rubs the overgrown holes in his ears, shakes his head a few times, stubs out his cigarette, and heads back into his law practice to finish signing a stack of divorce proceedings. This is what it feels like when something that once meant something gets killed, torched, and buried by the people who followed in your footsteps.
I mean, part of me is actually sort of impressed with how the kids are doing things smarter these days. A giant fucking airbag is a pretty exciting development. But when a country that has no snow plucks a bunch of gymnasts out of a dark warehouse, teaches them to snowboard and then sets off in pursuit of gold medals, I can't help but wonder where things have gone wrong*.  And staring at a photo of that giant fucking airbag turns me a little bit crotchety… I mean, you're supposed to learn how to do a 360 after you master shit like turning and stopping and getting on and off the fucking chairlift. You're supposed to actually sort of be a tiny bit interested in the sport that you're pursuing before heading off for Olympic glory.
So thank the good lord above that our versions of downhill and slopestyle and extreme pumptrack bingo aren't Olympic sports because if you think the Whistler lineup is bad now can you imagine what happens when the UCI decides that these freeridin' slopestylin' kids warrant their attention? Imagine how dumbed down the Shore gets if whatever the hell it is we're doing goes Olympic?**  Imagine what happens to the frogs then, Monica? And, just a note, there's a big difference between "knowing" history and "celebrating" it, my dear lady. And you'd think an anti-Trump, right-leaning, pro-car, anti-bike environmentalist would know a thing or two about nuance...  But I digress.
Don't get me wrong, I loooooove me some Olympics. I mean, most of it is crap, but anytime I get to watch in-depth ski racing coverage live on prime time, I'm a pretty happy man. And I think this is what RC was getting at a few days back. This is what separates a sport with history from a sport with none. It's impossible to watch a Feuz or a Svindal or a Vonn annihilate a DH course and not leave with a pretty clear impression that there is no way to cheat your way to the top of that sport. You've got hundreds of years of history and a horde of angry Austrians insisting that this is so. You can be a farm boy who builds his muscle hauling goat milk up the hills of Switzerland or a wealthy American gym rat known for training gates on a powder day or a bloody fighter pilot or any number of other amazing and crazy things… but you can't live on a mountain-less island and buy a giant fucking bouncy castle and expect to win anything.***
And yes, yes, I know that if there was an easy path to ski racing glory, even all the purists would be doing it. Every Austrian farm boy would have not one, but two bouncy castles set up out back among the sheep and the cows, or they'd be jumping around on trampolines with boards strapped to their feet or whatever. They'd be just as shameless. But that's the point! That's what's so great! By design, ski racing insulates us from our worst instincts. It takes the classic formula to be successful: blinding focus, good genes and sociopathic parents. Any two-bit glory hound is going to pack it in the first time his coach screams at him for an hour after going into the lodge for a hot cocoa on a -30-degree day.
But when I actually sit and think about this for a bit, this is where my typically contradictory thoughts start to stumble over one another. Because actually... what I hate about bouncy castle flippy shit training is sort of what I love about hiking to the top of an icy slalom course training. When I'm watching the best in the world risk their lives charging down a mountain, I want them to have spent 20 years of their lives stressing out over every edge change, body movement and piece of technology. I want them to use every gimmick at their disposal to make sure they're ready to charge down that hill as fast as fucking possible. So, if there is a ski racing equivalent of a bouncy castle, I might just be all over it. It's once you throw judges and "style" into the mix that I start to hate the attempts to fake it.
And that's what was sooooo sweet about that tiny American kid winning slopestyle gold. Oh sure, I have a soft spot for McMorris. Maybe he's a tiny bit too focused on these contest things, but he also appears to be a real snowboarder! And anybody who spins booter-to-tree in the Whistler backcountry, only to win a contest a half-year later gets a pass from me. No GB medal hopeful is going within a football field of something so dangerous as a tree when they decide to hit a jump.****  And at least we finally know where all of that Red Bull money is going. I wonder if they throw similar resources behind the kids injured in all of their other events?*****  One can hope.
But back to that tiny little American. As soon as he floated over that hitching post and then launched hip-to-stratosphere, I thought that if there was any justice in the world, this is the kind of shit that judges should be rewarding. That's the kind of thing that gets us out of bed into the morning and out to the mountain… watching miniature people that ooze talent throwing down insane shit just for the giggles. Once you throw "training" and "effort" and "prize money" at things… well… that's when they turn on you. And take that a step further and strap some rings to that shit? Well, then every kook with dreams of glory comes tumbling out of the woodwork to get involved. It makes you long for the purity of the past, when a handshake and an envelope with a few 20's was your reward and event managers didn't have their novelty cheque supplier on speed dial. Remember when Timo broke both of his legs in half while entertaining the 50 people who showed up for the first boneyard slopestyle? You think he did that to get on a Wheaties box? You think he was expecting anything other than gas money home?
So this time, the "right" kid won. The gymnasts had to settle for silver, and the real snowboarders triumphed over evil. But four years from now, there's going to be even fewer "real" snowboarders, and a bunch more flippy spinners plotting their runs out in Microsoft Excel. Sure glory brings "progression", but what's the cost? So tread carefully, my friends, because there but for the grace of god go us, or something like that.
Sorry,
Uncle Dave
*Nothing against Great Britain. You have to admire their ingenuity.
**Looking back, I can actually pinpoint the 1996 Olympics as the decline in my interest in XC racing. Watching a bunch of my XC heroes plod around a horse racing venue made me wonder if this was the right thing for us.
***Okay. So a snowboarder winning the women's Super-G very nearly destroys my argument...
****Once again, no offence to Great Britain. They're just a useful example here.
*****Incidentally... Red Bull marketing folks, why aren't you talking about this more?
PS - So, there it is folks. Another week, another avoidance of anything specific, interesting or relevant to our sport. I mean, you can extrapolate or something like that, but who has the time. Needless to say, nobody asked anything remotely close to a question about any of this stuff.
---
Uncle Dave's Music Club
Based on my intro, this seems like a great time to trot out some pop punk staples from the 90's.
First up, "Just a Feeling" from Rancid. This is some borderline "real punk", people. Before Matt quit and those mohawks became caricatures.
But that's a bit unfair. I mean..."Poison" came out in 2000!
Next up, Screeching Weasel. Which is a funny story, because I remember talking with a guy about Screeching Weasel. And he was a few years younger, and we both admitted that they hit a point where they started to suck a bit. The funny thing was that he started listening to them at the point where I thought they started sucking. Well. I thought this was funny, anyhow. And I think it even better illustrates my point that all of these opinions of "real" are entirely relative.
Every time I hear this song I think of how prophetic it is.
And the fucking template! Bad Religion. Lots of good stuff here, but for me, "Kerosene" is the sort of thing I think of with Bad Religion. A little bit of preaching...some lightning fast drums. What more do you need?

And because we were so mean to the British, let's throw them a bone. Snuff. "Walk". I always loved how the bass rumbled into this song, like an airplane taking off or something. Listening to it again though...well...that may be the only remaining redeeming moment.