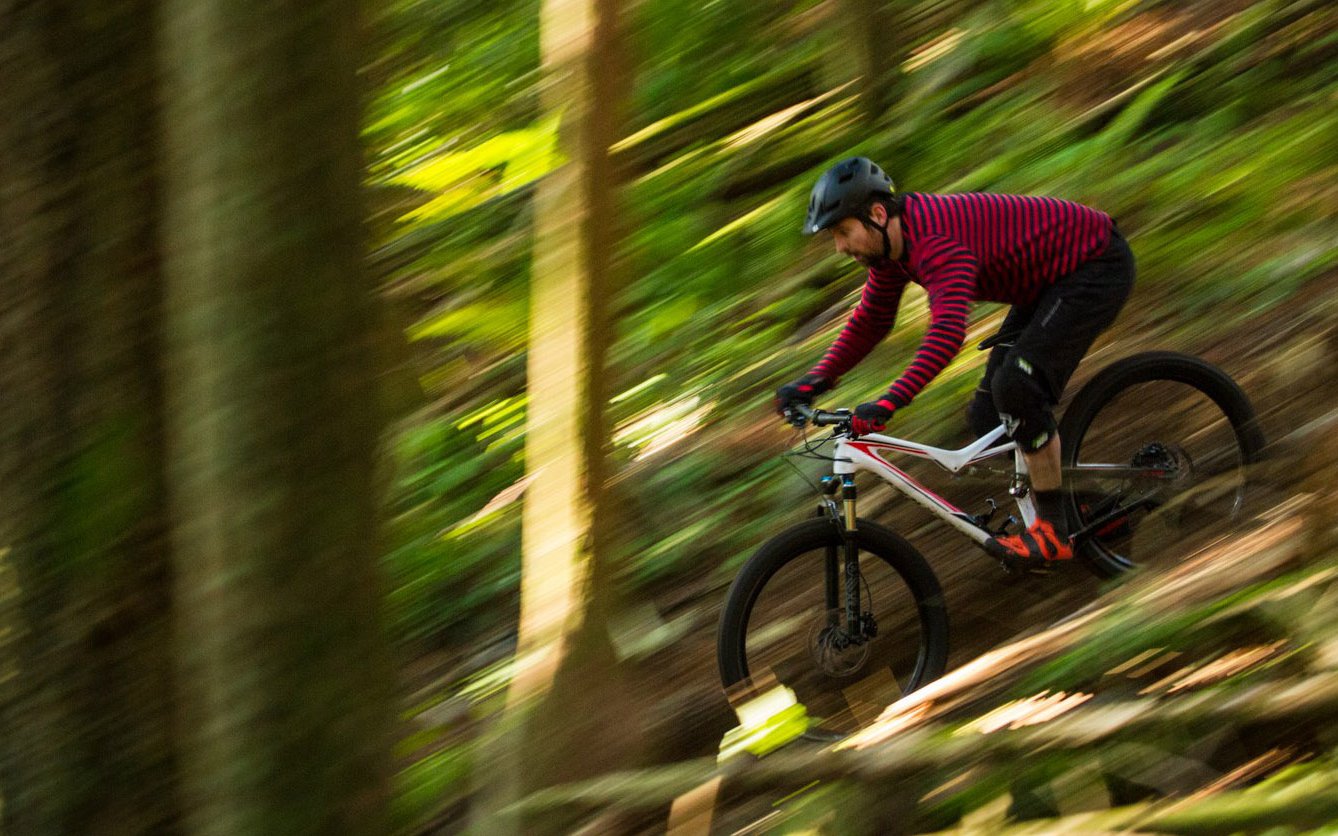 Ask Uncle Dave
Uncle Dave: Saving the world with bicycles!
My wife and I just spent this summer getting my rocks off on all the best trails B.C. has to offer. We rode with Dale (WORCA president) and his family who made us grow some, stayed with locals from Vernon to Crowsnest, and got treated like royalty. I came back to Italy laughing at how easy my local trails have become.
I should feel great, but there's this little voice with a Swedish accent asking me to reflect a little about my impact on the planet, if you catch my drift.
It's impossible to read a single scientific, cultural or economic publication without returning back to the issue of our economic consumption causing ecosystem damage yah de yah de yah,
but long story short, no forests means no mountain biking.
What are we doing as an industry to preserve our future? I'm all for N+1, but unless we do some ground work stuff, like Yoann clearing trash, what does the future hold?
Hell, I mean we don't even question were our lovely tires come from!
So, where does the Mountain Bike community start? Reducing meat consumption would be an easy one. #thegamechangers
Yours
Teacher of 7 year olds
---
Dear Toyer:
I went to a conference last week and one of the speakers was an expert on ocean plastics (or some such). He was talking about an experiment that he did with the recycling program in a large office tower and the impacts that had on the rates of plastic recycling. During one of the breaks I cornered him and asked him a question. I'd been noticing a lot of similar arguments that kept popping up in online discussions. It's something along the lines of "Why bother. Most of the plastic waste in the ocean comes from China/India/Timbuktu. This won't do anything." I asked him what the best response to that argument was. His answer was "Well…tell them 'imagine if 7 billion people were asking that same question'"
Which...I mean...If this is the best we've got, we're kind of fucked, no? We're not going to dig ourselves out of this hole by relying on 7 billion people to take personal responsibility for saving the world. I think waiting for that to happen might be the actual cause of our problems. I became angry with myself for expecting a different answer.
Of course, this doesn't mean we don't have a personal responsibility to do something. I think it's great that you care, and we should all be working to reduce our footprint on this earth. Of course it's a good thing that you are trying to eat less meat, drive your car less, throw out less trash, take shorter showers…these are all really good things to strive for! But every 2 weeks or so, when I take my tiny little bag of garbage out to our giant fucking trash can that is stuffed full of all the crazy shit my neighbour throws away on a daily basis, it becomes obvious that my personal responsibility will not be the basis for a long term global solution. I could subsist on crickets, moss and scavenged clothes from a dumpster, and there's still going to be people, and companies, carrying on like they're six year olds on Christmas day at the yacht club. Not too sure what they looks like, but I'll bet it's really something.
Taking that further, I'm almost at the point where I'm convinced that not only is this this whole push for "personal responsibility/accountability" not going to solve our problems, it might actually be a net negative. It gets the people that care to fret about every little piece of plastic they encounter in their life, while the people that don't give a shit get to merrily continue on without a second thought about their actions, more than cancelling out the good work done by others. Everybody feels so proud of themselves for the tiniest little things, and we delude ourselves into thinking that this is somehow helping change the world. We celebrate doing really great things like "riding bicycles". What could be better for the environment than riding a bicycle? Look at us! We're healthy…we're out there experiencing nature…we don't need motors for fun…after we drive to the trailhead to ride plastic bicycles that get wrapped in even more plastic and styrofoam so that they can be shipped over from China on a boat that burns diesel and dumps it's raw sewage into the ocean. Yes, folks, it's another Uncle Dave crowd pleaser!
Which leads to the part where I have to assure you that I think this sport of ours is great and all that. Which it is. But it's also frivolous. It's a luxury and it's a bit weird that we throw a lot of our good intentions out the window when it comes to bicycles.
Honestly, I think my riding of bicycles contributes more to my ecological footprint than anything else in my life. If I didn't ride bikes I'd probably drive my truck half as much (no more trips to the trailhead). I'd probably fly half as much (no more riding trips in far off locations). And who the hell really knows what's going in to making all of the shit that I require each time I ride my bike. What does it actually take to make a bike and ship it to North America? How much packaging is involved? What happens to that packaging once the bike comes out of it? Quite frankly, it's really, really weird that we ask so few questions of, and place so few requirements on, the companies that are producing these things for us. We let them throw some money at building trails and we call it a day. Once again, trail building and advocacy is great and all, but it's a teensy bit self-serving, no?
So, it's fabulous that you want to take personal responsibility and to reduce your footprint (on your luxury pastime). The things you mention in your question are a great start. But. If we really want to have an impact, I think we need to dramatically change our point of view. We need to shift from "I have a personal responsibility to reduce my footprint" to "I have a personal responsibility to change the way that things are done."
What do I mean by that? Good question! And it largely depends on your position in life. For most of us, I think it is primarily about amplifying our voice and pushing for larger changes. I'm thinking about things like:
1) Start commenting in articles about bikes with questions about some of the issues raised above. What would happen if every bike review included things like packaging, working conditions, shipping methods and recyclability (I mean...other than people would stop reading them)? What would happen if we started rewarding the companies that care about these things?
2) E-mail bike companies and ask them what they're doing to reduce their ecological impact. Ask them about their manufacturing process. Ask them about their factory working conditions. Ask them about anything but the bicycle, really.
3) Write to your City Counsellor/MLA/MP/Congressman/Senator/Feudal Landlord to tell them that they need to do more about reducing garbage/emissions. Tell them the laws need to change. Write them again. And again. Keep telling them they're not doing enough. Tell them they suck! Keep doing this until they threaten you with a restraining order.
4) Post a comment under the latest schralp video. Ask them what they do with their old tires once they wear them out.
5) Vote. Encourage your kids to vote. Encourage your parents to vote. Guilt your parents into voting on behalf of their grandkids needs, not for their own. Trick your coworkers into voting for the candidates you believe in.
6) Don't support companies that don't give a shit and that aren't doing anything to make things better. Tell them why you aren't supporting them. Keep telling them. Tell other people.
7) If you have the means, give some money to somebody, or a group of somebodies, that are doing something about something that you care about.*
8) Learn about where the things you use come from. Find out where the meat that you're going to eat less of is farmed. Ask restaurants what they do with their waste. Find out what your grocery store is doing with all their leftover food. Ask your bike shop about their recycling program. Be a giant pain in the ass and ask questions that people don't want you to.
We're heading into a new year. A new decade! In many ways, I feel terrible about our prospects, and I find myself having to work fairly hard to tamp down the bitterness, anger and contempt I feel towards much of our human race. On the bright side, this new decade will bring with it a new series of challenges that will demand creative solutions. If we're lucky, we will embrace this fertile ground of new ideas and opportunities. Perhaps we will be able to move away from our primary model of obsessive self flagellation and/or public shaming when people improperly add their farts to the windstorm? Maybe we'll move on to addressing the targets that have the largest impact on our future?
After all, seatbelts didn't originate with well meaning parents. Declining smoking levels weren't a result of individuals deciding to live a healthy lifestyle. The ozone layer didn't fix itself after a social media campaign. All of these major changes, and many others, came about due to scientific evidence, a coordinated will to make a change, and government backed leadership and enforcement. The best thing that we can do is help create the political capital and markets necessary to pursue the monumental shifts that are required. The best way we can do that is by loudly telling people what you care about and by speaking louder than the nonsense.
Sorry,
Uncle Dave
*Funny story...hours after I wrote this, Amnesty International knocked on my door. And I'm just like "Damn...this guy really knows what he's doing..."
---
Uncle Dave's Music Club
This song is the poster child of doing more with less. There's barely anything here. A few strings humming along in the background. A thumping…shit…I don't even know what instrument that is trolloping along. And then Angel, singing her heart out. What a great fucking song. Maybe there is hope for the human race?
---
A Prize?
Well Toyer, you've put us in a bit of a pickle. Normally we'd give a prize for a question Uncle Dave uses, but as I began writing that it seemed pretty weird. We weren't planning to giveW you a tank of diesel or a freshly felled old growth cedar, but it's a product that was made overseas, using raw materials, and consuming energy every step of the way. Like virtually every product mountain bikers use. So we're going to pass this one back to you.
You can choose a brand new BikeYoke Revive dropper post, acknowledged by many as one of the best droppers on the market, or you can reduce your carbon footprint. A little. If you feel you can't accept the Revive, given the spirit of your question, we will instead purchase 4 tonnes of Gold Standard Carbon Offsets on your behalf from LESS.ca.
We're not going to push you one way or another, we just thought you should make the call. Please give us your answer in the comments below.